Keep reading for the perfect mix of books for 10 year old girls!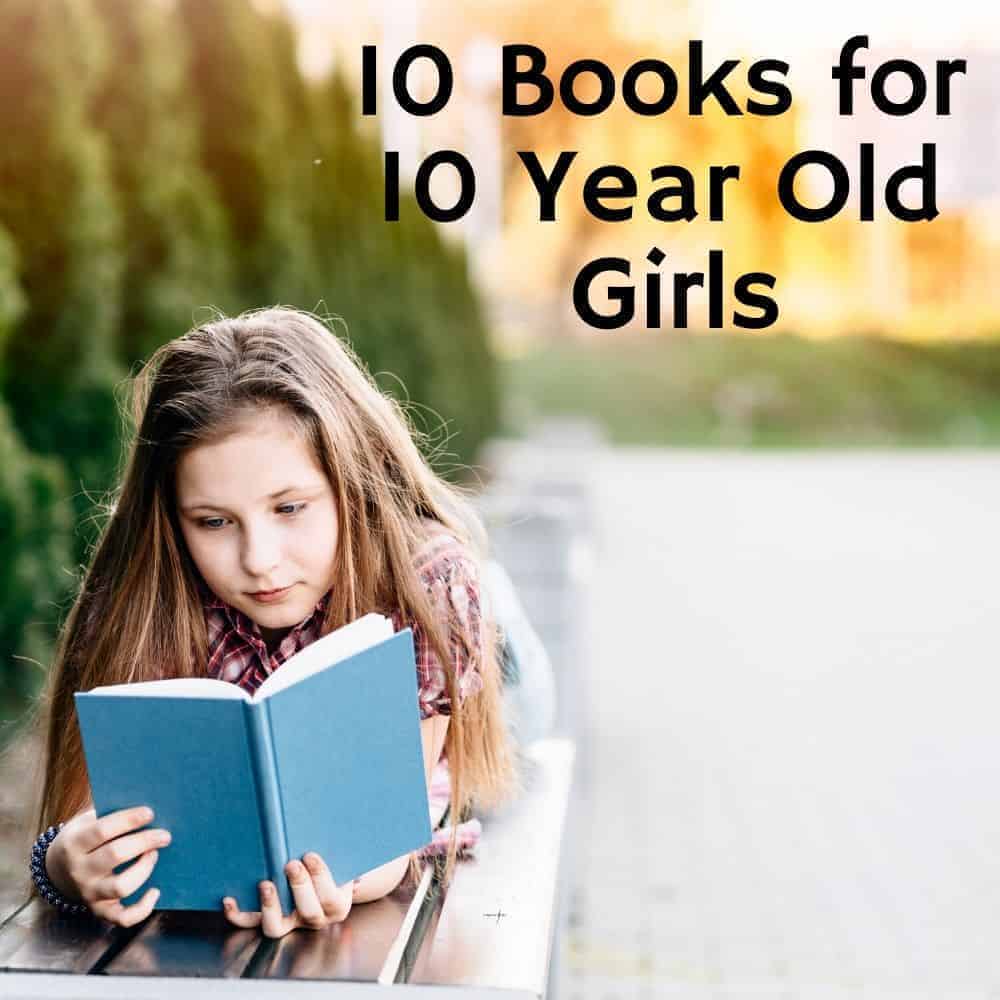 As a mom of two young girls, I think I have pretty much mastered the art of picking out books they like.
Well, maybe not mastered. They don't love every book I pick out. I still get the shoulder shrug and "eh" when I suggest books to them.
But you know what? I keep trying! I don't let their indifference, ahem aka attitude, about the books deter me from finding books they will love.
My kids aren't drawn to one particular genre or another so I have a mix of book titles to share with you today. From princesses to historical fiction, this list has a little bit of everything.
This post contains affiliate links. If you click and make a purchase, we earn a commission at NO extra cost to you. For more information, please read my full disclosure policy.
Descriptions come from Amazon; some are edited for length
Books for 10 Year Old Girls
The Frog Princess by E.D. Baker
This is the first book in E. D. Baker's Frog Princess series, it the inspiration for Disney's hit movie The Princess and the Frog. My girls really love this series, and it's a wonderful twist on the traditional princess story.
"Princess Emeralda a.k.a. Emma isn't exactly an ideal princess. Her laugh is more like a donkey's bray than tinkling bells, she trips over her own feet and she does not like Prince Jorge, whom her mother hopes she will marry. When convinced to kiss a frog so he might return to being a prince, somehow the spell is reversed and Emma turns into a frog herself! Thus begins their adventure, a quest to return to human form."
The Girl Who Drank the Moon by Kelly Barnhill
"Every year, the people of the Protectorate leave a baby as an offering to the witch who lives in the forest. They hope this sacrifice will keep her from terrorizing their town. But the witch in the Forest, Xan, is kind. Xan rescues the children and delivers them to welcoming families on the other side of the forest, nourishing the babies with starlight on the journey. On one occasion, Xan accidentally feeds a baby moonlight along with starlight, filling her with glowing magic. Xan is smitten with the beautiful baby girl, and chooses to raise her as her own child. Twists and turns emerge as the identity of the true evil witch becomes apparent. The swiftly paced, highly imaginative plot draws a myriad of threads together to form a web of characters, magic, and integrated lives."
The Little Prince by Antoine de Saint-Exupéry
"With a timeless charm it tells the story of a little boy who leaves the safety of his own tiny planet to travel the universe, learning the vagaries of adult behavior through a series of extraordinary encounters. His personal odyssey culminates in a voyage to Earth and further adventures."
Alice's Adventures in Wonderland by Lewis Carroll
"The story of Alice, an inquisitive heroine who falls through a rabbit hole and into a whimsical world, has captured the hearts of readers of all ages. Perhaps the most popular female character in English literature, Alice is accompanied on her journey of trials and tribulations by the frantic White Rabbit, the demented and terrifying Queen of Hearts, the intriguing Mad Hatter, and many other eccentric characters."
Number the Stars by Lois Lowry
"Through the eyes of ten-year-old Annemarie, we watch as the Danish Resistance smuggles almost the entire Jewish population of Denmark, nearly seven thousand people, across the sea to Sweden. The heroism of an entire nation reminds us that there was pride and human decency in the world even during a time of terror and war".
The Cricket in Times Square by George Selden
"After Chester lands in the Times Square subway station, he makes himself comfortable in a nearby newsstand. There, he has the good fortune to make three new friends: Mario, a little boy whose parents run the failing newsstand; Tucker, a fast-talking Broadway mouse; and Tucker's sidekick, Harry the Cat. The escapades of these four friends in bustling New York City makes for humorous entertainment. And somehow, they manage to bring a taste of success to the nearly bankrupt newsstand."
The Miraculous Journey of Edward Tulane by Kate DiCamillo
"Once, in a house on Egypt Street, there lived a china rabbit named Edward Tulane. The rabbit was very pleased with himself, and for good reason: he was owned by a girl named Abilene, who adored him completely. And then, one day, he was lost."
Crenshaw by Katherine Applegate
"Jackson and his family have fallen on hard times. There's no more money for rent. And not much for food, either. His parents, his little sister, and their dog may have to live in their minivan. Again.Crenshaw is a cat. He's large, he's outspoken, and he's imaginary. He has come back into Jackson's life to help him. But is an imaginary friend enough to save this family from losing everything?"
"Ten-year-old Jerry Pye wants a dog more than anything. And not just any dog. He has a puppy all picked out. But someone else wants him, too. So Jerry and his sister must hurry to earn enough money to buy him. When they get Ginger home, strange things start to happen. A sneaky stranger in a yellow hat starts following them everywhere. When their precious Ginger disappears on Thanksgiving Day, they start looking for the man in the yellow hat. If they find him, they'll probably find their pup. Finally, after months of fruitless searching, their determination is rewarded by a stroke of good luck and a gust of wind. "
The Great Shelby Holmes by Elizabeth Eulberg
"Shelby Holmes is not your average sixth grader. She's nine years old, barely four feet tall, and the best detective her Harlem neighborhood has ever seen. Always using logic and a bit of pluck (which yes, some might call 'bossiness') to solve the toughest crimes. When eleven-year-old John Watson moves downstairs, Shelby finds something that's eluded her up till now: a friend. The easy-going John isn't sure of what to make of Shelby, but he soon finds himself her most-trusted (read: only) partner in a dog-napping case that'll take both their talents to crack.
And there you have it! 10 delightful books for 10 year old girls. From animals to princesses to adventures, there is something for everyone. And remember, don't let them deter you from making book recommendations. Keep trying! Something will stick.
Happy reading!