The magic doesn't have to stop once you have finished reading Harry Potter! Keep reading for over 50 books like Harry Potter your kids will love.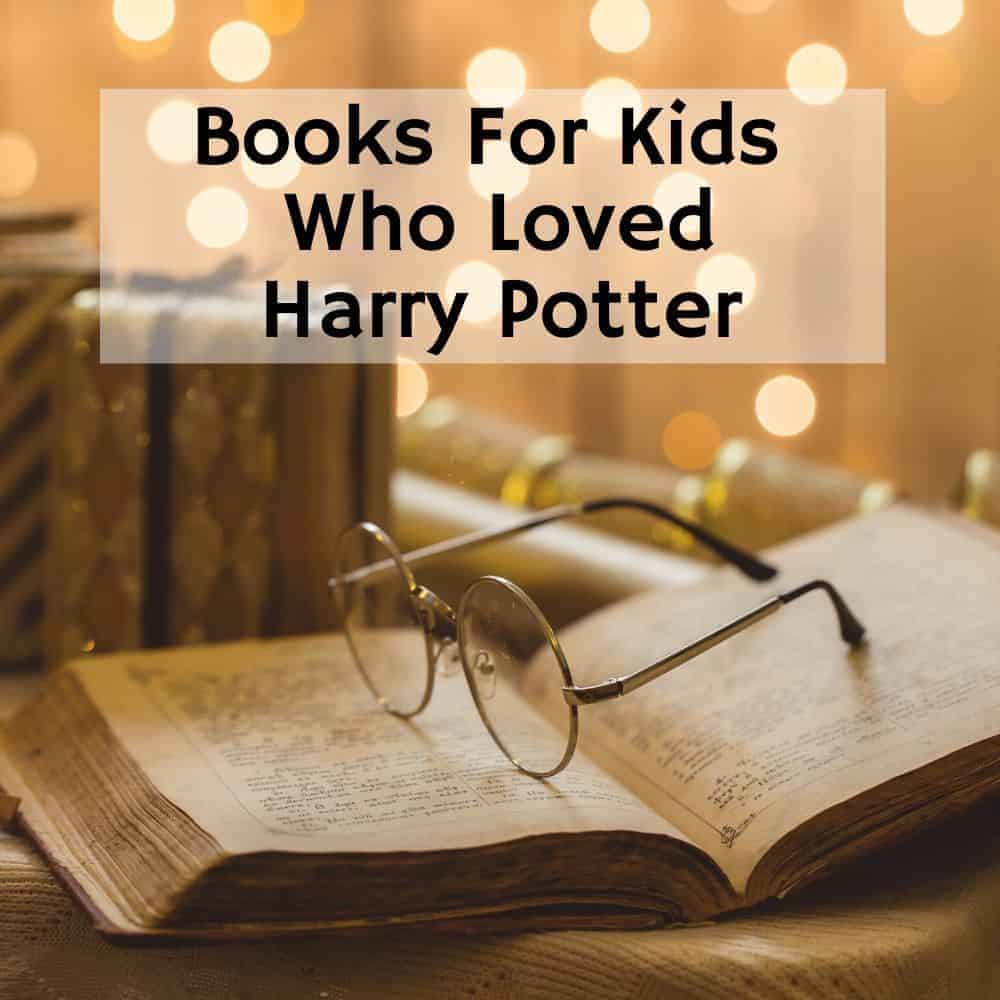 Did you know that J.K. Rowling's middle names doesn't start with a K? In fact, Joanne Rowling doesn't have a middle name at all. The K is in honor of her grandmother, Kathleen.
After receiving loads of rejections for her manuscript of Harry Potter, J.K. Rowling's book "Harry Potter and the Philosopher's Stone" was set to be published by Bloomsbury. They wanted Rowling to use a pen name because it was thought that boys would be more likely to read a book written by a man.
It's astonishing to think they didn't understand the amazing book series they had because the Harry Potter francheise went on to sell about 450 million copies worldwide! It was a rags to riches story.
The first Harry Potter book was written in 1997, and it's hard to find a child or parent who doesn't LOVE the books. Book recommendations often lead with "Well, did you like Harry Potter?" or "Have you read Harry Potter yet?"
This post contains affiliate links. If you click and make a purchase, we earn a commission at NO extra cost to you. For more information, please read my full disclosure policy.
But the hard day comes when you have FINISHED Harry Potter. What on earth do you read then?!
It's easy to recommend Lord of the Rings or Chronicles of Narnia or Hunger Games, but I think the better question to ask is WHY did you like Harry Potter? Was the in magical elements? The mystery? The fantastical creatures?
If you REALLY want to know what your child should read once they have finished Harry Potter, then keep reading. I will dive deep into the fantasy fiction genre as well as the various sub-genres that make it so amazing.
What is fantasy fiction?
Fantasy fiction is the broad, overreaching, and parent genre under which are many sub-genres. Each of these sub-genres, as well as the parent genre, have one thing in common: they feature magical and/or supernatural elements that do not exist in the real world. If it's not possible in the real world, it's fantasy fiction.
Most of us know the biggies: Lord of the Rings, Game of Thrones, Chronicles of Narnia but what specific sub-genre of fantasy fiction are these books? And how does knowing this help us find our next book to read if we loved Harry Potter?
Next I will cover 8 different sub-genres of fantasy fiction and if you enjoyed that aspect of Harry Potter you will probably enjoy other books in that sub-genre. Let's get started!
Books Like Harry Potter
I'm going to start with low fantasy because the genre of low fantasy is what gave me the idea for all these posts in the first place!
I don't love debating but I do love discussions! I could discuss Breaking Bad vs. The Sopranos, Veep vs. Seinfeld, or whether Harry Potter is low fantasy or magical realism all day long.
Low fantasy is fantasy fiction that takes place in our earthly time and space BUT magical or supernatural forces are present. Harry Potter takes place in the UK, for example, and he learns of the magical world within our world.
Magical realism is the real world with magical elements, like Matilda or Mary Poppins. Harry Potter ALSO takes place in the real world with magical elements so the case can be made that Harry Potter is either or both. Depending on how much you like to argue 😉
The line between these two sub-genres is very nuanced but for the purposes of this post I have included books that are set in the real world but have magical elements.
On the opposite end of the spectrum from low fantasy is the big gun: high fantasy. High fantasy, sometimes called epic fantasy, takes place in a totally made up world. A fictional world, fictional creatures, and at times, fictional languages.
In fact, high fantasy in itself has several sub-genres like epic fantasy and quest fantasy, but for the purposes of this post we will stick to regular high fantasy.
It might feel like Harry Potter is a high fantasy story but it really only has elements of high fantasy. Hogwarts, for example, is a fictional location that includes fictional creatures like mermaids and centaurs.
Books like Lord of the Rings and Eragon are true high fantasy because they take place in Middle Earth and Alagaesia, respectively, and both those worlds contain various beings and creatures as well as several languages.
One of the awesome things about the high fantasy sub-genre is that so many of them are series of books! It's no secret that kids love series of books, I think Harry Potter has proved that. So while it might be true that your child loves fantasy books, they may also just want a new book series to dive into.
This collection of books is more geared towards kids ages 12 and up. Books like A Wrinkle in Time and His Dark Materials.
A common request among moms is "What SERIES should my kid read after Harry Potter?" It's hard enough to find a single book to read after reading a great book so talk about pressure. Finding a series of books to follow-up Harry Potter isn't an easy task, but it can be done.
If your child isn't quite ready for Lord of the Rings, don't worry. All the series I have linked below are a blend of the various fantasy sub-genres and are geared toward 8-12 year olds.
Portal fantasy books are books where the characters go through a portal of some kind. A little obvious I know, but I never realized how many portal fantasy books there were! Narnia, Neverland, Oz, all these wonderful books take us to a new a magical place!
Harry Potter isn't a typical portal fantasy as the characters don't go through a physical door or cupboard to get to Hogwarts but there is a distinct difference between the magical world and the muggle world.
You might not think of Harry Potter as a science fiction book (because it isn't) but it does have elements of dystopian fiction, which is a sub-genre of sci-fi. Dystopian fiction deals with the collapse of society or a post-apocalyptic setting. As the Harry Potter series goes on, it gets darker and darker as the characters struggle to defeat forces that could bring an end to their world.
Books like the The Hunger Games and The Giver are some of the more well-known examples of dystopian fiction. So if your child loves the secret rebellion of Dumbledore's Army or the tyrannical leadership of Dolores Umbridge, they might like some of these science fiction and dystopian books!
When you think Harry Potter, the next natural thought isn't exactly fairy tales, but part of what makes HP so great is that is reminiscent of the classic tales of good vs evil.
In fact, it feels like you are reading a modern version of an old classic fairy tale. Modern retellings of classic fairy tales and myths are nothing new, Frozen and Percy Jackson for example, so if you child loves the classic medieval feel of Hogwarts and the history of magic they might love some of these books!
I think my favorite element of the Harry Potter books is the fact that you can't stop reading them!! J.K. Rowling does a fantastic job of creating a story where you really don't know what is going to happen next.
Readers stay up late into the night to find out who is the Half-Blood Prince or to find out who opened the Chamber of Secrets. The mystery element of Harry Potter is what got my own kids hooked on the Harry Potter series.
Mystery novels are my go-to books when I go to the library, and I think Harry Potter has lit that fire in many young readers. Books like The Mysterious Benedict Society and A Series of Unfortunate Events.
It is my belief that Harry Potter was so successful as a children's series because it draws from aspects of each of these sub-genres. You have the mystery of the sorcerer's stone as well as the folklore of the Tale of the Three Brothers. Hogwarts draws from high fantasy while dementors in Little Whinging are reminiscent of low fantasy. Voldemort is the epic definition of dystopian villain and Harry is the ultimate hero and their rivalry keeps us reading for seven books.
Low fantasy, high fantasy, fantasy series, portal fantasy, science fiction, folktales, and mysteries are not only wonderful sub-genres of fantasy fiction, the blend of ALL of them is what makes the Harry Potter series so fantastic
Thank you so much for reading and as a refresher I have included the links to all the various book lists below for quick reference!