Fantastic books for 9 year olds (for boys and girls!)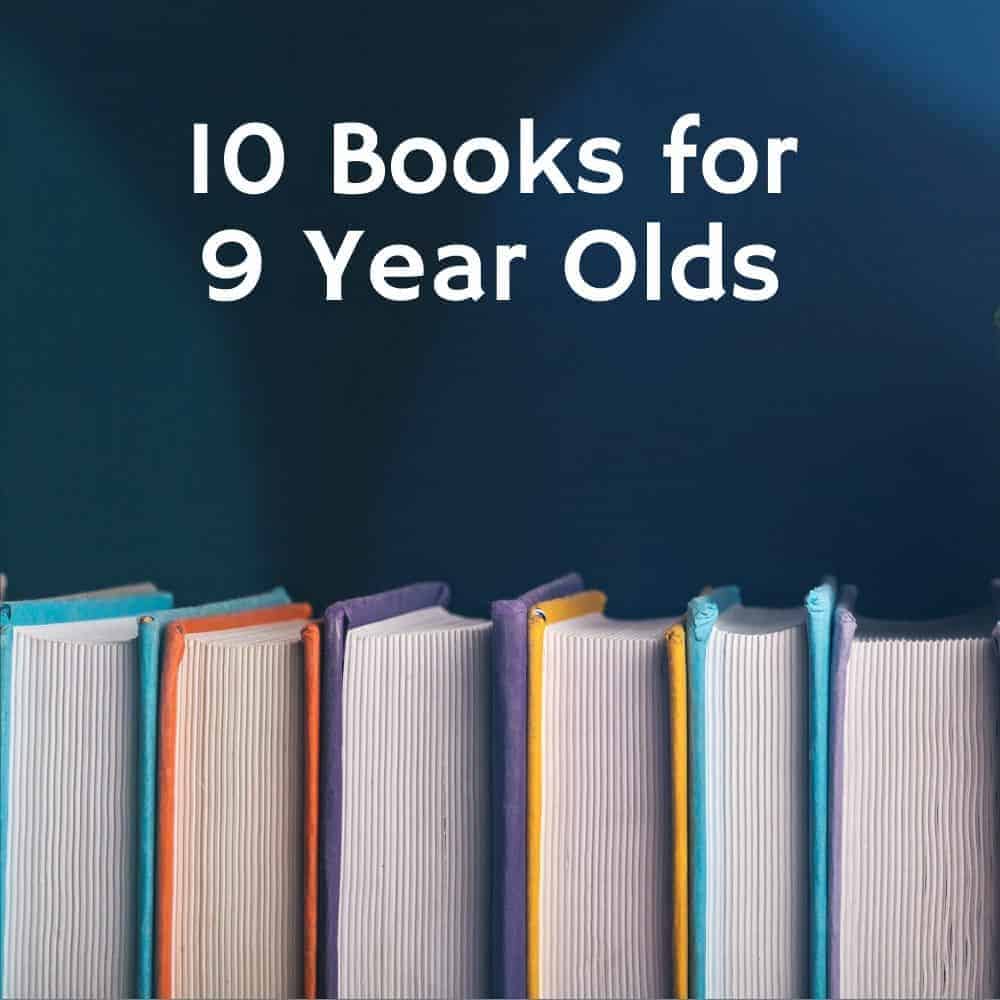 One of my favorite quotes about reading comes from author Sarah Mackenzie "A book can't change the world on its own. But a book can change readers. And readers? They can change the world."
When I first read that I was taken aback. I had always believed in the power of books, but I never made the connection as to HOW they made such a big difference in the world.
Readers are the ones who change the world, and let's be honest, we all want our kids to make the world a better place. Even if it's just a little bit.
I think that is why we put so much pressure on ourselves while picking out books for our kids. Rather than focusing on making reading a fun and enjoyable activity, we want them to read the classics as soon as possible!
I'm just as guilty as the next homeschool mom with this. But after reading Sarah's book The Read Aloud Family (FYI it's a must read for all moms), I realized the best way to set up my children for success is by creating a reading habit that makes reading fun!
That thought is in the front of my mind when I recommend ANY book to a family: will a child enjoy this book? I pride myself in only recommending books I would read myself, read aloud to my kids, or have my children read.
Todays book list is targeted towards 9 year olds, but older children would certainly love all these books, and children younger would enjoy these books being read to them.
This post contains affiliate links. If you click and make a purchase, we earn a commission at NO extra cost to you. For more information, please read my full disclosure policy.
Descriptions come from Amazon; some are edited for length
Books for 9 Year Olds
"Socks is one happy cat. He lives the good life with his affectionate owners, Mr. and Mrs. Bricker. Ever since the day they saved him from a life spent in a mailbox drop slot, Socks has been the center of their world. But when a new baby arrives, suddenly the Brickers have less and less time for Socks. Little Charles William is the one getting all the attention. Socks feels left out and, he starts getting into all sorts of trouble! What will it take to make Socks realize just how much the Brickers care about him?"
Mrs. Piggle-Wiggle by Betty MacDonald
"Meet Mrs. Piggle-Wiggle! She lives in an upside-down house with a kitchen that is always full of freshly baked cookies. She was even married to a pirate once! Best of all, she knows everything there is to know about children. When Mary turns into an Answer-Backer or Dick becomes Selfish or Allen decides to be a Slow-Eater-Tiny-Bite-Taker, Mrs. Piggle-Wiggle has the perfect cure. And her solutions always work, with plenty of laughs along the way."
The Last Kids on Earth by Max Brallier
"Ever since the monster apocalypse hit town, average thirteen year old Jack Sullivan has been living in his tree house, which he's armed to the teeth with catapults and a moat, not to mention video games and an endless supply of Oreos and Mountain Dew scavenged from abandoned stores. But Jack alone is no match for the hordes of Zombies and Winged Wretches and Vine Thingies, and especially not for the eerily intelligent monster known only as Blarg. So Jack builds a team and with their help, Jack is going to slay Blarg, achieve the ultimate Feat of Apocalyptic Success, and be average no longer! Can he do it?"
Fantastic Mr. Fox by Roald Dahl
"Someone's been stealing from the three meanest farmers around, and they know the identity of the thief: it's Fantastic Mr. Fox! Working alone they could never catch him; but now fat Boggis, squat Bunce, and skinny Bean have joined forces, and they have Mr. Fox and his family surrounded. What they don't know is that they're not dealing with just any fox. Mr. Fox would rather die than surrender. Only the most fantastic plan can save him now."
Fortunately, the Milk by Neil Gaiman
"While picking up milk for his children's cereal, a father is abducted by aliens and finds himself on a wild adventure through time and space."
The Complete Tales of Winnie-The-Pooh by A. A. Milne
"Since 1926, Winnie-the-Pooh and his friends, Piglet, Owl, Tigger, Kanga, Roo, and the ever doleful Eeyore, have endured as the unforgettable creations of A. A. Milne. These characters and stories are timeless treasures that continue to speak to all of us with the kind of freshness and heart that distinguishes true storytelling."
The Strange Case of Origami Yoda by Tom Angleberger
"It takes the wisdom of Yoda to survive the sixth grade. Meet Dwight, a sixth-grade oddball. Dwight does a lot of weird things, like wearing the same T-shirt for a month or telling people to call him "Captain Dwight." But Dwight does one cool thing. He makes origami. One day he makes an origami finger puppet of Yoda. And that's when things get mysterious. Origami Yoda can predict the future and suggest the best way to deal with a tricky situation. His advice actually works, and soon most of the sixth grade is lining up with questions."
Sideways Stories from Wayside School by Louis Sachar
"Accidentally built sideways and standing thirty stories high (the builder said he was very sorry for the mistake), Wayside School has some of the wackiest classes in town, especially on the thirtieth floor. That's where you'll meet Bebe, the fastest draw in art class; John, who only reads upside down; Myron, the best class president, ever; and Sammy, the new kid, he's a real rat."
In the Year of the Boar and Jackie Robinson by Bette Bao Lord
"Shirley Temple Wong sails from China to America with a heart full of dreams. Her new home is Brooklyn, New York. America is indeed a land full of wonders, but Shirley doesn't know any English, so it's hard to make friends. Then a miracle happens: baseball! It's 1947, and Jackie Robinson, star of the Brooklyn Dodgers, is a superstar. Suddenly Shirley is playing stickball with her class and following Jackie as he leads the Brooklyn Dodgers to victory after victory. With her hero smashing assumptions and records on the ball field, Shirley begins to feel that America is truly the land of opportunity and perhaps has also become her real home."
The Winds in the Willows by Kenneth Grahame
An abridge version of the escapades of Mole, his friend Water Rat, shy Badger, and Toad of Toad Hall. Follow the winning foursome through the seasons as they sail the river, get lost in the Wild Wood, take off on a merry adventure in Toad's colorful carriage, and rescue Toad Hall from a band of nasty marauding weasels."
You never know which book will spark a fire in your child. It could be the silly adventures of Mrs. Piggle Wiggle. Or perhaps a fantastical journey through the Hundred Acre Wood! Whatever it is, I hope this list of book helps you pick out the perfect book for your kids!
Happy reading!