Fantastic books for 9 year olds (for boys and girls!)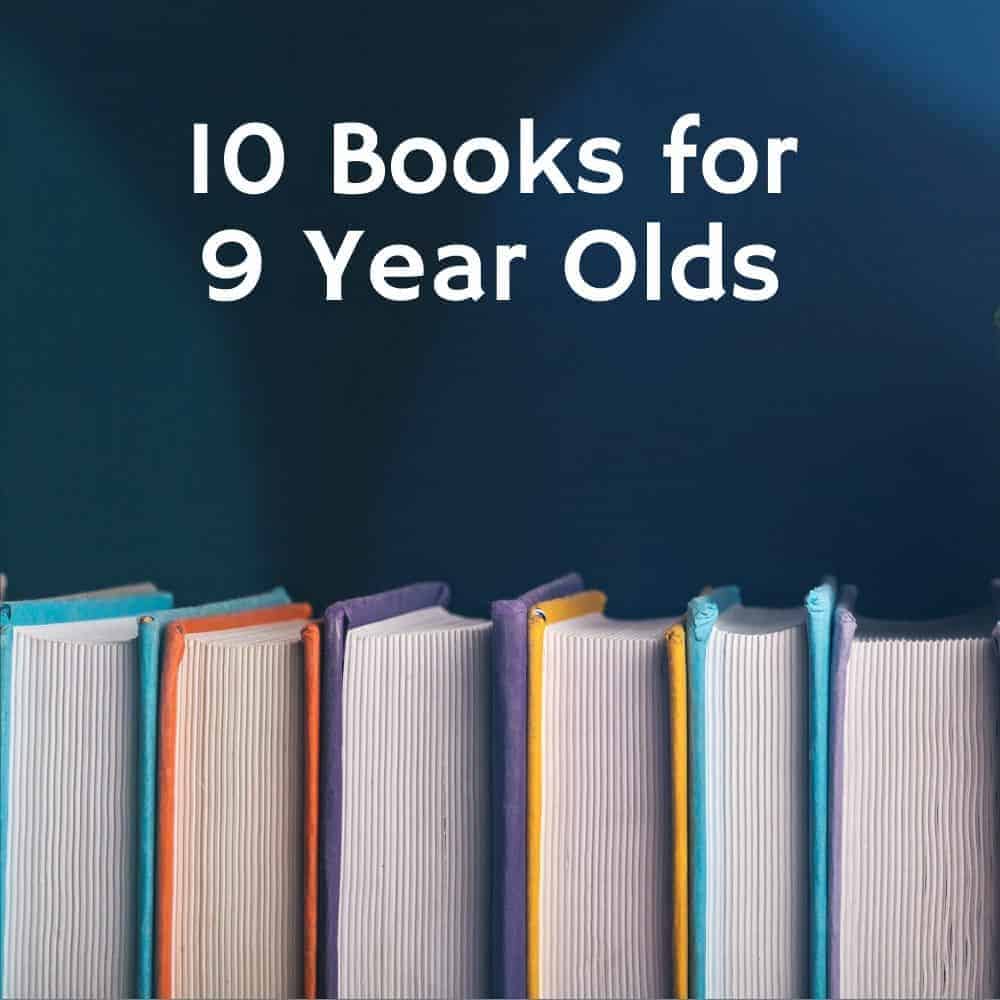 One of my favorite quotes about reading comes from author Sarah Mackenzie "A book can't change the world on its own. But a book can change readers. And readers? They can change the world."
When I first read that I was taken aback. I had always believed in the power of books, but I never made the connection as to HOW they made such a big difference in the world.
Readers are the ones who change the world, and let's be honest, we all want our kids to make the world a better place. Even if it's just a little bit.
I think that is why we put so much pressure on ourselves while picking out books for our kids. Rather than focusing on making reading a fun and enjoyable activity, we want them to read the classics as soon as possible!
I'm just as guilty as the next homeschool mom with this. But after reading Sarah's book The Read Aloud Family (FYI it's a must read for all moms), I realized the best way to set up my children for success is by creating a reading habit that makes reading fun!
That thought is in the front of my mind when I recommend ANY book to a family: will a child enjoy this book? I pride myself in only recommending books I would read myself, read aloud to my kids, or have my children read.
Todays book list is targeted towards 9 year olds, but older children would certainly love all these books, and children younger would enjoy these books being read to them.
This post contains affiliate links. If you click and make a purchase, we earn a commission at NO extra cost to you. For more information, please read my full disclosure policy.
Descriptions come from Amazon; some are edited for length
Books for 9 Year Olds
"Socks is one happy cat. He lives the good life with his affectionate owners, Mr. and Mrs. Bricker. Ever since the day they saved him from a life spent in a mailbox drop slot, Socks has been the center of their world. But when a new baby arrives, suddenly the Brickers have less and less time for Socks. Little Charles William is the one getting all the attention. Socks feels left out and, he starts getting into all sorts of trouble! What will it take to make Socks realize just how much the Brickers care about him?"
Mrs. Piggle-Wiggle by Betty MacDonald
"Meet Mrs. Piggle-Wiggle! She lives in an upside-down house with a kitchen that is always full of freshly baked cookies. She was even married to a pirate once! Best of all, she knows everything there is to know about children. When Mary turns into an Answer-Backer or Dick becomes Selfish or Allen decides to be a Slow-Eater-Tiny-Bite-Taker, Mrs. Piggle-Wiggle has the perfect cure. And her solutions always work, with plenty of laughs along the way."
The Family Under the Bridge by Natalie Savage Carlson
"Armand, an old man living on the streets of Paris, relishes his solitary life in the beautiful city. He is happy with his carefree existence, begging and doing odd jobs to keep himself warm and fed. Then one day just before Christmas, Armand returns to his favorite spot beneath the bridge to find three cold and hungry children. Although he has no interest in children, Armand soon finds himself caring for the small family. It does not take him long to realize that he must do whatever it takes to get them a real home."
Fantastic Mr. Fox by Roald Dahl
"Someone's been stealing from the three meanest farmers around, and they know the identity of the thief: it's Fantastic Mr. Fox! Working alone they could never catch him; but now fat Boggis, squat Bunce, and skinny Bean have joined forces, and they have Mr. Fox and his family surrounded. What they don't know is that they're not dealing with just any fox. Mr. Fox would rather die than surrender. Only the most fantastic plan can save him now."
The Lion, the Witch and the Wardrobe by C. S. Lewis
"Four adventurous siblings, Peter, Susan, Edmund, and Lucy Pevensie, step through a wardrobe door and into the land of Narnia, a land frozen in eternal winter and enslaved by the power of the White Witch. But when almost all hope is lost, the return of the Great Lion, Aslan, signals a great change and a great sacrifice."
The Complete Tales of Winnie-The-Pooh by A. A. Milne
"Since 1926, Winnie-the-Pooh and his friends, Piglet, Owl, Tigger, Kanga, Roo, and the ever doleful Eeyore, have endured as the unforgettable creations of A. A. Milne. These characters and stories are timeless treasures that continue to speak to all of us with the kind of freshness and heart that distinguishes true storytelling."
The Mysterious Benedict Society by Trenton Lee Stewart
"'Are you a gifted child looking for special opportunities?' Dozens of children respond to this peculiar ad in the newspaper and are then put through a series of mind-bending tests, which readers take along with them. Only four children (two boys and two girls) will succeed. Their challenge: to go on a secret mission that only the most intelligent and inventive children could complete. To accomplish it they will have to go undercover at the Learning Institute for the Very Enlightened, where the only rule is that there are no rules. So, if you're gifted, creative, or happen to know Morse Code, they could probably use your help."
The Lemonade War by Jacqueline Davies
"Fourth-grader Evan Treski is people-smart. He's good at talking with people, even grownups. His younger sister, Jessie, on the other hand, is math-smart, but not especially good with people. So when the siblings' lemonade stand war begins, there really is no telling who will win, or even if their fight will ever end. Brimming with savvy marketing tips for making money at any business, this fresh, funny, emotionally charged novel subtly explores how arguments can escalate beyond anyone's intent."
Escape from Mr. Lemoncello's Library by Chris Grabenstein
"When Kyle learns that the world's most famous game maker, Luigi Lemoncello, has designed the town's new library and is having an invitation-only lock-in on opening night, he's determined to be there! But the tricky part isn't getting into the library, it's getting out. Because when morning comes, the doors stay locked. Kyle and the other kids must solve every clue and figure out every secret puzzle to find the hidden escape route!"
The Winds in the Willows by Kenneth Grahame
An abridge version of the escapades of Mole, his friend Water Rat, shy Badger, and Toad of Toad Hall. Follow the winning foursome through the seasons as they sail the river, get lost in the Wild Wood, take off on a merry adventure in Toad's colorful carriage, and rescue Toad Hall from a band of nasty marauding weasels."
You never know which book will spark a fire in your child. It could be the silly adventures of Mrs. Piggle Wiggle. Or perhaps a fantastical journey through Narnia! Whatever it is, I hope this list of book helps you pick out the perfect book for your kids!
Happy reading!