Keep reading for 50+ unforgettable books for girls!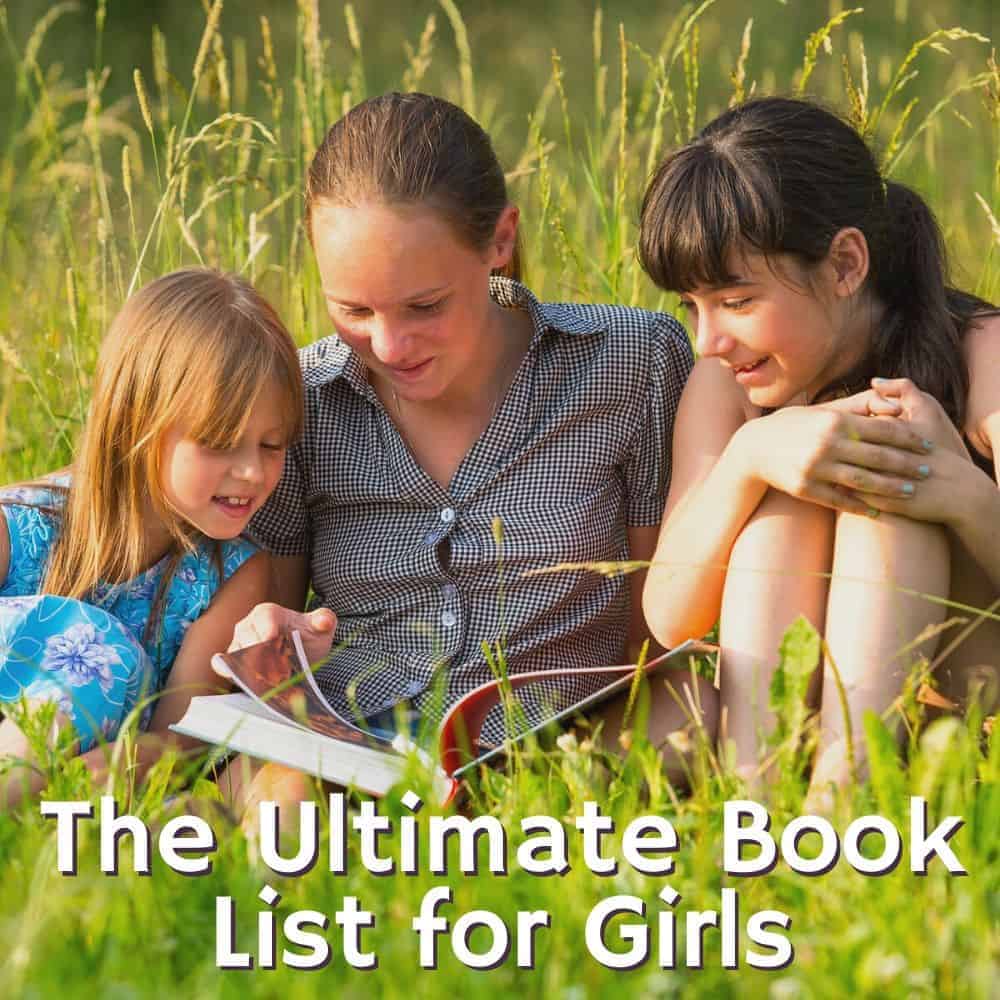 In his book 1000 Books to Read Before you Die, James Mustich referred to his early reading life in the following way: "I surrounded myself with books, which spontaneously sprouted and grew into piles in whatever room I inhabited."
It's like he had a window into my life growing up! I had piles of books growing up and it was always exciting to dig into my next read (usually The Babysitter's Club). I was never lacking something to read.
I never really thought in terms of boy vs. girl books back then. But since I became a mom and a homeschooler, I can see the differences in the types of books boys like versus the books girls like.
Boys like action and adventure where as girls enjoy storytelling and happy endings. This isn't universal of course, but to deny that people like different things is to deny what makes us human.
For example, ANY child can fall in love with Little House in the Big Woods, but for the most part girls tend to enjoy that series more than boys. It's from a GIRLS perspective at a time when girls weren't allowed to do things boys tend to enjoy.
All this to say, different kids like different books and one of the easiest ways to find a book your children will like is based on gender. Espeically if they are new to reading and DON'T know what they like yet.
It's like trying to pick a favorite food when all you have had is chicken broth. You have such a limited experience that it is hard to know where to go next because there are so.many.choices.
But never fear! This post will feature several book lists for girls. I have put all my girl-centric book blog posts in one place making it super easy for you to find all the best books for girls!! Following each post, I put in what my absolute FAVORITE book from that list is.
The first two books on this list are books that I recommend EVERY kid read!
This post contains affiliate links. If you click and make a purchase, we earn a commission at NO extra cost to you. For more information, please read my full disclosure policy.
Books All Kids Should Read
"Fifth grade was the worst year of Marc's life. He stunk at gym class, he can't swim, and he can't do his times tables. And the most awful thing about fifth grade? Kenny Williamson, the class bully, who calls himself the King of the Jungle Gym. When Marc's mother tells him that his uncle Jake is coming to stay for the whole summer, Marc can't wait. Uncle Jake is a for-real, super-cool Navy SEAL. And Uncle Jake has a plan. He's going to turn Marc into a warrior. Becoming a warrior isn't easy. It involves a lot of pull-ups, sit-ups, push-ups, squats, swimming, eating right, and studying harder than ever before! Can Marc transform himself into a warrior before school starts in the fall and finally stand up to the King of the Jungle Gym?"
The life lessons your kids will learn from this book are mind-blowing. If you value hard work, healthy habits, humility, and learning how to be a better person. This is the book for you! The main character may be a boy, but this book series is one of my daughters' favorites!
"There is a lot more to being a warrior than just being in a war. Warriors are people that stand up for themselves. They face challenges. Warriors work hard to achieve goals. They have the disciple to overcome their weaknesses. Warriors are people that constantly try to test and improve themselves."
After Way of the Warrior Kid, my second book recommendation is always the Harry Potter series. Harry Potter, The Boy Who Lived, The Chosen One, Potter, whichever you call him, HP is a phenomenal books for kids of all ages because of J.K. Rowling's masterful storytelling. Her true gift is in combining all the genres of fantasy and fiction together into this mishmash of wonderfulness!
Even if your child doesn't like Harry Potter, there will be some aspect of the story that they love. It could be the magical elements or the mystery and adventures or the dark prophecy. That's why I think it's a great book to get your kid hooked on reading because there will be SOMETHING in the book that sparks their interest.
"It takes a great deal of bravery to stand up to our enemies, but just as much to stand up to our friends."
Books For Girls
My favorite book from this list (and I have a lot of faves on this one!) has to be Beezus and Ramona. This adorable tale of two sisters was first published in 1955, and it continues to draw in readers today.
"Having a little sister like four-year-old Ramona isn't always easy for Beezus Quimby. With a wild imagination, disregard for order, and an appetite for chaos, Ramona makes it hard for Beezus to be the responsible older sister she knows she ought to be…especially when Ramona threatens to ruin Beezus's birthday party. Will Beezus find the patience to handle her little sister before Ramona turns her big day into a complete disaster?"
"Maybe she wouldn't think Ramona was so exasperating, after all. Maybe that was just the way things were with sisters. A lovely feeling of relief came over Beezus. What if she didn't love Ramona all the time? It didn't matter at all. She was just like any other sister."
The inspiration for the Disney film "The Princess and The Frog" tells an unconventional princess story.
"Princess Emeralda a.k.a. Emma isn't exactly an ideal princess. Her laugh is more like a donkey's bray than tinkling bells, she trips over her own feet and she does not like Prince Jorge, whom her mother hopes she will marry. But if Emma ever thought to escape her troubles, she never expected it to happen by turning into a frog! When convinced to kiss a frog so he might return to being a prince, somehow the spell is reversed and Emma turns into a frog herself! Thus begins their adventure-a quest to return to human form."
"Unfortunately being born princess doesn't automatically make a girl graceful or confident, a fact I've lamented for most of my fourteen years."
Matilda will always have a piece of my heart. Especially the lovely audio version read by Kate Winslet.
"Matilda is a sweet, exceptional young girl, but her parents think she's just a nuisance. She expects school to be different but there she has to face Miss Trunchbull, a kid-hating terror of a headmistress. When Matilda is attacked by the Trunchbull she suddenly discovers she has a remarkable power with which to fight back. It'll take a superhuman genius to give Miss Trunchbull what she deserves and Matilda may be just the one to do it!"
"So Matilda's strong young mind continued to grow, nurtured by the voices of all those authors who had sent their books out into the world like ships on the sea. These books gave Matilda a hopeful and comforting message: You are not alone."
Riding Freedom is my favorite book from this list because it tells the true story of a very important woman I had never heard of before!
"Charlotte Parkhurst was raised in the mid-1800s and was expected to live her life without the freedoms she dreamed of. But Charlotte was smart and determined, and she figured out a way to live her life the way she wanted. She became an expert horse rider, a legendary stagecoach driver, and the first woman ever to vote – at a time when such things were outlawed for women."
I love historical fiction picture books! I think it's a wonderful way to introduce famous historical figures to your kids or learn something new yourself! My post featuring picture books of historical women is just the thing. My favorite book from this list features Olympic gold medalist Wilma Rudolph.
"Before Wilma Rudolph was five years old, polio had paralyzed her left leg. Everyone said she would never walk again. But Wilma refused to believe it. Not only would she walk again, she vowed, she'd run. And she did run. All the way to the Olympics, where she became the first American woman to earn three gold medals in a single olympiad. This dramatic and inspiring true story is illustrated in bold watercolor and acrylic paintings by Caldecott Medal-winning artist David Diaz."
I update this post often so make sure you check back in to find more wonderful books for girls!