Keep reading for 10 chapter book series for kids ages 8-12!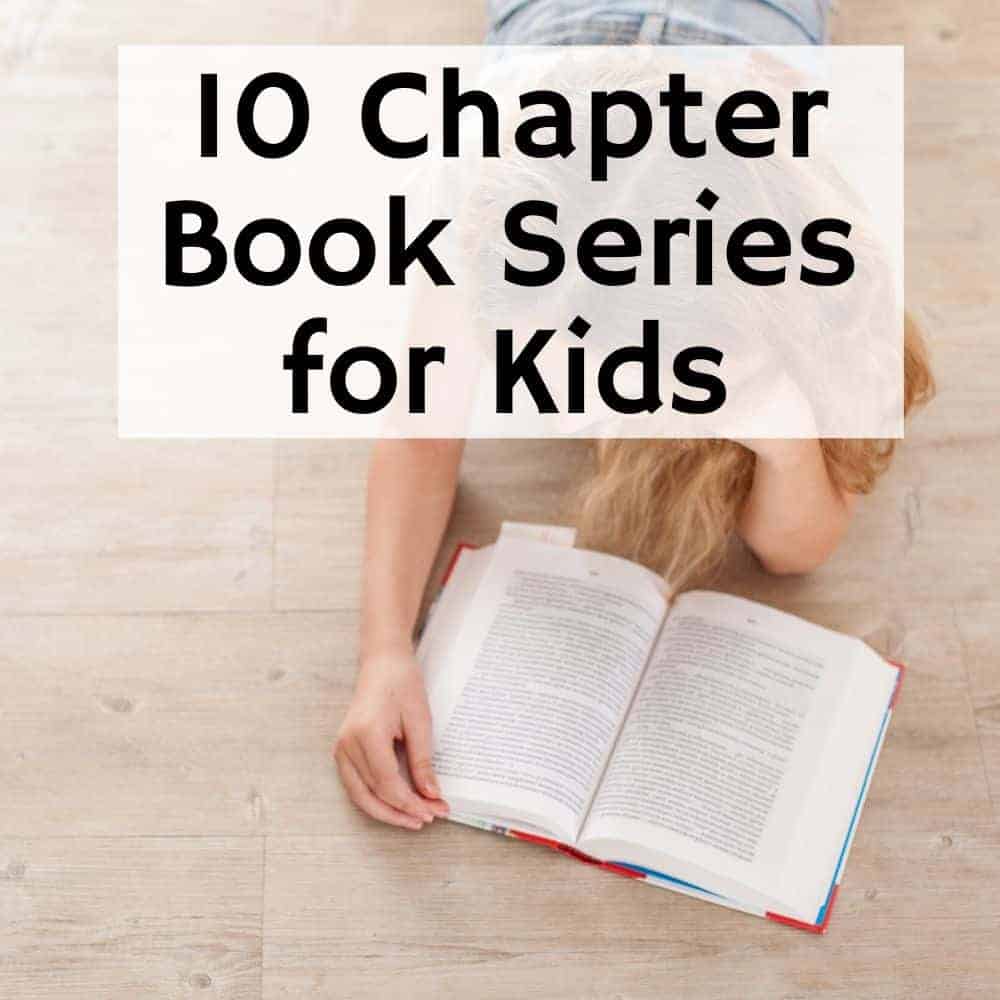 Like most children of the late '80s and early '90s, my first chapter books series was The Babysitter's Club. The adventures of Kristy, Claudia, Mary Anne, and Stacey are what I think of when I think of reading and my childhood. Try as I might, as a child I never got into another book series like I did The Babysitter's Club.
I even kept all my books! But sadly my daughters had no interest in reading them. I can't blame them! There are so many wonderful chapter book series out there for kids that it is almost hard to keep up with all of them!
This post contains 10 of my favorite chapter book series that my kids just love!!
This post contains affiliate links. If you click and make a purchase, we earn a commission at NO extra cost to you. For more information, please read my full disclosure policy.
Chapter Book Series for Kids
Way of the Warrior Kid: From Wimpy to Warrior the Navy SEAL Wayby Jocko Willink
"In this first installment of a new series, Willink, a retired decorated Navy SEAL officer brings his training to a new level that middle-grade level young readers will enjoy.
Fifth grade was the worst year of Marc's life. He stunk at gym class, math was too hard for him, the school lunch was horrible, and his class field trip was ruined because he couldn't swim. But what was most awful thing about fifth grade? Kenny Williamson, the class bully, who calls himself the 'King of the Jungle.'
When Marc's mother tells him that his Uncle Jake is coming to stay for the whole summer, Marc can't wait. Uncle Jake is a for real, super-cool Navy SEAL. And Uncle Jake has a plan.
He's going to turn Marc into a warrior.
Becoming a warrior isn't easy. It means a lot of pull ups, sit ups, pushups, squats, swimming, eating right, and studying harder than ever before! Can Marc transform himself into a warrior before school starts in the fall – and finally stand up to the King of the Jungle himself?"
The Vanderbeekers of 141st Street by Karina Yan Glaser
"The Vanderbeekers have always lived in the brownstone on 141st Street. It's practically another member of the family. So when their reclusive, curmudgeonly landlord decides not to renew their lease, the five siblings have eleven days to do whatever it takes to stay in their beloved home and convince the dreaded Beiderman just how wonderful they are. And all is fair in love and war when it comes to keeping their home."
The Incorrigible Children of Ashton Place: The Mysterious Howling by Maryrose Wood
"Discovered in the forest of Ashton Place, the Incorrigibles are no ordinary children. Luckily, Miss Penelope Lumley is no ordinary governess. A recent graduate of the Swanburne Academy for Poor Bright Females, Penelope embraces the challenge of her new position. Though she is eager to instruct the children in Latin verbs and the proper use of globes, first she must eliminate their canine tendencies.
But mysteries abound at Ashton Place: Who are these three wild creatures? Why does Old Timothy, the coachman, lurk around every corner? Will Penelope be able to civilize the Incorrigibles in time for Lady Constance's holiday ball? And what on earth is a schottische?"
The Lion, the Witch and the Wardrobe by C. S. Lewis
"Four adventurous siblings—Peter, Susan, Edmund, and Lucy Pevensie—step through a wardrobe door and into the land of Narnia, a land frozen in eternal winter and enslaved by the power of the White Witch. But when almost all hope is lost, the return of the Great Lion, Aslan, signals a great change . . . and a great sacrifice."
How to Train Your Dragon by Cressida Cowell
"Hiccup Horrendous Haddock III, the quiet and thoughtful son of the Chief of the Hairy Hooligans, tries to pass the important initiation test of his Viking clan by catching and training a dragon. Can Hiccup do it without being torn limb from limb? Join his adventures and misadventures as he finds a new way to train dragons–and becomes a hero. This action-packed, hilarious, and perfectly illustrated novel is a modern classic beloved by millions across the globe."
Harry Potter And The Sorcerer's Stone by J.K. Rowling
"Harry Potter has never even heard of Hogwarts when the letters start dropping on the doormat at number four, Privet Drive. Addressed in green ink on yellowish parchment with a purple seal, they are swiftly confiscated by his grisly aunt and uncle. Then, on Harry's eleventh birthday, a great beetle-eyed giant of a man called Rubeus Hagrid bursts in with some astonishing news: Harry Potter is a wizard, and he has a place at Hogwarts School of Witchcraft and Wizardry. An incredible adventure is about to begin!"
The Harry Potter books get darker and longer as the series goes on, but the first couple books are wonderful for the middle grades. My youngest listened to the first few books and had no problem taking a break before starting the rest of the series.
A Series of Unfortunate Events #1: The Bad Beginning by Lemony Snicket
"The Baudelaire children, Violet, Klaus and baby Sunny, are exceedingly unlucky. Their parents have been killed, and they are forced to go and stay with their Uncle Olaf. It soon turns out that Olaf has evil plans for the children."
The Lightning Thief (Percy Jackson and the Olympians, Book 1) by Rick Riordan
"Percy Jackson is a good kid, but he can't seem to focus on his schoolwork or control his temper. And lately, being away at boarding school is only getting worse-Percy could have sworn his pre-algebra teacher turned into a monster and tried to kill him. When Percy's mom finds out, she knows it's time that he knew the truth about where he came from, and that he go to the one place he'll be safe. She sends Percy to Camp Half Blood, a summer camp for demigods, where he learns that the father he never knew is Poseidon, God of the Sea. Soon a mystery unfolds and together with his friends, Percy sets out on a quest across the United States to reach the gates of the Underworld and prevent a catastrophic war between the gods."
Treasure Hunters by James Patterson
"The Kidd siblings have grown up diving down to shipwrecks and traveling the world, helping their famous parents recover everything from swords to gold doubloons from the bottom of the ocean. But after their parents disappear on the job, the kids are suddenly thrust into the biggest treasure hunt of their lives. They'll have to work together to defeat dangerous pirates and dodge the hot pursuit of an evil treasure hunting rival, all while following cryptic clues to unravel the mystery of what really happened to their parents-and find out if they're still alive."
Beezus and Ramona by Beverly Cleary
"Having a little sister like four-year-old Ramona isn't always easy for Beezus Quimby. With a wild imagination, disregard for order, and an appetite for chaos, Ramona makes it hard for Beezus to be the responsible older sister she knows she ought to be…especially when Ramona threatens to ruin Beezus's birthday party. Will Beezus find the patience to handle her little sister before Ramona turns her big day into a complete disaster."
My kids love ALL the Beverly Cleary series, and I think the Ramona series is a great place to start!
Of all these books, I think the first and last selections are my kids' favorite. Which ones do your kids enjoy? Thank you for reading and I hope you found this list helpful!