Keep reading to find out 10 young adult book series that are appropriate for kids!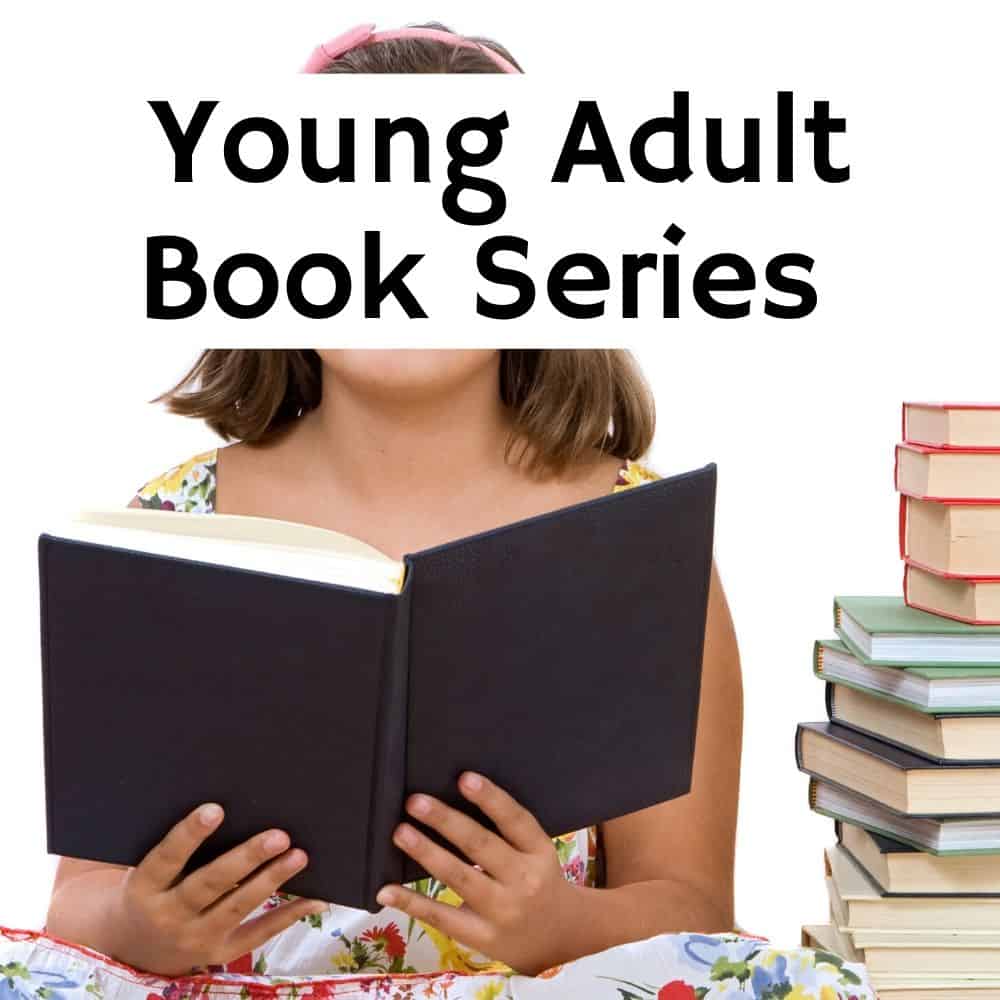 Young adult literature can be a tricky one to navigate. As Sarah Mackenzie mentions on the podcast The Read Aloud Revival, she believes young adult literature is more a genre than a reading level. It can contain (sometimes not always) more mature subject that kids aren't actually ready for. She makes some excellent points on the podcast, and I highly recommend that you listen to it.
However, I think when most people think of you adult literature they are thinking of something that bridges the gap between Charlotte's Web and Gone with the Wind. Something that helps readers go from chapter books for kids to adult fiction.
Again, this is just my opinion so that is they type of reading list I have put together for you today. Young adult book series for kids! My kids LOVE book series so I am always on the lookout for the best ones.
This post contains affiliate links. If you click and make a purchase, we earn a commission at NO extra cost to you. For more information, please read my full disclosure policy.
Young Adult Book Series for Kids
A Wrinkle in Time (Time Quintet) by Madeleine L'Engle
"Meg Murry, her little brother Charles Wallace, and their mother are having a midnight snack on a dark and stormy night when an unearthly stranger appears at their door. He claims to have been blown off course and goes on to tell them that there is such a thing as a "tesseract", which, if you didn't know, is a wrinkle in time. Meg's father had been experimenting with time travel when he suddenly disappeared. Will Meg, Charles Wallace, and their friend Calvin outwit the forces of evil as they search through space for their father?"
The Hunger Games by Suzanne Collins
"In the ruins of a place once known as North America lies the nation of Panem, a shining Capitol surrounded by twelve outlying districts. Long ago the districts waged war on the Capitol and were defeated. As part of the surrender terms, each district agreed to send one boy and one girl to appear in an annual televised event called, "The Hunger Games," a fight to the death on live TV. Sixteen-year-old Katniss Everdeen, who lives alone with her mother and younger sister, regards it as a death sentence when she is forced to represent her district in the Games. The terrain, rules, and level of audience participation may change but one thing is constant: kill or be killed."
My 11 year-old is listening to this with her dad and she just LOVES it!! I don't think she would be able to read it on her own but she really loves the story and the audiobook.
The Fellowship of the Ring (The Lord of the Rings) by J.R.R. Tolkien
"The Fellowship of the Ring, the first volume in The Lord of the Rings trilogy, tells of the fateful power of the One Ring. It begins a magnificent tale of adventure that will plunge the members of the Fellowship of the Ring into a perilous quest and set the stage for the ultimate clash between the powers of good and evil."
This is definitely an advanced reading level but the story of Lord of the Rings is sure to capture the attention of young adults and advanced readers.
Hatchet (Brian's Saga) by Gary Paulsen
"On his way to visit his recently divorced father in the Canadian mountains, thirteen-year-old Brian Robeson is the only survivor when the single-engine plane crashes. His body battered, his clothes in shreds, Brian must now stay alive in the boundless Canadian wilderness."
Cinder (The Lunar Chronicles) by Marissa Meyer
"Cinderella as a futuristic cyborg. Cinder, a gifted mechanic, is a cyborg. She's a second-class citizen with a mysterious past, reviled by her stepmother and blamed for her stepsister's illness. But when her life becomes intertwined with the handsome Prince Kai's, she suddenly finds herself at the center of an intergalactic struggle, and a forbidden attraction. Caught between duty and freedom, loyalty and betrayal, she must uncover secrets about her past in order to protect her world's future."
The Golden Compass (His Dark Materials) by Philip Pullman
"Enter a parallel world, dark and cold, with daemons, boat-dwelling gypsies, armored bears, and a street child with a strange destiny. Children, even Lyra's best friend Roger, start disappearing, victims of mysterious kidnappers called Gobblers. Lyra is given a magical instrument that tells the future and is sent off with the glamorous Mrs. Coulter. When she learns that Mrs. Coulter runs the Gobblers, she escapes, touching off a race to save the kidnapped children. With the help of the Gyptians and a warrior polar bear, she travels to the Arctic, where she finds that the children are being subjected to ghastly experiments that separate them from their souls."
The Mysterious Benedict Society by Trenton Lee Stewart
"'Are you a gifted child looking for special opportunities?' Dozens of children respond to this peculiar ad in the newspaper and are then put through a series of mind-bending tests. Their challenge: to go on a secret mission that only the most intelligent and inventive children could complete. To accomplish it they will have to go undercover at the Learning Institute for the Very Enlightened, where the only rule is that there are no rules. But what they'll find in the hidden underground tunnels of the school is more than your average school supplies. So, if you're gifted, creative, or happen to know Morse Code, they could probably use your help."
"Twelve-year-old Artemis Fowl is a millionaire, a genuis, and, above all, a criminal mastermind. But even Artemis doesn't know what he's taken on when he kidnaps a fairy, Captain Holly Short of the LEPrecon Unit. These aren't the fairies of bedtime stories, they're dangerous! Full of unexpected twists and turns, Artemis Fowl is a riveting, magical adventure."
The Maze Runner by James Dashner
"When Thomas wakes up in the lift, the only thing he can remember is his name. He's surrounded by strangers—boys whose memories are also gone. Outside the towering stone walls that surround them is a limitless, ever-changing maze. It's the only way out—and no one's ever made it through alive. Then a girl arrives. The first girl ever. And the message she delivers is terrifying: Remember. Survive. Run."
Harry Potter and the Sorcerer's Stone by J.K. Rowling
"The outrageously funny, fantastic adventure story of Harry Potter, who escapes a hideous foster home thanks to Hogwarts School for Witchcraft and Wizardry."
The early books in the Harry Potter series are wonderful for younger readers, 8 is when my kids started. But as the story goes on, it becomes darker and the books are longer and it can be hard to for kids to read them independently. For those reasons, I put this in the 12 and up category for independent reading purposes only. If they are listening to audiobooks, kids as young as 10 can enjoy the entire 7 book series.
From Harry Potter to His Dark Matials, I hope you found a young adult book series to try out. And don't forget to check out my other posts featuring early chapter book series as well as intermediate chapter book series! Thanks for reading!