Keep reading for 10 early chapter book series for emerging readers!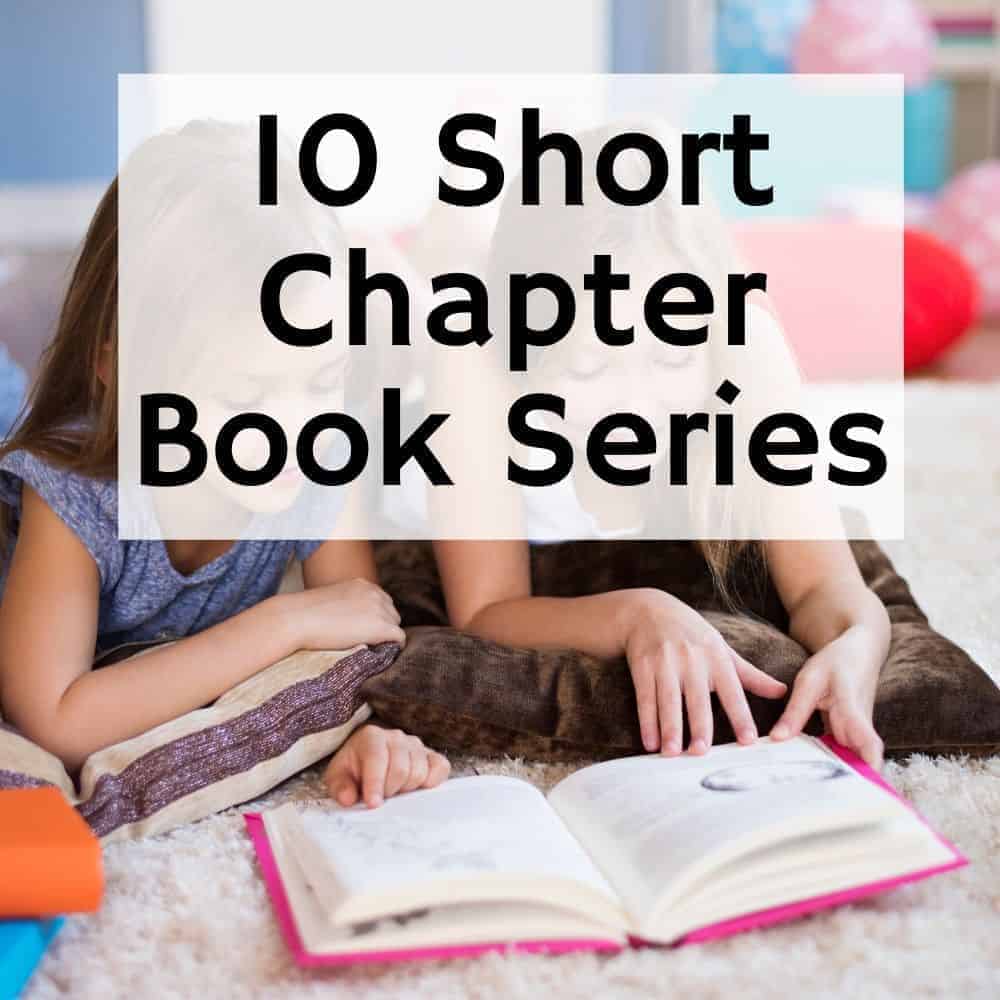 Both of my kids didn't read independently until they were eight. My oldest was closer to eight and a half while my youngest started reading shortly after she turned eight years old.
Either way, they both LOVED early chapter book series. These series tend to be easy to read, short books as well as short chapters.
My theory is because they already know the characters and a little bit about them, they can focus more on the story rather than focusing on decoding all the little details. Again, that is just my theory.
Early chapter book series are like a version of binge watching. You finish one book, then you want the next one and then the next one and then the next one! It's amazing how many books they go through.
I have divided this list into three sections: books geared towards boys, books aimed toward girls, and other chapter book series.
This post contains affiliate links. If you click and make a purchase, we earn a commission at NO extra cost to you. For more information, please read my full disclosure policy.
Early Chapter Book Series for Girls
"To start, Judy Moody doesn't have high hopes for third grade. Her new desk won't have an armadillo sticker with her name on it. Her new classroom will not have a porcupine named Roger. And with her luck, she'll get stuck sitting in the first row, where Mr. Todd will notice every time she tries to pass a note to her best friend, Rocky. An aspiring doctor, Judy does have a little brother who comes in handy for practicing medicine, a cool new pet, and a huge Band-Aid collection."
"Meet Bink and Gollie, two precocious little girls — one tiny, one tall, and both utterly irrepressible. Setting out from their super-deluxe tree house and powered by plenty of peanut butter (for Bink) and pancakes (for Gollie), they share three comical adventures involving painfully bright socks, an impromptu trek to the Andes, and a most unlikely marvelous companion. An hilarious ode to exuberance and camaraderie, as well as imagination and adventure."
"The moment they saw each other, Bean and Ivy knew they wouldn't be friends. But when Bean plays a joke on her sister, Nancy, and has to quickly hide and Ivy comes to the rescue, proving that sometimes the best of friends are people never meant to like each other. Vibrant characters and lots of humor make this a charming and addictive introduction to the Ivy and Bean Book Series."
Beginning Chapter Book Series for Boys
"Join the world's greatest detective, Nate the Great, as he solves the mystery of the lost picture. Nate the Great has a new case! His friend Annie has lost a picture. She wants Nate to help her find it. Nate the Great must get all the facts, ask the right questions, and narrow the list of suspects so he can solve the mystery. This long-running chapter book series will encourage children to problem-solve with Nate, using logical thinking to solve mysteries!"
"Hank is a kid who doesn't try to be funny, but he somehow always makes the kids in his class laugh. He's pretty bad at memorizing stuff, and spelling is his worst subject. (But so are math and reading!) In the first book of this series, Hank's class is putting on a play, and Hank wants the lead part: Aqua Fly. But he freezes in his audition and can only buzz like a fly. His teacher creates a special part for Hank, a silent bookmark. This may seem like an insignificant role, but when his enemy, Nick McKelty, freezes during the performance, it's up to Hank to save the play!"
"By popular demand — Judy Moody's brother, Stink, gets his chance to star! Every morning, Judy Moody measures Stink and it's always the same: three feet, eight inches tall. Stink feels like even the class newt is growing faster than he is. Then, one day, the ruler reads — can it be? — three feet, seven and three quarters inches! Is Stink shrinking? He tries everything to look like he's growing, but wearing up-and-down stripes and spiking his hair aren't fooling anyone into thinking he's taller. If only he could ask James Madison — Stink's hero, and the shortest person ever to serve as president of the United States."
Early Chapter Book Series
The first adventure of Jack and Annie! Jack and his younger sister find a tree house filled with books. Where did the tree house come from? Before they can find out, the mysterious tree house whisks them to the prehistoric past. Now they have to figure out how to get home. Can they do it before dark…or will they become a dinosaur's dinner?
"Help Dink, Josh, and Ruth Rose solve mysteries from A to Z! A is for Author . . . A famous writer is coming to Green Lawn! Dink rushes to the bookstore to meet his favorite author, Wallis Wallace, and get all his books signed. But the author never shows up! Where is Wallis Wallace? It's up to Dink and his friends Josh and Ruth Rose to track him down."
To Mr. and Mrs. Watson, Mercy is not just a pig — she's a porcine wonder. And to the portly and good-natured Mercy, the Watsons are an excellent source of buttered toast, not to mention that buttery-toasty feeling she gets when she snuggles into bed with them. This is not, however, so good for the Watsons' bed. BOOM! CRACK! As the bed and its occupants slowly sink through the floor, Mercy escapes in a flash. Welcome to the wry and endearing world of Mercy Watson.
"From writing letters to going swimming, telling stories to finding lost buttons, Frog and Toad are always there for each other—just as best friends should be. This book contains five engaging, warm and very funny stories about Frog and Toad."
I just love the Frog and Toad stories. But the other selections on this list are wonderful too! Which one is your favorite? Thanks so much for stopping by!