Keep reading for 10 Christmas gift giving ideas that can become yearly traditions.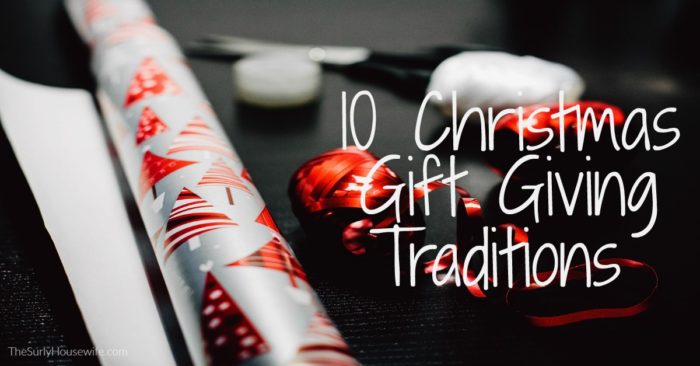 I have a feeling Charlie Brown might be my spirit animal. Sarcastic with a touch of humor and insight.
For example:
"Don't you know sarcasm when you hear it?"
"I've killed it. Oh! Everything I touch gets ruined."
"I almost wish there weren't a holiday season. I know nobody likes me. Why do we have to have a holiday season to emphasize it?"
But my favorite is probably "It's not what's under the tree that matters, it's who's around it."
All the presents in the world underneath the tree don't mean anything if you don't have people to share the holidays with, which is why it is important to make the gifts you do give count.
Christmas is so memorable because of the traditions surrounding it. Decorating and baking aren't the only holiday traditions. The gifts you give and why you give them are part of the holiday season.
Having a gift giving tradition helps you plan gifts, manage finances, and manage your children's expectations. It actually makes the gifts MORE meaningful to your kids.
Not to mention how much more calm your holidays will be when you cancel out the running around frantically for gifts or trying to buy ALL the gifts to keep up with the Joneses.
Our Christmas Present Tradition
Our family uses the four gift rule: something you want, something you need, something to wear, and something to read.
Partly frugality, and partly minimalistic, we wanted to give our kids a Christmas centered around memories instead of gifts.
We wanted to create a system that was within our budget but also grew with our kids. You can buy a lot of toys for a 50 dollars for a 4 year old. 50 bucks for a 14 year old doesn't stretch as far.
The four gift tradition is just one of many you can choose for your family. If you are searching for a gift giving tradition for your family, I have included 10 fun, practical, and meaningful Christmas gift giving traditions you can start this holiday season.
This post contains affiliate links. If you click and make a purchase, we earn a commission at NO extra cost to you. For more information, please read my full disclosure policy.
10 Christmas Gift Giving Ideas
Family gift
Doing a family gift is an excellent way to come together as a family for Christmas. It can be a big ticket item like a telescope, tv, or a new gaming system. Or something that adds to a family hobby like a tent for camping, or sporting equipment.
Give Experiences
Annual passes for the museum, zoo, theatre, and so on make great family gifts. Or go on a vacation for the ultimate experience. Our family gift in 2016 last year was a trip to Florida.
Four Gift Rule
For a more minimalist approach, stick with the four gift rule: something you want, something you need, something to wear, and something to read. If your kids have a ton of books or you frequent your library, consider giving them a photo memory book in place of a traditional book.
Four Gift Rule Plus!
Some other additions to the four gift rule are something you want, something you need, something to wear, something to read, something to make, something to eat, and one more thing.
Or something you want, something you need, something to wear, something to read, something to do, something for me, and something for family.
Nontraditional Four Gift Rule
If you don't need a cutesy saying to go with your gift giving, consider just sticking with 4 simple gifts: something you know they would like, a movie, a game, and a new shirt. Or a book, a puzzle, and new piece of clothing. If you are struggling to decide what to get your kids this is a good method because it keeps it simple.
Advent Gifts
The 12 days of Christmas tradition is one with endless possibilities. They can be gifts, or family activities or crafts, or faith based.
Amazon Wish List
Creating an Amazon wish list is great way to share with your extended family some gift ideas for grandkids, nieces or nephews, cousins, etc without having to answer the "What does X want for Christmas?!" 100 times.
Wiseman gifts
I had not heard of wisemen gifts until recently. The idea is Jesus got three gifts at Christmas, one from each wise man, so each child gets three gifts. It's a great way to remember the reason for the season. And thank you to Allie Casazza for sharing the idea!!
Night before Christmas box
Consider adding a Christmas Eve Box to your Christmas tradition. It can be simple with just a book and hot cocoa, or you can expand it with new pjs and a Santa tradition. It keeps the magic of Santa alive, and your kids will remember it forever!
Subscription Boxes
Subscription boxes are the gift that keeps on giving all year. We have used a Lego subscription box and pretend play subscription box in the past, but there is an endless supply of subscription boxes available.
This can also be a DIY gift! Commit to making a monthly movie night kit, or game night. Saves on money, and creates memories all year long.
Family Christmas Gift Giving Traditions
Gift giving is part of the Christmas holiday. It's easy to let yourself get carried away. Or feel guilty about the amount you spend. However, gift giving traditions keep the spirit of Christmas alive by ensuring your family gets heartfelt and meaningful gifts year after year.
Christmas as a young family is such an amazing time and creates memories that last for a lifetime. After all, isn't gathering around the tree with your kids opening presents you worked so hard for, what having kids is all about?!