Christmas monster cookies, a classic cookie recipe with a holiday flare.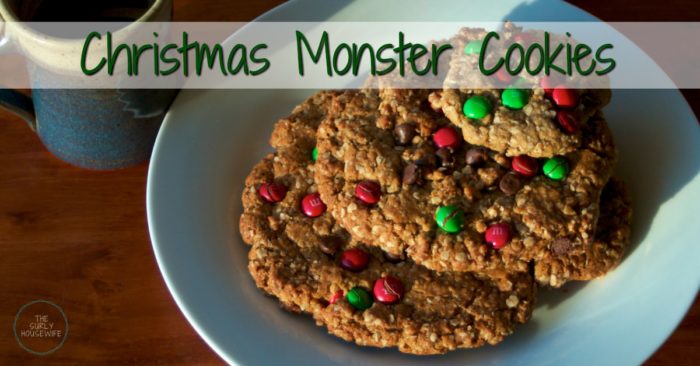 This post contains affiliate links. If you click and make a purchase, we earn a commission at NO extra cost to you. For more information, please read my full disclosure policy.
Who doesn't like a good cookie recipe!? Around Christmas time, many people get roped into a cookie exchange or bake sale. It always sounds like a good idea til you realize you need to make 5 dozen cookies. Have no fear, monster cookies are here! These behemoth cookies are the answer to your cookie exchange prayers. They are quick, delicious, and make a TON!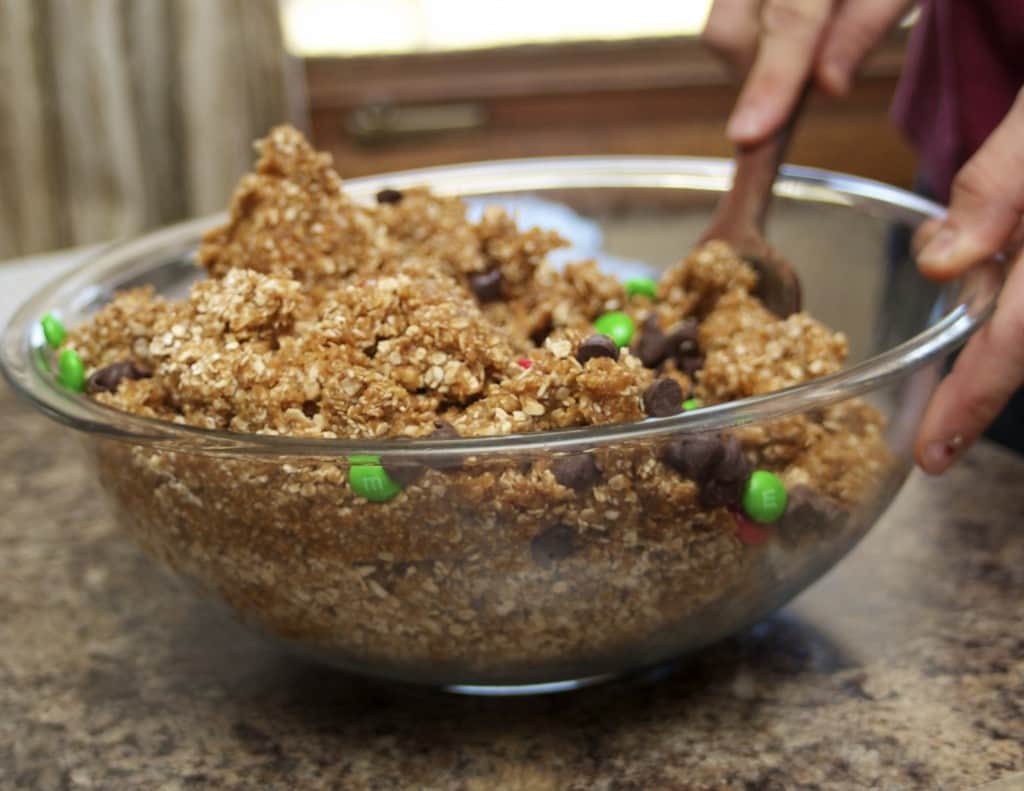 Seriously a ton, this is the biggest bowl I own. My husband found this recipe from the Geek Food podcast. The original recipe calls them Wookies. Big, brown, and Chewy. Get it? Chewy? Chewbacca. He was a Wookie. Anyone? Moving along. Wookies are one of our absolute favorite cookies, and I knew I had to share them with you.
I love several things about this recipe. First, is they can either make 10 cookies or 2 dozen cookies. It is so versatile. Just pick and size and roll with it. You can make them giant sized or regular sized, depending on what you need them for. You can make a giant cookie for your family to share for dessert or a more reasonable sized portion for a cookie exchange.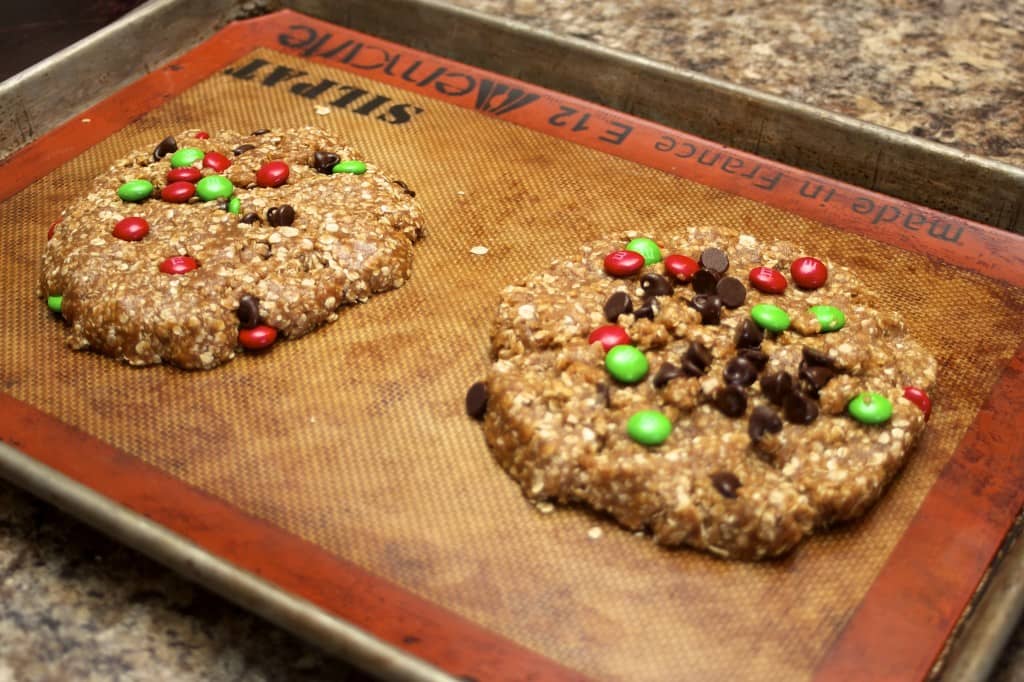 Second, is they are super easy to mix up. The usual suspects, butter, sugar, eggs, vanilla, are matched up with rich peanut butter and chewy quick oats for a perfect bite.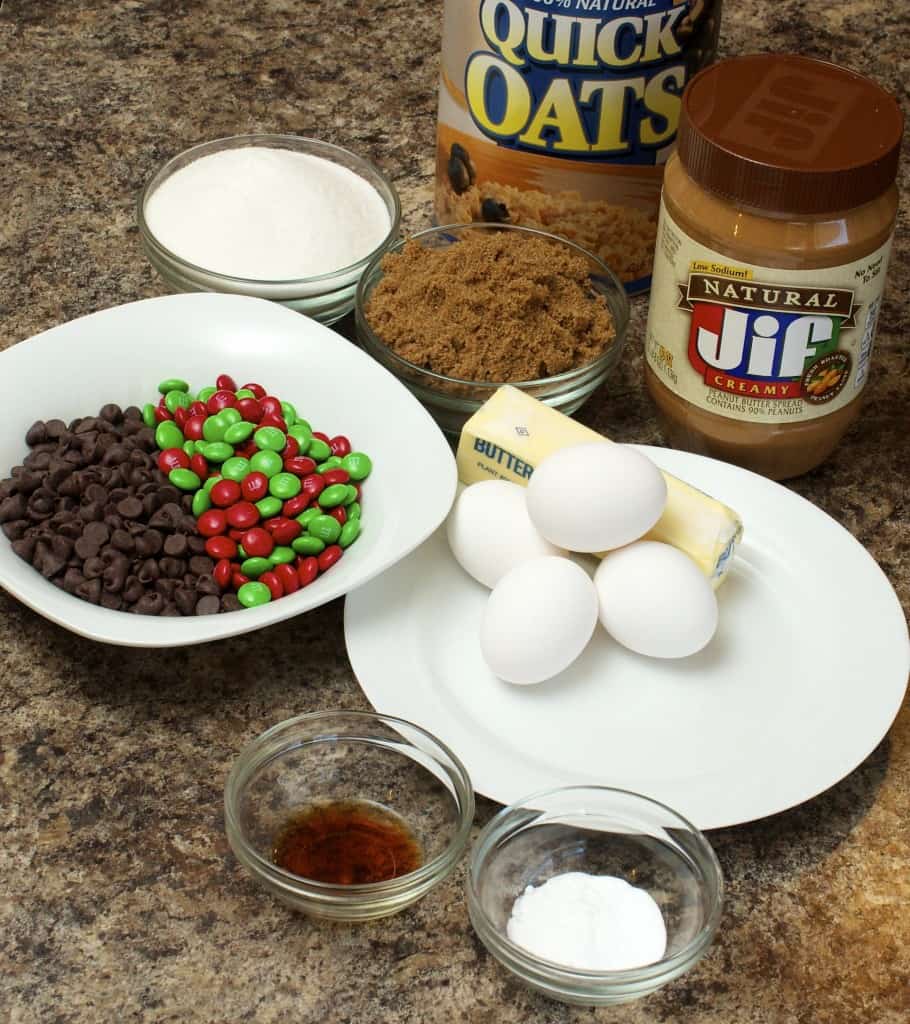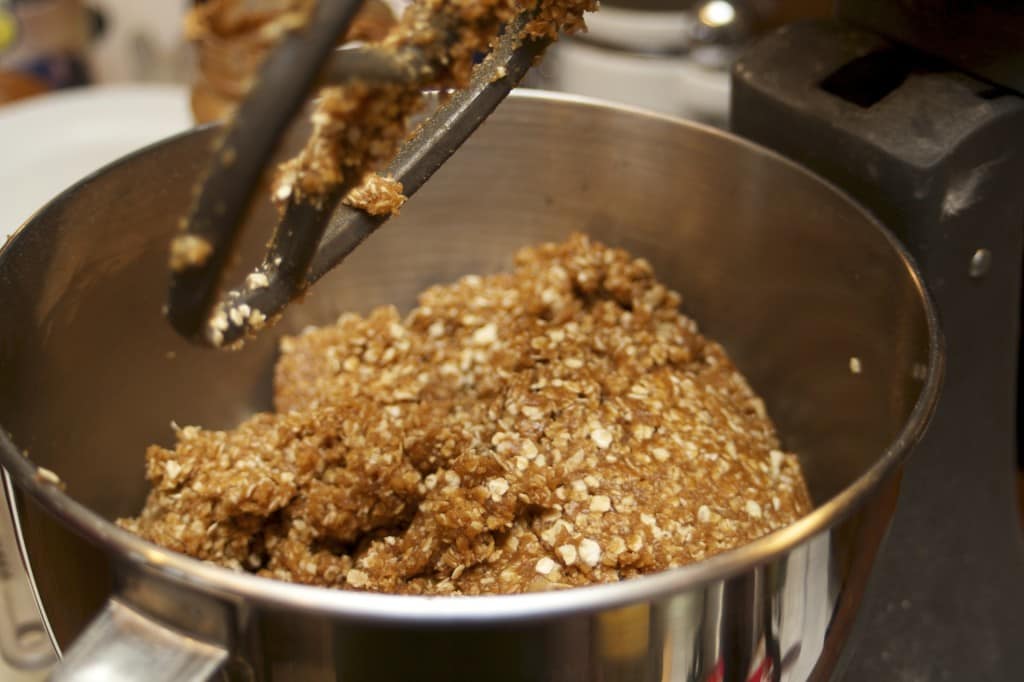 Third, is no nuts!! I am not a fan of cookies with nuts in them and I know some monster cookie recipes call for nuts. Not these babies! The only extras in these are chocolate and chocolate, chocolate chips and M&Ms. Monster cookies aren't really considered "Christmasy" but I jazzed them up with the festive green and red M&Ms. They are always around my parent's house during the holidays.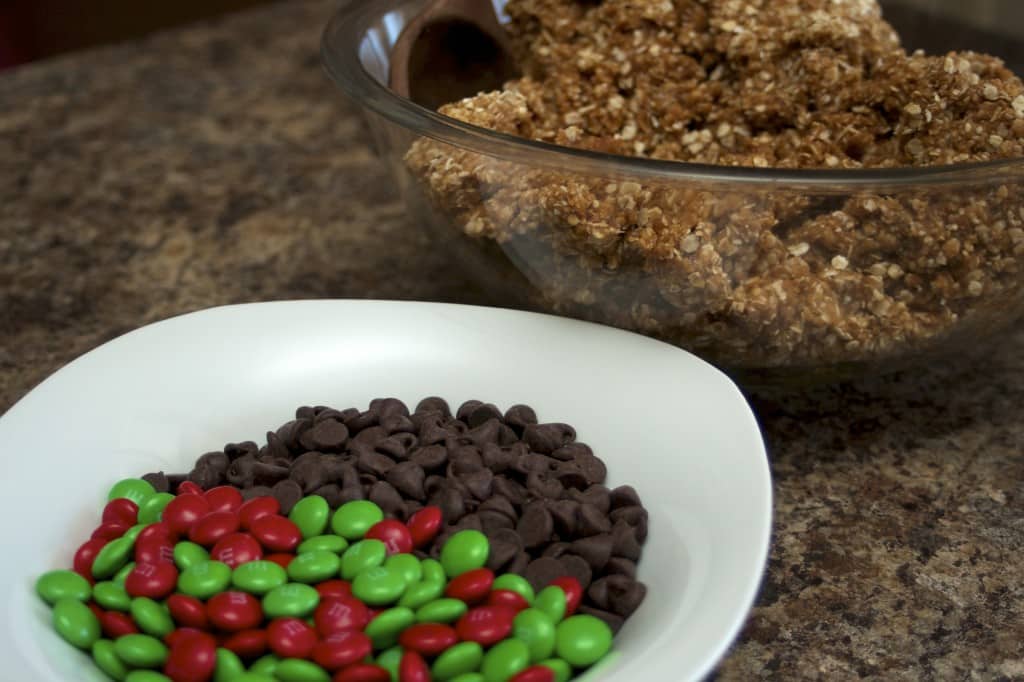 Whether you call them Wookies or Monster cookies, these chewy, scrumpcious, chocolatey cookies are sure to be a hit with family and friends.
For more cookie recipes check out my peanut butter stars and dark peppermint cookies!!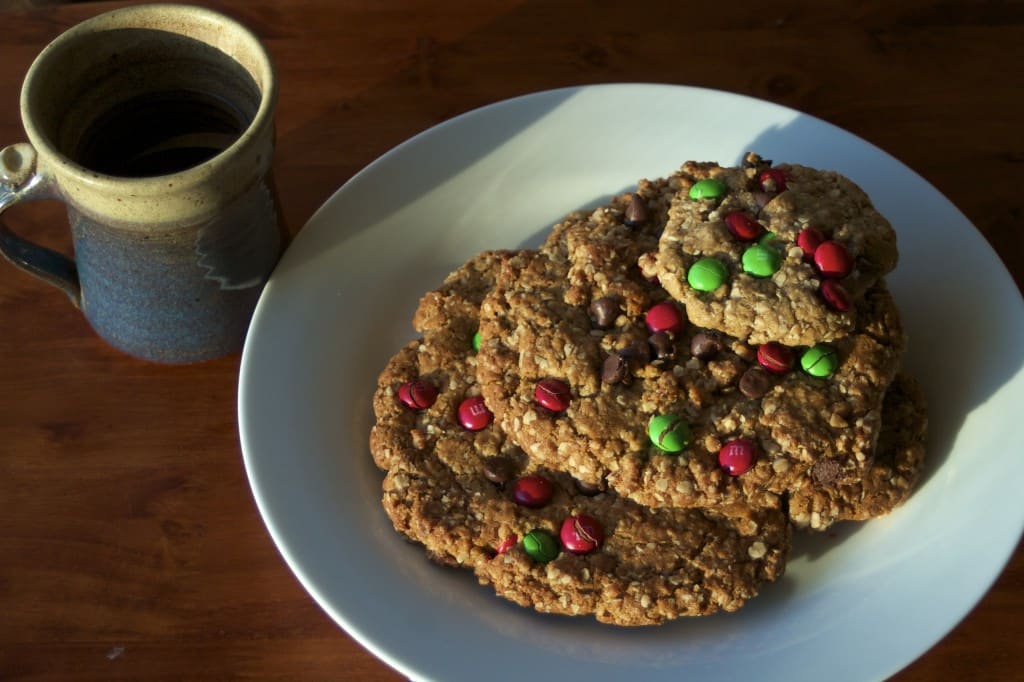 Christmas Monster Cookies
Inspired by Wookies from Geek Food
Ingredients
1/2 cup (one stick) butter
2 cups peanut butter
1 1/2 cups white sugar
1 1/2 brown sugar
2 1/2 tsp baking soda
4 eggs
1 tsp vanilla
6 cups quick oats
3/4 cups chocolate chips
3/4 cups M&Ms
Directions
1. Preheat oven to 350 degrees. Line a baking sheet with silpat or parchment paper.
2. Cream together the butter, peanut butter, and sugars.
3. Add in eggs (one at a time) and vanilla until creamy.
4. Add oats (2 cups at a time) and baking soda until well combined.
5. Stir in chocolate chips and M&Ms. Depending on the size of your mixer, you may have to do this step by hand.
6. Put desired amount of dough on baking sheet. For a normal "monster sized" cookie, about 1/3 cup.
7. Bake for 8-10 minutes, depending on size, until they look set.
8. Let cookies cool on the baking sheet for a minute or so, then onto a wire rack to cool entirely.