Inside: 10 classic books 10 year olds will love!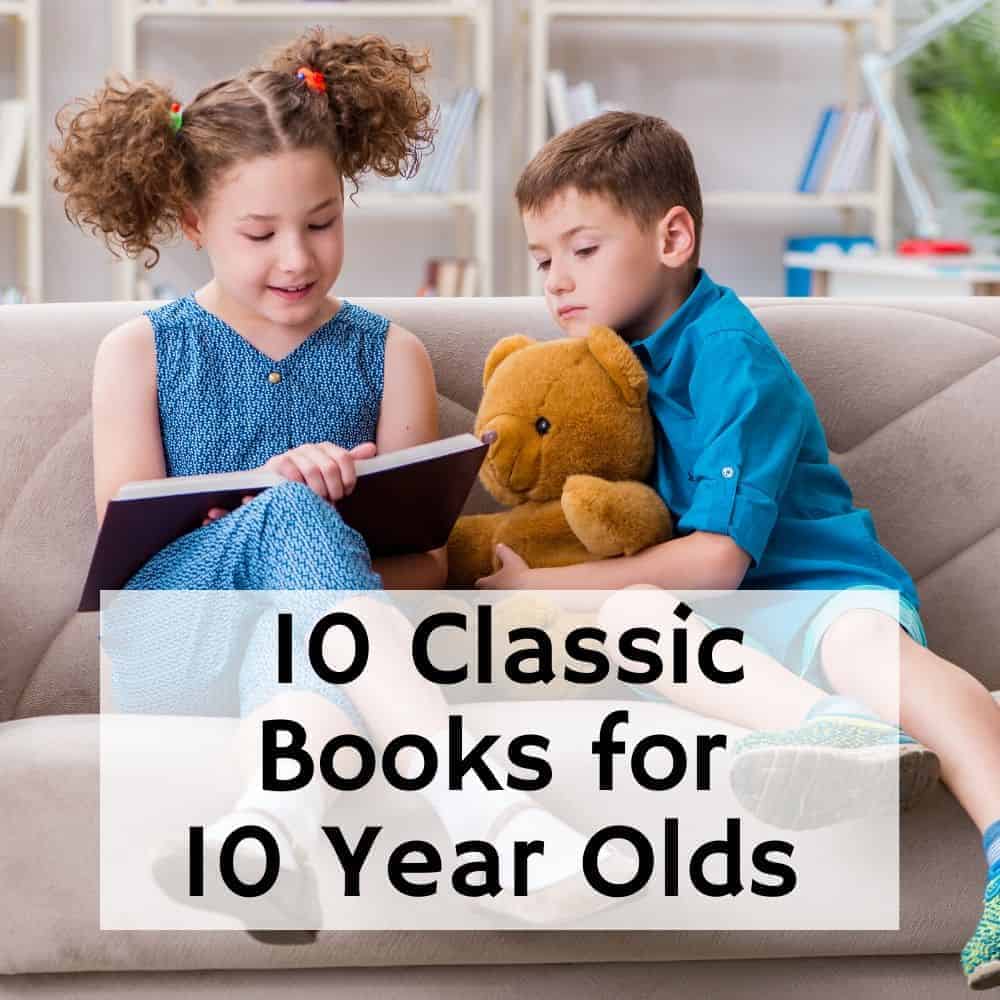 "In a hole in a ground there lived a hobbit." With those 10 words, a classic literature tale begins. And did you know that a 10 year old is partly responsible for the publishing of The Hobbit?
Stanley Unwin, the publisher of The Hobbit, felt that the best judge of children's literature was, of course, children! So when a draft of J.R.R. Tolkien's The Hobbit came across his desk, he gave it to his 10 year-old son Rayner to read and report back.
After completing the book, Rayner gave his literary review to his father:
"Bilbo Baggins was a Hobbit who lived in his Hobbit hole and never went for adventures, at last Gandalf the wizard and his Dwarves persuaded him to go. He had a very exciting time fighting goblins and wargs. At last they get to the lonely mountain; Smaug, the dragon who guards it is killed and after a terrific battle with the goblins he returned home — rich!
This book, with the help of maps, does not need any illustrations it is good and should appeal to all children between the ages of 5 and 9."
The Hobbit isn't on this classic book list, but it goes to show the power of children's opinions. They are the best judge of children's literature and that is always my guiding force when creating book lists: will a child enjoy reading this? This list includes 10 classic books I believe are perfect for 10 year olds.
This post contains affiliate links. If you click and make a purchase, we earn a commission at NO extra cost to you. For more information, please read my full disclosure policy.
Descriptions come from Amazon; some are edited for length
Classic Books for 10 Year olds
The Mouse and the Motorcycle by Beverly Cleary
"A young mouse named Ralph is thrown into a world of excitement when a boy and his shiny toy motorcycle check in to the Mountain View Inn. Ralph spots Keith's red toy motorcycle, and he vows to ride it. And when Keith leaves the bike unattended in his room one day, Ralph makes his move. But with all this freedom (and speed!) come a lot of obstacles. But with a pal like Keith always looking out for him, there's nothing this little mouse can't handle."
"Stuart Little is no ordinary mouse. Born to a family of humans, he lives in New York City with his parents, his older brother George, and Snowbell the cat. Though he's shy and thoughtful, he's also a true lover of adventure. Stuart's greatest adventure comes when his best friend, a beautiful little bird named Margalo, disappears from her nest. Determined to track her down, Stuart ventures away from home for the very first time in his life. He finds adventure aplenty. But will he find his friend?"
"The BFG is no ordinary bone-crunching giant. He is far too nice and jumbly. It's lucky for Sophie that he is. Had she been carried off in the middle of the night by the Bloodbottler, or any of the other giants (rather than the BFG) she would have soon become breakfast. When Sophie hears that the giants are flush-bunking off to England to swollomp a few nice little chiddlers, she decides she must stop them once and for all. And the BFG is going to help her!"
The Cricket In Times Square by George Selden
"Tucker is a streetwise city mouse. He thought he'd seen it all. But he's never met a cricket before, which really isn't surprising, because Tucker and his friend Harry live in the very heart of New York City: the Times Square subway station. Chester Cricket never intended to leave his Connecticut meadow. He'd be there still if he hadn't followed the entrancing aroma of liverwurst right into someone's picnic basket. Now, like any tourist in the city, he wants to look around. And he could not have found two better guides and friends than Tucker and Harry. The trio have many adventures from taking in the sights and sounds of Broadway to escaping a smoky fire."
"Meet the Moffats. There is Sylvie, Joey, Janey, and Rufus, who may be the littlest but always gets in the biggest trouble. Even the most ordinary Moffat day is packed with extraordinary fun. Only a Moffat could get locked in a bread box all afternoon, or dance with a dog in front of the whole town, or hitch a ride on a boxcar during kindergarten recess. And only a Moffat could turn mistakes and mischief into hilarious one-of-a-kind adventure."
Tales of a Fourth Grade Nothing by Judy Blume
"Two is a crowd when Peter and his little brother, Fudge, are in the same room. Grown-ups think Fudge is absolutely adorable, but Peter and his pet turtle, Dribble, know the truth. From throwing temper tantrums to smearing mashed potatoes on the wall, Fudge causes mischief wherever he goes!"
Pippi Longstocking by Astrid Lindgren
"Tommy and his sister Annika have a new neighbor, and her name is Pippi Longstocking. She has crazy red pigtails, no parents to tell her what to do, a horse that lives on her porch, and a pet monkey named Mr. Nilsson. Whether Pippi's scrubbing her floors, doing arithmetic, or stirring things up at a fancy tea party, her flair for the outrageous always seems to lead to another adventure."
Family under the Bridge by Natalie Savage Carlson
"Armand, an old man living on the streets of Paris, relishes his solitary life in the beautiful city. He is happy with his carefree existence, begging and doing odd jobs to keep himself warm and fed. With simple pleasures and no cares, what more could he need? Then one day just before Christmas, Armand returns to his favorite spot beneath the bridge to find three cold and hungry children. Although he has no interest in children, Armand soon finds himself caring for the small family. It does not take Armand very long to realize that he must do whatever it takes to get them a real home."
Lion, the Witch and the Wardrobe by C. S. Lewis
"Four adventurous siblings, Peter, Susan, Edmund, and Lucy Pevensie, step through a wardrobe door and into the land of Narnia, a land frozen in eternal winter and enslaved by the power of the White Witch. But when almost all hope is lost, the return of the Great Lion, Aslan, signals a great change . . . and a great sacrifice."
Little House in the Big Woods by Laura Ingalls Wilder
"Little House in the Big Woods takes place in 1871 and introduces us to four-year-old Laura, who lives in a log cabin on the edge of the Big Woods of Wisconsin. She shares the cabin with her Pa, her Ma, her sisters Mary and Carrie, and their lovable dog, Jack. Pioneer life isn't easy for the Ingalls family, since they must grow or catch all their own food as they get ready for the cold winter. But they make the best of every tough situation."
I don't let a certain date or list dictate what I put on my book lists. I choose books that either my kids, or myself, just love and enjoy reading. Stories filled with friendship, kindness, and adventure! I hope you found this list helpful.
Happy reading!