Keep reading for 10 wonderful 5th grade books!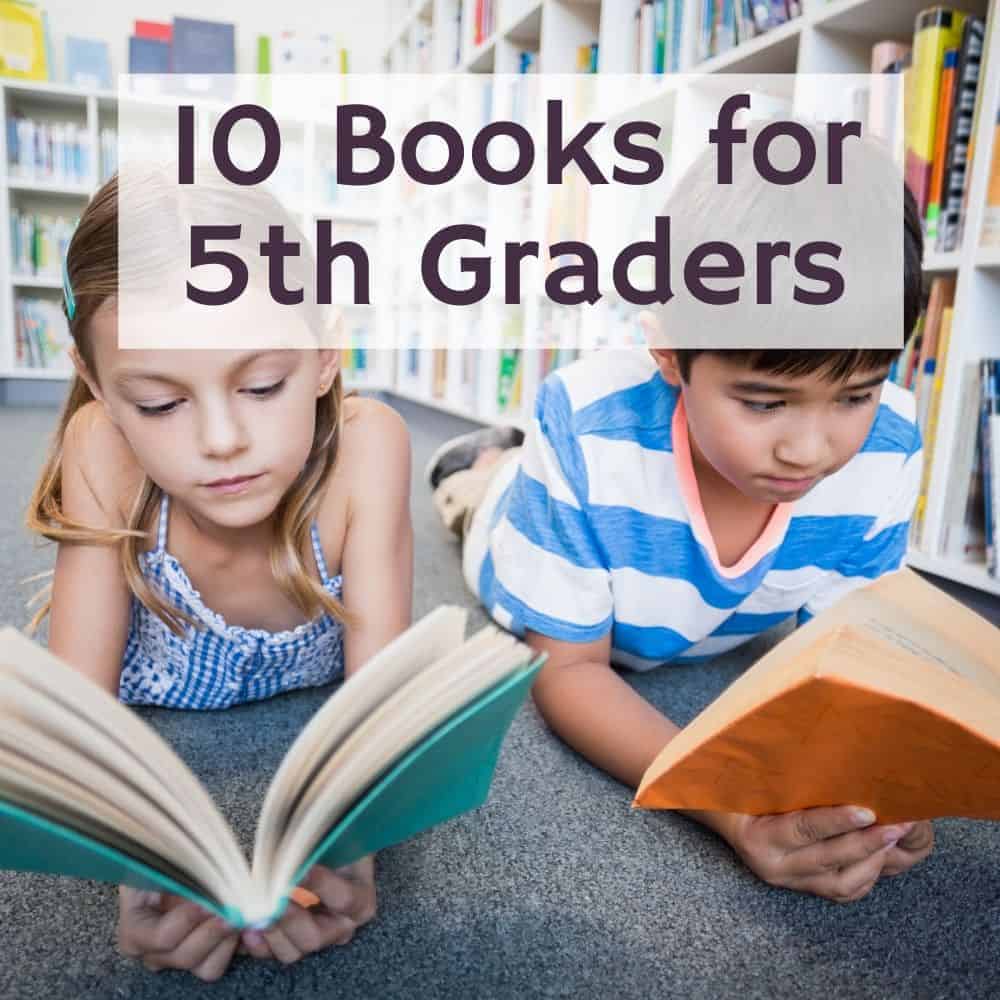 Is it possible to peak when you are in fifth grade? When I look back to my fifth grade year, it was pretty awesome. It was the first time I was recognized for my writing ability, I had an awesome 5th grade teacher, and it was the last year before dreaded middle school began.
I think that is what I enjoyed most about fifth grade. It was care-free year where all of our classmates seemed to get along and there wasn't the divide and cliques of middle school.
That certainly isn't the case for all kids, and some kids really need an escape from school and the realities of life. Reading is a wonderful way to get away. Losing yourself in a story makes all those worries and problems melt away. For a little while anyway.
The following 10 books feature a mix of realistic fiction, fantasy, and historical fiction. Let's get started!
Searching for books for different grades?
This post contains affiliate links. If you click and make a purchase, we earn a commission at NO extra cost to you. For more information, please read my full disclosure policy.
Descriptions come from Amazon; some are edited for length
Books for 5th Graders
"August Pullman was born with a facial difference that, up until now, has prevented him from going to a mainstream school. Starting 5th grade at Beecher Prep, he wants nothing more than to be treated as an ordinary kid, but his new classmates can't get past Auggie's extraordinary face. Wonder, begins from Auggie's point of view, but soon switches to include his classmates, his sister, her boyfriend, and others. These perspectives converge in a portrait of one community's struggle with empathy, compassion, and acceptance."
Henry Huggins by Beverly Cleary
"In the first novel from Newbery Medal–winning author Beverly Cleary, boys and girls alike will be charmed instantly by an average boy whose life is turned upside down when he meets a lovable puppy with a nose for mischief. Just as Henry Huggins is complaining that nothing exciting ever happens, a friendly dog sits down beside him and looks pleadingly at his ice-cream cone. From that moment on, the two are inseparable. But when Ribsy's original owner appears, trying to reclaim his dog, Henry's faced with the possibility of losing his new best friend. Has Klickitat Street seen the last of rambunctious Ribsy?"
The Enormous Egg by Oliver Butterworth
"When twelve-year-old Nate Twitchell takes care of an gigantic egg laid by one of his hens, he is shocked to find that it hatches into a triceratops."
Sounder by William H Armstrong
"The boy knows that times are tough for his family. Every night, his father goes out hunting with their great coon dog, Sounder, to try to put food on the table. But even with the little they bring back, there is still never enough for the family to eat. When the boy awakens one morning to a sweet-smelling ham on the table, it seems like a blessing. But soon, the sheriff and his deputies come to the house and take the boy's father away in handcuffs. Suddenly the boy must grow up fast in a world that isn't fair, keeping hope alive through the love he has for his father's faithful dog, Sounder."
The Lightning Thief (Percy Jackson and the Olympians, Book 1) by Rick Riordan
"Percy Jackson is a good kid, but he can't seem to focus on his schoolwork or control his temper. And lately, things are only getting worse. Percy could have sworn his pre-algebra teacher turned into a monster and tried to kill him. When Percy's mom finds out, she knows it's time that he knew the truth about where he came from, and that he go to the one place he'll be safe. She sends Percy to Camp Half Blood, a summer camp for demigods, where he learns that the father he never knew is Poseidon, God of the Sea. Soon a mystery unfolds and together with his friends, Percy sets out on a quest across the United States to reach the gates of the Underworld and prevent a catastrophic war between the gods."
"kira-kira (kee ra kee ra): glittering; shining. When Katie and her family move from a Japanese community in Iowa to the Deep South of Georgia, it's Lynn who explains to her why people stop on the street to stare. And it's Lynn who, with her special way of viewing the world, teaches Katie to look beyond tomorrow. But when Lynn becomes desperately ill, and the whole family begins to fall apart, it is up to Katie to find a way to remind them all that there is always something glittering, kira-kira, in the future."
"One of the best loved animal stories ever written, the dramatic and heartwarming Black Beauty is told by the magnificent horse himself. From his idyllic days on a country squire's estate to his harsh fate as a London cab horse. No one can ever forget the gallant Black Beauty, a horse with a white star on his forehead and a heart of unyielding courage."
"Stanley Yelnats is under a curse. A curse that began with his no-good-dirty-rotten-pig-stealing-great-great-grandfather and has since followed generations of Yelnatses. Now Stanley has been unjustly sent to a boys' detention center, Camp Green Lake, where the boys build character by spending all day, every day digging holes exactly five feet wide and five feet deep. There is no lake at Camp Green Lake. But there are an awful lot of holes."
"It all begins with a strange coin on a sun-warmed sidewalk. Jane finds the coin, and because she and her siblings are having the worst, most dreadfully boring summer ever, she idly wishes something exciting would happen. And something does: Her wish is granted. Or not quite. Only half of her wish comes true. It turns out the coin grants wishes, but only by half, so that you must wish for twice as much as you want. Wishing for two times some things is a cinch, but other doubled wishes only cause twice as much trouble."
The Tale of Desperaux by Kate DiCamillo
"Welcome to the story of Despereaux Tilling, a mouse who is in love with music, stories, and a princess named Pea. It is also the story of a rat called Roscuro, who lives in the darkness and covets a world filled with light. And it is the story of Miggery Sow, a slow-witted serving girl who harbors a simple, impossible wish. These three characters are about to embark on a journey that will lead them down into a horrible dungeon, up into a glittering castle, and, ultimately, into each other's lives. What happens then? As Kate DiCamillo would say: Reader, it is your destiny to find out."
From Augie to Despereaux, this list provides a wide variety of books for fifth grade boys AND girls to enjoy. Fantasy, realistic fiction, classics; a little something for everyone!
Happy reading!