Keep reading for the best classic chapter books for kids!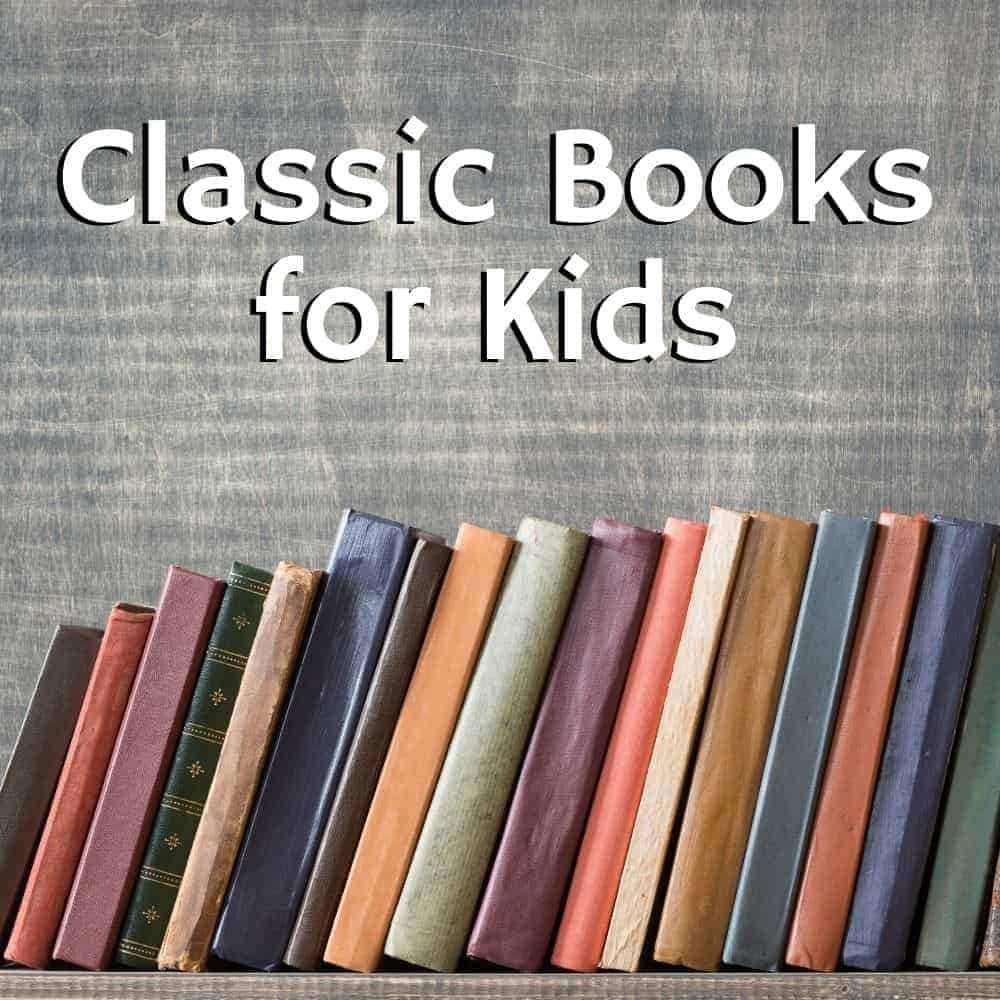 I think the first classic book I read with oldest daughter was James and the Giant Peach. Roald Dahl's magical tale of a young boy escaping from his horrible Aunts. I read it to her when she was around 5 years old.
She wasn't anywhere close to reading independently. In fact, both of my kids didn't start reading until they were 8 years old, which is a story for another day, but before they ever learned to read a single word I was reading them classic books.
I didn't realize it at the time. It was what I had grown up reading, so that is what I read to them: Cat in the Hat, Where the Wild Things Are, Charlotte's Web.
Classic books aren't about a length of time they are around or how many awards they have won, it's about a feeling you get when you start reading them. A feeling that takes you back to certain place and time of your childhood when everything was care-free and peaceful.
That's what I think of when I think of classic books. I do, however, think classic books need to be broken up into age ranges. Some classic books for kids, wonderful as they are, can be really hard for some kids to read. The language and vocabulary can be difficult for them to decipher.
So how do you know which classic books your kids are ready for? This list is for you! It has all my classic book posts in one master blog post and they are broken down by age group. Following each post, I put in what my absolute FAVORITE book from that list is. Let's get started!
This post contains affiliate links. If you click and make a purchase, we earn a commission at NO extra cost to you. For more information, please read my full disclosure policy.
Classic Books for Kids
Charlotte's Web is the beloved tale by E.B. White showcasing the power of friendship, love, and loyalty. One of my favorite classic chapter books ever!
"Some Pig. Humble. Radiant. These are the words in Charlotte's Web, high up in Zuckerman's barn. Charlotte's spiderweb tells of her feelings for a little pig named Wilbur, who simply wants a friend. They also express the love of a girl named Fern, who saved Wilbur's life when he was born the runt of his litter."
"You have been my friend. That in itself is a tremendous thing."
It's almost impossible for me to pick my favorite book for 10 year olds, but The Mouse and the Motorcycle is really close to the top of the list!
"A young mouse named Ralph is thrown into a world of excitement when a boy and his shiny toy motorcycle check in to the Mountain View Inn. When the ever-curious Ralph spots Keith's red toy motorcycle, he vows to ride it. So when Keith leaves the bike unattended in his room one day, Ralph makes his move. But with all this freedom (and speed!) come a lot of obstacles. Whether dodging a rowdy terrier or keeping his nosy cousins away from his new wheels, Ralph has a lot going on! And with a pal like Keith always looking out for him, there's nothing this little mouse can't handle."
"Neither the mouse nor the boy was the least bit surprised that each could understand the other. Two creatures who shared a love for motorcycles naturally spoke the same language."
The Phantom Tollbooth was a book I discovered recently and was hooked from the first page. It's clever use of puns and homonyms will have you reading sentences over and over again! It's silliness is only matched by the joy it brings to the reader.
"For Milo, everything's a bore. When a tollbooth mysteriously appears in his room, he drives through only because he's got nothing better to do. But on the other side, things seem different. Milo visits the Island of Conclusions (you get there by jumping), learns about time from a ticking watchdog named Tock, and even embarks on a quest to rescue Rhyme and Reason! Somewhere along the way, Milo realizes something astonishing. Life is far from dull. In fact, it's exciting beyond his wildest dreams. . . "
"You must never feel badly about making mistakes … as long as you take the trouble to learn from them. For you often learn more by being wrong for the right reasons than you do by being right for the wrong reasons."
My children's obsession with Ron Swanson began with the actor's performance of The Adventures of Tom Sawyer on audiobook. This classic book isn't the easiest for kids to read independently but my kids have listened to it several times and love it a little more each time. You may have to explain some of the language but once you explain what it means to be "afeared" your kids will never stop saying it!
"With The Adventures of Tom Sawyer, not even Twain could have known that when he introduced readers to the inhabitants of the fictional town of St. Petersburg, Missouri, he would also be introducing two characters: one a clever and mischievous scamp, and the other a carefree, innocent ragamuffin whose stories would ultimately shape the course of American literature. Revisit this enduring classic and you will be struck not only by Twain's skill at capturing a time and place so vividly but also by his uncanny ability to crystallize those oftentimes tumultuous and conflicting emotions that a child experiences at the precipice of adulthood."
"Tom said to himself that it was not such a hollow world, after all. He had discovered a great law of human action, without knowing it — namely, that in order to make a man or a boy covet a thing, it is only necessary to make the thing difficult to attain."
My favorite book from this list is not only one of my favorite book series ever, but it is one of the best values ever! You can get ALL the Ramona Quimby collection for 1 Audible Credit. Just one! It's 8 books for the price of one. Eight amazing books where we get to know and love the quirky and boisterous Ramona Quimby.
"Meet Ramona. She lives on Klickitat Street with her mother, father, and big sister, Beezus. She's not afraid of anything and is always up to something. And that's just the beginning…."
"Ramona did not consider herself to be a pest. People who called her a pest did not understand that a littler person sometimes had to be a little bit noisier and a little bit stubborn in order to be noticed at all."
I update this post often so make sure you check back in to find more wonderful books classic books for kids!