Keep reading for 10 of the best classic books for 9 year olds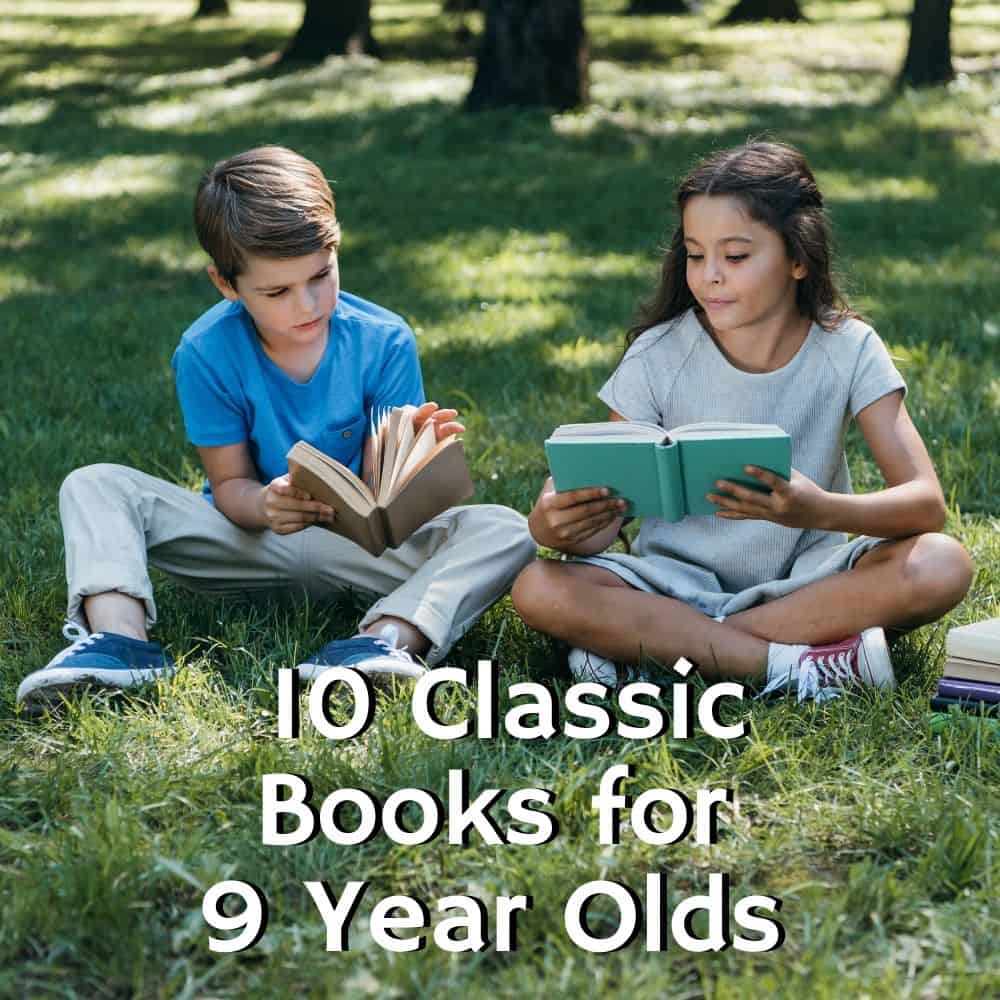 "You aren't old until you are Beverly Cleary's age" were the words my sweet summer child said one day. According to her, her grandparents aren't old, even her 98 year old great-grandfather wasn't old. You aren't old until you are as old as Beverly Cleary.
Beverly Cleary, the beloved author of more than 30 books, celebrated her 103 birthday on April 12, 1919. And she is my children's favorite author. They listen to the adventures of Ramona Quimby, Henry Huggins, and Ralph S. Mouse on repeat. In fact, it can be hard to get them to read anything else.
But that's a good thing! Classic books like those draw kids in and hook them. The effortless character development as well as the engaging storylines keeps kids coming back year after year.
And that's my definition of a classic book. A book that has stood the test of time and the critique of children. The familiarity of a title and the warm memory of reading the book for the first time combine to make a classic book. It isn't a copyright date or a best children's book ever list. It's the feeling of an old friend coming to visit.
Classic books can be tricky book recommendations because the varying reading levels. Because my children were late readers (as was Beverly Cleary!) the books I recommend may be slightly below "normal" reading level. Nevertheless, the following books are books my children or I have read loved!
This post contains affiliate links. If you click and make a purchase, we earn a commission at NO extra cost to you. For more information, please read my full disclosure policy.
Descriptions come from Amazon; some are edited for length
Classic Books for 9 Year olds
Beezus and Ramona by Beverly Cleary
"Having a little sister like four-year-old Ramona isn't always easy for Beezus Quimby. With a wild imagination, disregard for order, and an appetite for chaos, Ramona makes it hard for Beezus to be the responsible older sister she knows she ought to be. Will Beezus find the patience to handle her little sister before Ramona turns her big day into a complete disaster? "
"It has been a while since Folks lived in the Big House, and an even longer time has passed since there has been a garden at the House. All the animals of the Hill are very excited about the new Folks moving in, and they wonder how things are going to change. It's only a matter of time before the animals of the Hill find out just who is moving in, and they may be a little bit surprised when they do."
The Best Christmas Pageant Ever by Barbara Robinson
"Ralph, Imogene, Leroy, Claude, Ollie, and Gladys Herdman are an awful bunch. They set fire to Fred Shoemaker's toolshed, blackmailed Wanda Pierce to get her charm bracelet, and smacked Alice Wendelken across the head. And that's just the start! When the Herdmans show up at church for the free snacks and suddenly take over the Christmas pageant, the other kids are shocked. It's obvious that they're up to no good. But Christmas magic is all around and the Herdmans, who have never heard the Christmas story before, start to reimagine it in their own way. This year's pageant is definitely like no other, but maybe that's exactly what makes it so special."
The Chocolate Touch by Patrick Skene Catling
"In this zany twist on the legend of King Midas and his golden touch, a boy acquires a magical gift that turns everything his lips touch into chocolate! Can you ever have too much of your favorite food? John Midas is about to find out!"
Besty-Tacy by Maud Hart Lovelace
"There are lots of children on Hill Street, but no little girls Betsy's age. So when a new family moves into the house across the street, Betsy hopes they will have a little girl she can play with. Sure enough, they do, a little girl named Tacy. And from the moment they meet at Betsy's fifth birthday party, Betsy and Tacy become such good friends that everyone starts to think of them as one person—Betsy-Tacy."
"Nicky has freckles that cover his face, his ears, and the whole back of his neck. Sitting behind him in class, Andrew once counted eighty-six of them, and that was just a start! If Andrew had freckles like Nicky, his mother would never know if his neck was dirty. One day after school, Andrew works up enough courage to ask Nicky where he got his freckles. When know-it-all Sharon overhears, she offers Andrew her secret freckle juice recipe for fifty cents. It's a lot of money, but Andrew is desperate. At home he carefully mixes the strange combination of ingredients. Then the unexpected happens…"
Mrs. Piggle Wiggle by Betty Macdonald
"Meet Mrs. Piggle-Wiggle! She lives in an upside-down house with a kitchen that is always full of freshly baked cookies. She was even married to a pirate once! Best of all, she knows everything there is to know about children.When Mary turns into an Answer-Backer or Dick becomes Selfish or Allen decides to be a Slow-Eater-Tiny-Bite-Taker, Mrs. Piggle-Wiggle has the perfect cure. And her solutions always work, with plenty of laughs along the way."
Happy Little Family by Rebecca Caudill
"Bonnie is more than ready to join her older sisters and brother in the many adventures she sees come their way, whether it be sliding along the ice, searching for arrowheads, or going on a journey across the swinging bridge to school. Winter or summer, something is always happening in the Fairchild house, tucked amidst the pine trees of the Kentucky hills one hundred years ago or more. And, four years old or not, Bonnie usually manages to be in the middle of the action!"
My Father's Dragon by Ruth Stiles Gannett
"When Elmer Elevator tells a stray cat about his dream of being able to fly, he learns of a captive dragon on Wild Island. The dragon has been forced by the jungle residents to serve as their shuttle across a wide river, and anyone who rescues the dragon from its cruel captors might be entitled to a free ride. Elmer needs no further encouragement to stow away aboard a ship to the island, where he matches wits with hungry tigers, an irate gorilla, cranky crocodiles, and other moody creatures."
A Bear Called Paddington by Michael Bond
"Paddington Bear had traveled all the way from Peru when the Browns first met him in Paddington Station. Since then, their lives have never been quite the same . . . for ordinary things become extraordinary when a bear called Paddington is involved."
Classic books don't have to be wonderful tales of years gone by. They can be the story of two completely different sisters trying their best to get along or the tales of two little girls who are best friends. They are the stories that stay with you forever. That's what makes a classic book!
Happy reading!