You CAN watch HBO without cable. Keep reading to find out how!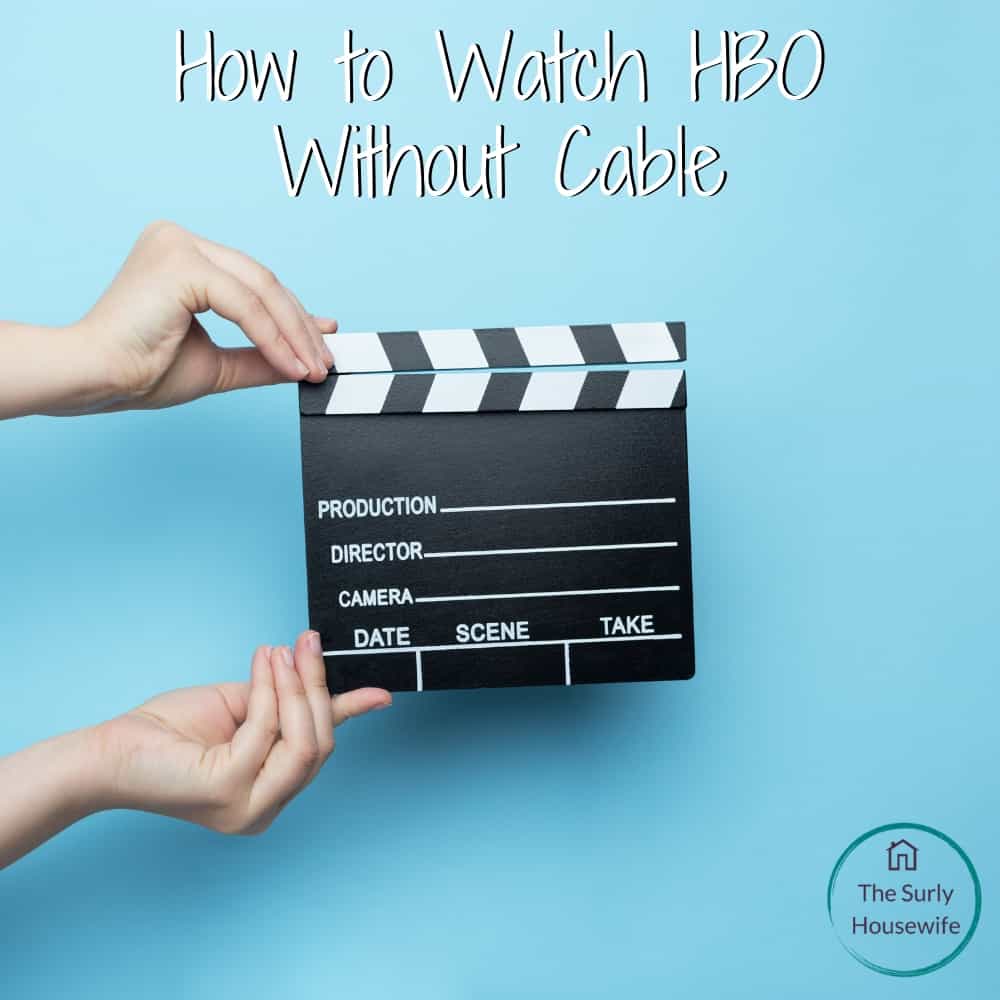 Did you know that HBO premiered in 1972 to only 365 households? And it wasn't until 1981 that it offered 24 hour programming.
HBO, or Home Box Office, originally provided uncut and commercial-free movies to cable subscribers who paid extra for the service. During the early '90's, HBO experimented with original series, but it was 1997 that would change the face of television. That year HBO launched it's first dramatic series that raised the bar for premium cable. I know you might be thinking it is The Sopranos, but it was actually Oz that paved the way for HBO's critical success in the area of original programming.
Since that time HBO has produced some of the most popular and critically-acclaimed shows on television including Game of Thrones, The Sopranos, Six Feet Under, Oz, Curb Your Enthusiasm, The Wire, Sex in the City, Big Love, Entourage, and True Blood.
HBO also has 7 different channels and four other services which makes watching any of these amazing shows easy as can be. Or is it?
Between HBO, HBO Family, HBO HD, HBO NOW, and HBO on demand, is it a wonder people get confused on how to watch live programming or on what device they can watch it? But I promise you, it's not that hard. HBO makes it very simple to watch your favorite show, life or on-demand, even for those of us without a cable subscription.
How to Watch HBO Without a Cable Subscription
HBO has two main streaming options: HBO NOW and HBO GO. HBO GO is an app for HBO subscribers who have traditional cable packages. HBO NOW is for the rest of us.
HBO GO
If you have HBO through a traditional cable or satellite TV package, you get HBO Go for free. You can stream all of HBO's content s on supported phones, tablets, connected TVs, and gaming consoles. This option not only gives you on-demand service, but also live streaming as shows air on HBO.
HBO NOW
HBO NOW is a standalone subscription to HBO that gives you all of HBO's content with no cable or satellite TV package required. To sign-up for HBO NOW, all you need to do is go to HBONOW.com. Upon signing up, the first month is free and after the free trial it costs $14.99 which you can cancel anytime.
To watch HBO, you can use HBO Now app available on applicable devices, including mobile, or in a browser at HBONow.com. Below is a screen shot of the all the devices that stream HBO NOW. They do make it so easy!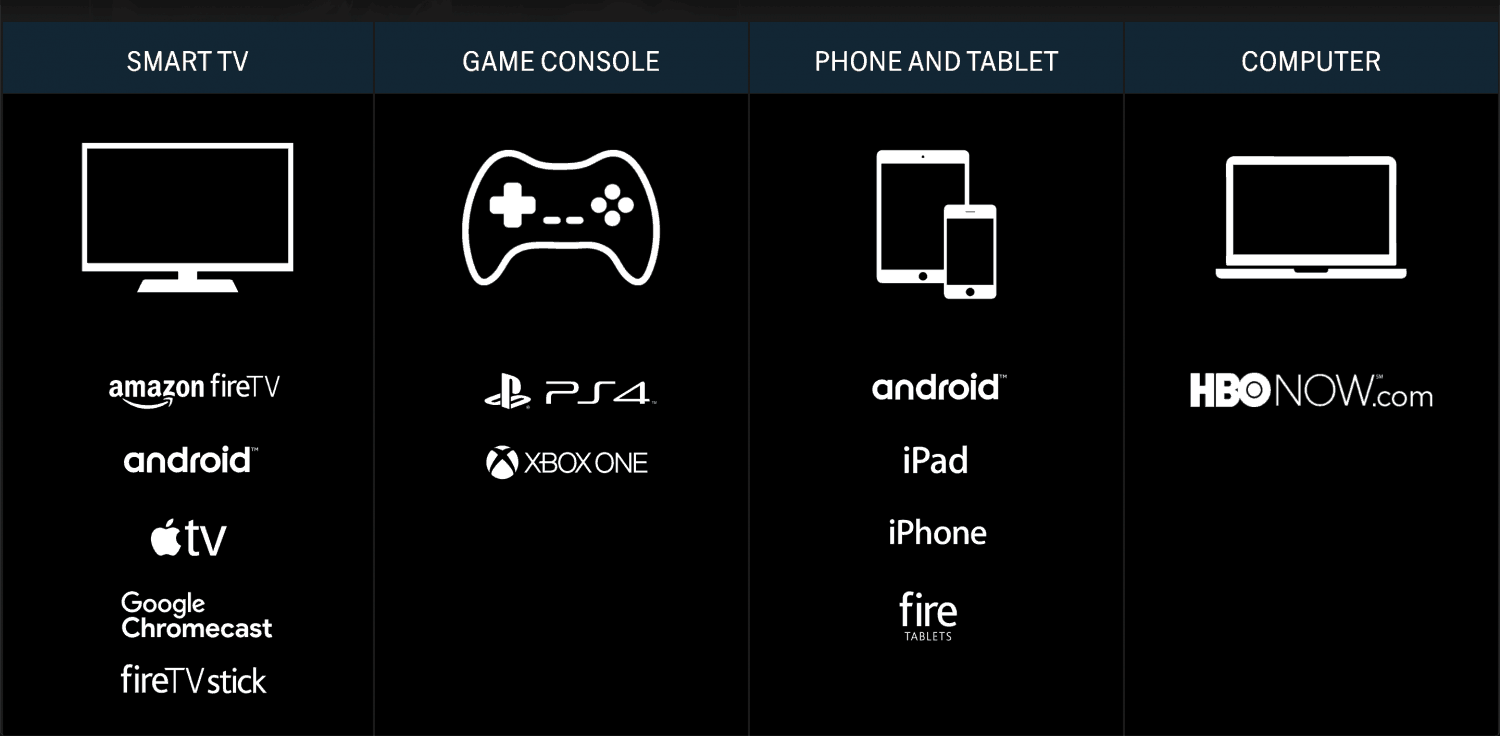 Add HBO to a streaming service
Another option for streaming HBO is by adding it as an upgrade on one of your existing streaming accounts. The pricing is the same as HBO NOW. A free 30 day trial, and $14.99/month after the trial and cancel at anytime. What I love most about this option is it magically appears on your streaming service. No extra apps to install or sign-ins to navigate. It's just there! Much like when you add it to your cable plan.
Hulu
Hulu is a streaming service that live and features on-demand tv and movies. It has TV series currently in production, as well as past seasons, original series, and live tv. Hulu's plans start as low as $5.99 a month. Hulu subscribers can add HBO for $14.99/month after a one month free trial.
Amazon Prime Video
A Prime membership costs $119 a year and Prime members can add HBO for $15 a month. Also, many of HBO's past content can be streamed on Prime Video as part of your subscription.
DirecTV Now
DirecTV Now is an internet tv streaming service which offers one of the cheapest options for HBO. Subscribers are able to stream programming from cable channels without the long term commitment. If you are a DirecTV Now subscriber, you can add HBO AND Cinemax for the low price of $5 a month to any plan, (plans start at $40 a month.)
PlayStation Vue
PlayStation Vue is another internet television service which combines live TV, on-demand video, and cloud-based DVR to stream television programs, movies, and sporting events directly to a PlayStation console or other supported device. If you subscribe to Vue's Ultra plan ($80-a-month) it INCLUDES HBO and Showtime. However, you can purchase a standalone HBO subscription for $15 a month without a PlayStation Vue plan.
From The Sopranos to Game of Thrones, from Sex in the City to Veep, HBO provides some of the funniest, edgiest, and quality tv you could ask for. Not only that, with an HBO NOW subscription you can watch movies, documentaries, stand-up comedy, and sports! It's an amazing deal.