Keep reading for letter B activities for preschool, including sensory play and letter work!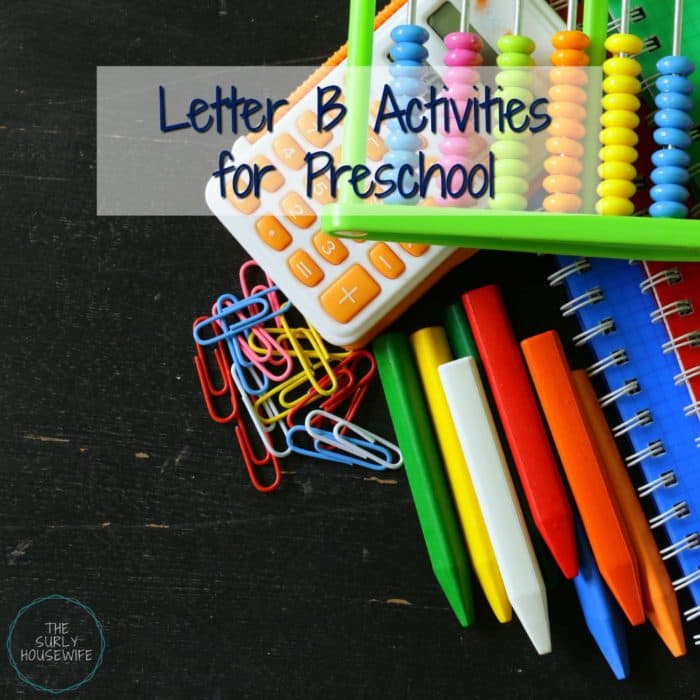 If your style of homeschooling is similar to mine, child-led, lots of books, and lots of play, or if you are looking to get your feet wet with homeschooling this blog post is for you! I provide a simple 3 day a week plan. Each day has one activity and one corresponding book.
Homeschooling a preschooler doesn't have to complicated or overly ambitious. A book and spending time together is all you need. Remember, using a Letter of the Week theme isn't about teaching your child to read. It's about letter recognition. Don't stress if they aren't fluent in all things B after this week. It's supposed to be fun! Let's get to it!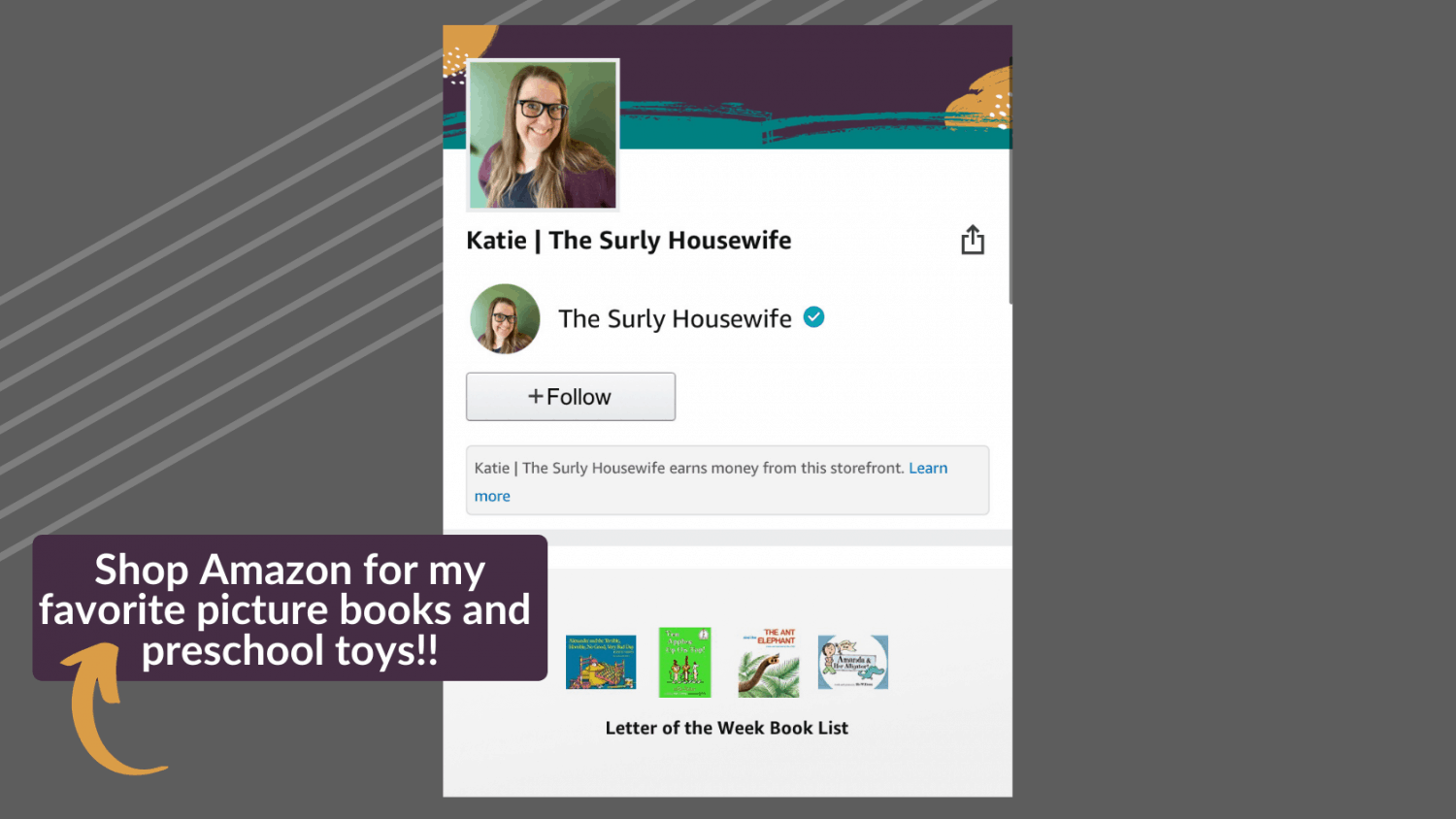 This post contains affiliate links. If you click and make a purchase, we earn a commission at NO extra cost to you. For more information, please read my full disclosure policy.
Letter B Activities for Preschool
Day One – Going on a Bear Hunt and Sensory Play
For the Letter B I thought we would focus on one of my favorite animals in the animal kingdom: bears!! And what better way to start with the classic book We're Going on a Bear Hunt. This classic is sure to be at your local library and kids just love it!
"Have you ever gone on a bear hunt? Come along on this one with a brave young family: four children (including the baby) and their father. They're not scared. With them you will cross a field of tall, wavy grass ('Swishy swashy!'), wade through a deep, cold river ('Splash splosh!'), struggle through swampy mud ('Squelch squerch!'), find your way through a big, dark forest ('Stumble trip!'), fight through a whirling snowstorm ('Hoooo woooo!'), and enter a narrow, gloomy cave. WHAT'S THAT? You'll soon learn just what to do to escape from a big, furry bear!"
Sensory play – ABC Find it
I always started our Letter of the Week work with some form of sensory play. It really helps kids dig into learning. See what I did there?!
For the Letter by we did ABC Find It with rice from one of my favorite bloggers and homeschooling moms, Carissa from 1+1+1=1.
The girls loved this activity and it's so simple. It's a simple matching game from a sensory bin to the poster, as well as listening and pointing to pictures. It allows them to practice their listening skills as well as matching, taking turns, letter and word recognition.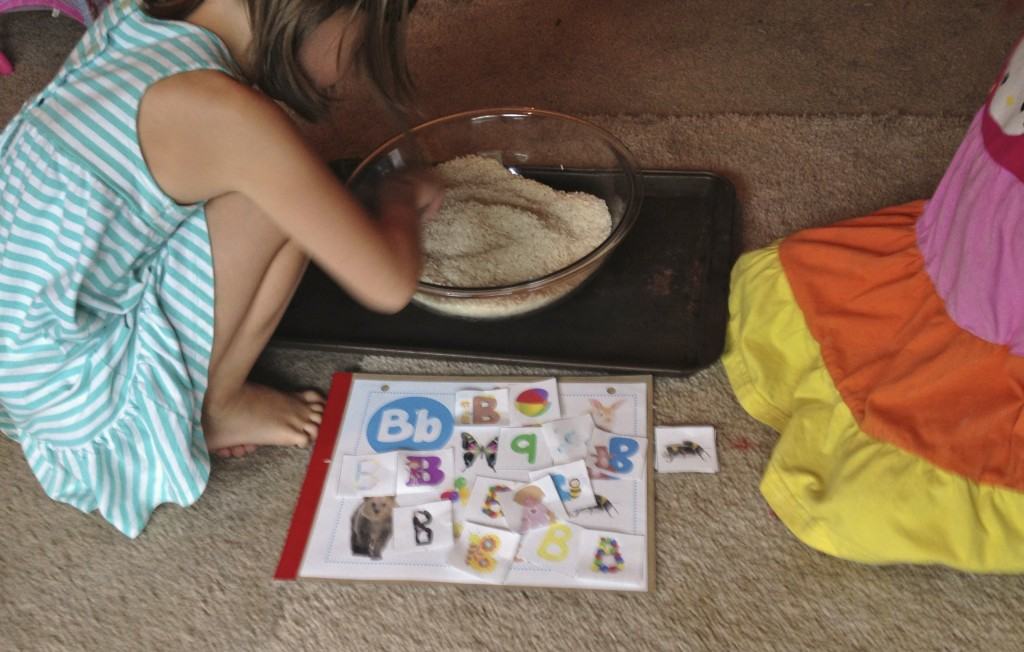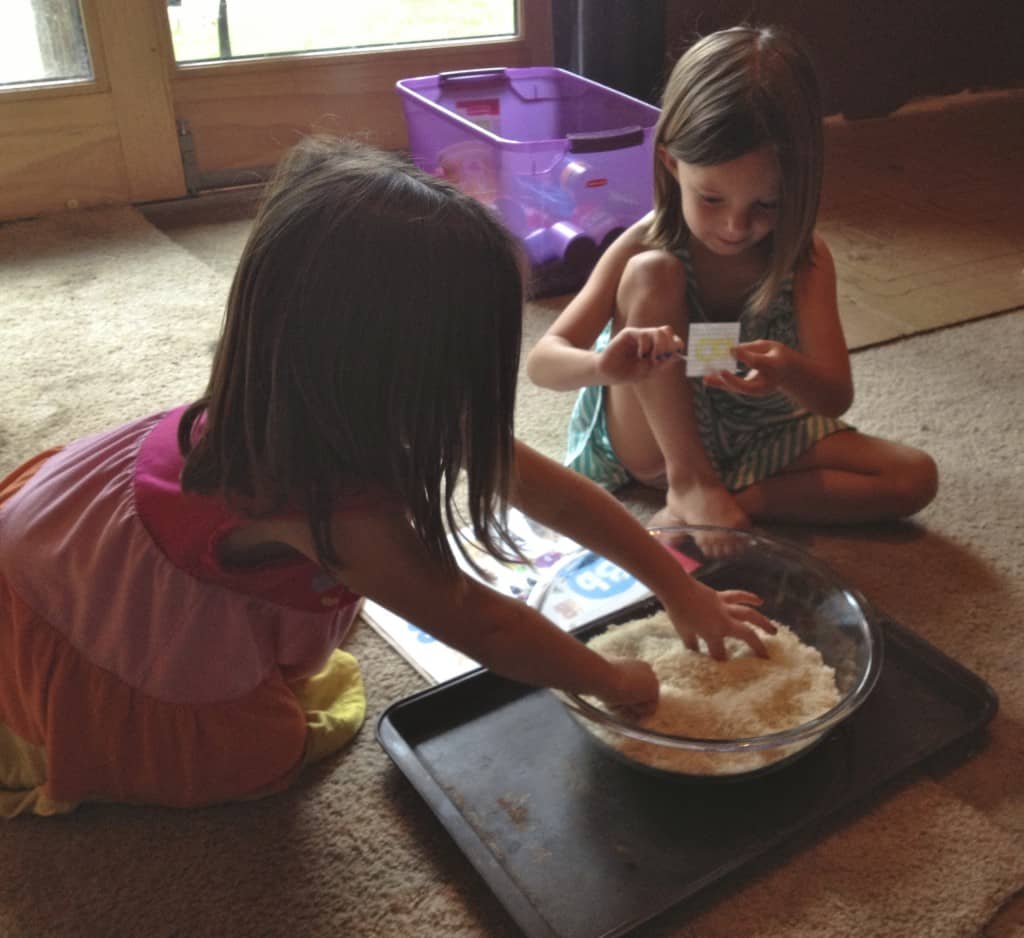 The printables for ABC Find It are from the blog 1+1+1=1. I cannot say enough about all her printables. I have used printables she has created for my girls since they were toddlers. Check her out! Click here for access to her ABC Find it printables. PLUS, tons of ideas on how you can use theses printables.
Day 2 – Brown Bear, Brown Bear, What do you See? and Letter work
Brown Bear, Brown Bear, What do You See? was one of my favorite books to read to my kids.
"A big happy frog, a plump purple cat, a handsome blue horse, and a soft yellow duck–all parade across the pages of this delightful book. Children will immediately respond to Eric Carle's flat, boldly colored collages. Combined with Bill Martin's singsong text, they create unforgettable images of these endearing animals."
And the best part is there are so many versions of this lovely predictive text story.
Letter Work or Worksheets
My kids LOVE animals Animal ABCs from 1+1+1=1's were my top pick for our letter work activities.
Click here for access to these awesome printables!
Included in the pack are number tracing, animals to cut out and glue, a coloring/tracing sheet, and tracing lines and letters.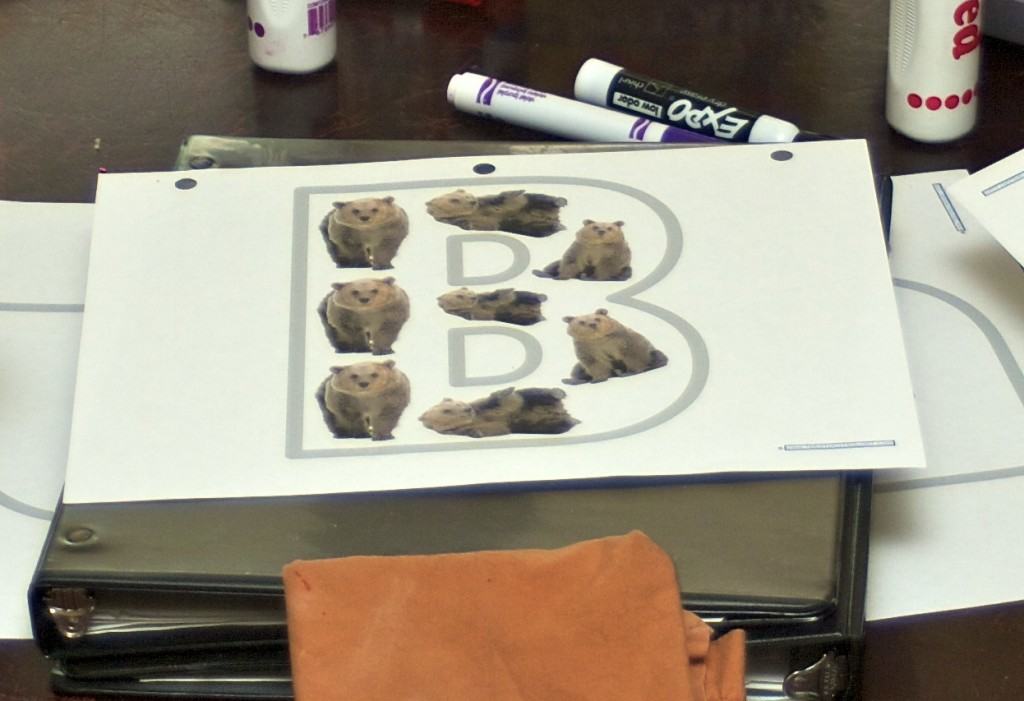 Day 3 – The Berenstain Bears Catch the Bus and Paper Crafts
Some people don't care for Berenstain Bears books but I have always loved them!! I chose this particular book because it goes so well with our paper craft: a bus!!
"It's 7:45 a.m. and Gus the bus driver is on his way. But the Cubs aren's even up yet! Will they miss the bus? Told in humorous easy-to-read text, this simple story offers up a blow-by-blow description of just another morning in the Bear household–which readers will find not all that different from their own!"
Paper Crafts
For each letter we did a paper craft that was a mode of transportation. We put them all together to make a transportation book. My husband is a truck driver so they are naturally obsessed with all forms of transportation. B was for bus!
I am the least crafty person on earth so I use these printables from Learn Create Love. My kids and I love these printables. You simply print them out, the kids color or paint them, cut them out, and glue together. You can clue them onto paper and create an animal book or simply let your child play with the paper crafts. My kids still love to do this!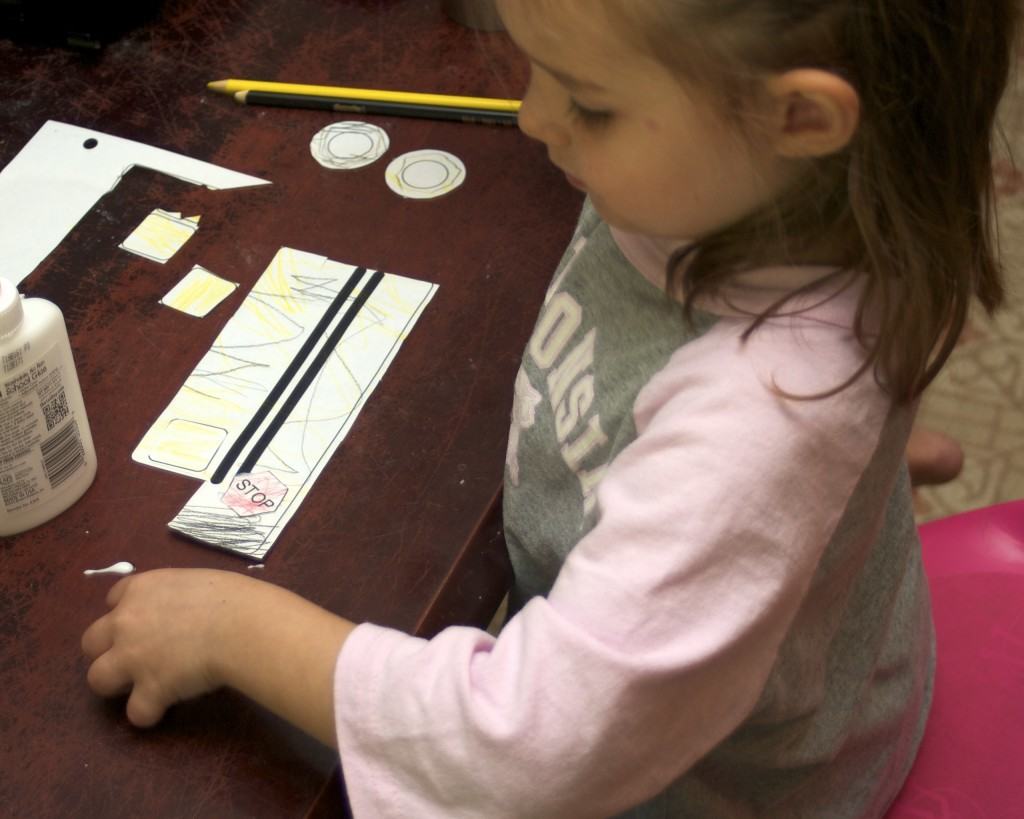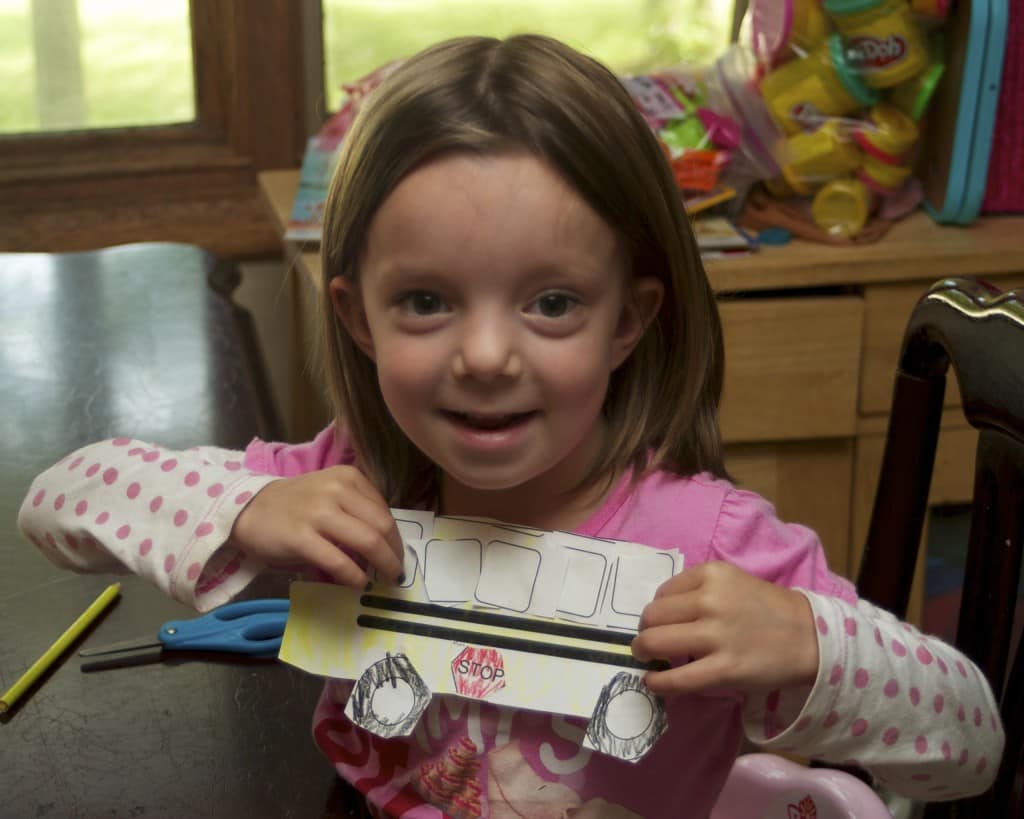 ABC Book
For each letter we also added to our ABC book. They colored, stamped, glued, or painted something that started with the respective letter onto a large outline of the letter. Much like the picture below!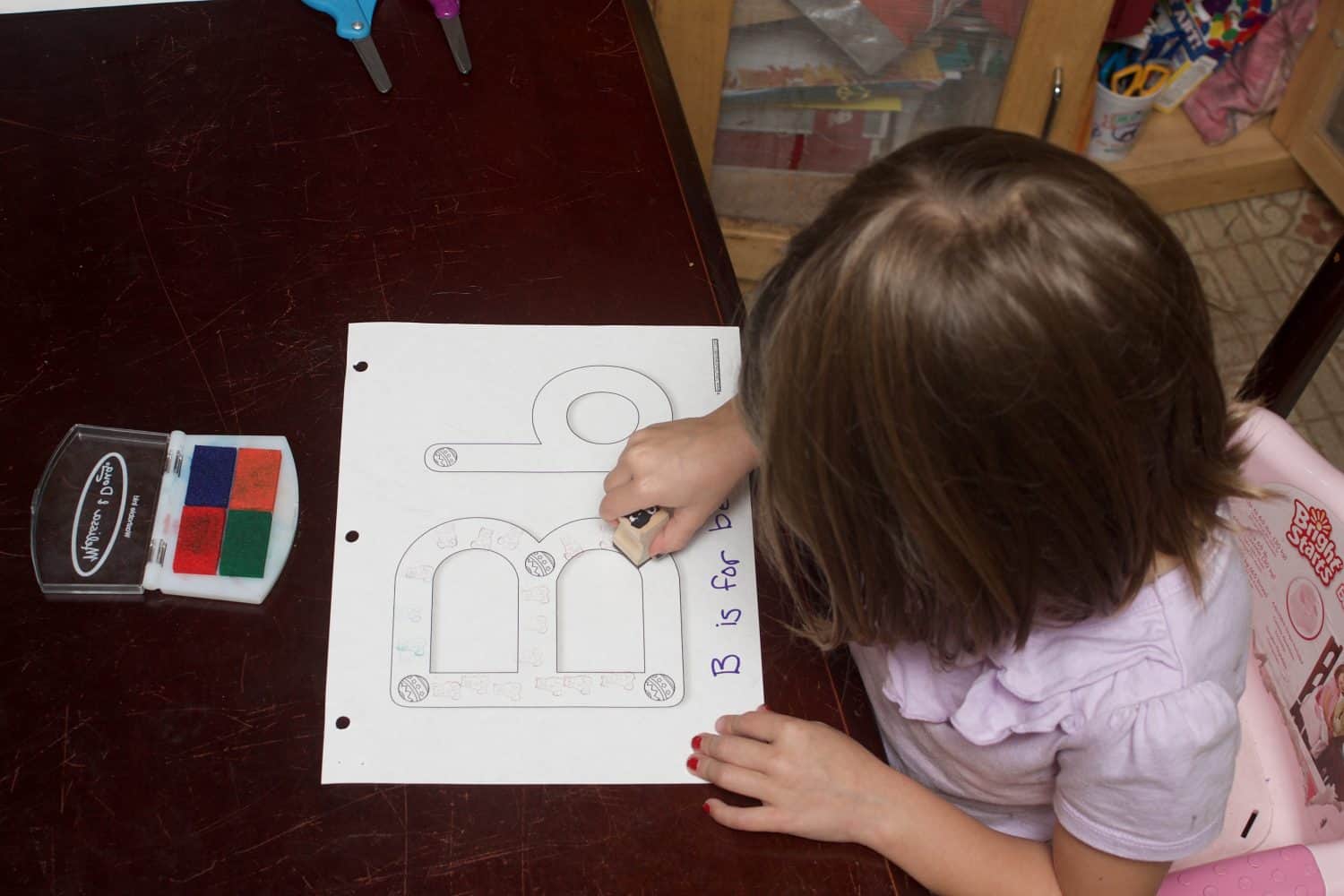 B is for Bear Books:
Here are some additional bear-centric books.
"Meet Little Bear, a friend to millions of children. And meet Mother Bear, who is there whenever Little Bear needs her. When it is cold and snowy outside, she finds just the right outfit for Little Bear to play in. When he goes to the moon, she has a hot lunch waiting for him on his return. And, of course, she never forgets his birthday."
"What does a little bear wear while he romps through a bright and sunny day? In the morning, his pants that dance, a rose between his toes, and the sun on his legs that run. At lunchtime, an apple to bite and a moustache of white, and juice from a pear and rice in his hair. And at night, his pjs with feet and face on the seat, and sleep in his eyes and stars in the skies, as he dreams of the fun he'll have tomorrow."
"Join Paddington as he meets the Browns, visits the palace, goes to the zoo, and much more! This treasury is a wonderful introduction to the bear who delights and charms everyone he meets, and is a celebration of Paddington's enduring popularity."
There you have it, our letter B unit. I hope you found something you can implement in your homeschool!!
Additional Recourses
Thanks for reading!