Set your kitchen up for success with these 20 must-have kitchen tools!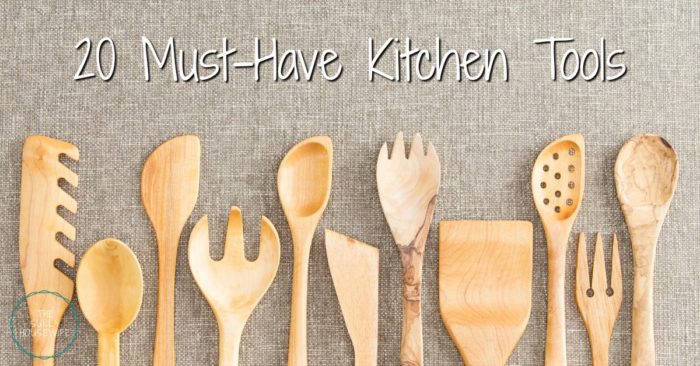 When you first set up your kitchen it can be a bit overwhelming to figure out what you need to buy. I put together a list of what I think are must haves for housewive's kitchen. Some of the items are little more expensive but I think it's worth investing in these items because you are using them at least once a week, most are once a day. Most of the items on this list are less than $40 which is very reasonable in my book!!
This post contains affiliate links. If you click and make a purchase, we earn a commission at NO extra cost to you. For more information, please read my full disclosure policy.
20 Must-Have Kitchen Tools
1. Can Opener
This may seem silly but we had the hardest time finding a decent can opener! The cheapest from WalMart was terrible and one in a set of Kitchen Aid utensils wasn't much better, even though the rest in the set were great! We finally had some luck with a Giada De Laurentiis can opener from Target.
2. Cast Iron Skillets
We use these every.day. I repeat. Every day! You can't go wrong with Lodge cast iron.
3. Stand Mixer
I use my stand mixer at least once a week. It is worth it's weight in gold for the amount bread, pizza, and cookies we have made over the years.
4. Good Quality Knives
Knives are something you shouldn't skimp on but it doesn't have to break the bank. Our set of Henckels knives lasted us about 15 years, with proper care and sharpening and they were around $200 when we bought them.
5. Large Cutting Board
A larger, high-quality cutting board will help your sanity in the kitchen. I am in love with ours from Bed, Bath, and Beyond. It's a staple in our kitchen and never leaves the counter. It covers our dingy counters which is another huge plus 🙂 Ours is similar to this one!
6. Grill Pan
Our grill pan is another item we use at least weekly but we didn't spend a fortune on it. It is one of the best values in our kitchen. Our $20 pan has lasted us over 10 years.
7. Mixing Bowls
I can't recommend Pyrex mixing bowls highly enough. Again, they are used almost daily and we have not had one break, chip, or cause us any problems.
8. Whisks and Mixing Spoons
A whisk with a nice solid handle will work wonders for you. I adore the flat whisk Pioneer Woman sells. As for mixing spoons, I am an advocate for nice solid wooden spoons! My husband bought us a handmade wooden spoon on one of his long hauls to West Virginia. It's strong, sturdy, and my favorite item in my kitchen.
9. Electric Tea Kettle
Our $40 tea kettle has been much easier and convenient to use than the traditional stove top variety. It stores right on the counter top and allows you to heat the water to an exact temperature. These can go up to 100 dollars but our 40 dollar one has worked great for us!
10. Aeropress
The main reason we bought the electric tea kettle was for making coffee with our Aeropress. More about that in my previous post here.
11. Slow cooker
I survived for many years with a run-of-the-mill slow cooker without any problems. I'm not quite sure how I did it when I upgraded to a fancy model with a bigger crock and a timer! It does wonders for my crock pot taco chicken!
12. Pots and Pans
We were married in 2002 and our $100 clearance set of pots and pans has worked great! We would eventually like to upgrade or set but it hasn't been in the budget yet. High quality pots and pans ensure even cooking and faster cooking times.
13. Baking sheets
I received a half sheet pan, similar to this, as a wedding gift and I have loved it ever since. It's a great size and cooks things perfectly every time.
14. Silpat or silicone baking sheet
If you are a baker, don't hesitate in purchasing one of these mats. They last forever and are reasonably priced for the excellent job they do. They are one of the secrets to my world's best chocolate chip cookies!
15. Small ingredient bowls
If you love baking, another item you may want to invest in glass prep bowls. They make prepping for cooking and baking a breeze. Plus kids really love using them in the kitchen.
16. Measuring cups and spoons
You may be tempted to buy cheap plastic measuring cups and spoons, but save yourself the headache and invest in a better quality now.
17. Microwave
Our family eats a lot of leftovers and a microwave is the perfect for kids to heat up their own supper. It doesn't have to cost a lot. We still have ours we bought in 2001!
18. Toaster
A better quality toaster will hep your kid prepare their own breakfast and lunches. Think four slots instead of two and additional settings.
19. Grater and Microplane
We haven't had great luck in cheap graters and microplanes. We have medium priced one from Kohl's that have worked ok. I recommend really inspecting any that you may want to buy.
20. Dishes
As our family has grown we have added to our dish collection. Some have chipped, some haven't, and we have broken more classes than I can count 😉 We have never found the need in all our years of marriage to have a formal set of dishes. As much as I love them. Most of our dishes have come from Target and have suited us for what we need.
Every family's budget dictates what they can spend when setting up a home. Setting up a kitchen doesn't have to be hard or expensive. These 20 kitchen tools are a great starting point. What items would you add? What kitchen tool can you NOT live without?