: : Inside: 10 picture books about desert animals to add to your home library! : :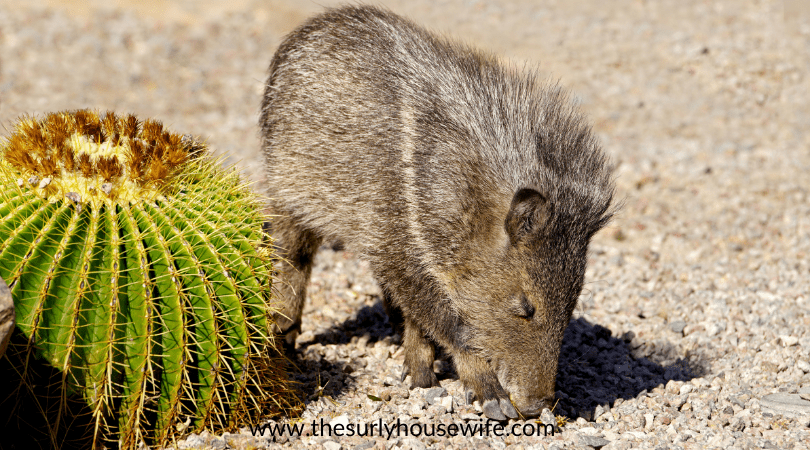 I don't know about you but I love learning about animals that live in harsh climates. It's so interesting to learn about the special adaptations that allow them to survive in harsh conditions. Desert animals are no exception! Take the Sonoran Pronghorn. They can eat and digest plants that other herbivores won't touch, including dry grasses and even cactuses. And many desert animals, including the elf owl, get enough water from the food they consume that they can survive in areas that entirely lack surface water sources.
This book list differs from a traditional book list that contains nonfiction books about these animals. Rather, I curate book lists that use the power of story to learn about a subject. I can't tell you how many times I could grab a stack of nonfiction books that I thought my kids would be interested in to only have them totally lose interest when we started reading the bland and boring copy. That's when I discovered living books.
Living books, a term coined by Charlotte Mason, are books that make the subject you are studying come alive and are written by people who love the subject.
So enjoy this book list of 10 adorable books featuring desert animals. They include the jackrabbit, javelina, and rattlesnakes just to name a few. All with a southwestern flare!
This post contains affiliate links. If you click and make a purchase, we earn a commission at NO extra cost to you. For more information, please read my full disclosure policy.
Descriptions come from Amazon; some are edited for length
Picture Books About Desert Animals
Bedtime in the Southwest by Mona Hodgson
"What do Southwest critters do when Mama says, It's time for bed?' Every critter, even children, can balk at bedtime. Here, the adorable animals of the Southwest comically define what not to do at bedtime. Cuddle up with this delightful, rhyming lullaby that will help even the most restless among us look forward to bedtime."
Don't Call Me Pig! A Javelina Story by Conrad J. Storad
"'Don't Call Me Pig!' uses a delightful rhyme and clever colorful illustrations chock full of detail to tell the javelina's story. What exactly is a javelina? The hairy little animal is shaped much like a pig. It has a snout like a pig. It makes grunting noises like a pig. But is it really a pig? No way. Is it some type of large, hairy rodent? Nope. Not at all. Not even close! Javelina is just one name for a creature that lives in large families and roams in herds across the Southwestern deserts. One thing is certain, after reading this amusing story, readers of all ages will know why they should never, ever call them pigs!"
Lizards for Lunch: A Roadrunners Tale by Conrad J. Storad
"Roadrunners are speedy, fearless, and when they do take time out from ruling the desert scrub lands and meadows they call home, they enjoy a tasty snack of… lizards? It's true! The aptly titled Lizards for Lunch: A Roadrunner's Tale provides you, the reader with a glimpse of the world as it is known to the speedy roadrunner. Far from the cartoon character many people are familiar with, the life and habits (eating and otherwise) of the roadrunner are accurately depicted in this book though a witty rhyme and fantastically vibrant illustrations."
The Tortoise and the Jackrabbit by Susan Lowell
"The Tortoise and the Hare with a southwestern flair. Tortoise, living comfortably in her home on Slow Lane, awakens one morning feeling good and challenges cocky Jackrabbit to a race. Patiently bumping her way through the desert landscape, Tortoise heads for the finish line as Jackrabbit cheerfully skips and sleeps. Roadrunner, Tarantula, Gila Monster and even a Javelina or three cheer them on. Irresistible fun for the young and old alike."
Jackalope by Susan Stevens Crummel
"You see, the jackalope didn't start out with horns. First he was a plain old hare. You know, a jackrabbit. The horns came later, along with a corny fairy godrabbit and a cranky coyote. And the trouble those horns brought, hoooo-wee! With a gut-busting brew of sassy storytelling and outrageous art, Janet Stevens and Susan Stevens Crummel finally give the jackalope his due. After all, he's long been part of American legend isn't it time to tell the real story?"
How Jackrabbit Got His Very Long Ears by Heather Irbinskas
"Because he doesn't listen carefully to what the Great Spirit tells him about each of the animals he is supposed to lead to their desert homes, Jackrabbit causes much unhappiness with his careless answers to the animals' questions."
Josefina Javelina: A Hairy Tale by Susan Lowell
"Josefina Javelina longs to be a ballerina. So she packs up her concertina and leaves her favorite little cantina to go to Pasadena to visit her cousin Angelina. From the desert to the city, a wild adventure ensues as Josefina puts some dip in her hip and some slide in her glide on her way to the big time, a long, long way from home. But not even Coyote, with his wily tricks, can get this javelina down."
"'On the hottest
summer afternoons
when desert creatures
look for shade
and stay close to the earth
and keep their voices low
I sit high on a cactus
and fling
my loud ringing trill
out to the sun…'
So sings the Cactus Wren, one of the ten desert creatures that speaks for itself in the evocative and lyrical verses of Desert Voices. In both text and illustration, Desert Voices conveys a message of spirit and courage from the shy and quiet creatures of the beautiful desert land."
I'm A Hare, So There! by Julie Rowan-Zoch
"An exasperated hare and plucky squirrel engage in a battle of wits to determine who's who in this hilarious author-illustrator debut. When a chipmunk mistakes Hare for a rabbit, Hare puts him in his place. But actually, the chipmunk is a SQUIRREL. Or so he says. Ever wondered about the difference between a turtle and a tortoise? Or a sheep and goat? So have Rabbit and Chipmunk—er, I mean, Hare and Squirrel! This hilarious look at dynamic duos in the animal kingdom pokes fun at the lookalike animals we all love, while delivering a gentle lesson on appreciating differences and standing up for what you know to be true about yourself."
Little Britches and the Rattlers by Eric A. Kimmel
"Little Britches saddles her pony and heads out for the rodeo. She hopes to win first prize in the calf-roping contest. Along the way, she meets seven cunning rattlesnakes. One by one, they threaten to eat her up! But Little Britches is smart. She knows how to bargain with those rattlesnakes and come out on top! Endearing graphite, watercolor, and digital illustrations by Vincent Nguyen bring this southwestern romp to an outlandish finish."
Desert animals are some of the most fascinating and adorable creatures out there. I hope this list helped you find what you are looking for. Drop a comment below for any other recommendations you are looking for! Thanks for stopping by!
Don't miss these other book lists!