Keep reading for 10 children's books about the desert to share with your kids!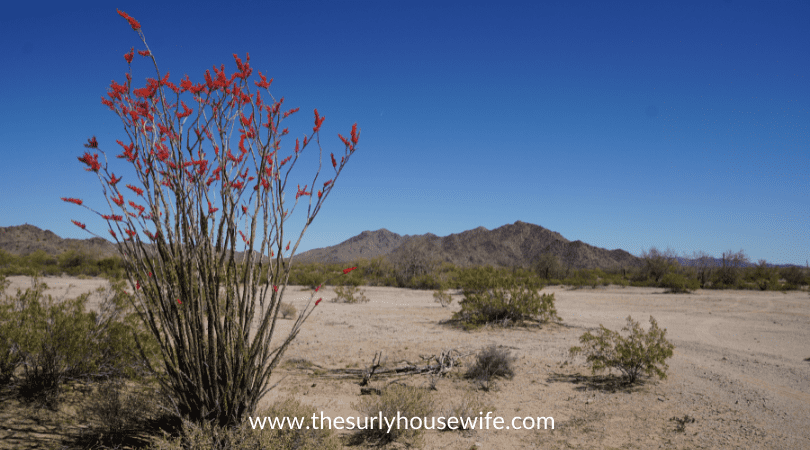 Did you know there was such a thing as cold deserts? A desert is defined as a region that receives very little rainfall. Cold deserts have hot summers but extremely cold winters and the Gobi desert is an excellent example.
However, most of us think of hot, sandy areas when we think of deserts. So most of the books on this list feature hot deserts. I have divided the list into books into books with a desert or southwest flair and the more traditional nonfiction books about deserts. Don't shy away from the nonfiction titles (like I normally do) the ones on this list are great!
This post contains affiliate links. If you click and make a purchase, we earn a commission at NO extra cost to you. For more information, please read my full disclosure policy.
Descriptions come from Amazon; some are edited for length
Desert Themed Picture Books
There Was a Coyote Who Swallowed a Flea by Jennifer Ward
"Skinny ol' Coyote delights readers of all ages as he swallows his way through this delicious southwestern-flavored retelling of a well-loved rhyme. As Coyote gets bigger, the story gets zanier as a bird, a bull, and even an entire cactus end up as dinner. It's pure fun for everyone―even that little flea. Call him silly to swallow a chile! Yippee-o-Ki-Yee!"
The Three Little Javelinas by Susan Lowell
"Everyone knows the story of the three little pigs, but now you're going to meet the three little javelinas: loveable, wild, southwestern cousins of pigs. Living in homes built out of tumbleweeds and saguaro ribs (from the fallen giant cacti), the first two javelinas are soon running from the hungry coyote, who had hoped to eat them with red chile sauce. And where do they go for shelter? Why, to their wise sister's house, made strong with adobe bricks. This clever and humorous tale is sure to delight children of all ages, especially those familiar with the Southwest."
Way Out in the Desert by T. J. Marsh
"This toe-tapping text will have you singing along with the lovable creatures of the desert in no time! Filled with vibrant illustrations of many of the charming plants and animals that call the Sonoran Desert home, Way Out in the Desert is a wonderful teaching tool that takes you on a trip down memory lane. If you remember singing Over in the Meadow as a child, now you can give your children their own memories of this timeless tune."
Picture Books about the Desert
Why Oh Why Are Deserts Dry?: All About Deserts by Tish Rabe
"The Cat takes Sally and Dick to explore different kinds of deserts around the world, from the hot, dry Sonoran and Mojavi to the bitter cold Gobi and Antarctica. Young readers learn why deserts are dry, and how plants and animals, including cactus, kangaroos, camels, penguins, roadrunners, and many others, have adapted to survive the unforgiving climate. Also included: how sand dunes are formed; the reason we see mirages, and how shallow water beneath the surface of the ground can create an oasis."
Who Pooped in the Sonoran Desert? – Scat and Tracks for Kids by Gary D. Robson
"This charming tale of Michael, Emily, and their parents as they explore the Sonoran Desert is designed to both entertain and educate. Wildlife can be elusive, and both kids are disappointed when at first they don't encounter many animals in the park. The kids quickly learn, however, that there are animals all around, and these creatures leave behind scat and tracks. Colorful illustrations of animals and their leavings supplement this lively tale, and a quick-identification chart at the back makes field identification a breeze!"
Desert Night Desert Day by Anthony D. Fredericks
"The desert is an amazing place filled with secrets and surprises. Desert Night Desert Day brings the best of the desert out from the shadows with warm and enticing illustrations for kids to enjoy over and over. Popular nature author Anthony D. Fredericks and artist Kenneth J. Spengler team up to bring the desert to life with lively verse and colorful illustrations."
A Desert Scrapbook: Dawn to Dusk in the Sonoran Desert by Virginia Wright-Frierson
"In the early morning hours, an artist stirs. Gathering her paints and notebook, she heads into the Arizona Sonoran Desert to explore its treasures. Sketching, painting, and writing, she records all that she sees and as night falls, she spreads out her pictures to make this scrapbook of her day, from dawn to dusk."
The Desert Is Theirs by Byrd Baylor
"You may think of the desert as a harsh, dry place where no one would ever want to live, but think again. The Desert People know. So do the animals. Both love the land, and 'share the feeling of being brothers in the desert, of being desert creatures together.' Byrd Baylor's spare, poetic text and Peter Parnall's striking illustrations lime the sky, stone and sand of the desert in this haunting book."
"An introduction to the characteristics of deserts and the plants and animals that inhabit them."
About Habitats: Deserts by Cathryn Sill
"This beginner's guide to deserts explores the major attributes of the habitat and showcases its striking beauty and remarkable global diversity. For example, did you know that the Great Basin Desert is actually very cold? The author uses simple, easy-to-understand language to teach children what deserts are, what kinds of animals and plants live there, and how certain species have adapted to the unique challenges of surviving in this harsh environment. Noted wildlife illustrator John Sill uses detailed, full-color illustrations to reflect the diversity of desert topography: from the vast dunes of the Arabian Desert to the rocky Chihuahuan Desert in the southwestern U.S."
One of my favorite parts of homeschooling is that I get to learn new things right alongside my kids. I hope this book list taught you something new and I hope you found an excellent book to share with your kids! Happy reading!
Don't miss these other desert-themed posts!