Keep reading for 9 picture books set in Arizona for kids of all ages!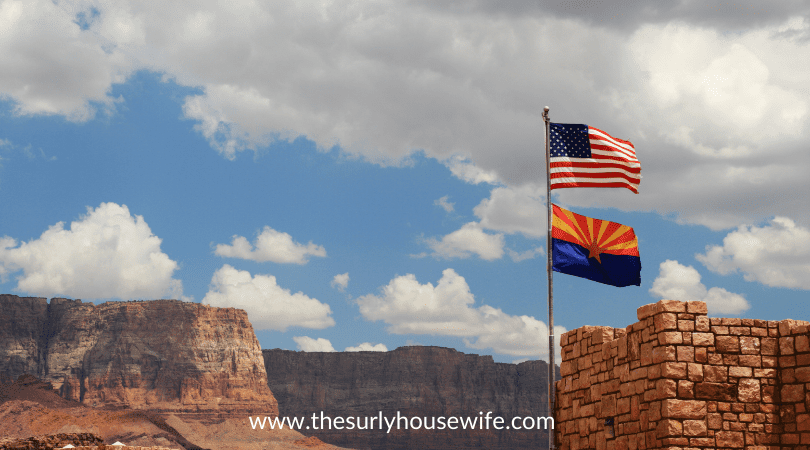 Mark Orwall once said, "To really know a place, you must see it through the people who lived there." Which is exactly what my kids did when they traveled across the country with their dad in his 18-wheeler.
No worries if you can't pick up and travel the country. I have another way you can study a place in a fun and meaningful way. They are called living books.
Living books, a term coined by Charlotte Mason, are books that make the subject you are studying come alive and are written by people who love the subject.
Which means, studying and learning about Arizona and its history can be achieved without bland nonfiction textbooks!
This book list includes exclusively picture books set in the great state of Arizona. All with a great southwest flair. Let's get started!
This post contains affiliate links. If you click and make a purchase, we earn a commission at NO extra cost to you. For more information, please read my full disclosure policy.
Descriptions come from Amazon; some are edited for length
Picture Books Set in Arizona
Big Moon Tortilla by Joy Cowley
"Marta Enos is having a bad day. It begins when the wind blows her homework out the window and the dogs chew it to pieces. Her grandmother consoles her with a tortilla as 'big and pale as a rising full moon,' along with ancient words of advice. This charming story, set on a Papago reservation in southern Arizona near the Mexican border, offers Native American wisdom that helps children, and adults as well, put their problems in perspective."
"Marian called it Roxaboxen. There across the road, it looked like any rocky hill. Nothing but sand and rocks, and some old wooden boxes. But it was a special place. And all children needed to go there was a long stick and a soaring imagination."
"Max and Arthur are friends who share an interest in painting. Arthur is an accomplished painter; Max is a beginner. Max's first attempt at using a paintbrush sends the two friends on a whirlwind trip through various artistic media, which turn out to have unexpected pitfalls. Although Max is inexperienced, he's courageous and a quick learner. His energy and enthusiasm bring the adventure to its triumphant conclusion. Beginners everywhere will take heart."
Alejandro's Gift by Richard E. Albert
"This uplifting story about one man's gift to the desert and the gift he receives in return has a powerful environmental lesson."
Coyote School News by Joan Sandin
"Every day, Monchi and his five brothers and sisters take a long, bumpy bus ride to Coyote School, where there are twelve students who each write for Coyote School News. Through their articles and drawings we learn all about their exciting 1938 school year-from the Christmas piñata, the new baseball team, and the Perfect Attendance Competition to La Fiesta de los Vaqueros, the biggest annual ranch celebration. This eventful story, illustrated in full color, is based on an actual collection of newspapers written by students of Arizona ranch-country schools between 1932 and 1943."
Sweet Tamales for Purim by Barbara Bietz
"Although Sweet Tamales for Purim is a work of fiction, it is inspired by a true event. In 1886, the Hebrew Ladies Benevolent Society of Tucson planned a Purim Ball for the entire community. Barbara tells the story from the perspective of a young girl, who along with her new friend, Luis plan to create a Purim festival for their town. Their plans for the celebration were well underway until the family goat, Kitzel, ate all of the traditional holiday pastries, Hamantashen. Fortunately, they find another way to celebrate Purim and the family is able to share their cultural traditions with their new neighbors. Purim celebrates the courageous stand that Queen Esther made to save the Jewish people from being banished by the king. The young girl's determination to create a spirited Purim celebration in her western town, provides a unique insight into how children can creatively overcome challenges when life doesn't go as planned. Her quick thinking, persistence and resourceful actions give their first Purim festival added significance."
Gila Monsters Meet You at the Airport by Marjorie Weinman Sharma
"'I live at 165 East 95th Street, and I'm going to stay here forever.' says the young hero firmly. After all, out West nobody plays baseball because they're too busy chasing buffaloes, and you have to ride a horse to school even if you don't know how, and you can't sit down because of the cactus. But his parents are moving West, and they say he has to go, too. Once there, however, the boy doesn't meet the Gila monsters he expected. And on the ride to his new home (by taxi, not horse) he discovers the West is neither as different nor as bad as he'd imagined. Marjorie Weinman Sharmat and Byron Barton share a keen sense of the ridiculous and a compassionate understanding of a child's anxieties. Together they have created a perceptive, exuberantly funny picture book that will have children in all parts of the country laughing away their own fears about new experiences."
The Other Way to Listen by Byrd Baylor
"With a lot of practice, a young boy learns from his old teacher how to listen to the sounds and songs of the natural world. When you know 'the other way to listen,' you can hear the wild-flower seed bursting open. You hear rocks murmuring and hills singing, and it seems like the most natural thing in the world. Of course, it takes a lot of practice, and you can't be in a hurry. Most people never hear these things at all. This is the story of an old man who had a special way of hearing and of a child who hoped to learn his secret"
Way Out West Lives a Coyote Named Frank by Jillian Lund
"Frank's the coolest coyote around.Whether he's hanging out with his friends, chasing rabbits, mixing it up with a Gila monster, or pondering the setting sun, coyote Frank is one smooth character. So grab your shades, because you're in for a bright and colorful cruise through the desert with Frank!"
Arizona is one of my family's favorite states and I hope you have found a book from this list to share with your family. Thanks for reading!
Looking for more books about Arizona? Check out the posts below!