Keep reading for 20 of the best books about Arizona!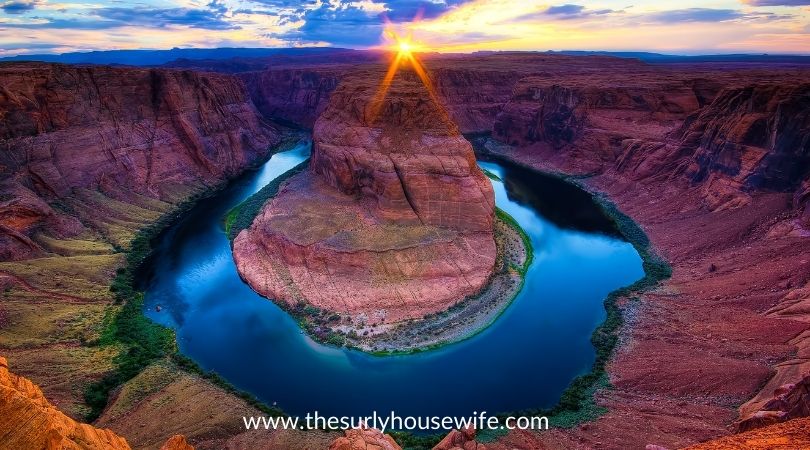 Even though I live in the great state of Wisconsin, I picture myself spending a lot of time in Arizona in the future. Why? Because it's my oldest daughter's favorite state and I can see her moving there one day!
My husband is a truck driver and when he and my daughter went to Arizona, I think it was love at first sight. If he ever has a delivery there she wants to go with, and gets angry if her sister gets to go instead. Sisters. I know.
Our kids traveling the country with my husband is definitely the biggest perk of his job. It's like real life geography lessons! They know what the deserts, plains, mountains, swamps, and rivers look like because they have SEEN them. Pretty cool.
No worries if you can't pick up and travel the country. I have another way you can study the states in a fun and meaningful way. They are called living books. Living books, coined by Charlotte Mason, are books that make the subject you are studying come alive and are written by people who love the subject.
Which means, studying and learning about Arizona and its history can be achieved without bland nonfiction textbooks!
This book list includes books about and set in the great state of Arizona. It includes nonfiction books as well as picture books and chapter books and a couple books about the what makes up a large portion of Arizona, the desert! Let's get started!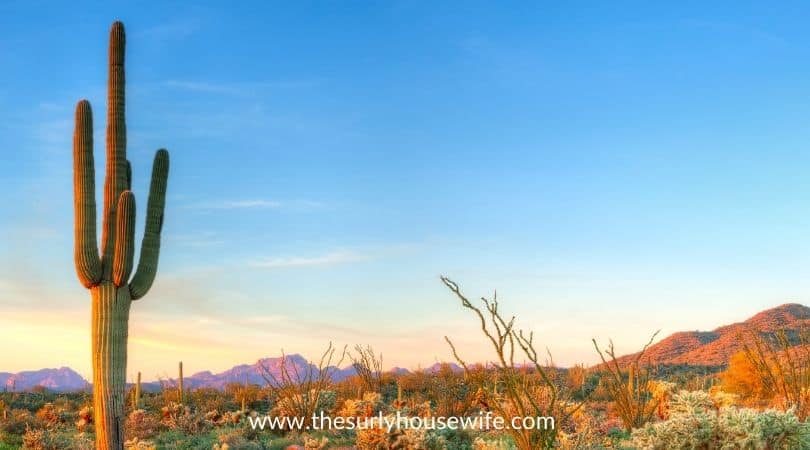 ICYMI, click HERE for all the other state book lists!
Arizona History and Facts
Arizona is nicknamed the Grand Canyon State.
Motto – God enriches.
Arizona entered the Union on February 14, 1912. It was the 48th state.
Arizona is based on a Spanish word (Arizuma) meaning Silver-bearing and a Pima Indian word meaning "small spring."
Phoenix is the capital of Arizona.
This post contains affiliate links. If you click and make a purchase, we earn a commission at NO extra cost to you. For more information, please read my full disclosure policy.
Descriptions come from Amazon; some are edited for length
Living Books about Arizona
Children's Books about the desert
Cactus Hotel by Brenda Z. Guiberson
"It is another hot day in the desert. Birds and other animals scurry about looking for food. When they get tired they stop to rest at a giant cactus. It is their hotel in the desert! Many different animals live in the cactus hotel. It protects them; and they protect it, by eating the pests that could harm the cactus. The cactus grows larger and larger and will live for about two hundred years. When one animal moves out, another moves in. There is never a vacancy in the cactus hotel. This story, about a desert, a giant cactus, and the animals who live in it, is one that even the youngest child will understand and enjoy."
Desert Giant: The World of the Saguaro Cactus by Barbara Bash
"A venerable saguaro cactus stands like a statue in the hot desert landscape, its armlike branches reaching fifty feet into the air. From a distance it appears to be completely still and solitary, but appearances can be deceptive. In fact, this giant tree of the desert is alive with activity. Its spiny trunk and branches are home to a surprising number of animals, and its flowers and fruit feed many desert dwellers. Its simple, easy-to-read text and appealing drawings document the life cycle of this amazing cactus tree and the creatures it helps to support. Readers will come away with a better understanding of and a lasting respect for this accommodating giant of the desert."
There Was a Coyote Who Swallowed a Flea by Jennifer Ward
"Skinny ol' Coyote delights readers of all ages as he swallows his way through this delicious southwestern-flavored retelling of a well-loved rhyme. As Coyote gets bigger, the story gets zanier as a bird, a bull, and even an entire cactus end up as dinner. It's pure fun for everyone. Even that little flea. Call him silly to swallow a chile! Yippee-o-Ki-Yee!"
The Three Little Javelinas by Susan Lowell
"Everyone knows the story of the three little pigs, but now you're going to meet the three little javelinas: loveable, wild, southwestern cousins of pigs. Living in homes built out of tumbleweeds and saguaro ribs (from the fallen giant cacti), the first two javelinas are soon running from the hungry coyote, who had hoped to eat them with red chile sauce. And where do they go for shelter? Why, to their wise sister's house, made strong with adobe bricks. This clever and humorous tale is sure to delight children of all ages, especially those familiar with the Southwest. Dressed in cowboy duds and prepared for life in the rugged desert, these characters are more than any coyote bargained for."
Alejandro's Gift by Richard E. Albert
"This uplifting story about one man's gift to the desert and the gift he receives in return has a powerful environmental lesson."
Books About Arizona
Nonfiction Books About Arizona
G is for Grand Canyon by Barbara Gowan
"Yes, the magnificent Grand Canyon sprawls across northwestern Arizona. Many of us have been there and many of us will visit it soon, but how much do we know about the rest of this southwestern state? Author Barbara Gowan and illustrator Katherine Larson help elementary-aged students and older readers alike discover the wonders of the Grand Canyon State through rich images, informative expository text, and simple rhymes."
This series of books called Discover America State By State are some of my favorites for introducing a state to kids. Each letter states a fact or a thing about that state. For example, for Arizona letter A is for Astronomy, and Letter B is for Bolo tie. Each letter comes with a four line rhyme about that respective letter's fact or subject. What I love most is on the side of the page it gives more in-depth description about each subject. It's a great jumping off point for what sparks an interest in your child!
Desert Digits: An Arizona Number Book by Barbara Gowan
"Scorpions and Gila monsters, jackrabbits and coyotes, bats, butterflies and 14 varieties of hummingbirds are just a few examples of the diverse wildlife population of Arizona. While 25 percent of Arizona is blanketed by lush forests, it is also the only state where four deserts are found. Its varied terrain includes vast plateaus, deep caves and caverns, steep canyons and lofty mountains, even volcanoes. Desert Digits guides children through the wonders of Arizona, where they can pan for gold, shoot the rapids on the Colorado River and camp in the Grand Canyon. They will also learn about Native American art and traditions, how to avoid a scorpion sting, how tall cacti grow, and the right way to make and eat a tortilla."
"Rivers wind through earth, cutting down and eroding the soil for millions of years, creating a cavity in the ground 277 miles long, 18 miles wide, and more than a mile deep known as the Grand Canyon. Home to an astonishing variety of plants and animals that have lived and evolved within its walls for millennia, the Grand Canyon is much more than just a hole in the ground. Follow a father and daughter as they make their way through the cavernous wonder, discovering life both present and past."
Picture Books Set in Arizona
"'Roxaboxen' celebrates the imagination of children who, no matter the time or place, can create whole worlds out of what they find around them: rocks and boxes, cacti and sand. Marian and her friends find a 'special place' in the desert where in time-honored fashion, they play the games that will prepare them for their grown-up lives. They make houses, drive pretend cars, bake bread, ride stick ponies, fight their wars and bury their dead. Drawn from her mother's reminiscences, McLerran's gentle text is both particular and universal, as she fondly tells this evocative story. With its gently rolling terrain, blossoming ocotillos and cacti, and vast skies of ever-changing hues, Cooney's desert is a wondrous and beauteous place."
Big Moon Tortilla by Joy Cowley
"Marta Enos is having a bad day. It begins when the wind blows her homework out the window and the dogs chew it to pieces. Her grandmother consoles her with a tortilla as 'big and pale as a rising full moon,' along with ancient words of advice. This charming story, set on a Papago reservation in southern Arizona near the Mexican border, offers Native American wisdom that helps children (and adults) put their problems in perspective."
Knots on a Counting Rope by Bill Martin Jr.
"By the warmth of a campfire beneath a starry night sky, a Navajo youth named Boy-Strength-of-Blue-Horses listens to the tale of his birth from his grandfather. Although blind, the boy learns that he has the strength to cope with his condition and meet any challenge that comes his way. A poignant story about a boy's emerging confidence in facing his blindness."
Chapter Books set in Arizona
Brighty of the Grand Canyon by Marguerite Henry
"Long ago, a lone little burro roamed the high cliffs of the Grand Canyon and touched the hearts of all who knew him: a grizzled old miner, a big-game hunter, even President Teddy Roosevelt. Named Brighty by the prospector who befriended him, he remained a free spirit at heart. But when a ruthless claim-jumper murdered the prospector, loyal Brighty risked everything to bring the killer to justice. Brighty's adventures have delighted generations of readers, and he has become the symbol of a joyous way of life. Some people say that you can even see his spirit roving the canyon on moonlit nights, forever wild, forever free."
Saving Lucas Biggs by Marisa de los Santos
"Thirteen-year-old Margaret knows her father is innocent, but that doesn't stop the cruel Judge Biggs from sentencing him to death. Margaret is determined to save her dad, even if it means using her family's secret (and forbidden) ability to time travel. With the help of her best friend, Margaret goes back to a time when Judge Biggs was a young boy and tries to prevent the chain of events that transformed him into a corrupt, jaded man. But with the forces of history working against her, will Margaret be able to change the past? Or will she be pushed back to a present in which her father is still doomed?"
Weedflower by Cynthia Kadohata
"Twelve-year-old Sumiko feels her life has been made up of two parts: before Pearl Harbor and after it. The good part and the bad part. Raised on a flower farm in California, Sumiko is used to being the only Japanese girl in her class. Even when the other kids tease her, she always has had her flowers and family to go home to. That all changes after the horrific events of Pearl Harbor. Other Americans start to suspect that all Japanese people are spies for the emperor, even if, like Sumiko, they were born in the United States! As suspicions grow, Sumiko and her family find themselves being shipped to an internment camp in one of the hottest deserts in the United States. The vivid color of her previous life is gone forever, and now dust storms regularly choke the sky and seep into every crack of the military barrack that is her new 'home.' Sumiko soon discovers that the camp is on an Indian reservation and that the Japanese are as unwanted there as they'd been at home. But then she meets a young Mohave boy who might just become her first real friend, if he can ever stop being angry about the fact that the internment camp is on his tribe's land. Weedflower is the story of the rewards and challenges of a friendship across the racial divide, as well as the based-on-real-life story of how the meeting of Japanese Americans and Native Americans changed the future of both."
A Diamond in the Desert by Kathryn Fitzmaurice
"Twelve-year-old Tetsu eats, sleeps and breathes baseball. It's all he ever thinks about. But after the bombing of Pearl Harbor, Tetsu and his family are forced from their home into an internment camp in the Arizona desert with other Japanese Americans, and baseball becomes the last thing on his mind. The camp isn't technically a prison, but it sure feels like one when there's nothing to do and no place to go. So when a man starts up a boys baseball team, Tetsu is only too eager to play again. But with his sister suddenly falling ill, and his father taken away for questioning, Tetsu is forced to choose between his family and his love of the game."
Crossing the Wire by Will Hobbs
"When falling crop prices threaten his family with starvation, fifteen-year-old Victor Flores heads north in an attempt to 'cross the wire' from Mexico into America so he can find work and help ease the finances at home. But with no coyote money to pay the smugglers who sneak illegal workers across the border, Victor struggles to survive as he jumps trains, stows away on trucks, and hikes grueling miles through the Arizona desert. Victor's passage is fraught with freezing cold, scorching heat, hunger, and dead ends. It's a gauntlet run by many attempting to cross the border, but few make it. Through Victor's desperate perseverance, Will Hobbs brings to life a story that is true for many, polarizing for some, but life-changing for all who read it."
The Homework Machine by Dan Gutman
"Meet the D Squad, a foursome of fifth graders at the Grand Canyon School made up of a geek, a class clown, a teacher's pet, and a slacker. They are bound together by one very big secret: the homework machine. Because the machine, code-named Belch, is doing their homework for them, they start spending a lot of time together, attracting a lot of attention. And attention is exactly what you don't want when you are keeping a secret. Before long, things start to get out of control, and Belch becomes much more powerful than they ever imagined. Now the kids are in a race against their own creation, and the loser could end up in jail. Or worse!"
Insignificant Events in the Life of a Cactus by Dusti Bowling
"Aven Green loves to tell people that she lost her arms in an alligator wrestling match, or a wildfire in Tanzania, but the truth is she was born without them. And when her parents take a job running Stagecoach Pass, a rundown western theme park in Arizona, Aven moves with them across the country knowing that she'll have to answer the question over and over again. Her new life takes an unexpected turn when she bonds with Connor, a classmate who also feels isolated because of his own disability, and they discover a room at Stagecoach Pass that holds bigger secrets than Aven ever could have imagined. It's hard to solve a mystery, help a friend, and face your worst fears. But Aven's about to discover she can do it all. Even without arms."
24 Hours in Nowhere by Dusti Bowling
"Welcome to Nowhere, Arizona, the least livable town in the United States. For Gus, a bright 13-year-old with dreams of getting out and going to college, life there is made even worse by Bo Taylor, Nowhere's biggest, baddest bully. When Bo tries to force Gus to eat a dangerously spiny cactus, Rossi Scott, comes to his rescue. But in return she has to give Bo her prized dirt bike. Determined to buy it back, Gus agrees to go searching for gold in Dead Frenchman Mine, joined by his old friends. As they hunt for treasure, narrowly surviving everything from cave-ins to mountain lions, they bond over shared stories of how hard life in Nowhere is. And they realize this adventure just may be their way out."
"Stargirl. From the day she arrives at quiet Mica High in a burst of color and sound, the hallways hum with the murmur of 'Stargirl, Stargirl.' She captures Leo Borlock' s heart with just one smile. She sparks a school-spirit revolution with just one cheer. The students of Mica High are enchanted. At first. Then they turn on her. Stargirl is suddenly shunned for everything that makes her different, and Leo, panicked and desperate with love, urges her to become the very thing that can destroy her: normal. In this celebration of nonconformity, Newbery Medalist Jerry Spinelli weaves a tense, emotional tale about the perils of popularity and the thrill and inspiration of first love."
Books Set in Arizona (for Mom!)
I love to read, and I love a good theme or challenge for a reading list. So my final two books on this book list are one adult fiction and one adult non-fiction.
Fiction Book Set in Arizona
Infinite Jest by David Foster Wallace
"A gargantuan, mind-altering comedy about the pursuit of happiness in America. Set in an addicts' halfway house and a tennis academy, and featuring the most endearingly screwed-up family to come along in recent fiction, Infinite Jest explores essential questions about what entertainment is and why it has come to so dominate our lives; about how our desire for entertainment affects our need to connect with other people; and about what the pleasures we choose say about who we are. Equal parts philosophical quest and screwball comedy, Infinite Jest bends every rule of fiction without sacrificing for a moment its own entertainment value. It is an exuberant, uniquely American exploration of the passions that make us human."
Non-fiction Book Set In Arizona
Beyond the Hundredth Meridian: John Wesley Powell and the Second Opening of the West by Wallace Stegner
"A fascinating look at the old American West and the man who prophetically warned against the dangers of settling it. Wallace Stegner recounts the successes and frustrations of John Wesley Powell, the distinguished ethnologist and geologist who explored the Colorado River, the Grand Canyon, and the homeland of Indian tribes of the American Southwest. A prophet without honor who had a profound understanding of the American West, Powell warned long ago of the dangers economic exploitation would pose to the West and spent a good deal of his life overcoming Washington politics in getting his message across. Only now, we may recognize just how accurate a prophet he was."
And there you have it! 20 living books about Arizona It is my hope that this book list provides you with JUST ONE book to share with your kids. We read Brighty of the Grand Canyon for our 50 state study, and it's one of our favorites!
From the cactus to the Grand Canyon, I hope you find some fun things to learn about Arizona!
Don't forget to check out the other states!
---