Introduce readers to the Grand Canyon with these 10 picture books!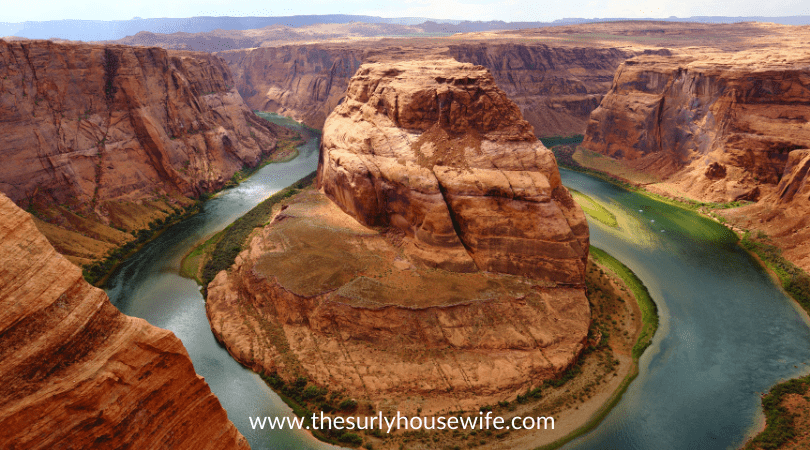 Did you know the world's largest land gorge is the Grand Canyon? It extends a distance of 277 miles, has a depth of 1 mile, and its width can range from .31 miles to 18 miles! Besides being the largest land gorge it is one of the most popular canyons in the world with almost 6 million people visiting each year!
There is so much to learn about the Grand Canyon but don't fear! I have the perfect book list with 10 delightful picture books set in the Grand Canyon that are perfect to share with your kids. Some of them are stories set in the Grand Canyon while others offer a more factual look at this natural wonder of the world!
This post contains affiliate links. If you click and make a purchase, we earn a commission at NO extra cost to you. For more information, please read my full disclosure policy.
Descriptions come from Amazon; some are edited for length
Picture Books Set in the Grand Canyon
"Rivers wind through earth, cutting down and eroding the soil for millions of years, creating a cavity in the ground 277 miles long, 18 miles wide, and more than a mile deep known as the Grand Canyon. Home to an astonishing variety of plants and animals that have lived and evolved within its walls for millennia, the Grand Canyon is much more than just a hole in the ground. Follow a father and daughter as they make their way through the cavernous wonder, discovering life both present and past."
Mule Train Mail by Craig Brown
"When cars were invented, the US Postal Service said goodbye to animal-powered deliveries forever. Or did it? There's one town in the States that still receives their mail by mule! Meet Anthony Paya, who leads a train of mules on a daily three-hour trek down into the Grand Canyon to bring mail to the townspeople of Supai. Full of authentic Western details about Paya's one-of-a-kind job and magnificent workplace, this beautifully illustrated journey will fill readers with wonder and respect for this unique American landscape."
Down the Colorado: John Wesley Powell, the One-Armed Explorer by Deborah Kogan Ray
"Although John Wesley Powell's minister father always wanted his son to follow in his footsteps, young Wes had different plans for his future. Enraptured by the wonders of the natural world, he was determined to take the path of science. Even after losing his right arm below the elbow in battle during the Civil War, Wes would not be deterred from his dream of leading the first scientific expedition down the Colorado River and through the Grand Canyon. Braving treacherous rapids and perilous waterfalls, Major Powell would surpass all expectations and return home a national hero. With breathtaking illustrations and excerpts from Powell's own journals, Deborah Kogan Ray brings to vivid life the exploits and explorations of one of America's greatest conservationists."
Where is the Grand Canyon? by Jim O'Connor
"There are canyons all over the planet, and the Grand Canyon in Arizona is not the biggest. Yet because of the spectacular colors in the rock layers and fascinating formations of boulders, buttes, and mesas, it is known as one of the Seven Natural Wonders of the World. Starting with a brief overview of how national parks came into being, this book covers all aspects of the canyon: how it formed, which early native people lived there, and what varied wildlife can be found there now. A history of the canyon's end-to-end exploration in the late 1860s and how the Grand Canyon became such a popular vacation spot (5 million tourists visit every year) round out this informative, easy-to-read account."
In the Canyon by Liz Garton Scanlan
"Pull on your hiking boots and get ready to see the magnificent Grand Canyon! Experience the Grand Canyon through the eyes of a child who is seeing it for the very first time. From soaring vistas and cloud-swept skies to tiny lizards and almost-invisible petroglyphs, the canyon is filled with so many sights waiting to be discovered and so many amazing memories to carry back home."
Grand Canyon: A Trail Through Time by Linda Vieira
"Visited by millions of people every year, the Grand Canyon is one of the Seven Natural Wonders of the World. It is also a multi-story home to all kinds of animals and plants. The award-winning team of The Ever-Living Tree brings to life the awesome story of one of our country's greatest national treasures, with breathtaking illustrations and illuminating prose."
Who Pooped in the Park? Grand Canyon National Park: Scat and Tracks for Kids by Gary D. Robson
"Michael, Emily, and their parents explore Grand Canyon National Park. Wildlife can be elusive, and both kids are disappointed when, at first, they don't encounter many animals in the park. The kids quickly learn, however, that there are animals all around, and these creatures leave behind scat and tracks. Colorful illustrations of animals and their scat and tracks, and a quick-reference chart make field identification a breeze!"
Scout Moore, Junior Ranger: Grand Canyon by Theresa Howell
"When her family takes a special trip to the Grand Canyon, which is WAY bigger than her own backyard, Scout is totally amazed. She cannot wait to explore. She is determined to become a REAL Junior Ranger at the park. Her story will inspire kids to get outside and explore nature for themselves because every day is a great day to explore."
Flight of the Red Bandit by Geronimo Stilton
"One hot summer afternoon, I was trying to write, but I just couldn't get inspired. I needed a break! Who would've thought that soon I'd be in Arizona, hanging from cliffs and white-water rafting? Grandfather Shortpaws had sent me on a hunt for his old friend, the Red Bandit. What a fabumouse adventure!"
Over and Under the Canyon by Kate Messner
"'Over and Under the Canyon' takes young readers on a thrilling tour of a desert canyon ecosystem. Over the canyon, the sun scalds the air, baking desert mud to stone. But under the shade of the cliffs hides another world, where bighorn sheep bound from rock to rock on the hillside, roadrunners make their nests in sturdy cacti, and banded geckos tuck themselves into the shelter of the sand. Discover the wonders concealed in the curves of the canyon, the magic of a desert wildflower bloom, and all the unexpected creatures that bring the desert to life."
From flying high above to looking for scat on the ground, I hope this book list is just what you needed for learning about the Grand Canyon. Happy reading!
Check out these other awesome book lists!