25 simple snack ideas the whole family will enjoy!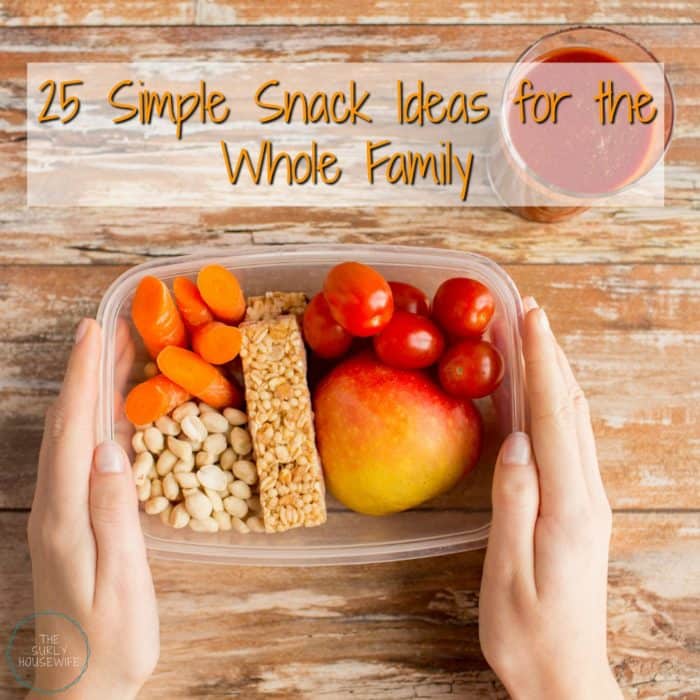 Like most homeschooling families, we are on a tight budget. You make a big sacrifice in income when you decide to homeschool. One aspect of our budget that is constantly changing is our food budget. We are a family of 4 with 2 growing kids, plus a grown man with a physical job. So we need plenty of nutritious food to keep us going. I can never read those "We spend 40 dollars a month on groceries to feed a family of 15!" pins on Pinterest. My kids are here all.the.time. Breakfast, lunch, and dinner. And about 8305843 snacks. Ok. Maybe I exaggerate a little bit. (Me? Nooooo.) In order to save money, I make as much homemade food that I can. No time for homemade snacks? Never fear. You can find all these simple snacks in the grocery store also.
This post contains affiliate links. If you click and make a purchase, we earn a commission at NO extra cost to you. For more information, please read my full disclosure policy.
25 Simple Snack Ideas
Fruit – First off, we have the good ole stand by: fruit. Summer is awesome because of the abundance of choices: bananas, grapes, watermelon, berries, cherries, etc.
Carrots and ranch – It's the only way I can get my kids to eat carrots.
Celery and peanut butter – The only kids who don't like this are my kids. Blasphemous.
Trail mix – Whip up your own version of nuts, seeds, and dried fruit or buy a pack from the store.
Granola – Check out my recipe here! So, so yummy. It pairs so well with our yogurt.
Yogurt – Yes you can make your own yogurt. The Frugal Girl breaks it down step-by-step and it's really simple. And if you don't have the time, yogurt is usually on sale at the grocery store each week and it's pretty easy to find a coupon match for it.
Ice Cream – No ice cream maker. No problem. Another awesome The Frugal Girl find is a recipe for strawberry-banana ice cream that uses a food processor. I can't wait to try it!!
Popcorn – You can use microwave popcorn or pop your own. We buy a 20 pound bag of popcorn to last us the year. It may seem like a lot but I probably make popcorn once a day and there are so many ways to change it up. This ooey, gooey popcorn is so deliciously good!
Smoothies – I love to make smoothies for my family. Nutritious, easy, and portable.
Fruit leather – All it takes to make at home is a little patience, or a dehydrator, and the kids love it! Quality store-bought ones are easy to find nowadays also.
Apples and peanut butter – My kids LOVE apples and peanut butter. If it seems a little boring to you, Lauren's Latest has an awesome idea for an apple dippers bar.
Jello If the store-bought stuff freaks you out, no worries. Jello can be made at home with juice and gelatin. A lot less sugar and questionable ingredients.
Popsicles – A must in the summer to stay cool. Stock up at the store or try these Raspberry Lemon Yogurt popsicles from Shutterbean!
Muffins – Muffins are a great breakfast treat and can be made super healthy if you use the right ingredients. Banana bread muffins are one of my family's favorites.
No Bake Energy Bites I LOVE energy bites and so do my kids. I could eat the whole bowl so they are necessarily heathy by the time I eat them all. Whoops.
Dried fruit – raisins, crasins, banana chips, apple chips. Ya get the idea.
Granola bars – Don't forget to add some of that dried fruit to some granola bars. I have yet to find a homemade granola bar recipe that I really like. Any recommendations?
Applesauce – Or is this weird? My sister's boyfriend thought she was strange for eating applesauce. Really? My kids devour applesauce. You can get unsweetened and put a little cinnamon on it. Makes it even better.
Banana Bread – I can only make this in the summer. It's the only time the bananas turn brown. My husband and kids usually eat them all before they have a change to turn über ripe.
Crackers – I have never made crackers before, but after seeing recipes from Baking with Lisey, Simple Bites, Lauren's Latest, I just might. It doesn't seem so daunting.
Hummus – Whip up a little hummus to go with your crackers! My favorite recipe is from Budget Bytes. And of course you can get good quality hummus, right in the regular grocery store now! So handy for parties and cookouts.
Chips and salsa – Ok, now I am getting hungry.
Cookies – I have 3 cookie monsters. Check out my favorite chocolate chip cookie recipe here!
Nuts – No cuts, no butts, no coconuts. Oops, sorry. Gotta little child speak in there. Peanuts, almonds, pistachios. All great snacks when you are on the go.
Snack mix – Nuts go great in snack mix. Snack mixes are amazing. There are tons to choose from in the store and it's just as easy to mix some up at home. I have oodles of recipes on my snack board on Pinterest.
What is your family's go-to snack? What is your favorite snack?