Spaghetti with mozzarella stuffed meatballs, a new spin on an old classic.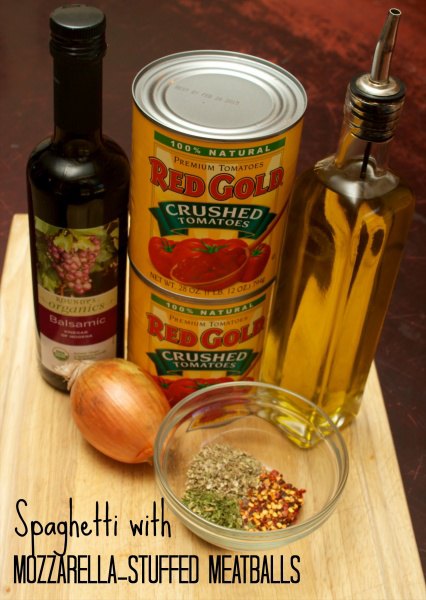 This post contains affiliate links. If you click and make a purchase, we earn a commission at NO extra cost to you. For more information, please read my full disclosure policy.
I have one of my all time favorite recipes to share with you today. Well, actually it's my husband's recipe for spaghetti with mozzarella stuffed meatballs. It's my absolute favorite to eat. So much so I forgot to take a photo of the finished product. Whoops. I was too busy slurping it all up. I may have pulled a George Costanza and pushed my children out of the way so I could get a bowl of this.
Spaghetti with mozzarella stuffed meatballs is the perfect addition to any meal plan. It is a great rollover recipe too. As the leftover sauce reheats, the meatballs break down and create an awesome meat sauce. Then you can add any type of pasta you like. Or you can take out the meatballs, serve them on some Italian bread and have a meatball sub. Even if you don't use it as a rollover recipe, the leftovers are amazing. You really need to try it.
Meatballs stuffed with fresh mozzarella are cooked in a rich tomato sauce made with onions, garlic, and balsamic vinegar. Amazingly good.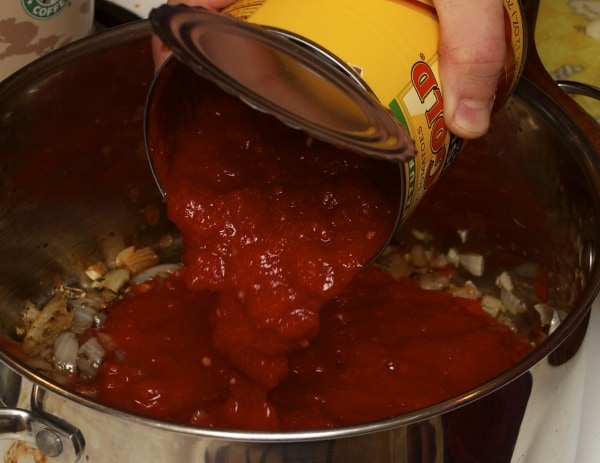 To prepare this, you have two parts: first you prepare the sauce and then the meatballs.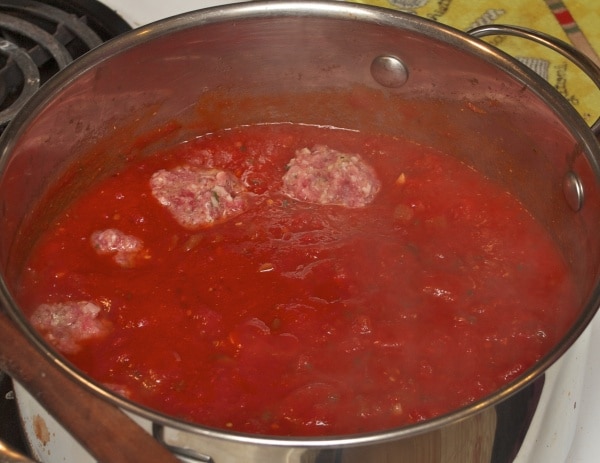 No need to be intimidated by the mozzarella-stuffed meatballs. Simply mix up ingredients, roll into balls, and press in the cheese. If you don't feel like cutting up fresh mozzarella, look for BelGioioso's Bocconcini, which translates to "little mouthfuls." They are the perfect size for these meatballs and cuts down one step in the prep. We have made the meatballs without the cheese and they are just as good! But cheese does make everything a little better.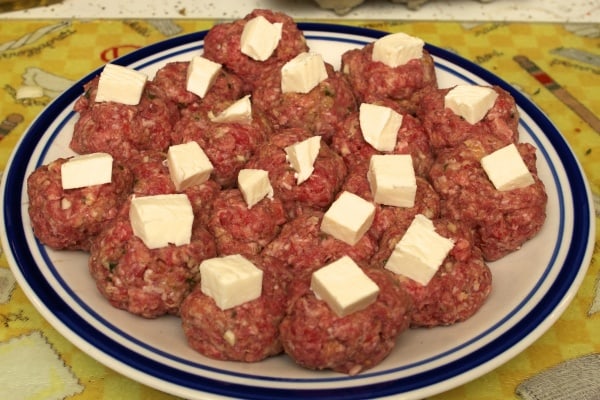 Cook up your favorite pasta to serve along with the meatballs. I normally mix pasta and sauce together in one pot once the pasta is done. However, with this recipe I served them separately so the meatballs don't get beat up. Top with some parm and serve with some crusty bread and wine.
Spaghetti with mozzarella stuffed meatballs is an easy upgrade from the traditional spaghetti and meatballs. Creamy mozzarella, sweet tomatoes, and al dente pasta come together to create a perfect bite. Buon Appetito!
Spaghetti with mozzarella stuffed meatballs
Recipe modified from Rachael Ray
Makes 18-20 meatballs
Ingredients
Sauce
1 tablespoon extra-virgin olive oil
1 large onion, chopped
3 garlic cloves, diced
1 tsp red pepper flakes
2 TBSP balsamic vinegar or red wine
1 TBSP dried parsley
1 TBSP dried oregano
2-28 ounce cans crushed tomatoes
Salt to taste
Meatballs
1/4 cup plain bread crumbs
1/4 cup milk
1 and a half pounds ground beef
1/2 cup freshly grated Parmesan cheese, plus more for serving
2 gloves garlic, diced
1 large egg
1 TBSP salt
1 TBSP pepper
4 ounces fresh mozzarella cheese, cut into 1/2-inch cubes or Bocconcini
1 pound spaghetti
Directions
Sauce
1. In a large dutch oven, heat the olive oil over medium-low heat.
2. Add chopped onions and cook til translucent.
3. Add diced garlic and red pepper flakes and cook til golden, about 2 minutes.
4. Add balsamic vinegar to deglaze the pan. Then add dried herbs and cook another minute.
5. Add the tomatoes. Season to taste with salt.
6. Once the sauce comes up to a bubble, turn the heat down to low. Let the sauce simmer over low heat, stirring occasionally while making the meatballs.
Meatballs
1. In a small bowl, soak the bread crumbs in the milk.
2. In a large mixing bowl mix together the beef, diced garlic, grated parmesan, egg, salt, pepper, and soaked bread crumbs until combined.
3. Roll out all the meatballs, about 2 tablespoons of the meat mixture. Roughly the size of a golf ball.
4. Place a mozzarella cube onto the top of the meatball. Push into the meat and shape it around the cheese, forming a ball.
5. Raise the heat under the sauce to medium- low. Carefully place the meatballs in the sauce, submerging them completely. Cover the pot and cook over medium low for 30-40 minutes.
6. Bring salted water to a boil. Add spaghetti, cook until al dente, about 8 minutes, and drain.
7. Top the spaghetti with the tomato sauce and meatballs, sprinkle with parmesan and serve.