Meal planning doesn't have to be a chore. Two simple steps will start you on the right track.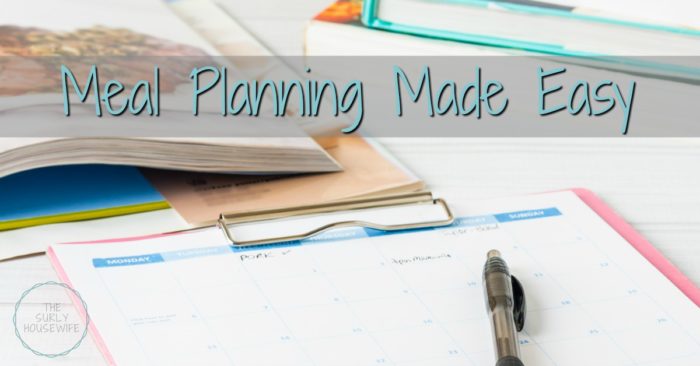 This post contains affiliate links. If you click and make a purchase, we earn a commission at NO extra cost to you. For more information, please read my full disclosure policy.
Meal planning is a hot topic in families. Every family needs to find the best way to get dinner on the table each night. About a 1000 years ago when my husband and I were newly engaged and living in our first apartment, my meal plan was pretty simple. I printed out a monthly calendar, wrote in meals for each night, made my grocery list from that.
The monthly calendar meal plan was pretty much the norm up until we had kids. With two young kids you need to be flexible PLUS have a variety of meals that are quick, easy, and nutritious. Those are not as easy to come by as you think. Planning out a menu each week plus the making of the grocery list was becoming such a chore so we knew we needed to come up with a new system. But what?
Side note: If the calendar and grocery list works for you, keep at it! It's a great system and totally works. There are so many cute printables to help you meal plan and perk up your list making.
I used to scoff at the advice of "keep a well stocked pantry and cook from that." My view was "No, I need to know EXACTLY what I am going to cook." We have become pretty good cooks over the years (all those years of meal planning helped) so we can figure out something to make from the pantry pretty much every day. So our meal planning is more food shopping than meal planning. I look at the ads each week, specifically the protein and produce. We buy protein that's on sale. Then pair it with the veg that is in season.
For example, if ground beef is on sale, I draw from my list of go-to recipes for ground beef (burgers, meat loaf, spaghetti and meatballs). If chicken breasts are on sale, I usually buy in bulk and then break it down into several recipes: chicken tenders, taco chicken, or oven roasted chicken.
To fill in the gaps we keep a well stocked pantry: canned goods, baking supplies, pasta, rice, chicken stock, etc. (See my post about our pantry here) It's much easier for us to have a bunch of tried and true recipes (rollover recipes especially) during the week and fill in with a quick supper like grilled cheese, oatmeal, or pasta.
Meal Planning Made Simple
To keep it simple, I have a short list of our meal planning system. Hopefully it will help you too.
1. Check your local ads. Buy a protein that is on sale and pair it with the veg that is in season.
2. Keep a well stocked pantry to fill in the gaps. Along with quick cooking standbys.
What are your tips for meal planning? What is your meal planning system?