100 historical and notable women everyone should know!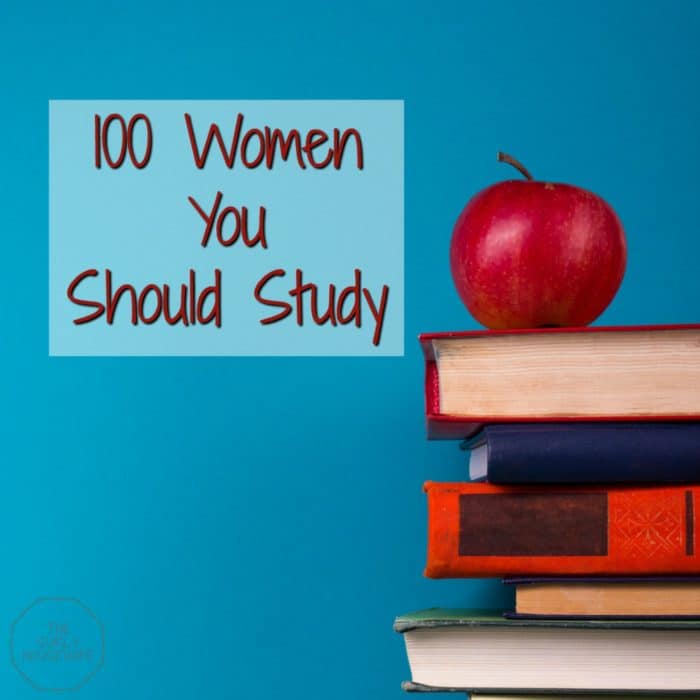 I venerate the housewife, and I value women who dedicate themselves to raising and shaping the lives of their children. But I also venerate all the women who have made big achievements in history.
March is National Women's History Month. Back before I was a mom of girls during my college days, I had a Women's History Month folder in my curriculum file. I decided to build upon that and create a list of 100 women from around the world to study during Women's History Month. 10 categories, 10 women in each category. This is by no means a complete list, but the results of my brainstorming and researching. The list is in no particular order and any links provided go to a book by her or a children's book about her.
Here is to 100 strong women.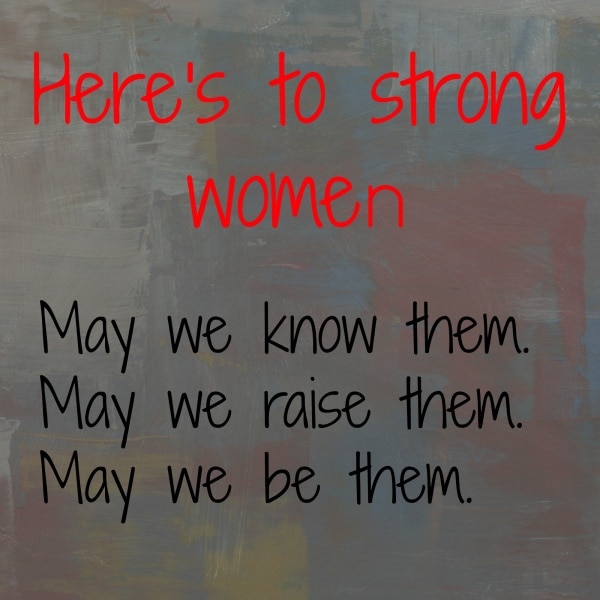 This post contains affiliate links. If you click and make a purchase, we earn a commission at NO extra cost to you. For more information, please read my full disclosure policy.
100 Women to Study for Women's History Month
Activists
Susan B. Anthony – suffragist
Rachel Carson – environmentalist
Jane Goodall – animal rights
Temple Grandin – autism rights
Helen Keller – disability rights
Aung San Suu Kyi – Burmese opposition activist
Rosa Parks
Betty Friedan
Nancy Wake – special operations executive
Malala Yousafzai – human rights
Bonnie Blair – speed skating
Mia Hamm – soceer
Jackie Joyner-Kersee – track and field
Billie Jean King – tennis
Lisa Leslie – basketball
Martina Navratilova – tennis
Rhonda Rousey – mixed martial arts
Wilma Rudolph – track and field
Serena Williams – tennis
Babe Didrikson Zaharias – golf, basketball, track
Authors
Maya Angelou
Jane Austen
Anne Frank
Harper Lee
Toni Morrison
J.K. Rowling
Sappho
Harriet Beecher Stowe
Mary Wollstonecraft
Virginia Woolf
Entertainers
Lucille Ball – actress
Kathryn Bigelow – director
Dorthy Dandridge – actress, singer, dancer
Katherine Hepburn – actress
Billie Holiday – singer
Rita Moreno – actress and singer
Annie Oakley – sharpshooter
Joan Rivers – comedian
Meryl Streep – actress
Barbra Walters – journalist
Entrepreneurs
Mary Kay Ash – founder of Mary Kay comsmetics
Olive Ann Beech – aviation
Julia Child – chef
Ruth Handler – inventor of Barbie Doll
Ariana Huffington – co-founder of The Huffington Post
Rosabeth Moss Kanter – economics
Helena Rubinstein – cosmetics
Muriel Siebert – finance
Martha Stewart
Oprah Winfrey
Fashion
Coco Chanel – designer
Audrey Hepburn – icon
Iman – model
Donna Karen – designer
Estee Lauder – beauty products
Claire McCardell – designer
Mary Quant – designer
Diane von Fürstenberg – designer
Diana Vreeland – columnist and editor
Anna Wintour – editor-in-chief of American Vogue
History
Abigail Adams
Catherine the Great
Cleopatra
Amelia Earhart
Joan of Arc
Queen Elizabeth I
Queen Victoria
Sacagawea
Elizabeth Cady Stanton
Sojourner Truth
Humanitarians
Jane Addams – pioneer of social work
Clara Barton – founder of the American Red Cross
Princess Diana
Elizabeth Glaser – AIDS activist
Angelina Jolie – UN Ambassador
Rebeccca Lolosoli – woman's rights
Juliette Gordon Low – founder of the Girl Scouts
Eunice Kennedy Shriver – Special Olympics
Mother Theresa
Harriet Tubman
Politics
Madeline Albright – first female Secretary of State
Benazir Bhutto – former Prime Minister of Pakistan
Hillary Clinton
Indira Gandhi – former Prime Minister of India
Angela Merkel – Chancellor of Germany
Sandra Day O'Connor – former Supreme Court Justice
Frances Perkins – first woman appointed to the U.S. Cabinet
Condeleeza Rice – former Secretary of State
Eleanor Roosevelt
Margaret Thatcher – former Prime Minister of the United Kingdom
Dr. Virginia Apgar – obstetrics
Elizabeth Blackwell – first woman to receive a medical degree in the U.S.
Marie Curie – physicist and chemist
Gertrude Elion – biochemist and pharmacologist
Alice Hamilton – occupational health
Grace Hopper – computer science
Florence Nightingale – founder of modern nursing
Sally Ride – physicist and astronaut
Marie Stopes – pioneer in family planning
Flossie Wong-Staal – virologist and molecular biologist