This post may contain some affiliate links for your convenience (which means if you make a purchase after clicking a link I will earn a small commission to help keep my blog up and running, but it won't cost you a penny more). For more information, please read my disclosure policy.
How my motto, venerate the housewife, changed my entire outlook on home life!!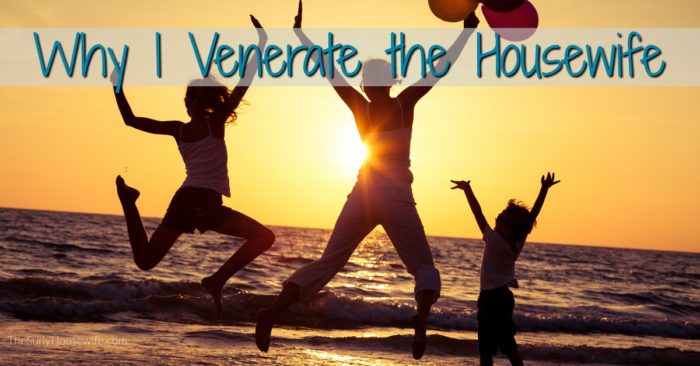 What does it mean to venerate the housewife? When I first heard this statement, I said to myself, "What on earth does that even mean?" Venerate is defined as "To regard with reverential respect or with admiring deference." In other words, to venerate the housewife is to glorify, revere, or adore with the utmost respect. Once I saw what i meant, I was like "heck yeah!" I work hard at what I do. I'm growing and shaping lives, why on earth wouldn't I treat it with the highest reverence.
I have said it before, but I love aha moments and hearing the phrase "venerate the housewife" was a game changing moment for me. By nature, I tend to not give myself enough credit for things. I knew being a housewife was important and it was what I am destined to be but sometimes you need to hear the right thing at the right moment for them to truly sink in.
Mom Life
I grew 2 healthy babies. Being pregnant is no joke. It's amazing, a miracle really, but it's hard on your body. You are tired, your body is constantly changing, you can't eat or drink certain things, and you constantly worry. Oh, and when the pregnancy is over you have to do the whole pushing them out thing. Good times.
After you child is born, you think the hard part is over. Oh, no, no, no my friend. You have postpartum contractions, bleeding, swollen breasts, leaky breasts, hemorrhoids, fatigue, hormonal changes, and on top of it all, taking care of new a baby.
Taking care of a newborn is no joke, but add a toddler to that and you will be exhausted! Aside from a couple of weeks, I took care of an infant and a 19 month old toddler by myself! Feeding, bathing, and entertaining two kids under two. Rock star status!
I chased toddlers on the playground, went to mommy-and-me swimming lessons, pushed babies on the swings, rode with toddlers on the slide, and played catch in the front yard.
Housewife Life
My house is in constant need of food. For a certain amount of time I WAS the source of food for my kids. But I have also couponed, budgeted, meal planned, shopped, cooked, fed, cleaned up, and kept us stocked with food.
My house isn't spotless, but it is still standing as I have made and maintained a home. I clean up messes, put away toys, sweep the floor, scrub the toilets, do the laundry, organize clothes, put away everything imaginable, and keep the house tidy if that is even possible with kids.
I take care of my kids in sickness and in health. Cleaning up puke, poop, and pee. I mend wounds, wipe tears, comfort, console, give medications, take temperatures, cuddle, and worry when my kids are sick. When the sickness is gone, I play pretend, go for walks, dance with my kids, and laugh with my family.
It isn't all fun and games. I have survived multiple winters in Wisconsin without a car, stuck in the house with 2 children. My life involves breaking up fights, dealing with attitudes, struggling with defiance and obstinance, and listening to very loud children (#IntrovertProblems).
I am a housewife and a teacher. The things I have taught my kids range from potty training to learning to read. Their left from their right to picking up toys. Washing dishes to mowing the lawn. How to pump their legs on the swings to how to shoot baskets.
Venerate the Housewife
I have doubted myself, scared myself, surprised myself, and pushed myself to keep going day after day after day.
I have nurtured my marriage and encouraged my husband through all the trying times we have faced.
Most of all I have shown my kids just how much I love them. I have yelled and cried and worried and studied and laughed and prayed.
This has been my life since 2008. It could be the life you are living right now. The one where you question if you are doing enough or being enough. Let me tell you. You ARE enough. Everyday, you being who you are is all your kids want from you.
I venerate the housewife because I want all those other housewives out there to know that what we do is a skill. That it is important. That our love for our family is enough to fuel us each day. For us to do our best and serve our family. Growing and shaping lives isn't for the weak so we should never feel like we are weak or unimportant.