If you have a child who loves dogs, keep reading for 10 books they are sure to love.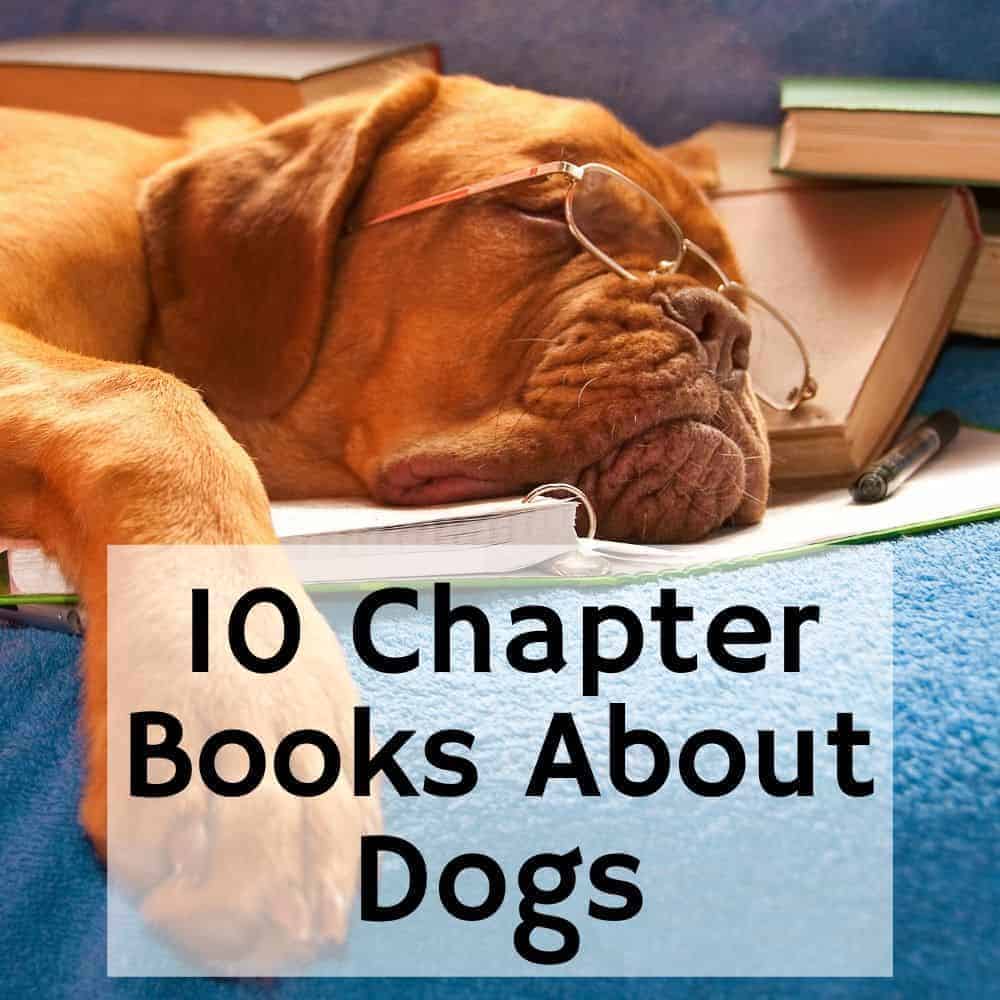 Oh my word I friggin love dogs! From the time I was a little girl, all I wanted was a dog. My family didn't have one growing up so, naturally, about six months after I was married, we got a dog! Her name was Maggie and she was with us for 11 amazing years.
Dogs are really cool creatures and they teach us a lot about life. How to live in the moment, the art of loyalty, and how to be worthy of their trust.
But the downside of owning a dog is that you know you won't have that relationship forever. Chances are you will lose that dog at some point in your life.
We got Maggie as newlyweds, she was with us through moves, buying a house, and eventually with two kids. Then one day, she was gone. It's a really hard fact of life.
Luckily, we have so many books available to us that let us relive the pain of losing a dog. How is that for a transition?! But don't worry, not every book on this list is sad. I separated this list into chapter books where the dog lives happily ever after, and others where that isn't quite the case. Either way, I hope you find a book on this list to enjoy!
This post contains affiliate links. If you click and make a purchase, we earn a commission at NO extra cost to you. For more information, please read my full disclosure policy.
Chapter Books about Dogs
The Ones Where The Dog Lives Happily Ever After
Because of Winn-Dixie by Kate DiCamillo
"One summer's day, ten-year-old India Opal Buloni goes down to the local supermarket for some groceries – and comes home with a dog. But Winn-Dixie is no ordinary dog. It's because of Winn-Dixie that Opal begins to make friends. And it's because of Winn-Dixie that she finally dares to ask her father about her mother, who left when Opal was three. In fact, as Opal admits, just about everything that happens that summer is because of Winn-Dixie."
Shiloh by Phyllis Reynolds Naylor
"When Marty Preston comes across a young beagle in the hills behind his home, it's love at first sight—and also big trouble. It turns out the dog, which Marty names Shiloh, belongs to Judd Travers who drinks too much and has a gun—and abuses his dogs. So when Shiloh runs away from Judd to Marty, Marty just has to hide him and protect him from Judd. But Marty's secret becomes too big for him to keep to himself, and it exposes his entire family to Judd's anger. How far will Marty have to go to make Shiloh his?"
---
Henry Huggins by Beverly Cleary
"Just as Henry Huggins is complaining that nothing exciting ever happens, a friendly dog sits down beside him and looks pleadingly at his ice-cream cone. From that moment on, the two are inseparable. But when Ribsy's original owner appears, trying to reclaim his dog, Henry's faced with the possibility of losing his new best friend. Has Klickitat Street seen the last of rambunctious Ribsy?"
"The disappearance of a new puppy named Ginger and the appearance of a mysterious man in a mustard yellow hat bring excitement into the lives of the Pye children."
White Fur Flying by Patricia MacLachlan
"Zoe's family rescues dogs in need. There is always the sweet smell of dog and a warm body looking to cuddle or play. There is always a new dog to be saved, and loved. Fur flies everywhere. It covers everything. Zoe's house is never silent. But the house across the street is always silent these days. A new family has moved in and Phillip, the boy, has stopped speaking. He doesn't even want to try. Zoe knows saving dogs and saving boys may be different jobs, but she learns that some parts are the same. Both take attention and care. They take understanding and time. And maybe just a bit of white fur flying."
The Ones Where the Dog Crosses the Rainbow Bridge
The following books are amazing books. Rich and thought provoking, but be warned if you you have a senstive child, the dog doesn't make it to end of the story.
Where the Red Fern Grows by Wilson Rawls
"Billy has long dreamt of owning not one, but two, dogs. So when he's finally able to save up enough money for two pups to call his own—Old Dan and Little Ann—he's ecstatic. It doesn't matter that times are tough; together they'll roam the hills of the Ozarks. Soon Billy and his hounds become the finest hunting team in the valley. Stories of their great achievements spread throughout the region, and the combination of Old Dan's brawn, Little Ann's brains, and Billy's sheer will seems unbeatable. But tragedy awaits these determined hunters—now friends—and Billy learns that hope can grow out of despair, and that the seeds of the future can come from the scars of the past."
"At first, Travis couldn't stand the sight of Old Yeller. The stray dog was ugly, and a thieving rascal too! But he sure was clever, and a smart dog could be a big help on the wild Texas frontier, espcially with Papa away on a long cattle drive up to Abiline, Kansas. Strong and courageous, Old Yeller proved that he could protect Travis's family from any sort of danger. But can Travis do the same for Old Yeller? A timeless American classic and one of the most beloved children's books ever written, Old Yeller is a Newbery Honor Book that explores the poignant and unforgettable bond between a boy and the stray dog who becomes his loyal friend."
Most adults know this sad story and may shy away from it. The book says the dog will die on the first page so your child will have plenty of warning
Stone Fox by John Reynolds Gardiner
"Based on a Rocky Mountain legend, Stone Fox tells the story of Little Willy, who lives with his grandfather in Wyoming. When Grandfather falls ill, he is no longer able to work the farm, which is in danger of foreclosure. Little Willy is determined to win the National Dogsled Race—the prize money would save the farm and his grandfather. But he isn't the only one who desperately wants to win. Willy and his brave dog Searchlight must face off against experienced racers, including a Native American man named Stone Fox, who has never lost a race."
Books about Real Life Dogs!
Strongheart: Wonder Dog of the Silver Screen by Candace Fleming
"When movie director Larry Trimble travels to Berlin searching for his next big star–a dog!–he finds Etzel, a fierce, highly trained three-year-old German shepherd police dog. Larry sees past the snarls and growls and brings Etzel back to Hollywood, where he is renamed Strongheart. Along with screenwriter Jane Murfin, Larry grooms his protégé to be a star of the silver screen–and he succeeds, starting with Strongheart's first film, The Love Master, which is released in 1921. Strongheart is soon joined by a leading lady, a German shepherd named Lady Julie, and becomes 'the wonder dog' who took America by storm."
Balto and the Great Race by Elizabeth Cody Kimmel
"Balto has a quiet life as a sled dog-until tragetdy strickes. Dozens of children in Nome become sick with diphtheria. Without antitoxin serum, they will perish-and the closest supply is 650 mils away! The only way to get the serum to Nome is by sled, but can the dogs deliver it in time? Heading bravely into a brutal blizzard, Balto leads the race for life."
More book lists:
If you or your child love dogs as much as I do, I hope you found an excellent book for them today. Thanks for reading!