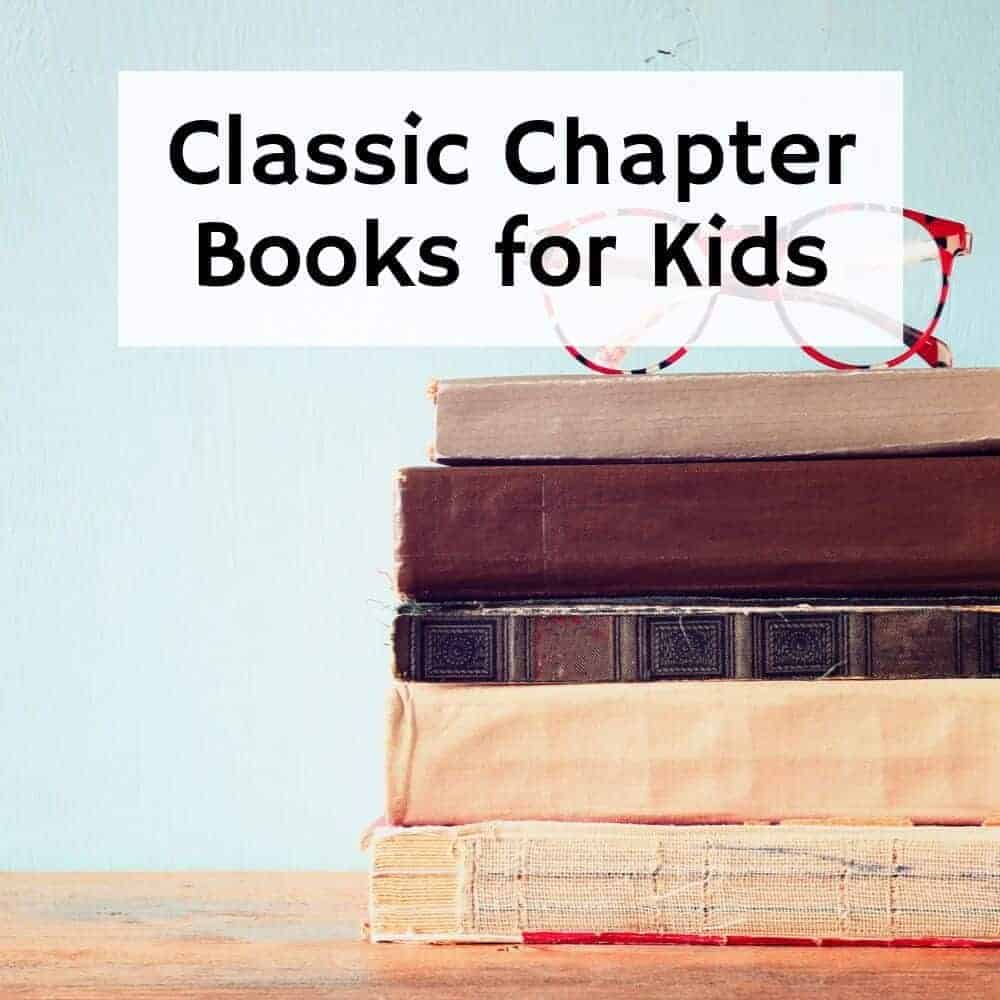 I love introducing my kids to classic chapter books that have stood the test of time. When they reach the teen years I am excited to jump into some of the great American novels: Gone with the Wind, The Great Gatsby, To Kill A Mockingbird, and so many more.
Just because kids are too young for some of the great novels, it doesn't mean they can't read classic chapter books altogether! Much of classic literature can be enjoyed by children as young as eight.
And with the advent audiobooks, it's easier than ever to enjoy some of the great works of literature with your kids. Plus, many famous actors have entered the realm of narration making for even more wonderful audiobooks.
I have put together 10 classic chapter books for kids, all published before 1970, with notable narrators that the whole family will enjoy. Let's dive in!
---
This post contains affiliate links. If you click and make a purchase, we earn a commission at NO extra cost to you. For more information, please read my full disclosure policy.
Classic Chapter Books for Kids
Author: Mark Twain
Narrator: Nick Offerman
Year Published: 1876
Notes: Nick Offerman, famous for his role as Ron Swanson on the tv series "Parks and Rec," delivers his take on the classic story by Mark Twain. It is a knock-out performance and his flawless reading draws in even the youngest of listeners. My kids draw comparisons to Tom Sawyer to many other characters we read and I attribute that to Offerman bringing the characters of Tom Sawyer and Huckleberry Finn to life!
Author: L. Frank Baum
Narrator: Anne Hathaway
Year Published: 1900
Notes: Anne Hathaway (The Devil Wears Prada, Les Miserables) does an outstanding job of bring the famous characters from Oz to life! The Wizard of Oz is one of my all-time favorite movies so my standards for this narration were pretty high. Anne cemeted her place as one of the "I wish she would narrate more books!" in this Audible exclusive!
Author: P. L. Travers
Narrator: Sophie Thompson
Year Published: 1934
Notes: Ooooo what a find this one is!! Sophie Thompson, a British actress known for her film and stage work, is so delightful as the narrator of Mary Poppins. It's hard to imagine someone other than Julie Andrews in the role, but with Audible giving her 4.5 out of 5 for performance, I think it's safe to say she really brings the character to life!
Author: Astrid Lindgren
Narrator: Esther Benson
Year Published: 1950
Author: George Selden
Narrator: Tony Shalhoub
Year Published: 1960
Notes: Tony Shalhoub (Monk) voices The Cricket in Times Square, a 2008 Grammy Nominee for Best Spoken Word Album For Children. Because my daughter finished this book in one afternoon, I HAD to see who beat him out. And it was . . . Bill Harley LIVE! Yeah, I don't know either. But definitely check out The Cricket in Times Square.
---
Author: Wilson Rawls
Narrator: Anthony Heald
Year Published: 1961
Notes: Anthony Heald is what I kindly refer to as "Hey, it's that guy!!" With over 100 narations under his belt as well as movie credits like Silence of the Lambs, Heald effortlessly tells the story of Old Dan and Little Ann. Heald "brings this enduring classic to life and makes a powerful story even more unforgettable."
Author: Madeleine L'Engle
Narrators: Hope Davis
Year Published: 1962
Notes: This movie tie-in audiobook features of the work of Hope Davis as the main narrator, as well as an introduction read by director Ava DuVernay, a foreword read by the author, and an afterword read by Madeleine L'Engle's granddaughter Charlotte Jones Voiklis. This "groundbreaking science fiction and fantasy classic" is sure to please readers.
Author: Sterling North
Narrator: Ed Sala
Year Published: 1963
Notes: I'm not sure how many people know about this book, but my kids love, love, love this book!! I'm not sure if it's because it takes place in Wisconsin, or raccoons are just that awesome but they love this story of Sterling North and all his adventures with his pet raccoon Rascal.
From the Mixed-Up Files of Mrs. Basil E. Frankweiler
Author: : E. L. Konigsburg
Narrator: Jill Clayburgh
Year Published: 1967
Notes: Claudia Kincaid decides to run away, but not out to the woods. She chooses the Metropolitan Museum of Art in New York City. Because her brother Jamie is better with money, she invites him along. What will await them at the world famous museum?!
Ramona Quimby Audio Collection
Author: Beverly Cleary
Narrator: Stockard Channing
Years Published: 1955-1965
Notes: I honestly cannot pick a favorite Beverly Cleary series. Especially when it comes to the audio versions. BUT! My girls read Ramona first, and I LOVED reading Ramona as a child so she gets the main stage here.
Related Reads:
---
However, Neil Patrick Harris, and BD Wong lend their voices to Henry Higgins, and Ralph S. Mouse, respectively. They are just as well done and an amazing Audible deal. For one Audible credit you get access to all the books in the collection. It's one of the most amazing deals on Audible, and you shouldn't pass it up! Click below to order any of the Beverly Cleary audio collections!
Along with the Beverly Cleary audio collections, all of these amazing, classic books are available on Audible. If you haven't already signed up for Audible, CLICK HERE to sign-up today!!
Audible Free Trial benefits:
• Get two free audiobooks to start — after 30 days, get 1 book each month for $14.95/month
• Get 30% off the price of additional audiobook purchases
• Cancel anytime. Your books are yours to keep, even if you cancel.
---
Sharing classic chapter books with my kids has been such a joy and I love adding new books to our reading list all the time. What are some of the books you would recommend? Which classic book do you remember most from childhood? Comment below to let me know! Or subscribe to my resource vault and receive my weekly newsletter and updates!