Keep reading for 10 superb books all 6th grade girls will love!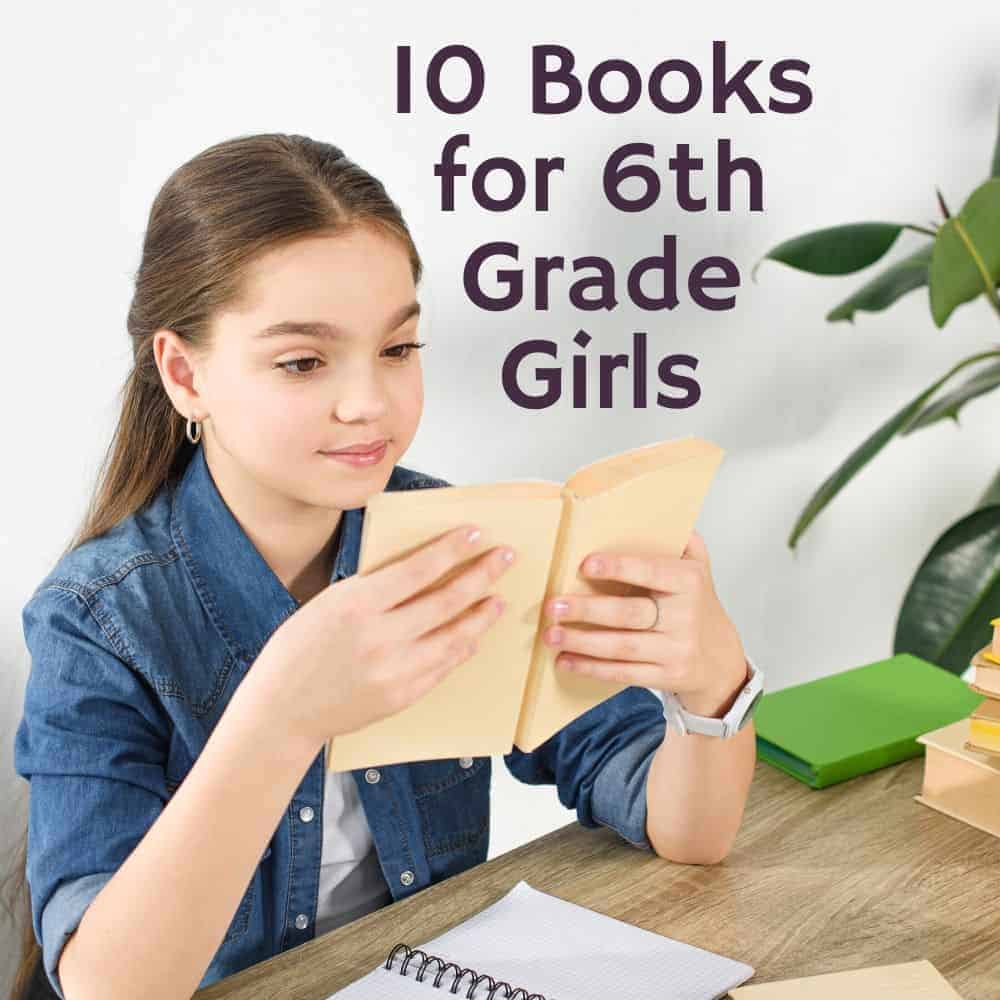 I'm not sure if it's a female thing or a mom thing, but it doesn't take much to make me cry nowadays. TV shows, movies, commercials, even books!
And book number 7 on this list is proved no exception! Riding Freedom tells the story of Charley Parkhurst who is thought to be the first woman to vote in the United States even though she was living her life as a man at the time. And let me tell you, hearing the end of her story and how far we have come in America as woman had me in tears!! Of course, my children had no idea what I was crying about but that is a story for another day.
Riding Freedom is just one of the books on this list of books for 6th grade girls. If you are looking for recommendations, this is the list for you! It includes classics, historical fiction, realistic fiction, and fantasy books.
This post contains affiliate links. If you click and make a purchase, we earn a commission at NO extra cost to you. For more information, please read my full disclosure policy.
Descriptions come from Amazon; some are edited for length
Books for 6th Grade Girls
The Witch of Blackbird Pond by Elizabeth George Speare
"Sixteen-year-old Kit Tyler is marked by suspicion and disapproval from the moment she arrives on the unfamiliar shores of colonial Connecticut in 1687. Alone and desperate, she has been forced to leave her beloved home on the island of Barbados and join a family she has never met. Torn between her quest for belonging and her desire to be true to herself, Kit struggles to survive in a hostile place. Just when it seems she must give up, she finds a kindred spirit. But Kit's friendship with Hannah Tupper, believed by the colonists to be a witch, proves more taboo than she could have imagined and ultimately forces Kit to choose between her heart and her duty."
Hattie Big Sky by Kirby Nelson
"For most of her life, sixteen-year-old Hattie Brooks has been shuttled from one distant relative to another. Tired of being Hattie Here-and-There, she summons the courage to leave Iowa and move all by herself to Vida, Montana, to prove up on her late uncle's homestead claim. Under the big sky, Hattie braves hard weather, hard times, a cantankerous cow, and her own hopeless hand at the cookstove. Despite daily trials, Hattie continues to work her uncle's claim until an unforeseen tragedy causes her to search her soul for the real meaning of home."
Walk Two Moons by Sharon Chreech
"Thirteen-year-old Salamanca Tree Hiddle, proud of her country roots and the "Indian-ness in her blood," travels from Ohio to Idaho with her eccentric grandparents. Along the way, she tells them of the story of Phoebe Winterbottom, who received mysterious messages, who met a "potential lunatic," and whose mother disappeared. As Sal entertains her grandparents with Phoebe's outrageous story, her own story begins to unfold, the story of a thirteen-year-old girl whose only wish is to be reunited with her missing mother."
Moon Over Manifest by Clare Vanderpool
"Abilene Tucker feels abandoned. Her father has put her on a train, sending her off to live with an old friend for the summer while he works a railroad job. Armed only with a few possessions and her list of universals, Abilene jumps off the train in Manifest, Kansas, aiming to learn about the boy her father once was. It seems that Manifest's history is full of colorful and shadowy characters and long-held secrets. The more Abilene hears, the more determined she is to learn just what role her father played in that history. And as Manifest's secrets are laid bare one by one, Abilene begins to weave her own story into the fabric of the town."
Jacob, Have I Loved by Katherine Paterson
"Sara Louise Bradshaw is sick and tired of her beautiful twin Caroline. Ever since they were born, Caroline has been the pretty one, the talented one, the better sister. Even now, Caroline seems to take everything: Louise's friends, their parents' love, her dreams for the future. For once in her life, Louise wants to be the special one. But in order to do that, she must first figure out who she is and find a way to make a place for herself outside her sister's shadow."
"On Saturday morning, 13-year-old Dicey Tillerman sits in the car at the shopping mall with her younger sister and two brothers. Momma had said, 'You be good.' Then she walked away. They wait for a day and a night, but Momma never comes back. Finally, Dicey decides the children should go to Bridgeport, Connecticut where Aunt Cilla lives. Maybe Momma is waiting for them there. But they don't have enough money to take the bus. Determined to keep the family together, Dicey sets off on foot with her siblings in search of Aunt Cilla. Soon, she discovers that finding a home and making one aren't always the same thing."
Are you there God, it's me Margaret by Judy Blume
"Margaret Simon, almost twelve, likes long hair, tuna fish, the smell of rain, and things that are pink. She's just moved from New York City to Farbook, New Jersey, and is anxious to fit in with her new friends. When they form a secret club to talk about private subjects like boys, bras, and getting their first periods, Margaret is happy to belong. But none of them can believe Margaret doesn't have religion, and that she isn't going to the Y or the Jewish Community Center. What they don't know is Margaret has her own very special relationship with God. She can talk to God about everything: family, friends, even Moose Freed, her secret crush."
Riding Freedom by Pam Munoz Ryan
"Charlotte Parkhurst was raised in the mid-1800s and was expected to live her life without the freedoms she dreamed of. But Charlotte was smart and determined, and she figured out a way to live her life the way she wanted. She became an expert horse rider, a legendary stagecoach driver, and the first woman ever to vote – at a time when such things were outlawed for women."
---
Ella Enchanted by Gail Carson Levine
"At her birth, Ella of Frell receives a foolish fairy's gift, the 'gift' of obedience. Ella must obey any order, whether it's to hop on one foot for a day and a half, or to chop off her own head! But strong-willed Ella does not accept her fate. Against a bold backdrop of princes, ogres, giants, wicked stepsisters, and fairy godmothers, Ella goes on a quest to break the curse forever."
Counting By 7s by Holly Goldberg Sloan
"Willow Chance is a twelve-year-old genius, obsessed with nature and diagnosing medical conditions, who finds it comforting to count by 7s. It has never been easy for her to connect with anyone other than her adoptive parents, but that hasn't kept her from leading a quietly happy life . . . until now. Suddenly Willow's world is tragically changed when her parents both die in a car crash, leaving her alone in a baffling world. This extraordinarily odd, but extraordinarily endearing, girl manages to push through her grief."
I adored the book Homecoming as a child and along with Riding Freedom, my daughters and I also enjoyed Walk 2 Moons and Jacob Have I Loved. All excellent books for young ladies.
Happy reading!