Keep reading for 10 exciting books 6th grade boys will love!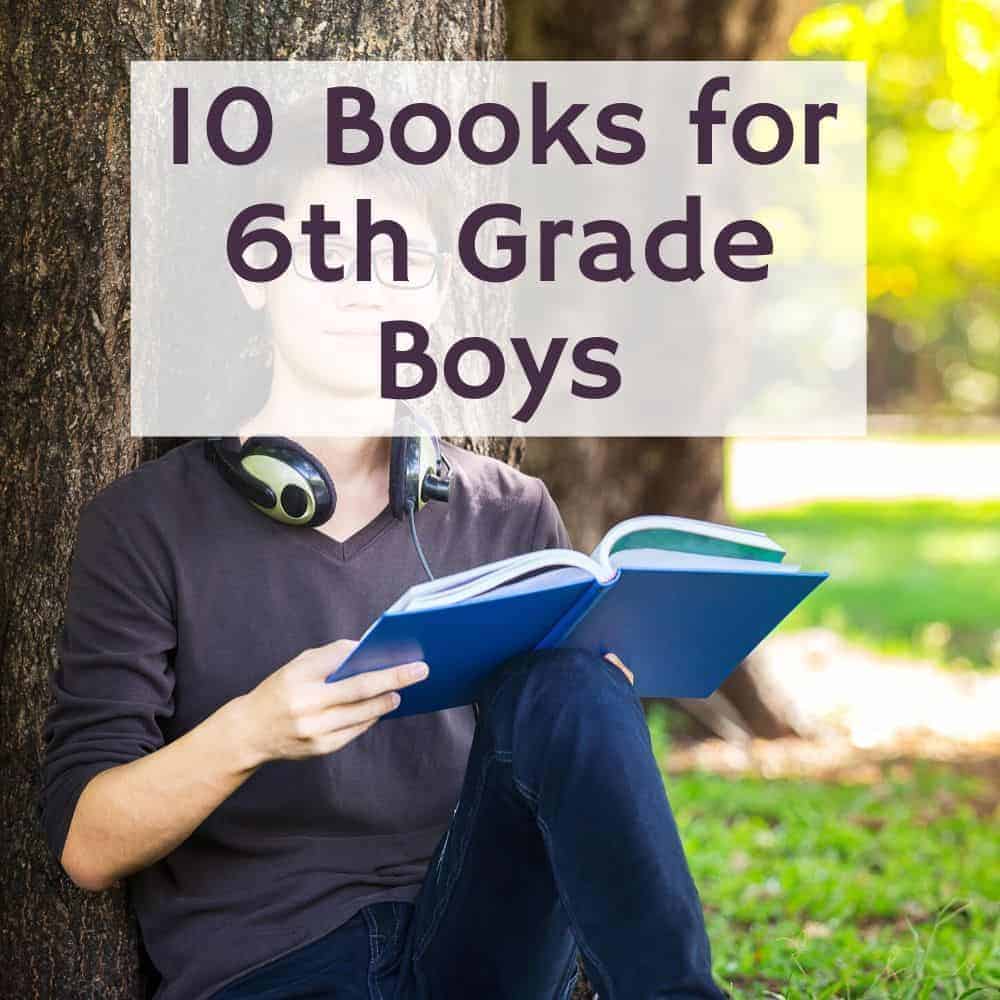 The term "tiny pants" will always have a special meaning to our family because of book number two on this list, Little Britches. Think of it as Little House on the Prairie for boys.
We read Little Britches during our 50 states study. Once I read the book's description (and because Colorado is one of his favorite states) I had my husband read the book also. He is a truck driver so he loves having a good book to listen too.
One day he texts me with the message, "Time for tiny pants!" I was utterly flummoxed and responded with, "WTH?" He replied back with, "Little Britches, ya know. Tiny Pants."
I'm not sure what you would have done but I laughed hysterically and it's been a running joke in our family since.
Little Britches is just one book on this book list for boys which also includes fantasy books and realistic fiction. I don't think of boys as reluctant readers as much as they haven't found the right book yet! This list has 10 recommendations that I am sure boys will really enjoy. Let's get started!
This post contains affiliate links. If you click and make a purchase, we earn a commission at NO extra cost to you. For more information, please read my full disclosure policy.
Descriptions come from Amazon; some are edited for length
Books for 6th Grade Boys
"In Mossflower Woods, the food chain works a little differently. Instead of being prey, mice work together with cats and owls to defeat their ultimate enemies: snakes and rats (obviously). Our hero in Redwall is Matthias the mouse, whose courage and cunning help him in his quest to find the legendary sword of Martin the Warrior (also a mouse) and defeat Cluny the Scourge, a diabolical rat who wishes to take the land of Redwall for himself."
Little Britches: Father and I Were Ranchers by Ralph Moody
"Ralph Moody was eight years old in 1906 when his family moved from New Hampshire to a Colorado ranch. Through his eyes we experience the pleasures and perils of ranching there early in the twentieth century. Auctions and roundups, family picnics, irrigation wars, tornadoes and wind storms give authentic color to Little Britches. So do adventures that equip Ralph to take his father's place when it becomes necessary."
The Sign of the Beaver by Elizabeth George Speare
"Although he faces responsibility bravely, thirteen-year-old Matt is more than a little apprehensive when his father leaves him alone to guard their new cabin in the wilderness. When a renegade white stranger steals his gun, Matt realizes he has no way to shoot game or to protect himself. When Matt meets Attean, a boy in the Beaver clan, he begins to better understand their way of life and their growing problem in adapting to the white man and the changing frontier."
"Everybody loves Mother Paula's pancakes. Everybody, that is, except the colony of cute but endangered owls that live on the building site of the new restaurant. Can the awkward new kid and his feral friend prank the pancake people out of town? Or is the owls' fate cemented in pancake batter?"
"The haunting story centers on twelve-year-old Jonas, who lives in a seemingly ideal, if colorless, world of conformity and contentment. Not until he is given his life assignment as the Receiver of Memory does he begin to understand the dark, complex secrets behind his fragile community."
Crispin: The Cross of Lead by Avi
"In the small 14th-century English village where he has lived his entire life, the boy has grown up with no name of his own, known only as 'Asta's son.' But when his mother dies, the boy receives both his rightful name, Crispin, and a lead cross, inscribed with a secret that soon has him fleeing for his life."
"Twelve-year-old criminal mastermind Artemis Fowl has discovered a world below ground of armed and dangerous (and extremely high-tech) fairies. He kidnaps one of them, Holly Short, and holds her for ransom in an effort to restore his family's fortune. But he may have underestimated the fairies' powers. Is he about to trigger a cross-species war?"
The Secret of Platform 13 by Eva Ibbotson
"A forgotten door on an abandoned railway platform is the entrance to a magical kingdom, an island where humans live happily with mermaids, ogres, and other wonderful creatures. Carefully hidden from the world, the Island is only accessible when the door opens for nine days every nine years. When the beastly Mrs. Trottle kidnaps the Island's young prince, it's up to a strange band of rescuers to save him. But can the rescuers sneak around London unnoticed?"
The Invention of Hugo Cabret by Brian Selznick
"Orphan, clock keeper, and thief, Hugo lives in the walls of a busy Paris train station, where his survival depends on secrets and anonymity. But when his world suddenly interlocks with an eccentric, bookish girl and a bitter old man, Hugo's undercover life is put in jeopardy. A cryptic drawing, a treasured notebook, a stolen key, a mechanical man, and a hidden message from Hugo's dead father form the backbone of this intricate, tender, and spellbinding mystery."
The Wednesday Wars by Gary Schmidt
"A wonderfully witty and compelling story about a teenage boy's mishaps and adventures over the course of the 1967-68 school year in Long Island, New York. Holling Hoodhood, a seventh-grader at Camillo Junior Highm must spend Wednesday afternoons with his teacher, Mrs. Baker, while the rest of the class has religious instruction. But everyone has bigger things to worry about, like Vietnam. His father wants Holling and his sister to be on their best behavior: The success of his business depends on it. But how can Holling stay out of trouble when he has so much with which to contend? As fate sneaks up on him again and again, Holling finds Motivation, the Big M, in the most unexpected places and musters up the courage to embrace his destiny, in spite of himself."
Little Britches might be our family favorite, and I hope you have found a family favorite among this recommendations.
Happy reading!