Keep reading for 10 captivating classic books for 12 year olds!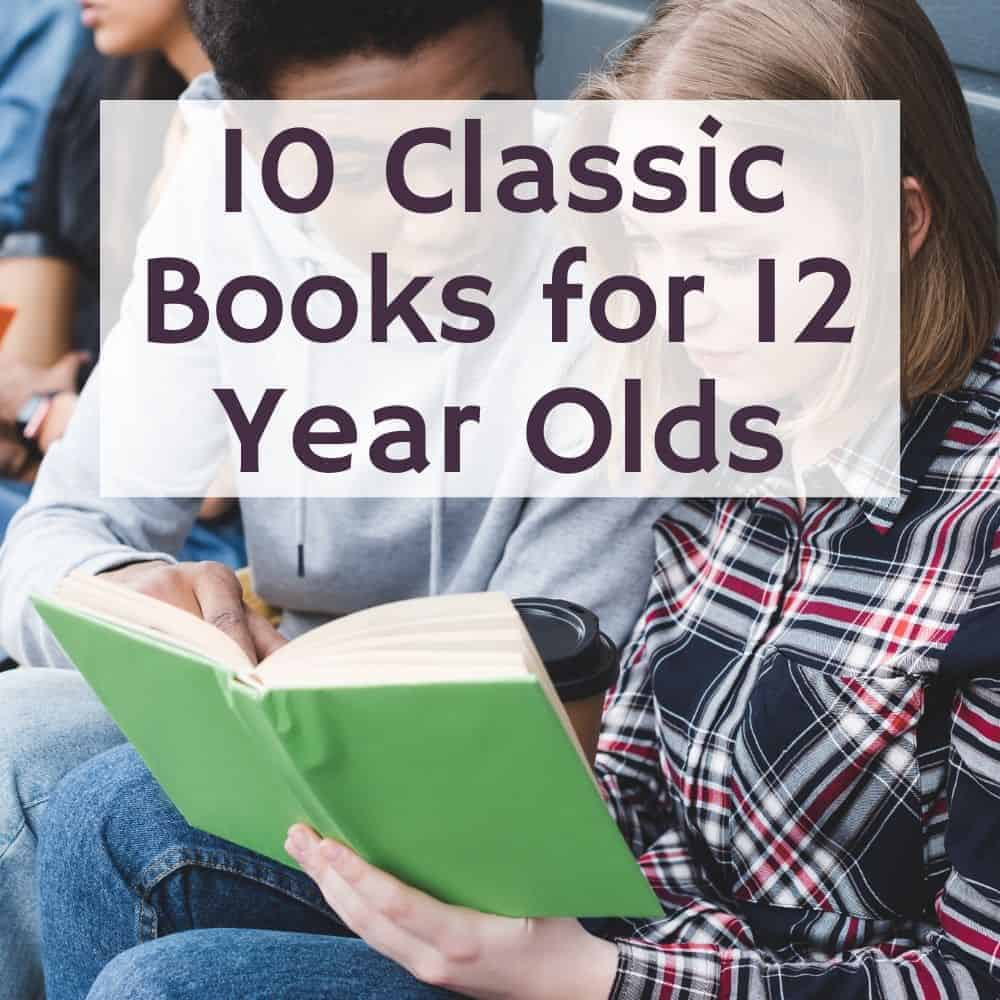 Revered classics. What exactly does that mean? The definition of the word revered is "feel deep respect or admiration for (something)." Classic is defined as "judged over a period of time to be of the highest quality and outstanding of its kind."
So when developing a list of classic books for kids you need to keep in mind that it has been appreciated and held in high esteem over an extended amount of time. The length of time depends on the author of the blog post 😉
Actually, the length of time doesn't really matter. If it's a book you enjoyed as a kid, and your kid enjoys it too, then it's a classic! If it's a book you enjoyed as a child but you kid doesn't quite get it yet, it's a classic. And probably most importantly, if you DIDN'T enjoy the book as a kid but like it now, it's a classic. I'm looking at you Sarah, Plain and Tall!!
No matter the age of the book, this book list has 10 classic books for 12 year olds. Featuring a memoir, historical fiction, fantasy books, and more! Don't be intimidated by these books! If you think your child might struggle reading these solo, you can always use the audiobook. Number one is a perfect example of this!
This post contains affiliate links. If you click and make a purchase, we earn a commission at NO extra cost to you. For more information, please read my full disclosure policy.
Descriptions come from Amazon; some are edited for length
Classic Books for 12 year olds
The Adventures of Tom Sawyer by Mark Twain
"Mischievous and full of energy, Tom enjoys childish pranks and pastimes with his friends, Huck Finn, the town outcast, and Joe Harper, his best friend. However, at the town graveyard, Huck and Tom witness a murder, carried out by local vagabond Injun Joe. They vow never to tell a soul about what they have seen and so begins their journey into adulthood as Tom wrestles with his own morality, guilt and anxiety."
The Adventures of Tom Sawyer is narrated by the lovely Nick Offerman. My kids have listened to it multiple times before the age of 10 and they gain something each time they listen!
A Wrinkle in Time by Madeleine L'Engle
"Meg Murry, her little brother Charles Wallace, and their mother are having a midnight snack on a dark and stormy night when an unearthly stranger appears at their door. He claims to have been blown off course and goes on to tell them that there is such a thing as a "tesseract", which, if you didn't know, is a wrinkle in time. Meg's father had been experimenting with time travel when he suddenly disappeared. Will Meg, Charles Wallace, and their friend Calvin outwit the forces of evil as they search through space for their father?"
Tuck Everlasting by Natalie Babbit
"What if you could live forever? Is eternal life a blessing or a curse? That is what young Winnie Foster must decide when she discovers a spring on her family's property whose waters grant immortality. Members of the Tuck family, having drunk from the spring, tell Winnie of their experiences watching life go by and never growing older. But then Winnie must decide whether or not to keep the Tucks' secret, and whether or not to join them on their never-ending journey."
Lord of the Flies by William Golding
"At the dawn of the next world war, a plane crashes on an uncharted island, stranding a group of schoolboys. At first, with no adult supervision, their freedom is something to celebrate. This far from civilization they can do anything they want. Anything. But as order collapses, as strange howls echo in the night, as terror begins its reign, the hope of adventure seems as far removed from reality as the hope of being rescued."
Anne Frank: The Diary of a Young Girl by Anne Frank
"In 1942, with the Nazis occupying Holland, a thirteen-year-old Jewish girl and her family fled their home in Amsterdam and went into hiding. For the next two years, until their whereabouts were betrayed to the Gestapo, the Franks and another family lived cloistered in the "Secret Annexe" of an old office building. Cut off from the outside world, they faced hunger, boredom, the constant cruelties of living in confined quarters, and the ever-present threat of discovery and death. In her diary Anne Frank recorded vivid impressions of her experiences during this period. Her account offers a fascinating commentary on human courage and frailty."
Roll of Thunder, Hear my Cry by Mildred D. Taylor
"Set in Mississippi at the height of the Depression, this is the story of one family's struggle to maintain their integrity, pride, and independence in the face of racism and social injustice. And it is also Cassie's story, an independent girl who discovers over the course of an important year why having land of their own is so crucial to her family, even as she learns to draw strength from her own sense of dignity and self-respect."
Caddie Woodlawn by Carol Ryrie Brink
"Caddie Woodlawn is a real adventurer. She'd rather hunt than sew and plow than bake, and tries to beat her brother's dares every chance she gets. Neighbors, as well as her mother and sisters, don't understand her at all. Caddie is brave, and her story is special because it's based on the life and memories of Carol Ryrie Brink's grandmother, the real Caddie Woodlawn."
Harriet the Spy by Louise Fitzhugh
"Harriet M. Welsch is a spy. In her notebook, she writes down everything she knows about everyone, even her classmates and her best friends. Then Harriet loses track of her notebook, and it ends up in the wrong hands. Before she can stop them, her friends have read the always truthful, sometimes awful things she's written about each of them. Will Harriet find a way to put her life and her friendships back together?"
The Hitchhiker's Guide to the Galaxy by Douglas Adams
"Seconds before Earth is demolished to make way for a galactic freeway, Arthur Dent is plucked off the planet by his friend Ford Prefect, a researcher for the revised edition of The Hitchhiker's Guide to the Galaxy who, for the last fifteen years, has been posing as an out-of-work actor. Together, this dynamic pair began a journey through space aided by a galaxyful of fellow travelers."
Up a Road Slowly by Irene Hunt
"Julie would remember her happy days at Aunt Cordelia's forever. Running through the spacious rooms, singing on rainy nights in front of the fireplace. There were the rides in the woods on Peter the Great, and the races with Danny Trevort. There were the precious moments alone in her room at night, gazing at the sea of stars. But there were sad times too, and Julie was having a hard time believing life was fair. But Julie would have to be fair to herself before she could even think about new beginnings."
And there you have it: 10 classic books for 12 year olds! They are wonderful books to be read independently, as a family read aloud, or a way to challenge a voracious young reader.
Happy reading!