Keep reading for over 50 fabulous books that third graders will love!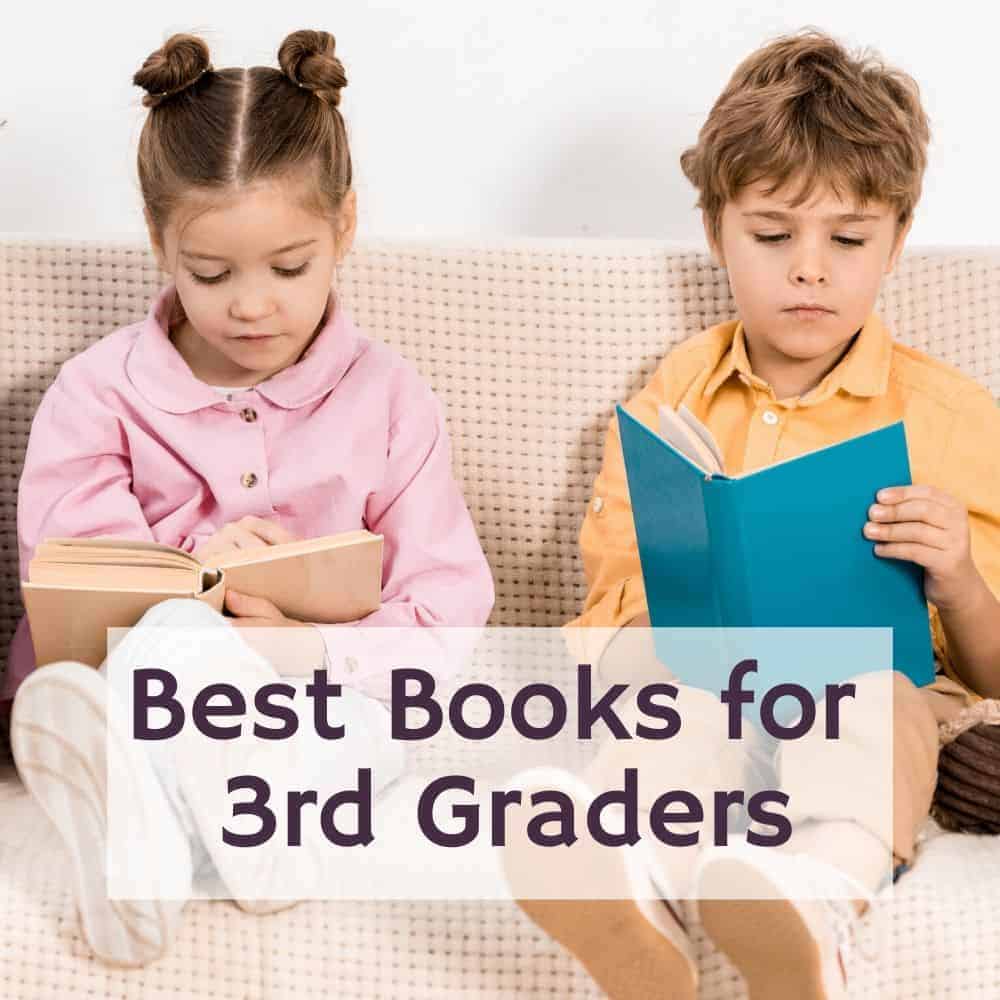 Picking out books for your kids is part art and part science. On the one hand you have books you just KNOW they will like. And on the other hand you are just taking a big 'ol guess! Especially if they are new to reading and DON'T know what they like yet.
It's like trying to pick a favorite food when all you have had is chicken broth. You have such a limited experience that it is hard to know where to go next because there are so.many.choices.
But never fear! This is a big giant book list aimed at third graders! I have put all book lists aimed at the 9 year old or third grade reading level in one post making it so easy to find what you need. Following each post, I feature one of the more popular books on that list.
Looking for more challenging book series?
Let's get started!
This post contains affiliate links. If you click and make a purchase, we earn a commission at NO extra cost to you. For more information, please read my full disclosure policy.
Books For 3rd Graders
If you are looking for some of the best book for 9 year olds, check out this list. It includes one of Beverly Cleary's less-know classics!
"Socks is one happy cat. He lives the good life with his affectionate owners, Mr. and Mrs. Bricker. But when a new baby arrives, suddenly the Brickers have less and less time for Socks. Little Charles William is the one getting all the attention. Socks feels left out and to show it, he starts getting into all sorts of trouble! What will it take to make Socks realize just how much the Brickers care about him?"
Searching for a book for a 9 year old girl? Don't miss this list featuring a book with a sweet little girl named Ruby Lavender.
"Ruby Lavender and Miss Eula are a pretty good team, for a couple of chicken thieves. What other granddaughter-grandmother duo could successfully drive the getaway car for chickens rescued from a journey to the slaughterhouse, paint a whole house shocking pink, and operate their own personal secret-letter post office? So, when Miss Eula leaves for Hawaii to visit her new grandbaby, Ruby is sure that she will have a lonely, empty, horrible summer in boring old Halleluia, Mississippi. What will happen instead?"
Boys can be a little harder to pick out books for, particularly emerging readers. But this book list for third grade books, featuring Stink, has just the book for your boy.
"Every morning, Judy Moody measures Stink and it's always the same: three feet, eight inches tall. Stink feels like even the class newt is growing faster than he is. Then, one day, the ruler reads (can it be?) three feet, seven and three quarters inches! Is Stink shrinking? He tries everything to look like he's growing, but wearing up-and-down stripes and spiking his hair aren't fooling anyone into thinking he's taller. If only he could ask James Madison (Stink's hero), and the shortest person ever to serve as president of the United States."
Classic books are always great to introduce to your kids. This list features the adorable friendship of Betsy and Tacy.
"There are lots of children on Hill Street, but no little girls Betsy's age. So when a new family moves into the house across the street, Betsy hopes they will have a little girl she can play with. Sure enough, they do, a little girl named Tacy. And from the moment they meet at Betsy's fifth birthday party, Betsy and Tacy become such good friends that everyone starts to think of them as one person-Betsy-Tacy."
Nothing gets kids hooked on reading like a good book series. Don't miss this list featuring one of my favorite books about dogs ever, Shiloh.
"One summer Sunday, eleven-year-old Marty Preston comes across something different on the road just past the old Shiloh schoolhouses, a young beagle, and the trouble begins. What do you do when a dog you suspect is being mistreated runs away and comes to you? When it is someone else's dog? When the man who owns him has a gun? This is Marty's problem, and he finds it is one he has to face alone. When his solution gets too big for him to handle, things become more frightening still. Marty puts his courage on the line, and discovers in the process that it is not always easy to separate right from wrong. Sometimes, however, you do almost anything to save a dog."
Check out this post for book series featuring early chapter books.
"Help Dink, Josh, and Ruth Rose solve mysteries from A to Z! A is for Author . . . A famous writer is coming to Green Lawn! Dink rushes to the bookstore to meet his favorite author, Wallis Wallace, and get all his books signed. But the author never shows up! Where is Wallis Wallace? It's up to Dink and his friends Josh and Ruth Rose to track him down."
The books on list are some of the best when kids are reading to move from easy readers to real chapter books. Frindle is one of the best and most well-known.
"Is Nick Allen a troublemaker? He really just likes to liven things up at school and he's always had plenty of great ideas. When Nick learns some interesting information about how words are created, suddenly he's got the inspiration for his best plan ever, the frindle. Who says a pen has to be called a pen? Why not call it a frindle? Things begin innocently enough as Nick gets his friends to use the new word. Then other people in town start saying frindle. Soon the school is in an uproar, and Nick has become a local hero. His teacher wants Nick to put an end to all this nonsense, but the funny thing is frindle doesn't belong to Nick anymore. The new word is spreading across the country, and there's nothing Nick can do to stop it."
I update this post often so make sure you check back in to find more wonderful books for third graders!