Keep reading for 10 book series third graders will love!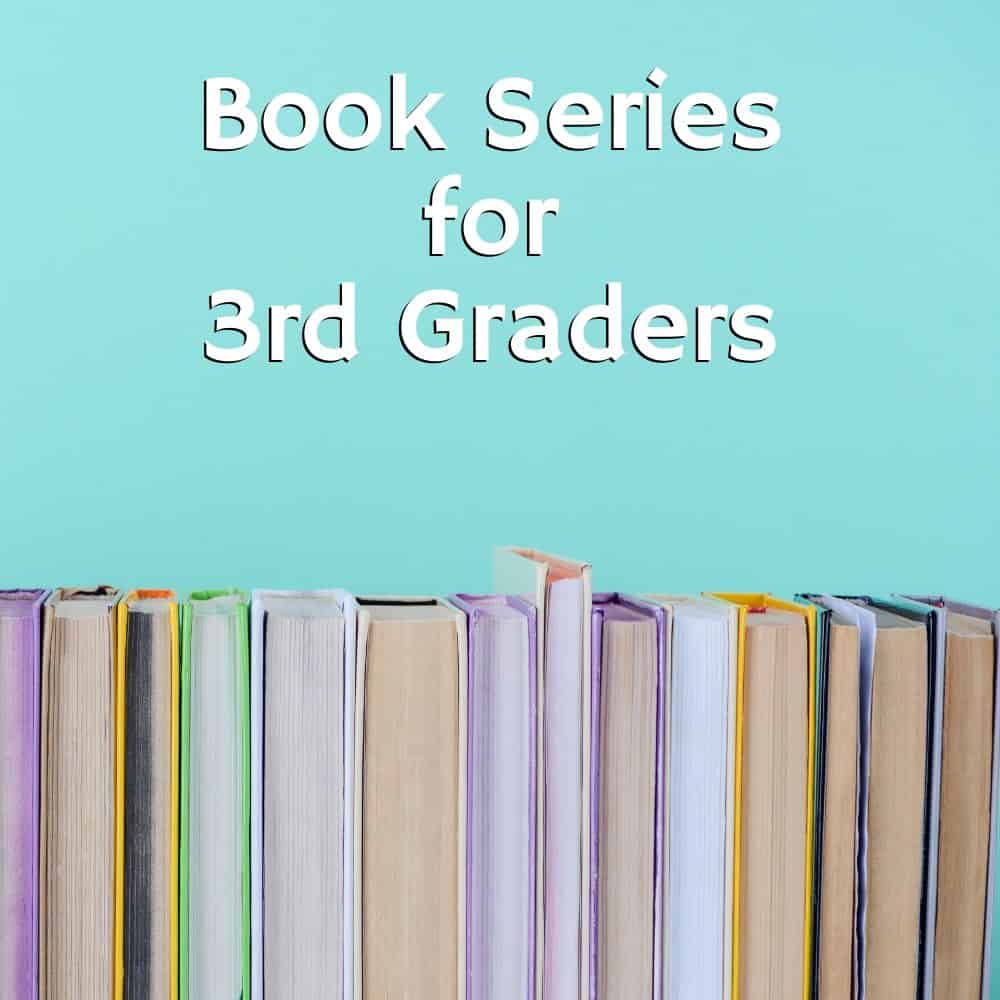 I recently finished reading one of my most addictive book series: The Goldy Schulz Culinary Mysteries. And I have to say, when I turned that last page and completed the series, it was pretty bitter sweet. 17 books about the caterer Goldy who somehow always manages to find herself in the middle of a murder investigation in her small town of Aspen Meadow, Colorado.
Were they literary masterpieces? No. Were they fun to read? Absolutely. Book series, mystery or otherwise, are some of the best books because they are like the familiarity of an old friend. A book where you can just walk right in, have seat, and start chatting.
Adults and kids alike enjoy these types of books. Authors of book series do a fantastic job of getting readers hooked and longing for that next book. Younger readers have more of an advantage in this area because there are so many chapter book series for early readers!
This book list includes 10 book series geared towards kids around third grade. I did my best to include a mix of early chapter books with regular chapter books. I included box sets when available and the number of books in the series is noted after the title.
Looking for more challenging book series?
This post contains affiliate links. If you click and make a purchase, we earn a commission at NO extra cost to you. For more information, please read my full disclosure policy.
Descriptions come from Amazon; some are edited for length
3rd Grade Book Series
The Last Kids on Earth by Max Brallier
"Ever since the monster apocalypse hit town, average thirteen year old Jack Sullivan has been living in his tree house, which he's armed to the teeth with catapults and a moat, not to mention video games and an endless supply of Oreos and Mountain Dew scavenged from abandoned stores. But Jack alone is no match for the hordes of Zombies and Winged Wretches and Vine Thingies, and especially not for the eerily intelligent monster known only as Blarg. So Jack builds a team and with their help, Jack is going to slay Blarg, achieve the ultimate Feat of Apocalyptic Success, and be average no longer! Can he do it?"
The Strange Case of Origami Yoda by Tom Angleberger
"It takes the wisdom of Yoda to survive the sixth grade. Meet Dwight, a sixth-grade oddball. Dwight does a lot of weird things, like wearing the same T-shirt for a month or telling people to call him "Captain Dwight." But Dwight does one cool thing. He makes origami. One day he makes an origami finger puppet of Yoda. And that's when things get mysterious. Origami Yoda can predict the future and suggest the best way to deal with a tricky situation. His advice actually works, and soon most of the sixth grade is lining up with questions."
A Bear Called Paddington by Michael Bond
"Paddington Bear had traveled all the way from Peru when the Browns first met him in Paddington Station. Since then, their lives have never been quite the same . . . for ordinary things become extraordinary when a bear called Paddington is involved."
Mrs. Piggle Wiggle by Betty MacDonald
"Meet Mrs. Piggle-Wiggle! She lives in an upside-down house with a kitchen that is always full of freshly baked cookies. She was even married to a pirate once! Best of all, she knows everything there is to know about children. When Mary turns into an Answer-Backer or Dick becomes Selfish or Allen decides to be a Slow-Eater-Tiny-Bite-Taker, Mrs. Piggle-Wiggle has the perfect cure. And her solutions always work, with plenty of laughs along the way."
Sideways Stories from Wayside School by Louis Sachar
"Accidentally built sideways and standing thirty stories high (the builder said he was very sorry for the mistake), Wayside School has some of the wackiest classes in town, especially on the thirtieth floor. That's where you'll meet Bebe, the fastest draw in art class; John, who only reads upside down; Myron, the best class president, ever; and Sammy, the new kid, he's a real rat."
"Rural Vermont during the 1920's is the setting for this nostalgic account of episodes in the lives of young Robert Peck and his pal, Soup."
Happy Little Family by Rebecca by Rebecca Caudill
"It is a good thing that mothers understand what no one else seems to when you are the youngest child in the family, and are finally four years old. Bonnie is more than ready to join her older sisters and brother in the many adventures she sees come their way, whether it be sliding along the ice, searching for arrowheads, or going on that journey of all journeys-across the swinging bridge to school. Winter or summer, something is always happening in the Fairchild house, tucked amidst the pine trees of the Kentucky hills one hundred years ago or more. And, four years old or not, Bonnie usually manages to be in the middle of the action!"
Magic Tree House Series by Mary Pope Osborne
"Where did the tree house come from? Before Jack and Annie can find out, the mysterious tree house whisks them to the prehistoric past. Now they have to figure out how to get home. Can they do it before dark or will they become a dinosaur's dinner?"
Amelia Bedelia Means Business by Herman Parish
"Amelia Bedelia's parents say they'll split the cost of a new bike with her, and that means Amelia Bedelia needs to put the pedal to the metal and earn some dough! With Amelia Bedelia anything can happen, and it usually does. Short, fast-paced chapters, tons of friends, silly situations, and funny wordplay and misunderstandings make the Amelia Bedelia chapter books an ideal choice for young readers!"
Clementine by Sara Pennypacker
"When Clementine's best friend and neighbor, Margaret, comes to her with a problem, Clementine goes to many lengths to help her friend. This sets off a rollicking adventure-filled week that finds Clementine getting into and out of further trouble, while learning valuable life lessons."
Books series are a wonderful way keep reading a part of your everyday routine. The well-known characters, well-paced storylines, and the cozy familiarity combine for an enjoyable reading experience. From zombie killers to magic treehouses, this list has something for everyone!
Happy reading!