Keep reading for 10 book series third graders will love!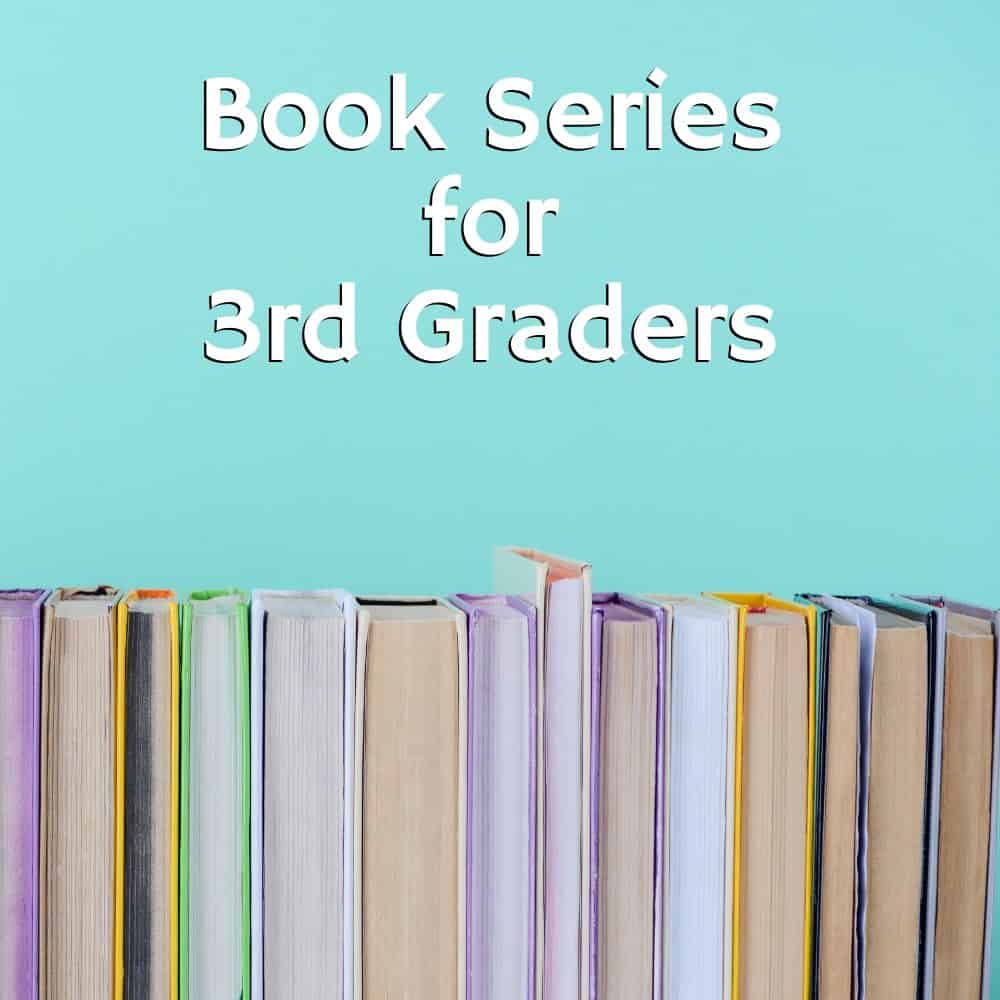 I recently finished reading one of my most addictive book series: The Goldy Schulz Culinary Mysteries. And I have to say, when I turned that last page and completed the series, it was pretty bitter sweet. 17 books about the caterer Goldy who somehow always manages to find herself in the middle of a murder investigation in her small town of Aspen Meadow, Colorado.
Were they literary masterpieces? No. Were they fun to read? Absolutely. Book series, mystery or otherwise, are some of the best books because they are like the familiarity of an old friend. A book where you can just walk right in, have seat, and start chatting.
Adults and kids alike enjoy these types of books. Authors of book series do a fantastic job of getting readers hooked and longing for that next book. Younger readers have more of an advantage in this area because there are so many chapter book series for early readers!
This book list includes 10 book series geared towards kids around third grade. I did my best to include a mix of early chapter books with regular chapter books. I included box sets when available and the number of books in the series is noted after the title.
This post contains affiliate links. If you click and make a purchase, we earn a commission at NO extra cost to you. For more information, please read my full disclosure policy.
Descriptions come from Amazon; some are edited for length
3rd Grade Book Series
Sarah, Plain and Tall Saga Book Series by Patricia MacLachlan
"Set in the late nineteenth century and told from young Anna's point of view, Sarah, Plain and Tall tells the story of how Sarah Elisabeth Wheaton comes from Maine to the prairie to answer Papa's advertisement for a wife and mother. Before Sarah arrives, Anna and her younger brother Caleb wait and wonder. Will Sarah be nice? Will she sing? Will she stay?"
"Harold the dog and Chester the cat must find out the truth about the newest pet in the Monroe household, a suspicious-looking bunny with unusual habits…and fangs! Could this innocent-seeming rabbit actually be a vampire?"
The 13 Story Treehouse (Treehouse Series) by Andy Griffiths
"Andy and Terry live in a treehouse. But it's not just any old treehouse, it's the most amazing treehouse in the world! It has thirteen stories, a bowling alley, a see-through swimming pool, and a marshmallow machine that follows you around and automatically shoots marshmallows into your mouth whenever you are hungry. Life would be perfect for Andy and Terry if it wasn't for the fact that they have to write their next book, which is almost impossible because there are just so many distractions, including thirteen flying cats, giant bananas, enormous gorillas, and dangerous burp gas-bubblegum bubbles!"
Mrs. Piggle Wiggle by Betty MacDonald
"Meet Mrs. Piggle-Wiggle! She lives in an upside-down house with a kitchen that is always full of freshly baked cookies. She was even married to a pirate once! Best of all, she knows everything there is to know about children. When Mary turns into an Answer-Backer or Dick becomes Selfish or Allen decides to be a Slow-Eater-Tiny-Bite-Taker, Mrs. Piggle-Wiggle has the perfect cure. And her solutions always work, with plenty of laughs along the way."
Pippi Longstocking by Astrid Lindgren
"Tommy and his sister Annika have a new neighbor, and her name is Pippi Longstocking. She has crazy red pigtails, no parents to tell her what to do, a horse that lives on her porch, and a flair for the outrageous that seems to lead to one adventure after another!"
Ralph S. Mouse by Beverly Cleary
"A young mouse named Ralph is thrown into a world of excitement when a boy and his shiny toy motorcycle check in to the Mountain View Inn. When the ever-curious Ralph spots Keith's red toy motorcycle, he vows to ride it. So when Keith leaves the bike unattended in his room one day, Ralph makes his move. But with all this freedom (and speed!) come a lot of obstacles. Whether dodging a rowdy terrier or keeping his nosy cousins away from his new wheels, Ralph has a lot going on! And with a pal like Keith always looking out for him, there's nothing this little mouse can't handle."
"Even the most ordinary Moffat day is packed with extraordinary fun. Only a Moffat could get locked in a bread box all afternoon, or dance with a dog in front of the whole town, or hitch a ride on a boxcar during kindergarten recess. And only a Moffat could turn mistakes and mischief into hilarious one-of-a-kind adventures!"
Shiloh by Phyllis Reynolds Naylor
"When Marty Preston comes across a young beagle in the hills behind his home, it's love at first sight, and also big trouble. It turns out the dog, which Marty names Shiloh, belongs to Judd Travers, who drinks too much and abuses his dogs. So when Shiloh runs away from Judd to Marty, Marty just has to hide him and protect him from Judd. But Marty's secret becomes too big for him to keep to himself, and it exposes his entire family to Judd's anger. How far will Marty have to go to make Shiloh his?"
The Lemonade War by Jacqueline Davies
"Fourth-grader Evan Treski is people-smart. He's good at talking with people, even grownups. His younger sister, Jessie, on the other hand, is math-smart, but not especially good with people. So when the siblings' lemonade stand war begins, there really is no telling who will win, or even if their fight will ever end."
Clementine by Sara Pennypacker
"When Clementine's best friend and neighbor, Margaret, comes to her with a problem, Clementine goes to many lengths to help her friend. This sets off a rollicking adventure-filled week that finds Clementine getting into and out of further trouble, while learning valuable life lessons."
Books series are a wonderful way keep reading a part of your everyday routine. The well-known characters, well-paced storylines, and the cozy familiarity combine for an enjoyable reading experience. From vampire bunnies to lemonade sales, this list has something for everyone!
Happy reading!