Keep reading for 10 terrific fifth grade read alouds!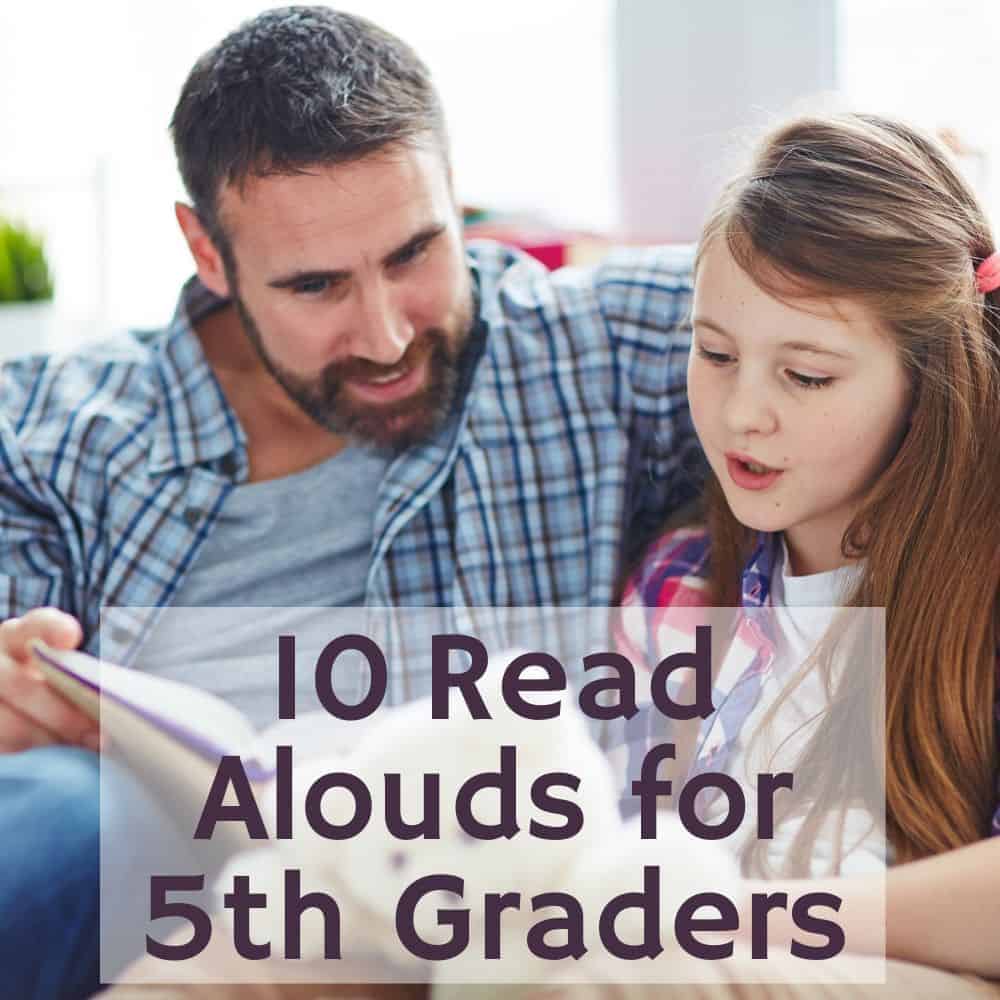 One of my favorite quotes comes from the book The Read Aloud Family by Sarah Mackenzie where she says, "Even more important than teaching our kids the actual skill of reading is to cultivate a deep love of stories. When we focus on nurturing our children's love of stories, we get both kids who can read as well as kids who do."
Which is why I love read alouds so much. They allow your kids to focus on the story element of books. They aren't using so much energy decoding or focusing on the mechanics of reading. Instead, they are able to enjoy the story!
It sounds so simple, but simple can be powerful. Which brings me to another wonderful quote from Sarah: "A book can't change the world on its own. But a book can change readers. And readers? They can change the world." Any of the following books are sure to change the way your kids see the world.
And remember, you don't have to do all the reading yourself! Audiobooks are an awesome way to get in more read aloud time. Which is why I have linked to all the Audible versions of the books on this list. Let's get started!
This post contains affiliate links. If you click and make a purchase, we earn a commission at NO extra cost to you. For more information, please read my full disclosure policy.
Descriptions come from Amazon; some are edited for length
5th Grade Read Alouds
Way of the Warrior Kid: From Wimpy to Warrior the Navy SEAL Way by Jocko Willink
"Fifth grade was the worst year of Marc's life. He stunk at gym class, he can't swim, and he can't do his times tables. And the most awful thing about fifth grade? Kenny Williamson, the class bully, who calls himself the King of the Jungle Gym. When Marc's mother tells him that his Uncle Jake is coming to stay for the whole summer, Marc can't wait. Uncle Jake is a for-real, super-cool Navy SEAL. And Uncle Jake has a plan. He's going to turn Marc into a warrior. Becoming a warrior isn't easy. It involves a lot of pull-ups, sit-ups, push-ups, squats, swimming, eating right, and studying harder than ever before! Can Marc transform himself into a warrior before school starts in the fall and finally stand up to the King of the Jungle Gym?"
Bud, Not Buddy by Christopher Paul Curtis
"It's 1936, in Flint, Michigan. Times are hard, and 10-year-old Bud is a motherless boy on the run. His momma never told him who his father was, but she left a clue: flyers of Herman E. Calloway and his famous band, the Dusky Devastators of the Depression! Bud's got an idea that those flyers will lead him to his father. Once he decides to hit the road and find this mystery man, nothing can stop him; not hunger, not fear, not vampires, not even Herman E. Calloway himself."
How to Train Your Dragon by Cressida Cowell
"On the Viking island of Berk, a boy named Hiccup must follow an ancient tradition: to capture and tame a dragon, or face exile. When he happens upon a small creature (whom he names Toothless), the two strike up an unlikely bond and become the heroes his clan never expected. Inspiring 11 sequels, How to Train Your Dragon is a perfect blend of adventure, friendship, and silly humor."
"Matilda is a sweet, exceptional young girl, but her parents think she's just a nuisance. She expects school to be different but there she has to face Miss Trunchbull, a kid-hating terror of a headmistress. When Matilda is attacked by the Trunchbull she suddenly discovers she has a remarkable power with which to fight back. It'll take a superhuman genius to give Miss Trunchbull what she deserves and Matilda may be just the one to do it!"
Henry Huggins by Beverly Cleary
"Just as Henry Huggins is complaining that nothing exciting ever happens, a friendly dog sits down beside him and looks pleadingly at his ice-cream cone. From that moment on, the two are inseparable. But when Ribsy's original owner appears, trying to reclaim his dog, Henry's faced with the possibility of losing his new best friend. Has Klickitat Street seen the last of rambunctious Ribsy?"
"On his way to visit his recently divorced father in the Canadian mountains, thirteen-year-old Brian Robeson is the only survivor when the single-engine plane crashes. His body battered, his clothes in shreds, Brian must now stay alive in the boundless Canadian wilderness. More than a survival story, Hatchet is a tale of tough decisions. When all is stripped down to the barest essentials, Brian discovers some stark and simple truths. Self-pity doesn't work. Despair doesn't work. And if Brian is to survive physically as well as mentally, he must discover courage."
The Wonderful Wizard of Oz by L. Frank Baum
"Follow the adventures of young Dorothy Gale and her dog Toto as they get swept away into the magical land of Oz , where they encounter characters and places you may remember from the movie (and several more that never made it to the big screen) on an unforgettable journey to the Emerald City."
Brighty of the Grand Canyon by Marguerite Henry
"Brighty, a shaggy young burro, lives wild and free in the Grand Canyon of Arizona. He roams the steep cliffs with the squirrels and rabbits. But his favorite friend is Old Timer, the prospector who shares hot biscuits and calls him Bright Angel. One day Old Timer doesn't answer Brighty's loud 'Eeeee-aw!' Instead, the friendly animal encounters a ruthless claim jumper. Will Brighty be able to bring the killer to justice and make the wilderness safe again?"
The Mysterious Howling: The Incorrigible Children of Ashton Place, Book 1 by Maryrose Wood
"Discovered in the forest of Ashton Place, the Incorrigibles are no ordinary children. Luckily, Miss Penelope Lumley is no ordinary governess. A recent graduate of the Swanburne Academy for Poor Bright Females, Penelope embraces the challenge of her new position. Though she is eager to instruct the children in Latin verbs and the proper use of globes, first she must eliminate their canine tendencies. But mysteries abound at Ashton Place: Who are these three wild creatures? Why does Old Timothy, the coachman, lurk around every corner? Will Penelope be able to civilize the Incorrigibles in time for Lady Constance's holiday ball? And what on earth is a schottische?"
My Side of the Mountain by Jean Craighead George
"Sam Gribley is terribly unhappy living in New York City with his family, so he runs away to the Catskill Mountains to live in the woods. All by himself. With only a penknife, a ball of cord, 40 dollars, and some flint and steel, he intends to survive on his own. Sam learns about courage, danger, and independence during his year in the wilderness, a year that changes his life forever."
Classic books, realistic fiction, survival stories, and magic all make for fantastic read alouds. I hope this post helped you find your next wonderful family read aloud!
Happy reading!