Keep reading for 10 fantastic book series for fifth graders!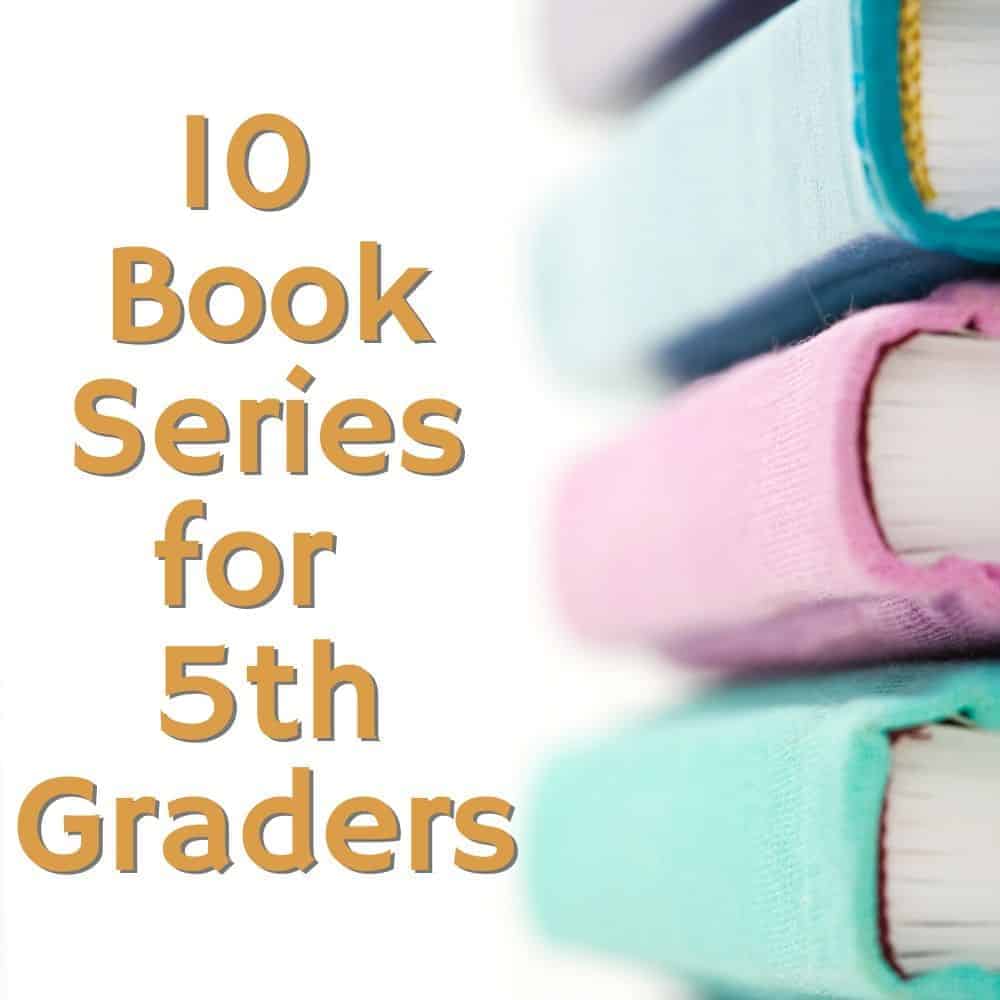 My heart will always have a special place for the first book series on this list: How to Train Your Dragon because it was the first book series my kids really loved. The adventures of Hiccup Horrendous Haddock III appealed to them much more than Harry Potter.
Don't worry. They eventually went through the Harry Potter phase 😉
Kids might not fall in love with the book series we want them to when we want them to, but kids fall in love with book series regardless because because they are like reuniting with old friends. Old friends that know everything about each other and don't need to knock on each others' front door.
These 10 book series for fifth graders are 10 of those types of series. Book series that will leave you dying to read the next book in the series. Let's get started!
Need easier book series?
Searching for more challenging books?
This post contains affiliate links. If you click and make a purchase, we earn a commission at NO extra cost to you. For more information, please read my full disclosure policy.
Descriptions come from Amazon; some are edited for length
5th Grade Book Series
How to Train Your Dragon by Cressida Cowell
"On the Viking island of Berk, a boy named Hiccup must follow an ancient tradition: to capture and tame a dragon, or face exile. When he happens upon a small creature (whom he names Toothless), the two strike up an unlikely bond and become the heroes his clan never expected. Inspiring 11 sequels, How to Train Your Dragon is a perfect blend of adventure, friendship, and silly humor."
My Side of the Mountain by Jean Craighead George
"Sam Gribley is terribly unhappy living in New York City with his family, so he runs away to the Catskill Mountains to live in the woods. All by himself. With only a penknife, a ball of cord, forty dollars, and some flint and steel, he intends to survive on his own. Sam learns about courage, danger, and independence during his year in the wilderness, a year that changes his life forever."
The Wonderful Wizard of Oz by L. Frank Baum
"The story chronicles the adventures of a young girl named Dorothy Gale in the Land of Oz, after being swept away from her Kansas farm home in a cyclone. The novel is one of the best-known stories in American popular culture and has been widely translated. Its initial success led to Baum's writing thirteen additional Oz books."
Percy Jackson and the Olympians Book Series by Rick Riordan
"Percy Jackson is a good kid, but he can't seem to focus on his schoolwork or control his temper. And lately, things are only getting worse. Percy could have sworn his pre-algebra teacher turned into a monster and tried to kill him. When Percy's mom finds out, she knows it's time that he knew the truth about where he came from, and that he go to the one place he'll be safe. She sends Percy to Camp Half Blood, a summer camp for demigods, where he learns that the father he never knew is Poseidon, God of the Sea. Soon a mystery unfolds and together with his friends, Percy sets out on a quest across the United States to reach the gates of the Underworld and prevent a catastrophic war between the gods."
Way of the Warrior Kid Series by Jocko Willink
"Fifth grade was the worst year of Marc's life. He stunk at gym class, he can't swim, and he can't do his times tables. And the most awful thing about fifth grade? Kenny Williamson, the class bully, who calls himself the King of the Jungle Gym. When Marc's mother tells him that his uncle Jake is coming to stay for the whole summer, Marc can't wait. Uncle Jake is a for-real, super-cool Navy SEAL. And Uncle Jake has a plan. He's going to turn Marc into a warrior. Becoming a warrior isn't easy. It involves a lot of pull-ups, sit-ups, push-ups, squats, swimming, eating right, and studying harder than ever before! Can Marc transform himself into a warrior before school starts in the fall and finally stand up to the King of the Jungle Gym?"
The Penderwicks by Jeanne Birdsall
"This summer the Penderwick sisters have a wonderful surprise: a holiday on the grounds of a beautiful estate called Arundel. Soon they are busy discovering the summertime magic of the estate. But the best discovery of all is Jeffrey Tifton, son of Arundel's owner, who quickly proves to be the perfect companion for their adventures. The icy-hearted Mrs. Tifton is not as pleased with the Penderwicks as Jeffrey is, though, and warns the new friends to stay out of trouble. Which, of course, they will, won't they? One thing's for sure: it will be a summer the Penderwicks will never forget."
Henry Huggins by Beverly Cleary
"Boys and girls alike will be charmed instantly by an average boy whose life is turned upside down when he meets a lovable puppy with a nose for mischief. Just as Henry Huggins is complaining that nothing exciting ever happens, a friendly dog sits down beside him and looks pleadingly at his ice cream cone. From that moment on, the two are inseparable. But when Ribsy's original owner appears, trying to reclaim his dog, Henry's faced with the possibility of losing his new best friend. Has Klickitat Street seen the last of rambunctious Ribsy?"
Incorrigible Children of Ashton Place Book Series by Maryrose Wood
"Discovered in the forest of Ashton Place, the Incorrigibles are no ordinary children. Luckily, Miss Penelope Lumley is no ordinary governess. A recent graduate of the Swanburne Academy for Poor Bright Females, Penelope embraces the challenge of her new position. Though she is eager to instruct the children in Latin verbs and the proper use of globes, first she must eliminate their canine tendencies. But mysteries abound at Ashton Place: Who are these three wild creatures? Why does Old Timothy, the coachman, lurk around every corner? Will Penelope be able to civilize the Incorrigibles in time for Lady Constance's holiday ball? And what on earth is a schottische?"
The Great Brain Series by John D. Fitzgerald
"The best con man in the Midwest is only ten years old. Tom, a.k.a., the Great Brain, is a silver-tongued genius with a knack for turning a profit. When the Jenkins boys get lost in Skeleton Cave, the Great Brain saves the day. Whether it's saving the kids at school, or helping out Peg-leg Andy, or Basil, the new kid at school, the Great Brain always manages to come out on top-and line his pockets in the process."
Half Magic Series by Edward Eager
"It all begins with a strange coin on a sun-warmed sidewalk. Jane finds the coin, and because she and her siblings are having the worst, most dreadfully boring summer ever, she idly wishes something exciting would happen. And something does: Her wish is granted. Or not quite. Only half of her wish comes true. It turns out the coin grants wishes, but only by half, so that you must wish for twice as much as you want. Wishing for two times some things is a cinch, but other doubled wishes only cause twice as much trouble."
From the Incorrigibles to the Great Brain, and from Navy Seals to dragon riders, this book list of 5th grade book series is sure to have something for everyone.
Happy reading!