Keep reading for over 25 brilliant chapter books to read aloud!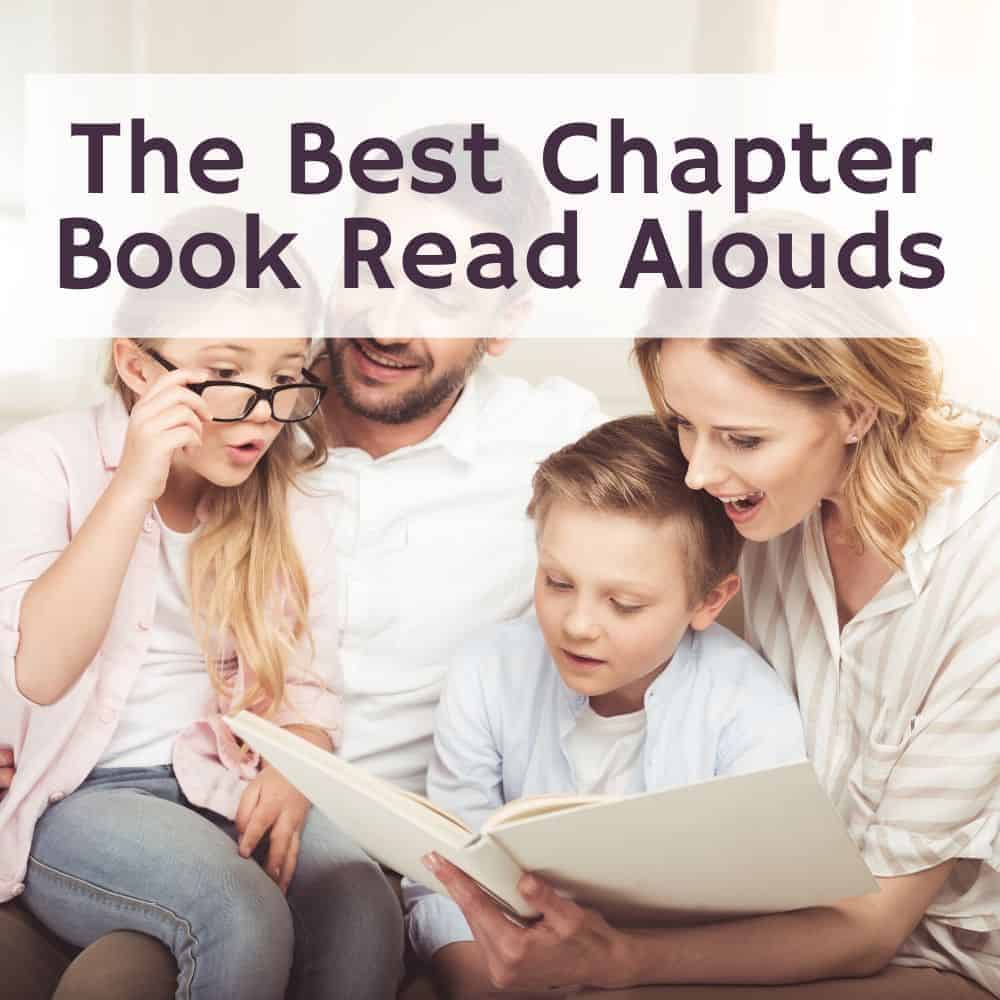 In her book The Read Aloud Family, Sarah Mackenzie said, "Reading aloud with our kids is indeed the best use of our time and energy as parents. It's more important that just about anything else we can do."
For a book-lover like me this was an awesome thing to read. I love reading! I love reading with my kids! It gave me the energy I needed to make sure my kids and I are always reading a book together.
But then it got me thinking. What about parents who don't love to read or they aren't sure what books to read with their kids. How would they feel about reading that? More than likely defeated before they even began.
Maybe you are that parent! Someone who desperately wants to enjoy books with their kids but doesn't know what to pick. Will I like this book? What about my kid?
Have no fear! This is the blog post for you! I have put together all my articles that talk about read alouds into one post.
They are divided up by age, but when it comes to reading aloud there is a good rule of thumb to keep in mind when selecting a book. In general, kids can understand and follow a book that is about two years ahead of their current age. So if they are 7, they can follow a book in the 9 year old range.
Again, that it just a general rule. I have listened to ALL the books on these lists and I can assure you that pretty much all of them are for kids of all ages. But one thing is for sure, they are all spectacular read alouds and audiobooks.
The way this article is set up is I share one of my blog posts featuring a read aloud and AFTER each post, I feature one of my favorites from the list. But first things first, I need to share a read aloud book that I recommend for every family!
This post contains affiliate links. If you click and make a purchase, we earn a commission at NO extra cost to you. For more information, please read my full disclosure policy.
Chapter Books to Read Aloud
My number one audiobook suggestion is almost always Harry Potter. Harry Potter, The Boy Who Lived, The Chosen One, Potter, whichever you call him, HP is a phenomenal book, for one, but also features one the best performances by a narrator ever! Jim Dale is so remarkable narrating this book that he almost spoils any other audiobook!
I find Harry Potter to be a good start for reading, or listening, aloud for families because of J.K. Rowling's masterful storytelling. Her true gift is in combining all the genres of fantasy and fiction together into this mishmash of wonderfulness!
So if you haven't ever read it or you think your child doesn't like Harry Potter, there will be some aspect of the story that they love. It could be the magical elements or the mystery and adventures or the dark prophecy. That's why I think it's a great book to get your kid hooked on reading because there will be SOMETHING in the book that sparks their interest.
"'The truth.' Dumbledore sighed. 'It is a beautiful and terrible thing, and should therefore be treated with great caution.'"
One of my favorite books on this list is Flora & Ulysses: The Illuminated Adventures and I first heard about this book at our local library. It was the first time we attended a story hour featuring a chapter book and I am so glad we went because it introduced us to one of my favorite books!
"It begins, as the best superhero stories do, with a tragic accident that has unexpected consequences. The squirrel never saw the vacuum cleaner coming, but self-described cynic Flora Belle Buckman, who has read every issue of the comic book Terrible Things Can Happen to You!, is just the right person to step in and save him. What neither can predict is that Ulysses (the squirrel) has been born anew, with powers of strength, flight, and misspelled poetry. And that Flora will be changed too, as she discovers the possibility of hope and the promise of a capacious heart."
"So many miracles have not yet happened."
I adore this book so much. The combination of the flawless narration by actor James Avery, and the exquisite writing of the Christopher Paul Curtis makes one of my favorite read alouds of all time!
"It's 1936, in Flint, Michigan. Times may be hard, and 10-year-old Bud may be a motherless boy on the run, but Bud's got a few things going for him. One: He has his own suitcase filled with his own important, secret things. Two: He's the author of Bud Caldwell's Rules and Things for Having a Funner Life and Making a Better Liar Out of Yourself. Three: His momma never told him who his father was, but she left a clue: flyers of Herman E. Calloway and his famous band, the Dusky Devastators of the Depression! Bud's got an idea that those flyers will lead him to his father. Once he decides to hit the road and find this mystery man, nothing can stop him: not hunger, not fear, not vampires, not even Herman E. Calloway himself."
"There comes a time when you're losing a fight and it just doesn't make sense to keep on fighting. It's not that you're bring a quitter, it's just that you've got the sense to know when enough is enough."
I think the only thing you need to know about this read aloud and audiobook is that it is read by Stephen Fry. I believe my daughter was 10 when she first listened to it by herself and she LOVED it!! And she isn't an advanced reader by any stretch of the imagination.
"Seconds before the Earth is demolished to make way for a galactic freeway, Arthur Dent is plucked off the planet by his friend Ford Prefect, a researcher for the revised edition of The Hitchhiker's Guide to the Galaxy who, for the last 15 years, has been posing as an out-of-work actor.
Together this dynamic pair begin a journey through space aided by quotes from The Hitchhiker's Guide and a galaxy full of fellow travelers. Where are these pens? Why are we born? Why do we die? Why do we spend so much time in between wearing digital watches? For all the answers stick your thumb to the stars. And don't forget to bring a towel!
"He felt that his whole life was some kind of dream and he sometimes wondered whose it was and whether they were enjoying it."
I love it when actors lend their voices to audiobooks and the actor that narrates How to Train Your Dragon is none other than the former Doctor David Tennant. Even if you don't like children's books or fantasy books, you will be drawn into this book and love every minute of it!
"On the Viking island of Berk, a boy named Hiccup must follow an ancient tradition: to capture and tame a dragon, or face exile. When he happens upon a small creature (whom he names Toothless), the two strike up an unlikely bond and become the heroes his clan never expected. Inspiring 11 sequels, How to Train Your Dragon is a perfect blend of adventure, friendship, and silly humor."
"Being frightened is not the same as being a coward."
I focused mainly on audiobooks for this blog post, but that doesn't mean you have to use them. We do read alouds mainly with audiobooks because we are in the car so often. You do what works! Make sure to check back to this post for more awesome read alouds!!