Keep reading for 25 awesome books every fifth grader should read!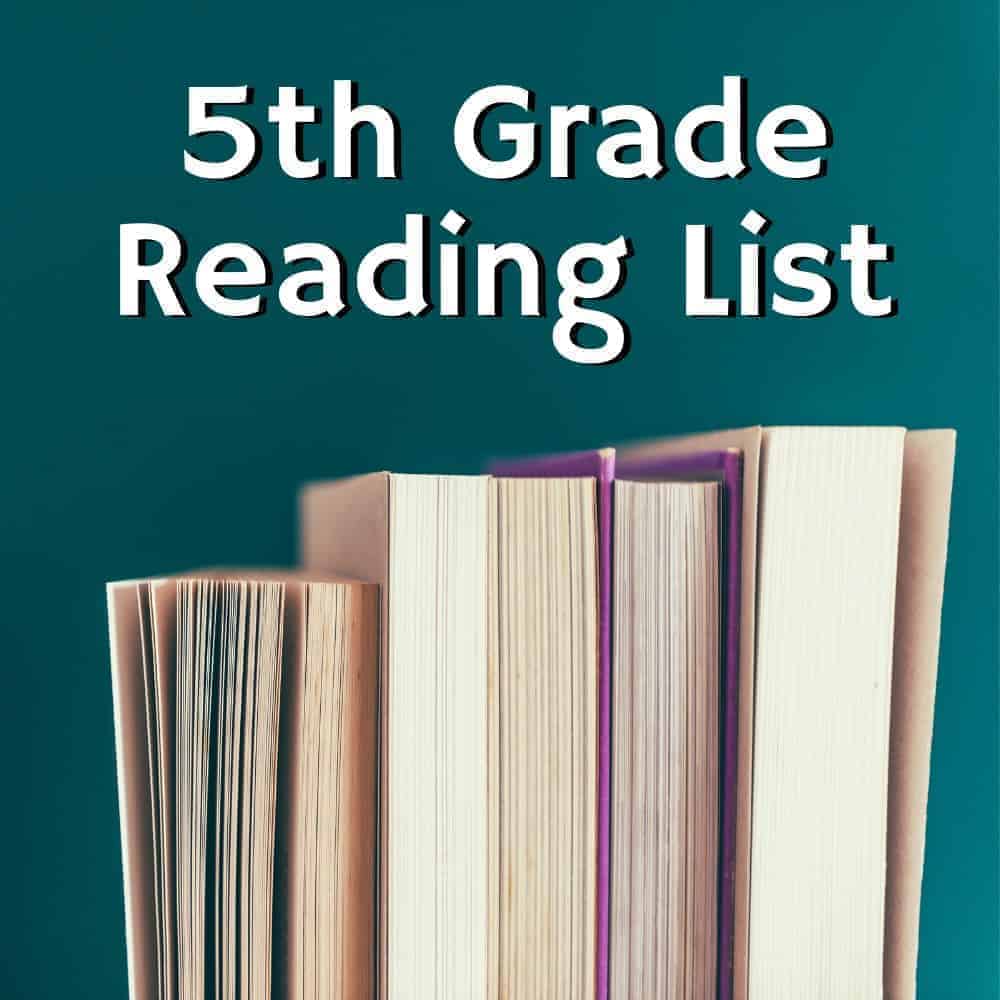 In the book A Dance of Dragons by George R.R. Martin, the character of Jojen Reed says the following: "A reader lives a thousand lives before he dies. The man who never reads lives only one." I love this quote so much, because it really encapsulates the power of books and reading.
Whether you have a voracious reader or are looking for some book ideas for your 10-11 year old, I have the list for you! The ultimate 25 books for fifth graders! The contain a mix of fantasy, realistic fiction, classics, historical fiction, and some are a combination of genres. Not matter what types of books your kids like to read, there is something on this list they will love!
Searching for an easier book list?
Need a more difficult reading list?
This post contains affiliate links. If you click and make a purchase, we earn a commission at NO extra cost to you. For more information, please read my full disclosure policy.
Descriptions come from Amazon; some are edited for length
Fifth Grade Reading List
by Christopher Paul Curtis (1999) 243 pages
"It's 1936, in Flint, Michigan. Times are hard, and 10-year-old Bud is a motherless boy on the run. His momma never told him who his father was, but she left a clue: flyers of Herman E. Calloway and his famous band, the Dusky Devastators of the Depression! Bud's got an idea that those flyers will lead him to his father. Once he decides to hit the road and find this mystery man, nothing can stop him; not hunger, not fear, not vampires, not even Herman E. Calloway himself."
By Cressida Cowell (2003) 214 pages
"On the Viking island of Berk, a boy named Hiccup must follow an ancient tradition: to capture and tame a dragon, or face exile. When he happens upon a small creature (whom he names Toothless), the two strike up an unlikely bond and become the heroes his clan never expected. Inspiring 11 sequels, How to Train Your Dragon is a perfect blend of adventure, friendship, and silly humor."
Charlie and the Chocolate Factory
by Roald Dahl (1964) 176 pages
"Willy Wonka's famous chocolate factory is opening at last! But only five lucky children will be allowed inside. And the winners are: Augustus Gloop, an enormously fat boy whose hobby is eating; Veruca Salt, a spoiled-rotten brat whose parents are wrapped around her little finger; Violet Beauregarde, a dim-witted gum-chewer with the fastest jaws around; Mike Teavee, a toy pistol-toting gangster-in-training who is obsessed with television; and Charlie Bucket, Our Hero, a boy who is honest and kind, brave and true, and good and ready for the wildest time of his life!"
by Roald Dahl (1988) 240 pages
"Matilda is a sweet, exceptional young girl, but her parents think she's just a nuisance. She expects school to be different but there she has to face Miss Trunchbull, a kid-hating terror of a headmistress. When Matilda is attacked by the Trunchbull she suddenly discovers she has a remarkable power with which to fight back. It'll take a superhuman genius to give Miss Trunchbull what she deserves and Matilda may be just the one to do it!"
By Stephanie S. Tolan (2002) 240 pages
"Jake Semple is notorious. Rumor has it he managed to get kicked out of every school in Rhode Island, and actually burned the last one down to the ground. Only one place will take him now, and that's a home school run by the Applewhites, a chaotic and hilarious family of artists. Jake thinks surviving this new school will be a breeze. But is he really as tough or as bad as he seems?"
By Jocko Willink (2017) 182 pages
"Fifth grade was the worst year of Marc's life. He stunk at gym class, he can't swim, and he can't do his times tables. And the most awful thing about fifth grade? Kenny Williamson, the class bully, who calls himself the King of the Jungle Gym. When Marc's mother tells him that his uncle Jake is coming to stay for the whole summer, Marc can't wait. Uncle Jake is a for-real, super-cool Navy SEAL. And Uncle Jake has a plan. He's going to turn Marc into a warrior. Becoming a warrior isn't easy. It involves a lot of pull-ups, sit-ups, push-ups, squats, swimming, eating right, and studying harder than ever before! Can Marc transform himself into a warrior before school starts in the fall and finally stand up to the King of the Jungle Gym?"
By Jean Craighead George (1959) 177 pages
"Sam Gribley is terribly unhappy living in New York City with his family, so he runs away to the Catskill Mountains to live in the woods. All by himself. With only a penknife, a ball of cord, forty dollars, and some flint and steel, he intends to survive on his own. Sam learns about courage, danger, and independence during his year in the wilderness, a year that changes his life forever."
The Incorrigible Children of Ashton Place: Book I: The Mysterious Howling
by Maryrose Wood (2010) 272 pages
"Discovered in the forest of Ashton Place, the Incorrigibles are no ordinary children. Luckily, Miss Penelope Lumley is no ordinary governess. A recent graduate of the Swanburne Academy for Poor Bright Females, Penelope embraces the challenge of her new position. Though she is eager to instruct the children in Latin verbs and the proper use of globes, first she must eliminate their canine tendencies. But mysteries abound at Ashton Place: Who are these three wild creatures? Why does Old Timothy, the coachman, lurk around every corner? Will Penelope be able to civilize the Incorrigibles in time for Lady Constance's holiday ball?"
by Oliver Butterworth (1956) 188 pages
"Young Nate Twitchell is surprised when one of the hens on his family farm lays a giant egg. After a painstaking wait, Nate is even more surprised when it hatches and out pops a baby triceratops that he names Uncle Beazley! But when Nate decides to keep the dino and raise it on his own, he has no idea what he's getting himself into. As Uncle Beazley grows, Nate and his family realize they are not equipped to take care of a full-sized dinosaur, and so with the help of their scientist friend, Nate and Uncle Beazley set off for the National Museum in Washington, D.C., on the hunt for the perfect home for a modern-day dinosaur. Then the real trouble begins!"
by Pam Muñoz Ryan (2000) 262 pages
"Esperanza thought she'd always live a privileged life on her family's ranch in Mexico. But a sudden tragedy forces Esperanza and Mama to flee to California and settle in a Mexican farm labor camp. Esperanza isn't ready for the hard work, financial struggles brought on by the Great Depression, or lack of acceptance she now faces. When Mama gets sick and a strike for better working conditions threatens to uproot their new life, Esperanza must find a way to rise above her difficult circumstances because Mama's life, and her own, depend on it."
From the Mixed up Files of Mrs. Basil E. Frankweiler
by E.L. Konigsburg (1967) 178 pages
"When suburban Claudia Kincaid decides to run away, she knows she doesn't just want to run from somewhere, she wants to run to somewhere. To a place that is comfortable, beautiful, and, preferably, elegant. And so, after some careful planning, she and her younger brother, Jamie, escaped right into a mystery that made headlines!"
Mrs. Frisby and the Rats of NIMH
by Robert C. O'Brien (1971) 240 pages
"Mrs. Frisby, a widowed mouse with four small children, is faced with a terrible problem. She must move her family to their summer quarters immediately, or face almost certain death. But her youngest son, Timothy, lies ill with pneumonia and must not be moved. Fortunately, she encounters the rats of NIMH, an extraordinary breed of highly intelligent creatures, who come up with a brilliant solution to her dilemma. And Mrs. Frisby in turn renders them a great service."
by R.J. Palacio (2012) 315 pages
"August Pullman was born with a facial difference that, up until now, has prevented him from going to a mainstream school. Starting 5th grade at Beecher Prep, he wants nothing more than to be treated as an ordinary kid, but his new classmates can't get past Auggie's extraordinary face. Wonder, begins from Auggie's point of view, but soon switches to include his classmates, his sister, her boyfriend, and others. These perspectives converge in a portrait of one community's struggle with empathy, compassion, and acceptance."
by Fred Gipson (1956) 117 pages
"When his father sets out on a cattle drive toward Kansas for the summer, fourteen-year-old Travis Coates is left to take care of his family and their farm. Living in Texas Hill Country during the 1860s, Travis comes to face new, unanticipated, and often perilous responsibilities in the frontier wilderness. A particular nuisance is a stray yellow dog that shows up one day and steals food from the family. But the big canine who Travis calls Old Yeller proves his worth by defending the family from danger. And Travis ultimately finds help and comfort in the courage and unwavering love of the dog who comes to be his very best friend."
by Gary Paulsen (1986) 208 pages
"Thirteen-year-old Brian Robeson is traveling by single-engine plane to visit his father for the first time since his parents divorced. When the plane crashes, killing the pilot, the sole survivor is Brian. He is alone in the Canadian wilderness with nothing but his clothing, a tattered windbreaker, and the hatchet his mother had given him as a present. At first consumed by despair and self-pity, Brian slowly learns survival skills and even finds the courage to start over from scratch when a tornado ravages his campsite. When Brian emerges from his ordeal, he has new patience and maturity, and a greater understanding of himself and his parents."
by Beverly Cleary (1950) 155 pages
"In the first novel from Newbery Medal–winning author Beverly Cleary, boys and girls alike will be charmed instantly by an average boy whose life is turned upside down when he meets a lovable puppy with a nose for mischief. Just as Henry Huggins is complaining that nothing exciting ever happens, a friendly dog sits down beside him and looks pleadingly at his ice-cream cone. From that moment on, the two are inseparable. But when Ribsy's original owner appears, trying to reclaim his dog, Henry's faced with the possibility of losing his new best friend. Has Klickitat Street seen the last of rambunctious Ribsy?"
Where the Mountain Meets the Moon
by Grace Lin (2009) 278 pages
"In the valley of Fruitless mountain, a young girl named Minli lives in a ramshackle hut with her parents. In the evenings, her father regales her with old folktales of the Jade Dragon and the Old Man on the Moon, who knows the answers to all of life's questions. Inspired by these stories, Minli sets off on an extraordinary journey to find the Old Man on the Moon to ask him how she can change her family's fortune. She encounters an assorted cast of characters and magical creatures along the way, including a dragon who accompanies her on her quest for the ultimate answer."
by Katherine Paterson (1977) 128 pages
"Jess Aarons has been practicing all summer so he can be the fastest runner in the fifth grade. And he almost is, until the new girl in school, Leslie Burke, outpaces him. The two become fast friends and spend most days in the woods behind Leslie's house, where they invent an enchanted land called Terabithia. One morning, Leslie goes to Terabithia without Jess and a tragedy occurs. It will take the love of his family and the strength that Leslie has given him for Jess to be able to deal with his grief."
by Wilson Rawls (1976) 288 pages
"The last thing fourteen-year-old Jay Berry Lee expects to find while trekking through the Ozark Mountains of Oklahoma is a tree full of monkeys. But then Jay learns from his grandpa that the monkeys have escaped from a traveling circus, and there's a big reward for the person who finds and returns them. His family could really use the money, so Jay sets off, determined to catch them. But by the end of the summer, Jay will have learned a lot more than he bargained for and not just about monkeys."
by Norton Juster (1961) 256 pages
"For Milo, everything's a bore. When a tollbooth mysteriously appears in his room, he drives through only because he's got nothing better to do. But on the other side, things seem different. Milo visits the Island of Conclusions (you get there by jumping), learns about time from a ticking watchdog named Tock, and even embarks on a quest to rescue Rhyme and Reason! Somewhere along the way, Milo realizes something astonishing. Life is far from dull. In fact, it's exciting beyond his wildest dreams."
by Jeanne Birdsall (2005) 262 pages
"This summer the Penderwick sisters have a wonderful surprise: a holiday on the grounds of a beautiful estate called Arundel. Soon they are busy discovering the summertime magic of Arundel's sprawling gardens, treasure-filled attic, tame rabbits, and the cook who makes the best gingerbread in Massachusetts. But the best discovery of all is Jeffrey Tifton, son of Arundel's owner, who quickly proves to be the perfect companion for their adventures. One thing's for sure: it will be a summer the Penderwicks will never forget."
by Louis Sachar (1998) 233 pages
"Stanley Yelnats is under a curse. A curse that began with his no-good-dirty-rotten-pig-stealing-great-great-grandfather and has since followed generations of Yelnatses. Now Stanley has been unjustly sent to a boys' detention center, Camp Green Lake, where the boys build character by spending all day, every day digging holes exactly five feet wide and five feet deep. There is no lake at Camp Green Lake. But there are an awful lot of holes."
by John D. Fitzgerald (1967) 192 pages
"J. D. idolizes his older brother Tom, a.k.a. The Great Brain: a silver-tongued con artist with a genius for making a profit. No matter what the situation, The Great Brain will always find a way to turn it to his advantage–usually, his financial advantage. As boys growing up at the beginning of the 1900s, J. D. and Tom have plenty of scope for their adventures. And while J. D.'s ingenuity may not equal his conniving brother's, as a narrator he is endearingly sympathetic and wildly entertaining."
by Kimberly Brubaker Bradley (2015) 316 pages
"Ten-year-old Ada has never left her one-room apartment. Her mother is too humiliated by Ada's twisted foot to let her outside. So when her little brother Jamie is shipped out of London to escape the war, Ada doesn't waste a minute and sneaks out to join him. So begins a new adventure for Ada, and for Susan Smith, the woman who is forced to take the two kids in. As Ada teaches herself to ride a pony, learns to read, and watches for German spies, she begins to trust Susan and Susan begins to love Ada and Jamie. But in the end, will their bond be enough to hold them together through wartime? Or will Ada and her brother fall back into the cruel hands of their mother?"
by L. Frank Baum (1900) 154 pages
"Swept away from her home in Kansas by a tornado, Dorothy and her dog Toto find themselves stranded in the fantastical Land of Oz. As instructed by the Good Witch of the North and the Munchkins, Dorothy sets off on the yellow brick road to try and find her way to the Emerald City and the Wizard of Oz, who can help her get home. With her companions the Scarecrow, the Tin Woodman and the Cowardly Lion, Dorothy experiences an adventure full of friendship, magic and danger."
I have so many favorites on this list, but if you forced me to pick a few they would be Bud, Not Buddy, Matilda, and Way of the Warrior Kid. I hope you find some wonderful books for the reader in your life.
Happy reading!
Bud, Not Buddy
How to Train Your Dragon
Charlie and the Chocolate Factory
Matilda
Surviving the Applewhites
The Way of the Warrior Kid
The Mysterious Howling
My Side of the Mountain
The Enormous Egg
Esperanza Rising
From the Mixed up Files of Mrs. Basil E. Frankweiler
Mrs. Frisby and the Rats of NIMH
Wonder
Old Yeller
Hatchet
Henry Huggins
Where the Mountain Meets the Moon
Bridge to Terabithia
Summer of the Monkeys
The Phantom Tollbooth
The Penderwicks
Holes
The Great Brain
The War that Saved My Life
The Wonderful Wizard of Oz