Keep reading for 10 unforgettable read alouds for 6th graders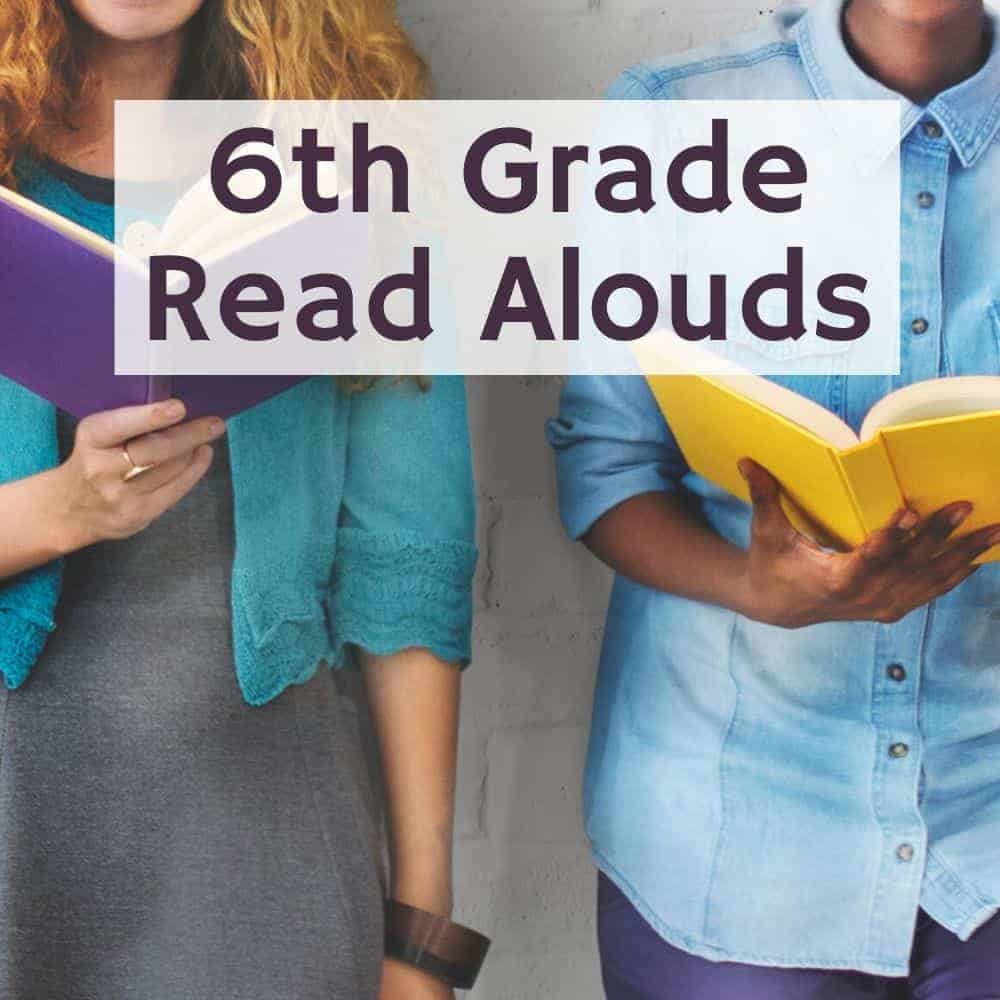 In his book The Haunted Bookshop, Christopher Morely said: steadfast book sellers are missionaries who seek "to spread good books about, to sow them on fertile minds, to propagate understanding and a carefulness of life and beauty." This quote, besides being beautiful and elegant, sums up why we want to expose our children to good books.
But sometimes, there are amazing books we wish to share with our kids, but they might trouble reading them independently. That is why I am such a strong advocate for read alouds and audiobooks.
Reading aloud takes the reading pressure off of the child and allows them to enjoy the storyline of the book. And even better, audiobooks help parents read with their kids without the pressure of having to "get it right."
This post has 10 read alouds that are wonderful for kids ages 8-12, but purposefully targeted at kids in the grade 6 range. Children who are independent readers but may need some help with some more difficult books. Or kids that just love listening to books!
This post contains affiliate links. If you click and make a purchase, we earn a commission at NO extra cost to you. For more information, please read my full disclosure policy.
Descriptions come from Amazon; some are edited for length
6th Grade Read Alouds
"In 1918 Wisconsin, 11-year-old Sterling North has an almost perfect life. He keeps skunks in the backyard, goes everywhere with his enormous Saint Bernard, and is building a canoe in the living room. The only trouble is life gets a little lonely for him and his father since his mother died. While scouting around the woods one afternoon, he discovers an abandoned, month-old raccoon. Afraid the kit will die on its own, he takes it home to join his menagerie. Soon Sterling and the mischievous raccoon Rascal are sharing one adventure after another, swimming, fishing, and camping. Theirs is an unforgettable friendship – until everything suddenly changes one warm spring day."
Where the Red Fern Grows by Wilson Rawls
"A loving threesome, Billy and his two dogs ranged the dark hills and river bottoms of Cherokee country. Old Dan has the brawn, Little Ann has the brains, and Billy has the will to make them into the finest hunting team in the valley. Glory and victory were coming to them, but sadness waited too. Soon their skills will be put to the test as they brave the dangers of the wilds for the ultimate glory."
"With a magic and emotional appeal unmatched by any other story, Barrie's Peter Pan speaks directly to childhood's dreams and desires with an imaginative genius that evokes both laughter and tears. Peter, the boy would wouldn't grow up; Nana, the Darling children's nurse and pet Newfoundland; deliciously dreadful Captain Hook, who is stalked by a crocodile with a clock in his stomach; and Tinker Bell, "quite a common fairy," who swears like a sailor and is murderously jealous. These characters of startling originality are rich, funny, mischievously insightful, and a joy to read about again and again. The result is a masterpiece of literature that has been working its timeless wonderment on us since it first appeared."
The Bad Beginning : A Series of Unfortunate Events #1 by Lemony Snicket
"Violet, Klaus, and Sunny Baudelaire are intelligent children. They are charming, and resourceful, and have pleasant facial features. Unfortunately, they are exceptionally unlucky. In the first two books alone, the three youngsters encounter a greedy and repulsive villain, itchy clothing, a disastrous fire, a plot to steal their fortune, a lumpy bed, a deadly serpent, a large brass reading lamp, a long knife, and a terrible odor. An exquisitely dark comedy that is both literary and irreverent, hilarious and deftly crafted. Never before has a tale of three likeable and unfortunate children been quite so enchanting, or quite so uproariously unhappy."
Lord of the Flies by William Golding
"Get ready for an adventure tale in its purest form, a thrilling and elegantly told account of a group of British schoolboys marooned on a tropical island. Alone in a world of uncharted possibilities, devoid of adult supervision or rules, the boys begin to forge their own society, their own rules, their own rituals. With this seemingly romantic premise, and through the seemingly innocent acts of children, Golding exposes the duality of human nature itself: the dark, eternal divide between order and chaos, intellect and instinct, structure and savagery."
"Lost and alone in the forbidden Black Forest, Otto meets three mysterious sisters and suddenly finds himself entwined in a puzzling quest involving a prophecy, a promise, and a harmonica. Decades later Friedrich in Germany, Mike in Pennsylvania, and Ivy in California each becomes interwoven when the very same harmonica lands in their lives, binding them by an invisible thread of destiny. All the children face daunting challenges: rescuing a father, protecting a brother, holding a family together. How their suspenseful solo stories converge in an orchestral crescendo will resound in your heart long after the last note has been struck."
The audiobook of Echo is simply stunning and I highly, highly recommend it!
The Adventures of Tom Sawyer by Mark Twain
"With The Adventures of Tom Sawyer, not even Twain could have known that when he introduced readers to the inhabitants of the fictional town of St. Petersburg, Missouri, he would also be introducing two characters whose stories would ultimately shape the course of American literature. The story of Tom Sawyer is one that depicts the excitement and adventure of boyhood along the Mississippi."
Father and I Were Ranchers by Ralph Moody
"Ralph was eight years old in 1906 when his family moved from New Hampshire to a Colorado ranch. Through his eyes, the pleasures and perils of ranching in the early twentieth century are experienced: auctions and roundups, family picnics, irrigation wars, tornadoes and wind storms all give authentic color to Little Britches. So do wonderfully told adventures, which equip Ralph for the path his life will take."
The Hitchhiker's Guide to the Galaxy by Douglas Adams
"Seconds before the Earth is demolished to make way for a galactic freeway, Arthur Dent is plucked off the planet by his friend Ford Prefect, a researcher for the revised edition of The Hitchhiker's Guide to the Galaxy who, for the last 15 years, has been posing as an out-of-work actor. Together this dynamic pair begin a journey through space aided by quotes from The Hitchhiker's Guide and a galaxy full of fellow travelers."
Anne of Green Gables by Lucy Maud Montgomery
"When aging brother and sister Marilla and Matthew Cuthbert decide to adopt an orphan boy to help with chores around their farm, neither is prepared for the feisty and imaginative redheaded girl who is mistakenly brought to them instead. Nor are they prepared for the way in which she will change their lives. Through a series of hilarious misadventures, Anne's uncompromising spirit makes her a striking presence in the close-knit village, bringing new friendships, first crushes, and, for her foster parents, a love and openness unimaginable before her arrival."
Rascal is wonderful book to experience as a family and Tom Sawyer is a great book to listen to as Nick Offerman's performance is stellar. I hope you found a great book to read aloud with your 6th grader.
Happy reading!