Keep reading for 10 unforgettable sixth grade book series!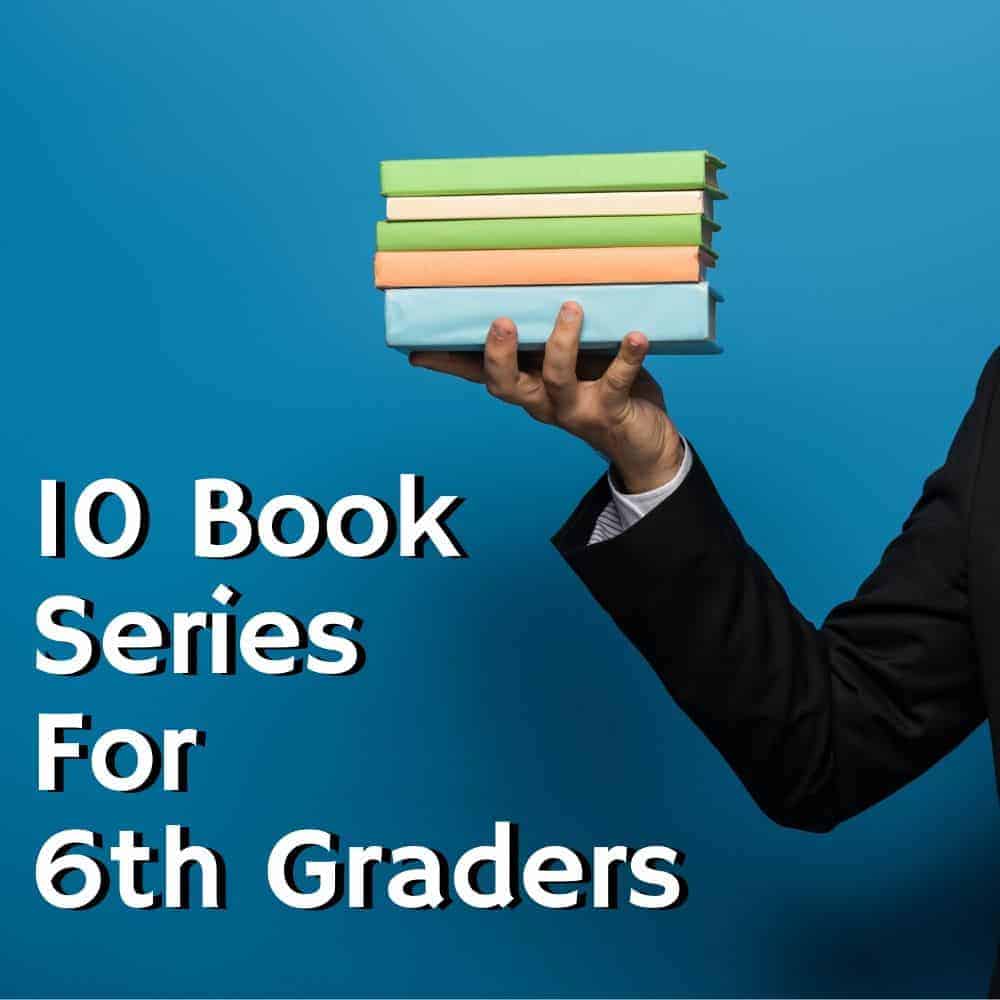 Any avid reader of Harry Potter can't wait for the day they can share the book with their kids. Unless, of course, the kids don't like Harry Potter. WHAT?!
I know, it sounds crazy, but my kids didn't actually like Harry Potter they first time we sat down and listened to the audiobook. But I wasn't going to be discouraged, so I set my sights on other wonderful series of books to get my kids hooked on the magic of storytelling. Number one on this list is one of those series!!
Confession alert: I only tried A Series of Unfortunate Events because it was narrated by Tim Curry. I had no clue what the books were about or if my kids would like them, but luckily they LOVED them!!
If you are looking for a book series to share with your kids, 6th graders specifically, this list is for you! 10 series featuring fantasy, historical fiction, and realistic fiction. A little something for everyone. Let's get started!
Searching for easier book series?
---
This post contains affiliate links. If you click and make a purchase, we earn a commission at NO extra cost to you. For more information, please read my full disclosure policy.
Descriptions come from Amazon; some are edited for length
6th Grade Book Series
A Series of Unfortunate Events by Lemony Snicket
"Violet, Klaus, and Sunny Baudelaire are intelligent children. They are charming, and resourceful, and have pleasant facial features. Unfortunately, they are exceptionally unlucky. In the tradition of great storytellers, from Dickens to Dahl, comes an exquisitely dark comedy that is both literary and irreverent, hilarious and deftly crafted. Never before has a tale of three likeable and unfortunate children been quite so enchanting, or quite so uproariously unhappy."
A Wrinkle in Time (Time Quintet by Madeleine L'Engle
"Meg Murry, her little brother Charles Wallace, and their mother are having a midnight snack on a dark and stormy night when an unearthly stranger appears at their door. He claims to have been blown off course and goes on to tell them that there is such a thing as a "tesseract", which, if you didn't know, is a wrinkle in time. Meg's father had been experimenting with time travel when he suddenly disappeared. Will Meg, Charles Wallace, and their friend Calvin outwit the forces of evil as they search through space for their father?"
"Twelve-year-old criminal mastermind Artemis Fowl has discovered a world below ground of armed and dangerous (and extremely high-tech) fairies. He kidnaps one of them, Holly Short, and holds her for ransom in an effort to restore his family's fortune. But he may have underestimated the fairies' powers. Is he about to trigger a cross-species war?"
The Giver (Giver Quartet) by Lois Lowry
"The haunting story centers on twelve-year-old Jonas, who lives in a seemingly ideal, if colorless, world of conformity and contentment. Not until he is given his life assignment as the Receiver of Memory does he begin to understand the dark, complex secrets behind his fragile community."
---
Homecoming (The Tillerman Cycle) by Cynthia Voigt
"It's true that their mother has abandoned the four Tillermans in a mall parking lot somewhere in the middle of Connecticut. They have to find their own way to Great-aunt Cilla's house in Bridgeport. They need to spend as little as possible on food and seek shelter anywhere that is out of view of the authorities. And the only way they can hope to all stay together is to just keep moving forward. Deep down, Dicey hopes they can find someone to trust, someone who will take them in and love them. But she's afraid it's just too much to hope for"
Roll of Thunder, Hear my Cry (The Logan Family Saga) by Mildred D. Taylor
"Set in Mississippi at the height of the Depression, this is the story of one family's struggle to maintain their integrity, pride, and independence in the face of racism and social injustice. And it is also Cassie's story. Cassie Logan is an independent girl who discovers over the course of an important year why having land of their own is so crucial to the Logan family, even as she learns to draw strength from her own sense of dignity and self-respect.
Little Britches: Father and I Were Ranchers by Ralph Moody
"Ralph Moody was eight years old in 1906 when his family moved from New Hampshire to a Colorado ranch. Through his eyes we experience the pleasures and perils of ranching there early in the twentieth century. Auctions and roundups, family picnics, irrigation wars, tornadoes and wind storms give authentic color to Little Britches. So do adventures, wonderfully told, that equip Ralph to take his father's place when it becomes necessary."
Harriet the Spy by Louise Fitzhugh
"Harriet M. Welsch is a spy. In her notebook, she writes down everything she knows about everyone, even her classmates and her best friends. Then Harriet loses track of her notebook, and it ends up in the wrong hands. Before she can stop them, her friends have read the always truthful, sometimes awful things she's written about each of them. Will Harriet find a way to put her life and her friendships back together?"
The Vanderbeekers of 141st Street by Karina Yan Glaser
"The Vanderbeekers have always lived in the brownstone on 141st Street. It's practically another member of the family. So when their reclusive, curmudgeonly landlord decides not to renew their lease, the five siblings have eleven days to do whatever it takes to stay in their beloved home and convince the dreaded Beiderman just how wonderful they are. And all is fair in love and war when it comes to keeping their home."
"In Mossflower Woods, the food chain works a little differently. Instead of being prey, mice work together with cats and owls to defeat their ultimate enemies: snakes and rats (obviously). Our hero in Redwall is Matthias the mouse, whose courage and cunning help him in his quest to find the legendary sword of Martin the Warrior (also a mouse) and defeat Cluny the Scourge, a diabolical rat who wishes to take the land of Redwall for himself."
Book series are a wonderful way to get kids hooked on reading. The familiar characters and storylines greet you like and old friend. Inviting you in to enjoy again and again.
Happy reading!