Keep reading for 10 of the finest books for 11 year old girls!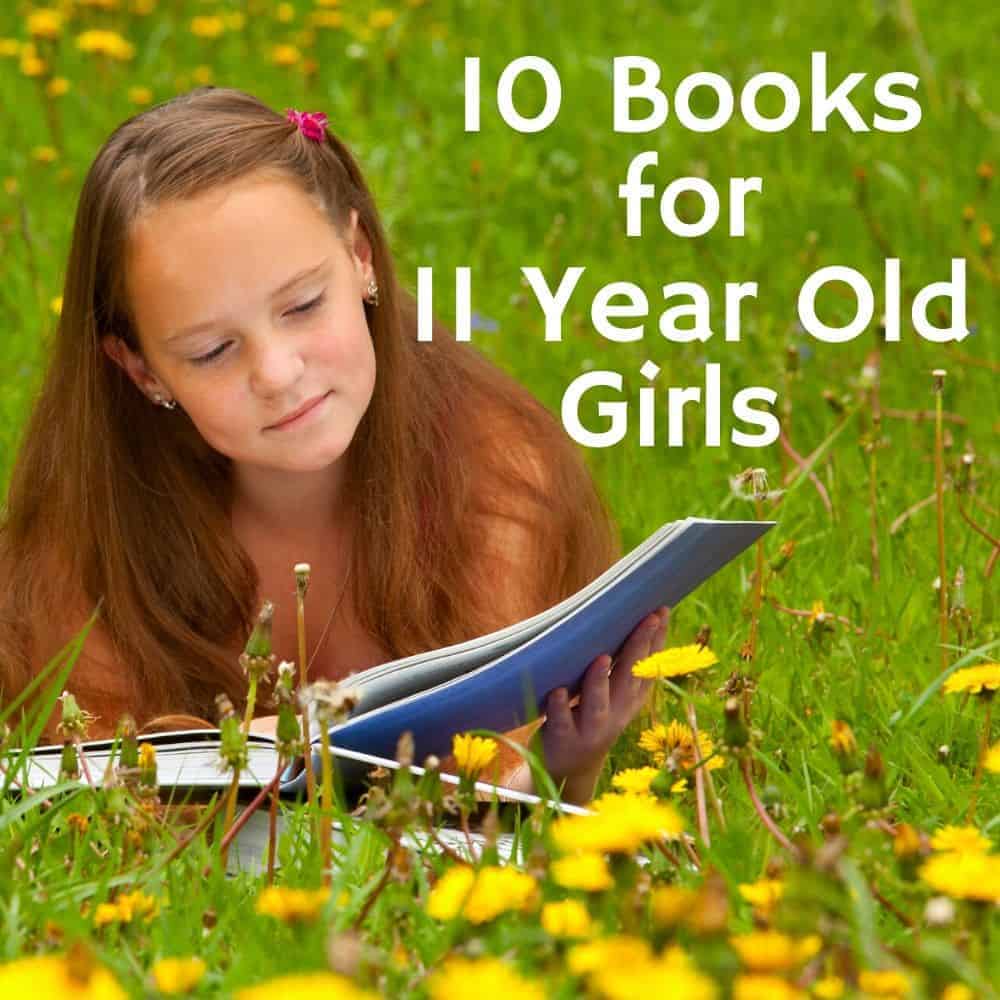 You know you have reached peak #GirlMom status when one of your daughters is really upset (about nothing in particular) and declares, "Why does everything have to be so hard?!"
Parenting any child comes with it's own set of challenges and road blocks, but since I am a mom to two girls, my heart is with all the girl moms out there and the unique experience it is raising girls.
To put it mildly, it ain't easy!! But it's so amazing. Their kind-hearted souls are delicately balanced with emotions that could fire off at a moments notice.
But one thing is for sure, there is no shortage of wonderful books for young girls and girls are attracted to books like a moth to a flame. And I have 10 books that any 11 year old girl is sure to love!
---
This post contains affiliate links. If you click and make a purchase, we earn a commission at NO extra cost to you. For more information, please read my full disclosure policy.
Descriptions come from Amazon; some are edited for length
Books for 11 Year Old Girls
Esperanza Rising by Pam Muñoz Ryan
"Esperanza thought she'd always live a privileged life on her family's ranch in Mexico. But a sudden tragedy forces Esperanza and Mama to flee to California and settle in a Mexican farm labor camp. Esperanza isn't ready for the hard work, financial struggles brought on by the Great Depression, or lack of acceptance she now faces. When Mama gets sick and a strike for better working conditions threatens to uproot their new life, Esperanza must find a way to rise above her difficult circumstances because Mama's life, and her own, depend on it."
"Matilda is a sweet, exceptional young girl, but her parents think she's just a nuisance. She expects school to be different but there she has to face Miss Trunchbull, a kid-hating terror of a headmistress. When Matilda is attacked by the Trunchbull she suddenly discovers she has a remarkable power with which to fight back. It'll take a superhuman genius to give Miss Trunchbull what she deserves and Matilda may be just the one to do it!"
The Penderwicks: A Summer Tale of Four Sisters, Two Rabbits, and a Very Interesting Boy by Jeanne Birdsall
"This summer the Penderwick sisters have a wonderful surprise: a holiday on the grounds of a beautiful estate called Arundel. Soon they are busy discovering the summertime magic of Arundel's sprawling gardens, treasure-filled attic, tame rabbits, and the cook who makes the best gingerbread in Massachusetts. But the best discovery of all is Jeffrey Tifton, son of Arundel's owner, who quickly proves to be the perfect companion for their adventures. One thing's for sure: it will be a summer the Penderwicks will never forget.
The War that Saved My Life by Kimberly Brubaker Bradley
"Ten-year-old Ada has never left her one-room apartment. Her mother is too humiliated by Ada's twisted foot to let her outside. So when her little brother Jamie is shipped out of London to escape the war, Ada doesn't waste a minute and sneaks out to join him. So begins a new adventure for Ada, and for Susan Smith, the woman who is forced to take the two kids in. As Ada teaches herself to ride a pony, learns to read, and watches for German spies, she begins to trust Susan and Susan begins to love Ada and Jamie. But in the end, will their bond be enough to hold them together through wartime? Or will Ada and her brother fall back into the cruel hands of their mother?"
Out of My Mind by Sharon M. Draper
"Eleven-year-old Melody is not like most people. She can't walk. She can't talk. She can't write. All because she has cerebral palsy. But she also has a photographic memory; she can remember every detail of everything she has ever experienced. She's the smartest kid in her whole school, but NO ONE knows it. Most people, her teachers, her doctors, her classmates, dismiss her as mentally challenged because she can't tell them otherwise. But Melody refuses to be defined by her disability. And she's determined to let everyone know it…somehow."
Pollyanna by Eleanor H. Porter
"The orphan girl Pollyanna moves in with her strict aunt in New England. Despite a difficult start, Pollyanna's exuberance and positivity affect everyone who meets her, and she spreads joy and love wherever she goes. But when tragedy strikes, Pollyanna finds her optimistic attitude tested, and she must learn to find happiness again."
The Wonderful Wizard of Oz by L. Frank Baum
"Swept away from her home in Kansas by a tornado, Dorothy and her dog Toto find themselves stranded in the fantastical Land of Oz. As instructed by the Good Witch of the North and the Munchkins, Dorothy sets off on the yellow brick road to try and find her way to the Emerald City and the Wizard of Oz, who can help her get home. With her companions the Scarecrow, the Tin Woodman and the Cowardly Lion, Dorothy experiences an adventure full of friendship, magic and danger."
---
"'Blubber is a good name for her,' the note from Caroline said about Linda. Jill crumpled it up and left it on the corner of her school desk. She didn't want to think about Linda or her dumb report on whales just then. Jill wanted to think about Halloween. But Robby grabbed the note and before Linda stopped talking it had gone halfway around the room. There was something about Linda that made a lot of kids in her fifth-grade class want to see how far they could go but nobody, Jill least of all, expected the fun to end where it did."
Tuesdays at the Castle by Jessica Day George
"Tuesdays at Castle Glower are Princess Celie's favorite days. That's because on Tuesdays the Castle adds a new room, a turret, or sometimes even an entire wing. No one ever knows what the Castle will do next, and no one-other than Celie takes the time to map out the new additions. But when King and Queen Glower are ambushed and their fate is unknown, it's up to Celie, with her secret knowledge of the castle's never-ending twists and turns, to protect their home and save their kingdom."
All-of-a-Kind Family by Sydney Taylor
"Meet the All-of-a-Kind Family, Ella, Henny, Sarah, Charlotte, and Gertie, who live with their parents in New York City at the turn of the century. Together they share adventures that find them searching for hidden buttons while dusting Mama's front parlor and visiting with the peddlers in Papa's shop on rainy days. The girls enjoy doing everything together, especially when it involves holidays and surprises. But no one could have prepared them for the biggest surprise of all!"
My kids loved the Audible narration by Kate Winslet of Matilda as well as Anne Hathaway's version of The Wizard of Oz. They both are to die for and I highly, highly recommend them both. From realistic fiction to fantasy, I hope you have found your child's next favorite book!!
Happy reading!