Keep Reading for 10 splendid classic books for 5th graders!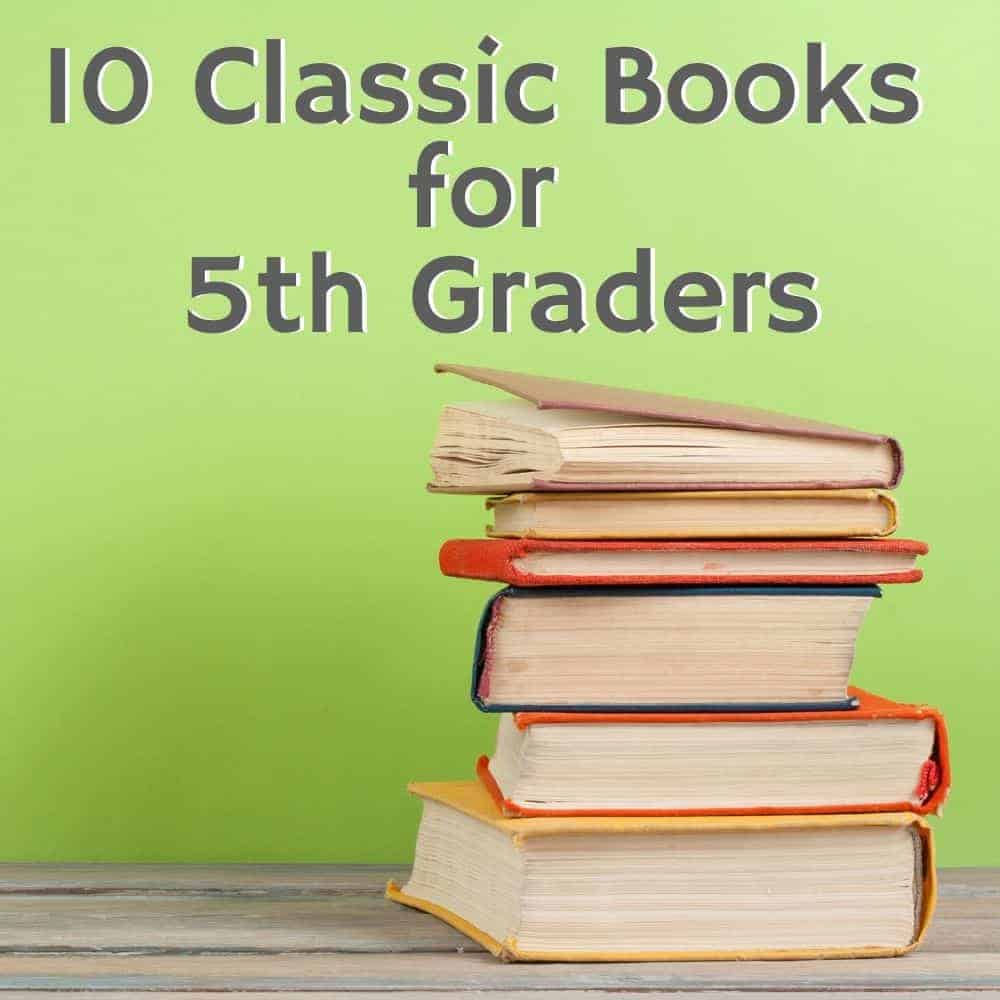 James Mustich, author of the book 1000 Books to Read Before You Die, made the following statement about the classic children's book The Phantom Tollbooth: Some of it may be over kids' heads but that just means ten-year-olds love it even more at fifteen, and more than that at forty. If you didn't read it as a kid, count yourself lucky. What a treat you have in store!"
Can we take a second to admire that beautiful sentence?
When I think of classic books for kids, that is what I envision. A book that you may not have completely appreciated as a kid, but as you get older and go back to those wonderful books, you love it even more!
That is my definition of a classic book. I don't believe it needs to have been written X amount of years ago or it can only be from certain authors. Classic books are books that get better with age and books that kids and their parents will love to read together.
The Phantom Tollbooth, in no particular order, is number three on this list. Let's see what else is on the list!
This post contains affiliate links. If you click and make a purchase, we earn a commission at NO extra cost to you. For more information, please read my full disclosure policy.
Descriptions come from Amazon; some are edited for length
Classic Books for 5th Graders
From the Mixed of Files of Mrs. Basil E. Frainkweiler by E.L. Konigsburg
"When suburban Claudia Kincaid decides to run away, she knows she doesn't just want to run from somewhere, she wants to run to somewhere. To a place that is comfortable, beautiful, and, preferably, elegant. And so, after some careful planning, she and her younger brother, Jamie, escaped right into a mystery that made headlines!"
"When his father sets out on a cattle drive toward Kansas for the summer, fourteen-year-old Travis Coates is left to take care of his family and their farm. Living in Texas Hill Country during the 1860s, Travis comes to face new, unanticipated, and often perilous responsibilities in the frontier wilderness. A particular nuisance is a stray yellow dog that shows up one day and steals food from the family. But the big canine who Travis calls Old Yeller proves his worth by defending the family from danger. And Travis ultimately finds help and comfort in the courage and unwavering love of the dog who comes to be his very best friend."
The Phantom Tollbooth by Norton Juster
"For Milo, everything's a bore. When a tollbooth mysteriously appears in his room, he drives through only because he's got nothing better to do. But on the other side, things seem different. Milo visits the Island of Conclusions (you get there by jumping), learns about time from a ticking watchdog named Tock, and even embarks on a quest to rescue Rhyme and Reason! Somewhere along the way, Milo realizes something astonishing. Life is far from dull. In fact, it's exciting beyond his wildest dreams."
Bridge to Terabithia by Katherine Paterson
"Jess Aarons has been practicing all summer so he can be the fastest runner in the fifth grade. And he almost is, until the new girl in school, Leslie Burke, outpaces him. The two become fast friends and spend most days in the woods behind Leslie's house, where they invent an enchanted land called Terabithia. One morning, Leslie goes to Terabithia without Jess and a tragedy occurs. It will take the love of his family and the strength that Leslie has given him for Jess to be able to deal with his grief."
Trumpet of the Swan by E.B. White
"Like the rest of his family, Louis is a trumpeter swan. But unlike his four brothers and sisters, Louis can't trumpet joyfully. In fact, he can't even make a sound. And since he can't trumpet his love, the beautiful swan Serena pays absolutely no attention to him. Louis tries everything he can think of to win Serena's affection, he even goes to school to learn to read and write. But nothing seems to work. Then his father steals him a real brass trumpet. Is a musical instrument the key to winning Louis his love?"
The Secret Garden by Frances Hodgson Burnett
"When orphaned Mary Lennox comes to live at her uncle's house on the Yorkshire Moors, she finds it full of secrets. The mansion has nearly one hundred rooms, and her uncle keeps himself locked up. And at night, she hears the sound of crying down one of the long corridors. The gardens surrounding the large property are Mary's only escape. Then, Mary discovers a secret garden, surrounded by walls and locked with a missing key. With the help of two unexpected companions, Mary discovers a way in and becomes determined to bring the garden back to life."
The Twenty-One Balloons by William Pene du Bois
"Professor William Waterman Sherman intends to fly across the Pacific Ocean. But through a twist of fate, he lands on Krakatoa, and discovers a world of unimaginable wealth, eccentric inhabitants, and incredible balloon inventions."
The Saturdays by Elizabeth Enright
"Meet the Melendys! The four Melendy children live with their father and Cuffy, their beloved housekeeper, in a worn but comfortable brownstone in New York City. Tired of wasting Saturdays doing nothing but wishing for larger allowances, the four Melendys jump at the idea to start the Independent Saturday Afternoon Adventure Club (I.S.A.A.C.). If they pool their resources and take turns spending the whole amount, they can each have at least one memorable Saturday afternoon of their own. Before long, I.S.A.A.C. is in operation and every Saturday is definitely one to remember.
---
The Last of the Really Great Whangdoodles by Julie Andrews Edwards
"The Whangdoodle was once the wisest, the kindest, and the most extraordinary creature in the world. Then he disappeared and created a wonderful land for himself and all the other remarkable animals, It was an almost perfect place where the last of the really great Whangdoodles could rule his kingdom with 'peace, love and a sense of fun' apart from and forgotten by people. But not completely forgotten. Professor Savant believed in the Whangdoodle. And when he told the three Potter children of his search for the spectacular creature, Lindy, Tom, and Ben were eager to reach Whangdoodleland. Only by skill and determination were the four travelers able to discover the last of the really great Whangdoodles and grant him his heart's desire.
5 Little Peppers and How they Grew by Margaret Sidney
"Times are tough around the little brown house! The widowed Mrs. Pepper has to sew all day long just to earn enough to pay the rent and to feed the five growing Peppers. But she faces poverty and trouble with a stout heart, a smiling face, and the help of her jolly brood."
Whether you haven't read these titles or are enjoying them a second time around, I hope you immerse yourself in a wonderful classic book. It could be in a garden in England, the city of New York, or Whangdoodleland. No matter the location, happy reading!