Keep reading for 10 books your 11 year old boy will love!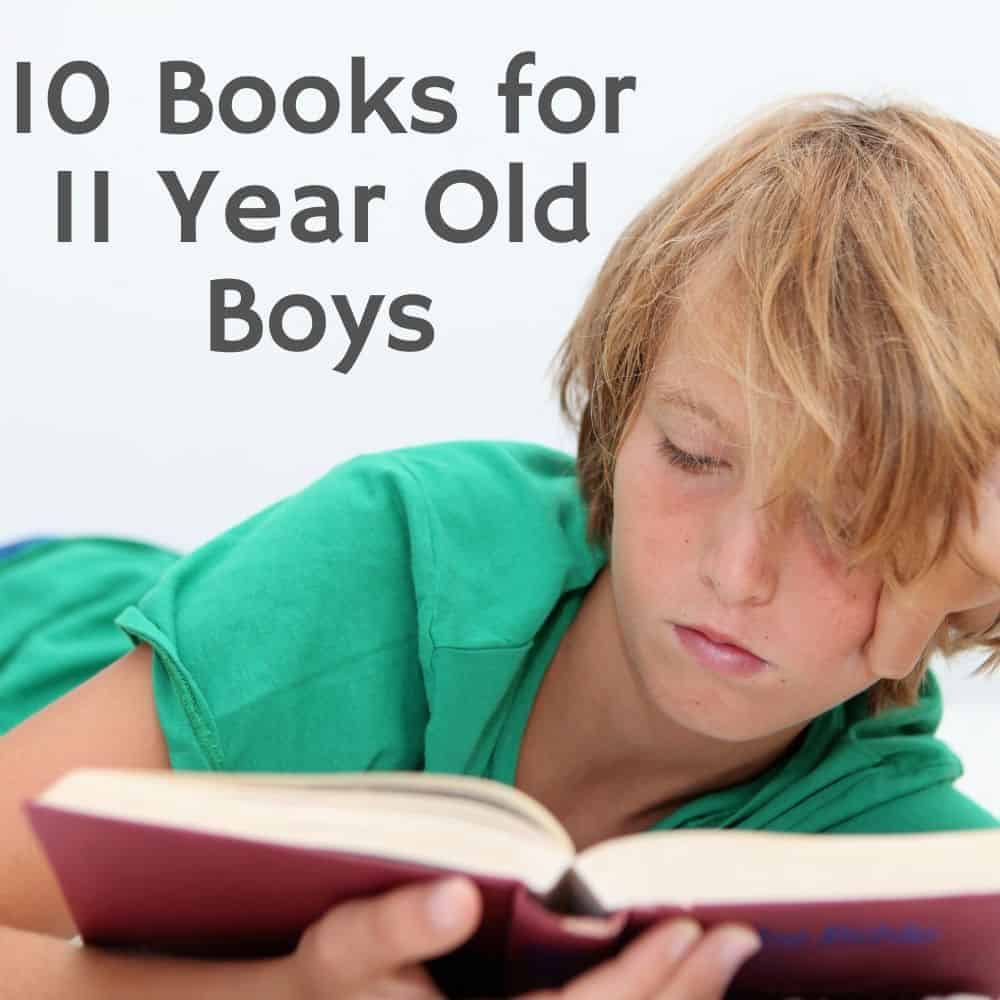 I was thirty-ahem-eight years old the first time I heard the word cesspool used in the manner in which it was originally intended. While we were reading The Great Brain, book number three on this list, the family is getting indoor plumbing installed at the turn of the century. First, a cesspool needed to be dug in order for the indoor toilet to work.
I distinctly remember, stopping the audiobook in the car and announcing to my children, "This is the first time I've heard the word cesspool used for it's original intent." They, of course, looked at me like I was a crazy person. Grown-ups know everything, they can't possible NOT know something.
That's the wonderful thing about homeschool! Kids see their parents aren't perfect and their are still things they haven't learned or things they still WANT to learn. One of our homeschool philosophy's is we are (hoping) to create lifelong learners. Kids who want to keep learning and growing and questioning. The last one can be hard at times 😉
That's why I think homeschooling is such an awesome experience for boys. Boys are naturally curious and questioning so homeschooling opens them up to their natural tendencies by not making them sit down and pay attention.
Which is why I think it's rather easy to pick out books for boys. My years as a tomboy aside, boys are interested in adventure, survival, and character driven stories. All the books below contain those things. Shall we?!
This post contains affiliate links. If you click and make a purchase, we earn a commission at NO extra cost to you. For more information, please read my full disclosure policy.
Descriptions come from Amazon; some are edited for length
Books for 11 Year Old Boys
Maniac Magee by Jerry Spinelli
"Jeffrey Lionel 'Maniac' Magee might have lived a normal life if a freak accident hadn't made him an orphan. After living with his unhappy and uptight aunt and uncle for eight years, he decides to run–and not just run away, but run. This is where the myth of Maniac Magee begins, as he changes the lives of a racially divided small town with his amazing and legendary feats."
My Side of the Mountain by Jean Craighead George
"Sam Gribley is terribly unhappy living in New York City with his family, so he runs away to the Catskill Mountains to live in the woods. All by himself. With only a penknife, a ball of cord, forty dollars, and some flint and steel, he intends to survive on his own. Sam learns about courage, danger, and independence during his year in the wilderness, a year that changes his life forever."
The Great Brain by John D. Fitzgerald
"J. D. idolizes his older brother Tom, a.k.a. The Great Brain: a silver-tongued con artist with a genius for making a profit. No matter what the situation, The Great Brain will always find a way to turn it to his advantage–usually, his financial advantage. As boys growing up at the beginning of the 1900s, J. D. and Tom have plenty of scope for their adventures. And while J. D.'s ingenuity may not equal his conniving brother's, as a narrator he is endearingly sympathetic and wildly entertaining."
Summer of the Monkeys by Wilson Rawls
"The last thing fourteen-year-old Jay Berry Lee expects to find while trekking through the Ozark Mountains of Oklahoma is a tree full of monkeys. But then Jay learns from his grandpa that the monkeys have escaped from a traveling circus, and there's a big reward for the person who finds and returns them. His family could really use the money, so Jay sets off, determined to catch them. But by the end of the summer, Jay will have learned a lot more than he bargained for and not just about monkeys."
"Thirteen-year-old Brian Robeson is traveling by single-engine plane to visit his father for the first time since his parents divorced. When the plane crashes, killing the pilot, the sole survivor is Brian. He is alone in the Canadian wilderness with nothing but his clothing, a tattered windbreaker, and the hatchet his mother had given him as a present. At first consumed by despair and self-pity, Brian slowly learns survival skills and even finds the courage to start over from scratch when a tornado ravages his campsite. When Brian emerges from his ordeal, he has new patience and maturity, and a greater understanding of himself and his parents."
The Skeleton Tree by Iian Lawrence
"Less than forty-eight hours after twelve-year-old Chris sets off on a sailing trip down the Alaskan coast with his uncle, their boat sinks. The only survivors are Chris and a boy named Frank, who hates Chris immediately. Chris and Frank have no radio, no flares, no food. Suddenly, they've got to forage, fish, and scavenge the shore for supplies. Chris likes the company of a curious, friendly raven more than he likes the prickly Frank. But the boys have to get along if they want to survive. Eventually, in the wilderness of Alaska, the boys discover an improbable bond and the compassion that might truly be the path to rescue."
Farmer Boy by Laura Ingalls Wilder
"While Laura Ingalls grows up on the prairie, Almanzo Wilder is living on a big farm in New York State. Here Almanzo and his brother and sisters help with the summer planting and fall harvest. In winter there is wood to be chopped and great slabs of ice to be cut from the river and stored. Time for fun comes when the jolly tin peddler visits, or best of all, when the fair comes to town. Almanzo wishes for just one thing, his very own horse, and he must prove that he is ready for such a big responsibility."
Dead End in Norvelt by Jack Gantos
"Dead End in Norvelt is a novel about an incredible two months for a kid named Jack Gantos, whose plans for vacation excitement are shot down when he is 'grounded for life' by his feuding parents. But plenty of excitement are coming Jack's way once his mom loans him out to help a feisty old neighbor with a most unusual chore: typewriting obituaries filled with stories about the people who founded his utopian town. As one obituary leads to another, Jack is launched on a strange adventure involving molten wax, Eleanor Roosevelt, twisted promises, a homemade airplane, Girl Scout cookies, a man on a trike, a dancing plague, voices from the past, Hells Angels . . . and possibly murder."
Charlie and the Chocolate Factory by Roald Dahl
"Willy Wonka's famous chocolate factory is opening at last! But only five lucky children will be allowed inside. And the winners are: Augustus Gloop, an enormously fat boy whose hobby is eating; Veruca Salt, a spoiled-rotten brat whose parents are wrapped around her little finger; Violet Beauregarde, a dim-witted gum-chewer with the fastest jaws around; Mike Teavee, a toy pistol-toting gangster-in-training who is obsessed with television; and Charlie Bucket, Our Hero, a boy who is honest and kind, brave and true, and good and ready for the wildest time of his life!"
Surviving the Applewhites by Stephanie S. Tolan
"Jake Semple is notorious. Rumor has it he managed to get kicked out of every school in Rhode Island, and actually burned the last one down to the ground. Only one place will take him now, and that's a home school run by the Applewhites, a chaotic and hilarious family of artists. Jake thinks surviving this new school will be a breeze. But is he really as tough or as bad as he seems?"
I think my kids would be hard pressed to pick out their favorite on this list. They don't really care for the Little House series but they LOVED Farmer Boy. Jay Berry's adventures during his summer of the monkeys might be their favorite, but they also loved Sam's tale of survival in My Side of the Mountain. I hope your child finds a new favorite on this list.
Happy reading!!