Keep reading for 10 book recommendations for sixth graders!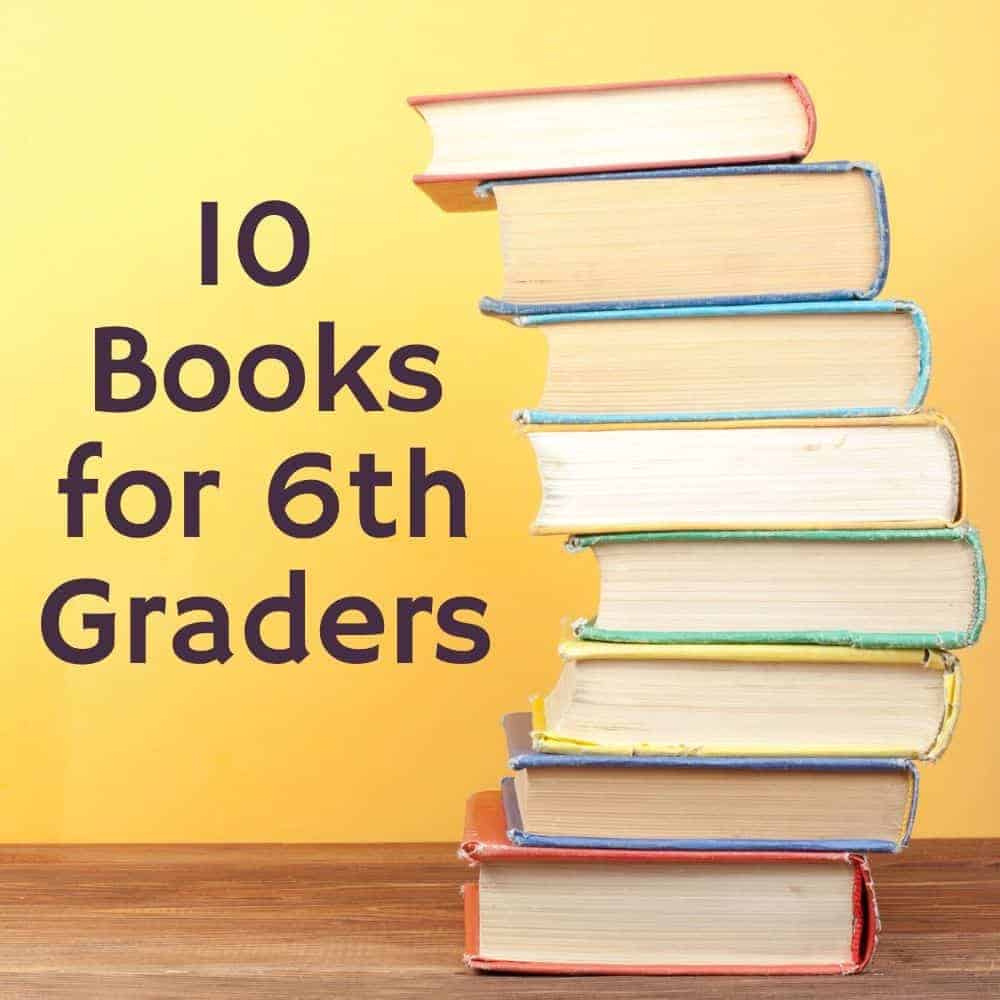 I love, love, LOVE it when you fall in love with a book that you had no idea would be so wonderful. That is what happened with the first book on this list, Rascal.
We were doing a 50 states study in our homeschool. For each state we read a chapter book that took place in that state. We read Rascal for our home state of Wisconsin. When it comes to literature and Wisconsin, most people think of Little House in the Big Woods. But we had previously read the Laura Ingalls Wilder classic, so I wanted to switch it up.
I found out that Rascal not only took place in Wisconsin, but took place just 10 miles from where we live!! It was such an awesome experience reading that book not only because it took place so close to home, but it was based on Sterling North's life growing up.
My kids fell in love with the book as much as I did and it's one of the things I love the most about the way we homeschool. Letting books guide us and bring us together.
Whether you are looking for books for the 6th grader in your life or for a book to enjoy as an entire family. This list is for you. 10 books containing realistic fiction, historical fiction, nonfiction, and some a combination of them all them.
Searching for books for other grades?
This post contains affiliate links. If you click and make a purchase, we earn a commission at NO extra cost to you. For more information, please read my full disclosure policy.
Descriptions come from Amazon; some are edited for length
Books for 6th Graders
"Nothing's surprising in the North household, not even Sterling's new pet raccoon. Rascal is only a baby when Sterling brings him home, but soon the two are best friends, doing everything together until the spring day when everything suddenly changes. Rascal is a heartwarming boyhood memoir that continues to find its way into the hearts of readers fifty years later."
Julie of the Wolves by Jean Craighead George
"To her small Eskimo village, she is known as Miyax; to her friend in San Francisco, she is Julie. When her life in the village becomes dangerous, Miyax runs away, only to find herself lost in the Alaskan wilderness. Miyax tries to survive by copying the ways of a pack of wolves and soon grows to love her new wolf family. Life in the wilderness is a struggle, but when she finds her way back to civilization, Miyax is torn between her old and new lives. Is she Miyax of the Eskimos, or Julie of the wolves?"
The Westing Game by Ellen Raskin
"A bizarre chain of events begins when sixteen unlikely people gather for the reading of Samuel W. Westing's will. And though no one knows why the eccentric, game-loving millionaire has chosen a virtual stranger (and possible murderer) to inherit his vast fortune, one things for sure: Sam Westing may be dead, but that won't stop him from playing one last game!"
Bomb: The Race to Build — and Steal — the World's Most Dangerous Weapon by Steve Sheinkin
"In December of 1938, a chemist in a German laboratory made a shocking discovery: When placed next to radioactive material, a Uranium atom split in two. That simple discovery launched a scientific race that spanned three continents. This is the story of the plotting, the risk-taking, the deceit, and genius that created the world's most formidable weapon. This is the story of the atomic bomb."
Inside Out and Back Again by Thanhha Lai
"This coming-of-age tale, told in verse, was inspired by the author's childhood experience as a refugee fleeing from Vietnam after the fall of Saigon and immigrating to Alabama. Hà has only ever known Saigon: the thrills of its markets, the joy of its traditions, and the warmth of her friends close by. But now the Vietnam War has reached her home. Hà and her family are forced to flee as Saigon falls, and they board a ship headed toward hope—toward America."
I highly recommend the audio version of this book if you are not well versed in reading poetry. My girls and I don't really care for poetry but all of us LOVED this book!
"Lost and alone in a forbidden forest, Otto meets three mysterious sisters and suddenly finds himself entwined in a puzzling quest involving a prophecy, a promise, and a harmonica. Decades later, Friedrich in Germany, Mike in Pennsylvania, and Ivy in California each become interwoven when the very same harmonica lands in their lives. All the children face daunting challenges and ultimately, their suspenseful solo stories converge in an orchestral crescendo."
"Eleven-year-old Charlie Reese has been making the same secret wish every day since fourth grade. She even has a list of all the ways there are to make the wish. But when she is sent to the Blue Ridge Mountains of North Carolina to live with family she barely knows, it seems unlikely that her wish will ever come true. That is, until she meets Wishbone, a skinny stray dog who captures her heart, and Howard, a neighbor boy who proves surprising in lots of ways. Suddenly Charlie is in serious danger of discovering that what she thought she wanted may not be what she needs at all."
When You Reach Me by Rebecca Stead
"Shortly after a fall-out with her best friend, sixth grader Miranda starts receiving mysterious notes, and she doesn't know what to do. The notes tell her that she must write a letter and that she can't share her mission with anyone. It would be easy to ignore the strange messages, except that whoever is leaving them has an uncanny ability to predict the future. If that is the case, then Miranda has a big problem because the notes tell her that someone is going to die, and she might be too late to stop it."
The Vanderbeekers of 141st Street by Karina Yan Glaser
"The Vanderbeekers have always lived in the brownstone on 141st Street. It's practically another member of the family. So when their reclusive, curmudgeonly landlord decides not to renew their lease, the five siblings have eleven days to do whatever it takes to stay in their beloved home and convince the dreaded Beiderman just how wonderful they are. And all is fair in love and war when it comes to keeping their home."
"Growing up in the shadows cast by two world wars, Annabelle has lived a mostly quiet, steady life in her small Pennsylvania town. Until the day new student Betty Glengarry walks into her class. Betty quickly reveals herself to be cruel and manipulative, and while her bullying seems isolated at first, things quickly escalate, and reclusive World War I veteran Toby becomes a target of her attacks. While others have always seen Toby's strangeness, Annabelle knows only kindness. She will soon need to find the courage to stand as a lone voice of justice as tensions mount."
One thing I love about recommending books is I get to share some of my favorites PLUS learn about books I might not have ever read if I wasn't a homeschooler or blogger. I hope this list provided you with just the book you are looking for.
Happy reading!