Keep reading for 10 simple chapter books that your 9 year old girl will love!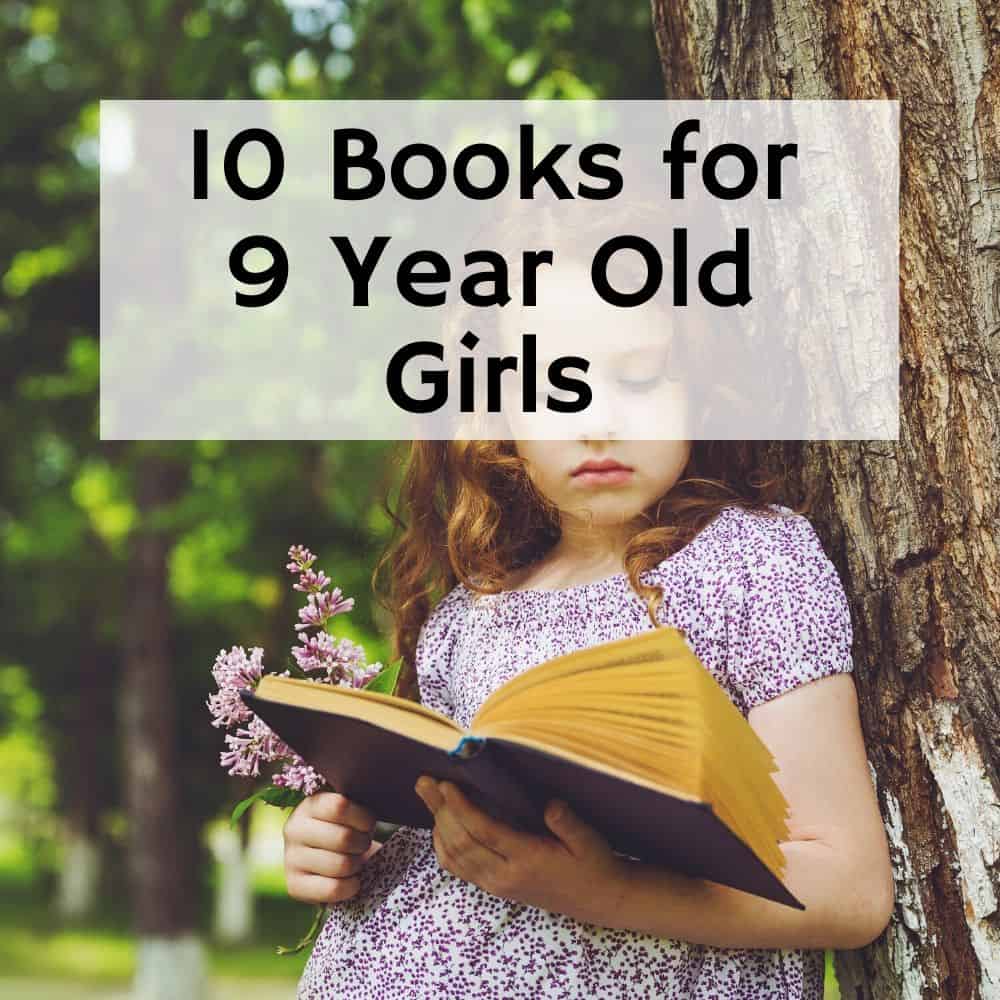 Can I let you in on a little secret? My oldest daughter didn't learn to read until she was almost 9 years old! Thankfully we are homeschoolers so she could learn at her own pace and not feel rushed.
Can I tell you another secret? IT DROVE ME CRAZY!! She understood letters, she loved books, but she just couldn't make that last connection. But when she finally did, she was reading like gangbusters. She wizzed through all the easy readers and was reading chapter books in no time.
Because my kids were late readers (my younger daughter just turned 8 when she learned to read) I tend to underestimate reading levels which I think is a good thing! It's better for a book to be slightly under their reading level and enjoy the book than the book be too hard for them to read and they give up.
Maybe your daughters are like mine or maybe they are more advanced for their age. Either way, I have 10 books for 9 year old girls that should apply to all girls. Some are beginner chapter books, while some are chapter books. Let's get started!
This post contains affiliate links. If you click and make a purchase, we earn a commission at NO extra cost to you. For more information, please read my full disclosure policy.
Descriptions come from Amazon; some are edited for length
Books for 9 Year Old Girls
Beginner Chapter Books
Judy Moody Was in a Mood by Megan McDonald
"To start, Judy Moody doesn't have high hopes for third grade. Her new desk won't have an armadillo sticker with her name on it. Her new classroom will not have a porcupine named Roger. And with her luck, she'll get stuck sitting in the first row, where Mr. Todd will notice every time she tries to pass a note to her best friend, Rocky. An aspiring doctor, Judy does have a little brother who comes in handy for practicing medicine, a cool new pet, and a huge Band-Aid collection."
Mercy Watson to the Rescue by Kate DiCamillo
"To Mr. and Mrs. Watson, Mercy is not just a pig — she's a porcine wonder. And to the portly and good-natured Mercy, the Watsons are an excellent source of buttered toast, not to mention that buttery-toasty feeling she gets when she snuggles into bed with them. This is not, however, so good for the Watsons' bed. BOOM! CRACK! As the bed and its occupants slowly sink through the floor, Mercy escapes in a flash. Welcome to the wry and endearing world of Mercy Watson."
I adore Mercy Watson. These books feature wonderful illustrations and an adorable storyline. I love this porcine wonder!
The Absent Author (A to Z Mysteries) by Ron Roy
"Help Dink, Josh, and Ruth Rose solve mysteries from A to Z! A is for Author . . . A famous writer is coming to Green Lawn! Dink rushes to the bookstore to meet his favorite author, Wallis Wallace, and get all his books signed. But the author never shows up! Where is Wallis Wallace? It's up to Dink and his friends Josh and Ruth Rose to track him down."
Amelia Bedelia Means Business by Herman Parish
"Amelia Bedelia's parents say they'll split the cost of a new bike with her, and that means Amelia Bedelia needs to put the pedal to the metal and earn some dough! With Amelia Bedelia anything can happen, and it usually does. Short, fast-paced chapters, tons of friends, silly situations, and funny wordplay and misunderstandings make the Amelia Bedelia chapter books an ideal choice for young readers. Look out! Here comes Amelia Bedelia, and she means business!"
Betsy-Tacy by Maud Hart Lovelace
"There are lots of children on Hill Street, but no little girls Betsy's age. So when a new family moves into the house across the street, Betsy hopes they will have a little girl she can play with. Sure enough, they do, a little girl named Tacy. And from the moment they meet at Betsy's fifth birthday party, Betsy and Tacy become such good friends that everyone starts to think of them as one person, Betsy-Tacy."
We read this book aloud for our state unit study, and it is just darling. This story of wholesome friendship will be a joy for any girl to read!
Chapter Books
Love, Ruby Lavender by Deborah Wiles
"Nine year old Ruby Lavender and her grandmother Miss Eula are a pretty good team, for a couple of chicken thieves. What other granddaughter-grandmother duo could successfully drive the getaway car for chickens rescued from a journey to the slaughterhouse? So, when Miss Eula leaves for Hawaii to visit her new grandbaby, Ruby is sure that she will have a lonely, empty, horrible summer in boring old Halleluia, Mississippi. What will happen instead?"
Another book from our state unit study! It's funny, loving, and a wonderful story of friendship and family.
Beezus and Ramona by Beverly Cleary
"Newbery Award-winner Beverly Cleary delivers a humorous portayal of the ups and downs of sisterhood. Having a little sister like four-year-old Ramona isn't always easy for Beezus Quimby. With a wild imagination, disregard for order, and an appetite for chaos, Ramona makes it hard for Beezus to be the responsible older sister she knows she ought to be. Will Beezus find the patience to handle her little sister?
All kids should read the Ramona series. They are THAT good! My kids have reread them 4-5 times.
Sarah, Plain and Tall by Patricia MacLachlan
"Set in the late nineteenth century and told from young Anna's point of view, Sarah, Plain and Tall tells the story of how Sarah Elisabeth Wheaton comes from Maine to the prairie to answer Papa's advertisement for a wife and mother. Before Sarah arrives, Anna and her younger brother Caleb wait and wonder. Will Sarah be nice? Will she sing? Will she stay?"
I never noticed the beautiful prose of this book until I reread it recently. Even if your child doesn't love it, it's a book worth reading!
Clementine by Sara Pennypacker
The first in a series of six books. "When Clementine's best friend and neighbor, Margaret, comes to her with a problem, Clementine goes to many lengths to help her friend. This sets off a rollicking adventure-filled week that finds Clementine getting into and out of further trouble, while learning valuable life lessons."
Happy Little Family by Rebecca Caudill
"Winter or summer, something is always happening in the Fairchild house, tucked amidst the pine trees of the Kentucky hills one hundred years ago or more. And, four years old or not, Bonnie usually manages to be in the middle of the action! Whether it be sliding along the ice, searching for arrowheads, or going on that journey of all journeys across the swinging bridge to school."
Another heart-warming tale of a family who lived long ago. It's a wonderful book if you child likes the Little House series or if they aren't quite ready for it yet.
Whether your child was an early reader or a late reader, we all need to choose books for our kids. I always recommend books that I would or have read myself but, more importantly, books that I would have my own kids read. I hope you found a new book on this list!
Happy reading!