: : Inside: 10 children's books about Cesar Chavez that families will love! : :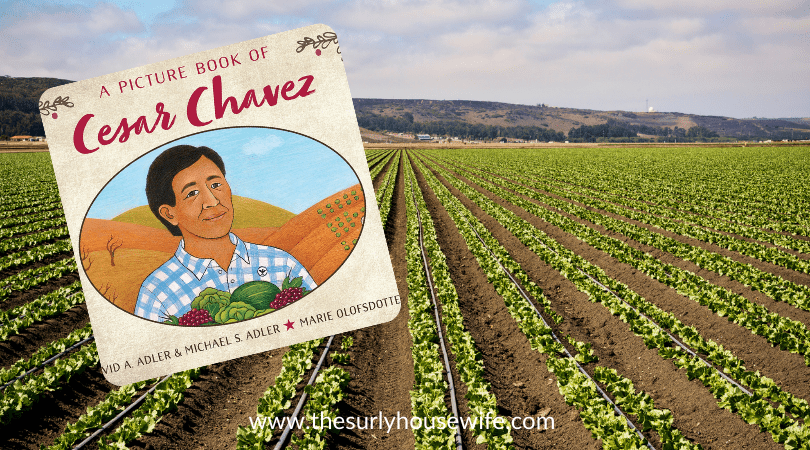 Did you know Barack Obama borrowed a Cesar Chavez slogan, "Si, se puede" or "Yes, we can", for his presidential campaign slogan? Si, se puede was one of the rallying cries of the United Farm Workers, an organization devoted to defending the rights of farmhands and field workers across the country.
Cesar Chavez was born in Yuma, Arizona in 1927 but moved to California during the Great Depression after his family lost their family farm. His family were migrant farm workers and after a stint in the U.S. Navy, working at lumberyard, and time as grassroots organizer for the Community Service Organization (CSO), Chavez began his work organizing the National Farm Workers Association. Chavez fought for fair wages, humane treatment and safer working conditions for California's farm workers through nonviolent marches, boycotts and fasts.
If you are looking to share more about Cesar Chavez with your kids, keep scrolling for 10 children's books about Cesar Chavez which include picture books, but there are some longer books for more intermediate readers toward the bottom of the list. Enjoy!
This post contains affiliate links. If you click and make a purchase, we earn a commission at NO extra cost to you. For more information, please read my full disclosure policy.
Descriptions come from Amazon; some are edited for length
Children's Books about Cesar Chavez
Picture Books
When Cesar Chavez Climbed the Umbrella Tree by Rachael Teresa Hanel
"Cesar Chavez is famous for his role as a civil rights leader. But do you know what he was like as a child? From losing his childhood home to toiling in fields as a migrant worker, Cesar wanted to help. This playful story of his childhood will help young readers connect with a historic figure and will inspire them to want to achieve greatness."
A Picture Book of Cesar Chavez by David A. Adler
"This clear and concise biography with folksy illustrations details the amazing life of American labor leader and civil rights activist Cesar Chavez. As a child in California during the Great Depression, Cesar picked produce with his family to make ends meet. The work was backbreaking, the pay was low, and many families, including his, were homeless. But to Cesar, dignity always meant more than money. He grew up and dedicated his life to helping American farmworkers, arguing for better pay and fair working conditions. He was even jailed for his efforts. But he never stopped urging people to stand up for their rights. Young readers will be inspired by the fascinating life story of this champion of social justice."
Side by Side/Lado a lado: The Story of Dolores Huerta and Cesar Chavez by Monica Brown
"Every day, thousands of farmworkers harvested the food that ended up on kitchen tables all over the country. But at the end of the day, when the workers sat down to eat, there were only beans on their own tables. Then Dolores Huerta and Cesar Chavez teamed up. Together they motivated the workers to fight for their rights and, in the process, changed history. Award-winning author Monica Brown and acclaimed illustrator Joe Cepeda join together to create this stunning tribute to two of the most influential people of the twentieth century."
Harvesting Hope: The Story of Cesar Chavez by Kathleen Krull
"When Cesar Chavez led a 340-mile peaceful protest march through California, he ignited a cause and improved the lives of thousands of migrant farmworkers. But Cesar wasn't always a leader. As a boy, he was shy and teased at school. His family slaved in the fields for barely enough money to survive. Cesar knew things had to change, and he thought that, maybe, he could help change them. So he took charge. He spoke up. And an entire country listened."
Cesar Chavez by Ginger Wadsworth
"During the Great Depression, many people had to work long hours and were barely paid enough to survive. Cesar Chavez felt this treatment was unfair and worked to secure more rights. He formed a Union and led strikes and marches that forced landowners to increase wages and improve working conditions. This account shows how Chavez inspired others, proving that it was not necessary to resort to violence to produce change."
César: ¡Sí, se puede! Yes, We Can! by Carmen T. Bernier-Grand
"Born in 1927 in Yuma, Arizona, César Chavez lived the hard-scrabble life of a migrant worker during the Depression. Although his mother wanted him to get an education, César left school after eighth grade to work. He grew to be a charismatic leader and founded the National Farm Workers Association, an organization that fought for basic rights for farm workers. In powerful poems and dramatic stylized illustrations, Carmen T. Bernier-Grand and David Díaz pay tribute to Chavez's legacy helping migrant workers improve their lives by doing things by themselves for themselves."
Chapter books
Who Was Cesar Chavez? by Dana Meachen Rau
"When he was young, Cesar and his Mexican American family toiled in the fields as migrant farm workers. He knew all too well the hardships farm workers faced. His public-relations approach to unionism and aggressive but nonviolent tactics made the farm workers' struggle a moral cause with nationwide support. Along with Dolores Huerta, he cofounded the National Farmworkers Association. His dedication to his work earned him numerous friends and supporters, including Robert Kennedy and Jesse Jackson."
Cesar Chavez: A Hero for Everyone by Gary Soto
"Up and down the San Joaquin Valley of California, and across the country, people chanted these words. Cesar Chavez, a migrant worker himself, was helping Mexican Americans work together for better wages, for better working conditions, for better lives. No one thought they could win against the rich and powerful growers. But Cesar was out to prove them wrong. And that he did."
Graphic Novels
Who Was the Voice of the People?: Cesar Chavez By Terry Blas
"Discover the story behind Cesar Chavez and the Delano Grape Strike in this moving graphic novel written by award-winning author Terry Blas and illustrated by Ignatz-nominated cartoonist Mar Julia. Follow Cesar Chavez and the National Farmworkers Association as they set out on a difficult 300-mile protest march in support of farm workers' rights. A story of hope, solidarity, and perseverance, this graphic novel invites readers to immerse themselves in the life of the famous Latino American Civil Rights leader brought to life by gripping narrative and vivid full-color illustrations that jump off the page."
Cesar Chavez: Fighting for Farmworkers by Eric Mark Braun
"A biography telling the life of labor leader Cesar Chavez and the boycotts that he led to gain fair working conditions for farmworkers. Written in graphic-novel format."
In 2014, President Obama declared March 31 as Cesar Chavez Day. "Today, let us honor Cesar Chavez and those who marched with him by meeting our obligations to one another. I encourage Americans to make this a national day of service and education by speaking out, organizing, and participating in service projects to improve lives in their communities."
Thank you for reading!
Don't miss these other posts featuring civil rights leaders!