: : Introduce kids to the Little Rock 9 with these 10 enlightening books. : :
As a child of the '80s/'90s, I grew up watching Oprah. She had all the best guests, covered enlightening topics, and never shied away from controversy. One specific episode I remembered featured the Little Rock 9, 9 African American students who integrated Central High School in 1957, confronting and speaking with the white students who tormented them and harassed them.
Some clips from this episode are available on Youtube, but if you would rather learn about the Little Rock 9 through books, then keep reading! The list contains 10 books which include nonfiction picture books, historical fiction, and memiors.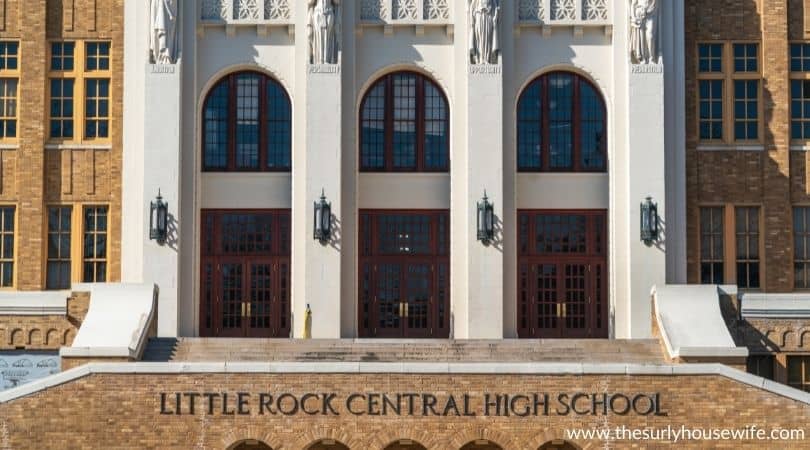 This post contains affiliate links. If you click and make a purchase, we earn a commission at NO extra cost to you. For more information, please read my full disclosure policy.
Descriptions come from Amazon; some are edited for length
Children's Books About the Little Rock Nine
Nonfiction Picture Books
The Little Rock Nine by Brian Michael Krumm
"The Little Rock Nine were a courageous group of students who became the center of the fight to end school segregation. They endured violence and vicious words. But they stood up for their beliefs. Explore the points of view of the Little Rock Nine and the people who opposed them through powerful primary sources and historical photos."
Little Rock Girl 1957: How a Photograph Changed the Fight for Integration by Shelley Marie Tougas
"Nine African American students made history when they defied a governor and integrated an Arkansas high school in 1957. It was the photo of a young girl trying to enter the school being taunted, harassed and threatened by an angry mob that grabbed the world's attention and kept its disapproving gaze on Little Rock, Arkansas. In defiance of a federal court order, Governor Orval Faubus called in the National Guard to prevent the students from entering all white Central High School. The plan had been for the students to meet and go to school as a group on September 4, 1957. But one student didn't hear of the plan and tried to enter the school alone. A chilling photo by newspaper photographer Will Counts captured the sneering expression of a girl in the mob and made history. Years later Counts snapped another photo, this one of the same two girls, now grownup, reconciling in front of Central High School."
Remember Little Rock: The Time, the People, the Stories by Paul Walker
"Just over 50 years ago, in Little Rock, Arkansas, nine brave black students stood up for their rights and made history. The integration of Central High School in Little Rock changed the course of education in America forever, and became one of the pivotal points in the Civil Rights Movement. In Remember Little Rock award-winning author Paul Robert Walker uses eyewitness accounts and on-the-scene news photography to take a fresh look at a time of momentous consequence in U.S. history. Here, we get the story from all sides: the students directly involved; their fellow students, black and white; parents on both sides; military, police, and government officials. The author uses personal interviews with many of those who attended the 50th anniversary celebration in 2007."
Cracking the Wall: The Struggles of the Little Rock Nine by Eileen Lucas
"In 1957, nine teenagers were chosen to be the first black students to attend all-white Central High School in Little Rock, Arkansas. A small group of people in Little Rock, including the governor of Arkansas, wanted to keep them out. But those nine students knew they had a right to a good education. And they would do anything to crack the wall that had kept black people and white people apart."
Historical Fiction
Little Rock Nine by Marshall Poe
"Sixteen-year-old William McNally and fifteen-year-old Thomas Johnson both live in Little Rock, Arkansas, in the summer of 1957. They both love baseball and teasing their little sisters. There's just one big difference: William is white, and Thomas, the son of William's family's maid, is black. After the Supreme Court rules in favor of desegregating public schools, Little Rock Central High School prepares to enroll its first nine African American students, and William and Thomas are caught in the center of a storm."
Fire from the Rock by Sharon M. Draper
"Sylvia is shocked and confused when she is asked to be one of the first black students to attend Central High School, which is scheduled to be integrated in the fall of 1957, whether people like it or not. Before Sylvia makes her final decision, smoldering racial tension in the town ignites into flame. When the smoke clears, she sees clearly that nothing is going to stop the change from coming. It is up to her generation to make it happen, in as many different ways as there are colors in the world."
Biography
The Power of One: Daisy Bates and the Little Rock Nine by Judith Bloom Fradin
"Born in a small town in rural Arkansas, Daisy Bates was a journalist and activist who became one of the foremost civil rights leaders in America. In 1957 she mentored the nine black students who were integrated into Central High School in Little Rock, Arkansas. Her dedication led an acquaintance to call her 'the bravest woman I have ever known.'"
Memoirs of the Little Rock Nine for Kids
March Forward, Girl: From Young Warrior to Little Rock Nine by Melba Pattillo Beal
"Long before she was one of the Little Rock Nine, Melba Pattillo Beals was a warrior. Frustrated by the laws that kept African-Americans separate but very much unequal to whites, she had questions. Why couldn't she drink from a 'whites only' fountain? Why couldn't she feel safe beyond home, or even within the walls of church? Adults all told her: Hold your tongue. Be patient. Know your place. But Beals had the heart of a fighter. With emotive photos, this memoir paints a vivid picture of Beals's powerful early journey on the road to becoming a champion for equal rights, an acclaimed journalist, a best-selling author, and the recipient of this country's highest recognition, the Congressional Gold Medal."
Warriors Don't Cry: A Searing Memoir of the Battle to Integrate Little Rock's Central High by Melba Pattillo Beals
"In 1957, well before Martin Luther King's 'I Have a Dream' speech, Melba Pattillo Beals and eight other teenagers became iconic symbols for the Civil Rights Movement and the dismantling of Jim Crow in the American South as they integrated Little Rock's Central High School in the wake of the landmark 1954 Supreme Court ruling, Brown v. Board of Education. Throughout her harrowing ordeal, Melba was taunted by her schoolmates and their parents, threatened by a lynch mob's rope, attacked with lighted sticks of dynamite, and injured by acid sprayed in her eyes. But through it all, she acted with dignity and courage, and refused to back down. It is a story of courage and the bravery of a handful of young, black students who used their voices to influence change during a turbulent time."
A Mighty Long Way: My Journey to Justice at Little Rock Central High School by Carlotta Walls Walls LaNier
"For Carlotta and the eight other children, simply getting through the door of this admired academic institution involved angry mobs, racist elected officials, and intervention by President Dwight D. Eisenhower, who was forced to send in the 101st Airborne to escort the Nine into the building. But entry was simply the first of many trials. Breaking her silence at last and sharing her story for the first time, Carlotta Walls has written an engrossing memoir that is a testament not only to the power of a single person to make a difference but also to the sacrifices made by families and communities that found themselves a part of history."
Teaching our kids about the hard part of history is difficult but necessary. I hope these books help you introduce the topic to your kids in a thoughtful and provocative way. Thanks for reading!
Check out these other book lists for kids