Keep reading for 20 of the best books about Arkansas!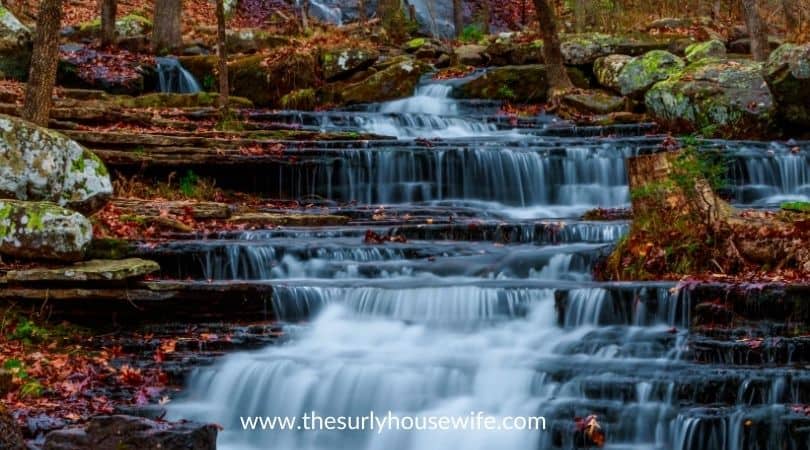 Did you know that one of the only active diamond mine in the U.S. is in Crater of Diamonds Mine in Arkansas? The largest diamond ever found in the U.S., 40.23 carats, was found at the Crater of Diamonds in 1924. It was later turned into a state park.
Studying and learning about Arkansas, or any state, is more than memorizing its mining industry and natural features. My approach to studying the 50 states involves what as Charlotte Mason coined, living books. Living books are books that make the subject you are studying come alive and are written by people who love the subject.
If you are starting to study Arkansas, I have a list of 20 books of various reading levels to get you started. It includes picture books and chapter books set in Arkansas, books about Arkansas and some of it's historical figures, as well as various types of books about the Little Rock Nine, the 9 black high school students who integrated Little Rock High School in 1957.
Arkansas History and Facts
Arkansas is nicknamed the Natural State.
Motto – The people rule
Arkansas entered the Union on June 15, 1836. It was the 25th state.
Arkansas is the French interpretation of the Sioux word meaning "downstream place."
Bill Clinton, the 42nd President of the United States was born on August 19, 1946 in Hope, Arkansas.
Little Rock is the capital of Arkansas.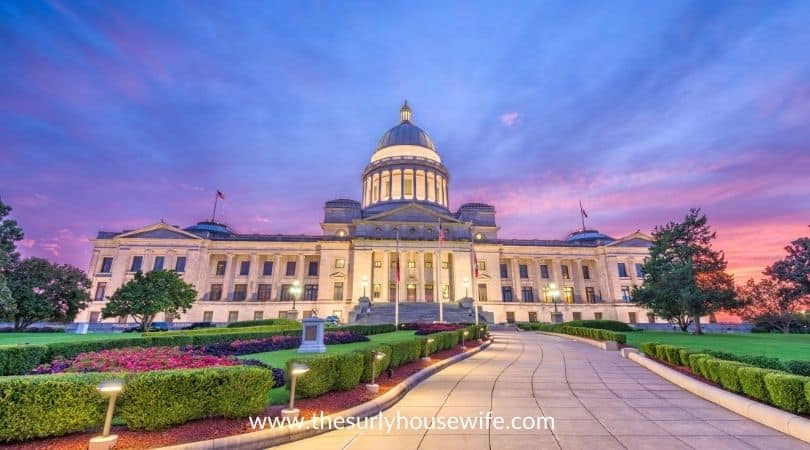 ICYMI, click HERE for all the other state book lists!
This post contains affiliate links. If you click and make a purchase, we earn a commission at NO extra cost to you. For more information, please read my full disclosure policy.
Descriptions come from Amazon; some are edited for length
Living Books about Arkansas
Kids Books About Arkansas
N Is for Natural State: An Arkansas Alphabet by Michael Shoulders
"Discover the unspoiled beauty of Arkansas in N is for Natural State: An Arkansas Alphabet. Acansa is the Sioux Indian name for the state we know today as Arkansas and this begins our alphabet journey. Next you'll find Blanchard Springs Cavern with its 80,000 bats and then to D is for Diamonds, and learn the Natural State is the only state that mines them. Illustrator Rick Anderson's rich and colorful images bring the beautiful vision of Arkansas to all readers."
This series of books called Discover America State By State are some of my favorites for introducing a state to kids. Each letter states a fact or a thing about that state. For example, for Arkansas letter A is for Acansa and B is for Blanchard Springs Cavern and so on. Each letter comes with a four line rhyme about that respective letter's fact or subject. What I love most is on the side of the page it gives more in-depth description about each subject. It's a great jumping off point for what sparks an interest in your child!
Natural Numbers: An Arkansas Number Book by Michael Shoulders
"In Natural Numbers: An Arkansas Number Book readers can step back in time and see ancient cave paintings from the last Ice Age, count the thrills as they ride the rapids of White River, or add up the many ways that milk (the state drink) does a body good. Educator Michael Shoulders uses number poems and explanatory text to continue his celebration of all things 'natural.' From number one's Pivot Rock all the way to one hundred apple blossoms, Natural Numbers shows that the great state of Arkansas has countless treasures for all to enjoy."
Books About Historical Figures from Arkansas
Picture Books
The Girl with a Mind for Math: The Story of Raye Montague by Julia Finley Mosca
"Meet Raye Montague―the hidden mastermind who made waves in the U.S. Navy! After touring a German submarine in the early 1940s, young Raye set her sights on becoming an engineer. Little did she know sexism and racial inequality would challenge that dream every step of the way, even keeping her greatest career accomplishment a secret for decades. Through it all, the gifted mathematician persisted, finally gaining her well-deserved title in history: a pioneer who changed the course of ship design forever."
Rise!: From Caged Bird to Poet of the People, Maya Angelou by Bethany Hegedus
"Writer, activist, trolley car conductor, dancer, mother, and humanitarian, Maya Angelou's life was marked by transformation and perseverance. In this comprehensive picture-book biography geared towards older readers, Bethany Hegedus lyrically traces Maya's life from her early days in Stamps, Arkansas through her work as a freedom fighter to her triumphant rise as a poet of the people. A foreword by Angelou's grandson, Colin A. Johnson, describes how a love of literature and poetry helped young Maya overcome childhood trauma and turn adversity into triumph. Coupled with Tonya Engel's metaphorical and emotive illustrations, this biography beautifully conveys the heartaches and successes of this truly phenomenal woman, and is a powerful tribute to the written word."
Chapter Books
Sarah Campbell: Tale of a Civil War Orphan by Nancy Dane
"This tale of Sarah Campbell is based on true historical incidents in Civil War Arkansas. When bushwhackers slay Sarah's parents she is taken to the Union garrison at Fort Smith. There her troubles are far from over as she deals with a bully named Kate, an invading army, kidnappers, and treacherous enemy spies. Sarah also learns that an enemy can become a friend worthy of great sacrifice."
The Legend of Bass Reeves by Gary Paulsen
"Many 'heroic lawmen' of the Wild West, familiar to us through television and film, were actually violent scoundrels and outlaws themselves. But of all the sheriffs of the frontier, one man stands out as a true hero: Bass Reeves. He was the most successful Federal Marshal in the US in his day. True to the mythical code of the West, he never drew his gun first. He brought hundreds of fugitives to justice, was shot at countless times, and never hit. Bass Reeves was a black man, born into slavery. And though the laws of his country enslaved him and his mother, when he became a free man he served the law, with such courage and honor that he became a legend."
Young Adult
I know why the caged bird sings by Maya Angelou
"Here is a book as joyous and painful, as mysterious and memorable, as childhood itself. I Know Why the Caged Bird Sings captures the longing of lonely children, the brute insult of bigotry, and the wonder of words that can make the world right. Maya Angelou's debut memoir is a modern American classic beloved worldwide."
Books About The Little Rock Nine for Kids
Nonfiction book about the Little Rock 9
The Little Rock Nine by Brian Michael Krumm
"The Little Rock Nine were a courageous group of students who became the center of the fight to end school segregation. They endured violence and vicious words. But they stood up for their beliefs. Explore the points of view of the Little Rock Nine and the people who opposed them through powerful primary sources and historical photos."
Cracking the Wall: The Struggles of the Little Rock Nine by Eileen Lucas 
"In 1957, nine teenagers were chosen to be the first black students to attend all-white Central High School in Little Rock, Arkansas. A small group of people in Little Rock, including the governor of Arkansas, wanted to keep them out. But those nine students knew they had a right to a good education. And they would do anything to crack the wall that had kept black people and white people apart."
Graphic Novel
Little Rock Nine (Turning Points) by Marshall Poe
"Sixteen-year-old William McNally and fifteen-year-old Thomas Johnson both live in Little Rock, Arkansas, in the summer of 1957. They both love baseball and teasing their little sisters. There's just one big difference — William is white, and Thomas, the son of William's family's maid, is black. After the Supreme Court rules in favor of desegregating public schools, Little Rock Central High School prepares to enroll its first nine African-American students, and William and Thomas are caught in the center of a storm. Turning Points historical graphic novels bring these moments in American history to life."
Chapter Books about the Little Rock Nine
March Forward, Girl: From Young Warrior to Little Rock Nine by Melba Pattillo Beal
"Long before she was one of the Little Rock Nine, Melba Pattillo Beals was a warrior. Frustrated by the laws that kept African-Americans separate but very much unequal to whites, she had questions. Why couldn't she drink from a 'whites only' fountain? Why couldn't she feel safe beyond home or even within the walls of church? Adults all told her: Hold your tongue. Be patient. Know your place. But Beals had the heart of a fighter and the knowledge that her true place was a free one. With emotive photos, this memoir paints a vivid picture of Beals's powerful early journey on the road to becoming a champion for equal rights, an acclaimed journalist, a best-selling author, and a Congressional Gold Medal recipient."
Fire from the Rock by Sharon M. Draper
"Sylvia is shocked and confused when she is asked to be one of the first black students to attend Central High School, which is scheduled to be integrated in the fall of 1957, whether people like it or not. Before Sylvia makes her final decision, smoldering racial tension in the town ignites into flame. When the smoke clears, she sees clearly that nothing is going to stop the change from coming. It is up to her generation to make it happen, in as many different ways as there are colors in the world."
Chapter books Set in Arkansas
The Murder of Hound Dog Bates by Robbie Branscum
"When Sassafras Bates find his beloved dog dead, he thinks he knows who killed him. So he buries Hound Dog Bates smack in front of his aunts' porch, hoping that guilt will make one of them confess. When this doesn't work, he decides to play detective. Sass's investigation leads him to some surprising discoveries about his aunts–and himself."
Philip Hall Likes Me, I Reckon Maybe by Bette Greene
"No one gets the better of Beth Lambert. Except, maybe, Philip Hall. Philip Hall is the cutest, smartest boy in the sixth grade, and Beth Lambert loves him. the fact that he beats her in classwork, sports, and just about everything else doesn't particularly bother Beth at first. then she realizes that Philip might be best in everything because she's letting him beat her. and coming out on top is just too natural a thing for Beth to hold back for very long!"
Summer of My German Soldier by Bette Greene
"The summer that Patty Bergen turns twelve is a summer that will haunt her forever. When her small hometown in Arkansas becomes the site of a camp housing German prisoners during World War II, Patty learns what it means to open her heart. Even though she's Jewish, she begins to see a prison escapee, Anton, not as a Nazi, but as a lonely, frightened young man with feelings not unlike her own. In Anton, Patty finds someone who softens the pain of her own father's rejection and who appreciates her in a way her mother never will. While patriotic feelings run high, Patty risks losing family, friends (even her freedom) for this dangerous friendship. It is a risk she has to take and one she will have to pay a price to keep."
The Lions of Little Rock by Kristen Levine
"As twelve-year-old Marlee starts middle school in 1958 Little Rock, it feels like her whole world is falling apart. Until she meets Liz, the new girl at school. Liz is everything Marlee wishes she could be: she's brave, brash and always knows the right thing to say. But when Liz leaves school without even a good-bye, the rumor is that Liz was caught passing for white. Marlee decides that doesn't matter. She just wants her friend back. And to stay friends, Marlee and Liz are even willing to take on segregation and the dangers their friendship could bring to both their families."
Making Friends with Billy Wong by Augusta Scattergood
"Azalea is not happy about being dropped off to look after Grandmother Clark. Even if she didn't care that much about meeting the new sixth graders in her Texas hometown, those strangers seem much preferable to the ones in Paris Junction, Arkansas. And then there's Billy Wong, a Chinese-American boy who shows up to help in her grandmother's garden. Billy's great-aunt and uncle own the Lucky Foods grocery store, where days are long and some folks aren't friendly. For Azalea, whose family and experiences seem different from most everybody she knows, friendship has never been easy. Maybe this time, it will be."
The Red Scarf by Richard Mason
"In his debut novel, Richard Mason takes us back to 1944 Arkansas through the eyes of Richard, a twelve-year-old with a dream. The dream seems simple enough-to buy a red scarf for Rosalie, the prettiest girl in school. However, simply buying a scarf doesn't usually include skunks, bobcats, robbers, and a cast of eccentric characters such as Wing, the one-armed constable who swings a mean blackjack, and Bubba, a big man who wields an even bigger frying pan."
Young Adult Fiction Set in Arkansas
With a Name Like Love by Tess Hilmo
"When Ollie's daddy, the Reverend Everlasting Love, pulls their travel trailer into Binder to lead a three-day revival, Ollie knows that this town will be like all the others they visit. It is exactly the kind of nothing Ollie has come to expect. But on their first day in town, Ollie meets Jimmy Koppel, whose mother is in jail for murdering his father. Jimmy insists that his mother is innocent, and Ollie believes him. Still, even if Ollie convinces her daddy to stay in town, how can two kids free a grown woman who has signed a confession? Ollie's longing for a friend and her daddy's penchant for searching out lost souls prove to be a formidable force in this tiny town where everyone seems bent on judging and jailing without a trial."
Where Things Come Back by John Corey Whaley
"In the remarkable, bizarre, and heart-wrenching summer before Cullen Witter's senior year of high school, he is forced to examine everything he thinks he understands about his small and painfully dull Arkansas town. His cousin overdoses; his town becomes absurdly obsessed with the alleged reappearance of an extinct woodpecker; and most troubling of all, his sensitive, gifted fifteen-year-old brother, Gabriel, suddenly and inexplicably disappears. Meanwhile, the crisis of faith spawned by a young missionary's disillusion in Africa prompts a frantic search for meaning that has far-reaching consequences. As distant as the two stories initially seem, they are woven together through masterful plotting and merge in a surprising and harrowing climax."
Books Set in Arkansas (For Mom!)
I love to read, and I love a good theme or challenge for a reading list. So my final two books on this Arkansas book list are one adult fiction and one adult non-fiction!
Fiction Book Set In Arkansas
The Architecture of the Arkansas Ozarks by Donald Harington
"Jacob and Noah Ingledew trudge 600 miles from their native Tennessee to found Stay More, a small town nestled in a narrow valley that winds among the Arkansas Ozarks and into the reader's imagination. The Ingledew saga is the heart of Harington's jubilant, picaresque novel. Praised as one of the year's ten best novels by the American Library Association when first published, this tale continues to captivate readers with its winning fusion of lyricism and comedy."
Non-Fiction Book Set In Arkansas
Daughter of the White River by Denise White Parkinson
"The once-thriving houseboat communities along Arkansas' White River are long gone, and few remember the sensational murder story that set local darling Helen Spence on a tragic path. In 1931, Spence shocked Arkansas when she avenged her father's murder in a DeWitt courtroom. The state soon discovered that no prison could hold her. For the first time, prison records are unveiled to provide an essential portrait. The legend of Helen Spence refuses to be forgotten–despite her unmarked grave."
I hope this book list sparks an interest in your homeschooler. Arkansas has so many fun areas to explore and expand on.
Don't forget to check out the other states!