4 simple, fun, and no-prep at-home date night ideas.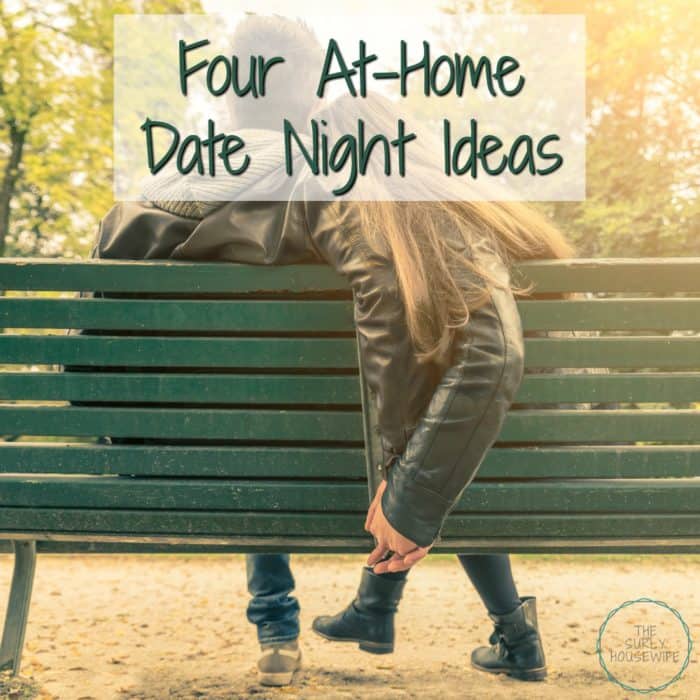 I'm going to introduce something a little crazy. I think there are only 4 at-home date nights you need. Four! That's it. Not to say you should only GO on four dates a year, you simply only need these four ideas for at-home date nights.
You can do one a month and repeat the whole list 3 times a year. Or once a week, or pick 2 a month and repeat. Don't be scared of repetition guys. It may seem like it lacks choices, but the more at-home date nights you have, the more routine they become. The more routine they become the more time you are spending together! Mingon McLaughlin once said "A successful marriage requires falling in love many times, always with the same person."
These can be on any night of the week and require little prep. Just penciling a date on the calendar. Make your marriage part of your regular routine.
This post contains affiliate links. If you click and make a purchase, we earn a commission at NO extra cost to you. For more information, please read my full disclosure policy.
Date Night Ideas
Pizza and TV Night
Pick a current tv series, or old series, that you will sit down and watch together. Like actually watch it, no phones, no distractions. Well, maybe have the phone nearby because, well IMdB. We chose pizza to go with our movie night because it is part of our weekly meal plan. Again, making things as easy as possible.
For us, this is our standing at-home date night. It's usually Mondays (Sundays during Game of Thrones season;) We watch our current series of tv, the series we pay for on iTunes: The Walking Dead, Fear The Walking Dead, Better Call Saul. I swear this isn't an ad for AMC. This is a perfect time to binge watch your favorite series.
Cocktails and Reading Night
As parents, you begin to crave silence. I used to HATE silence. Now, I am homeschooling 2 young kids and nothing pleases me more than a silent house. This is why I think you should have a nice quiet evening in. Have a drink with your spouse and catch up on your reading. You will be surprised how much conversation arises from silence. Don't know what to read? Start with something easy. Reread Harry Potter, a romance novel, or an easy mystery. Navy Seal Jocko Willink has a great list of books he discusses on his podcast, which are perfect if you are looking for something guys will enjoy. You can check those out here. Check out Goodreads or Amazon Books for more recommendations.
Game/puzzle/video Game Night
Depending on the couple, after the kids are in bed, whip up some snacks and play something! Cards, a board game, put together a puzzle, or play a video game together. It's simple, exercises your brain, and creates a little healthy competition.
Takeout and a Movie Night
Being on a budget, eating out is a luxury so cuddling up with some Panda Express (no shame in our game) and watching a movie (or tv show. There are no strict rules) is comforting and fun. You can watch a new release or an old movie you enjoyed while dating!
People try to come up alternatives to "Dinner and movie" date nights, but I think more couples would benefit from the mundane. The simple things that connect you in your everyday life. The tradition of "on this day we do this." And there are no hard, fast rules. Date nights don't have to be on the weekend! Don't like reading? Try an audiobook or a podcast! Detest playing games? Watch your favorite sporting event instead. Find out what works for you and your spouse and make dating a priority again. And with these 4 ideas, you will be enjoying date night at home more than ever!