10 Alternative Date Night Movie Ideas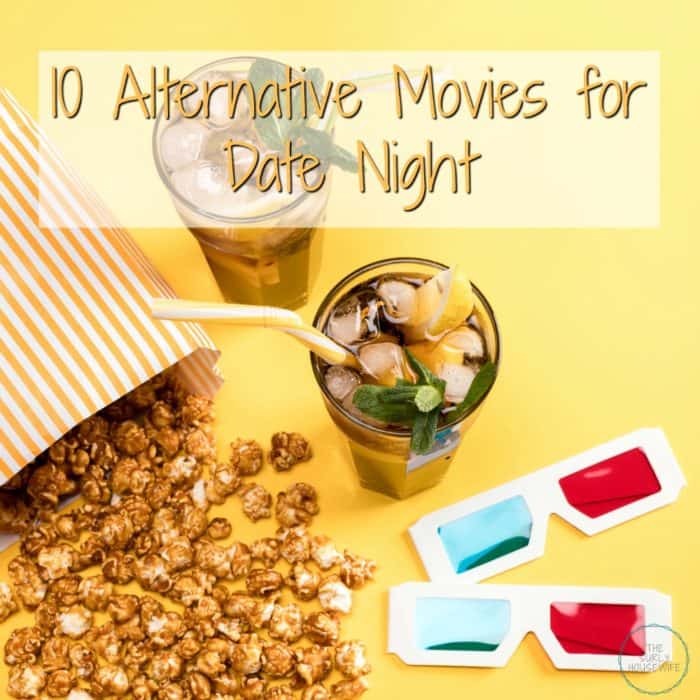 What parents don't love date night! However, why does it always seem like we never go on honest-to-goodness dates?! Dates with no kids, relaxation, and fun. It's probably because staying home is so much easier. Going out for date night can be such a chore: lining up babysitters, deciding what to do, staying up after 9 pm, and actually having to put on a bra are all cons of a night out.
Which is why many couples prefer the at-home date night. Movie night, usually, being the top choice.
And I don't know about you, but with all the choices that are streaming these days, it is so hard to choose a movie! New movie? Old movie? Comedy? Drama? So I put together a list of 10 "date night movie ideas" to watch on date night, and my reasons for picking them. I hope it sparks an idea for you!
Click the title or photo of the movie to be taken to Amazon video where you can buy or rent the movie.
This post contains affiliate links. If you click and make a purchase, we earn a commission at NO extra cost to you. For more information, please read my full disclosure policy.
10 Date Night Movie Ideas
1. First Date Movie
Relive your past and watch the first movie date you went on. Ours was Titanic. Incredibly 90's I know. Which brings me to my second and third choices for movie date night.
2. Your Favorite '90s Film
My favorite teen movie from the 90's is 10 Things I Hate About You. What's yours? American Pie? I Know What You Did Last Summer? Oooo! Or Clueless?
3. Your Favorite '80s Movie
I adore The Breakfast Club but Ferris Bueller's Day off, 16 Candles, or The Goonies are some other excellent choices.
Other classic movies to enjoy on family movie night.
4. Love and Marriage
The first dance at our wedding was to Come What May from Moulin Rouge. Pick a movie that inspired your wedding song, first dance song, hell your honeymoon. Anything to do with your wedding.
5. Classic Cinema
My favorite for this is It Happened One Night from the 1930's starring Clark Gable and Claudette Colbert, one of my favorite classic movies of all time. If you don't love romantic movies, classic movies are good because they don't slap you in the face with the romance. It's more subtle. Much like this next movie.
The Princess Bride is a great movie. I quote it all the time. It has laughter and romance. Perfect for date night.
7. Action Movies
I don't like to make my husband watch chick flicks, although my previous choices may question that, but if your husband REFUSES to watch them. Pick out an action movie, like Fight Club, with a leading man who floats your boat. Tyler Durden could be the best thing the movies has ever produced.
8. Scary/Horror Movie
Silence of the Lambs not only scares the bejeezus out of me ever.single.time, it is an excellent, excellent movie. Choose your favorite scary movie, get scared, and cuddle.
9. Tragic Love Story
What Dreams May Come is intense. Perhaps Robin Williams best work. But my favorite genre of romance is tragedy. What Dreams May Come and The Crow being 2 of my favorites. What Dreams May Come was the first movie my husband and I saw together that we broke down and cried at. Like ugly cry. It wasn't pretty. Everyone needs a good cry at times. This movie does the trick.
10. Love and Lust
What do I mean by this? Date night is all about love and lust. I'll let this eCard explain.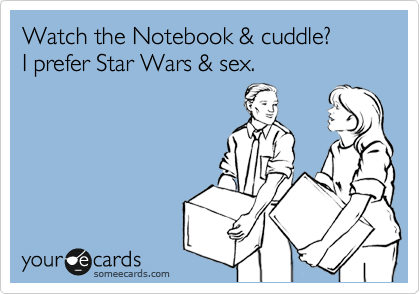 Whichever choice suits your relationship, go with that one. Get your geek on with Star Wars or watch some romantic drivel.
Related posts about at-home date nights.
Thanks for stopping by!