Inside: 10 awesome and exciting books for 10 year olds!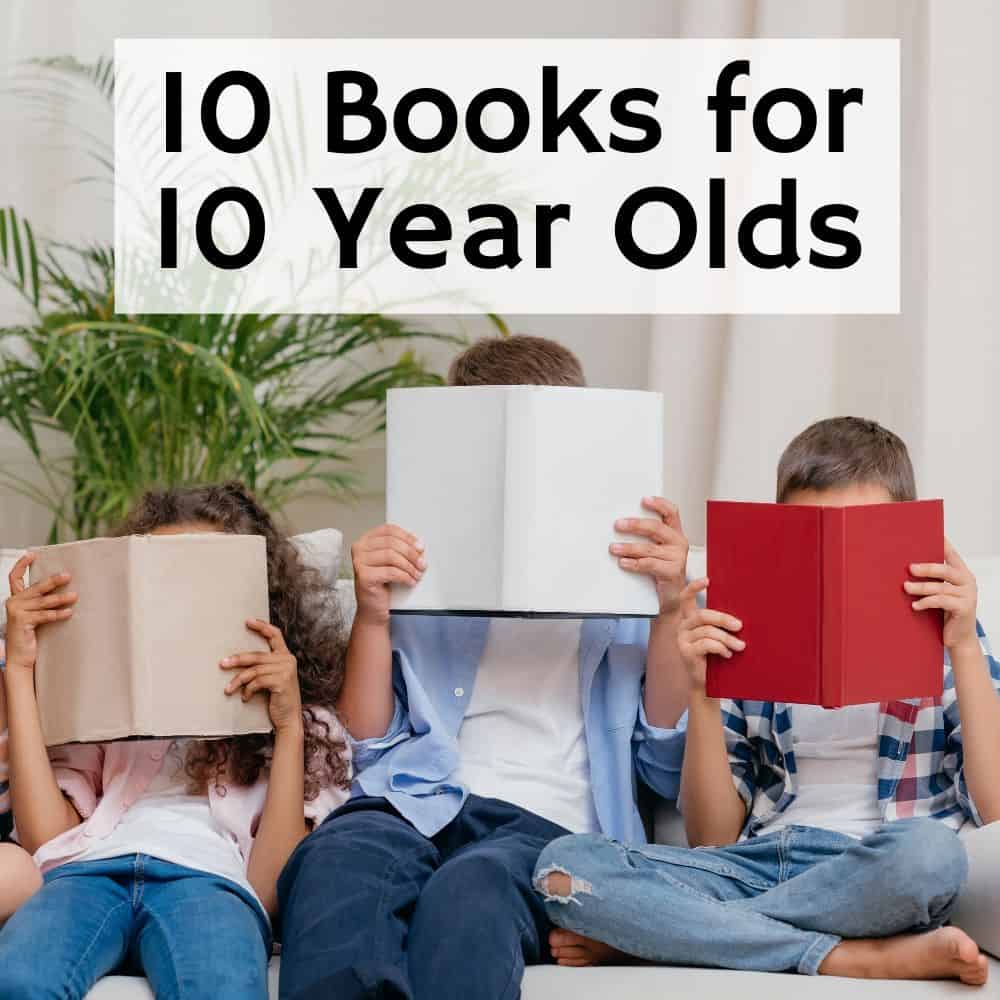 10 years old is a big milestone in our house. When you turn ten, you are old enough to ride with their dad in his semi and go over-the-road with him. As homeschoolers this is an awesome perk because they don't have to wait for summer vacation or spring break, they can go whenever they want!!
My oldest LOVES listening to audiobooks so her favorite thing to do in the truck is spend the day listening to books. And while audiobooks are great, kids do need to practice reading themselves.
This blog post has a list of 10 books that any 10 year old will love! It contains some classics as well as newer middle grade novels. Enjoy!
Need books at a different reading level???
---
This post contains affiliate links. If you click and make a purchase, we earn a commission at NO extra cost to you. For more information, please read my full disclosure policy.
Books for 10 Year Olds
The Mouse and the Motorcycle by Beverly Cleary
"A young mouse named Ralph looked out of his mousehole in Room 215 of the Mountain View Inn. The new tenant of the room, a boy, was playing with a little motorcycle just the right size for a mouse. Ralph could hardly wait till the boy left the room. Hurriedly he scrambled up the telephone cord to the bedside table, where the motorcycle was parked. With growing excitement, Ralph mounted the handsome machine and grasped its handgrips. Suddenly the telephone rang, and the motorcycle with its rider rolled off the table into the metal wastebasket. Ralph was sure he was doomed to be thrown out with the trash. Instead, the mouse found an unexpected career as a motorcyclist opening up to him."
"Stuart Little is no ordinary mouse. Born to a family of humans, he lives in New York City with his parents, his older brother George, and Snowbell the cat. Though he's shy and thoughtful, he's also a true lover of adventure. Stuart's greatest adventure comes when his best friend, a beautiful little bird named Margalo, disappears from her nest. Determined to track her down, Stuart ventures away from home for the very first time in his life. He finds adventure aplenty. But will he find his friend?"
The Cabin Faced West by Jean Fritz
"Ann Hamilton's family has moved to the western frontier of Pennsylvania, and she misses her old home in Gettysburg. There are no girls her age on Hamilton Hill, and life is hard. But when the Hamiltons survive a terrible storm and receive a surprise visit from George Washington, Ann realizes that pioneer life is exciting and special."
Mr. Popper's Penguins by Richard Atwater
"A humble house painter is sent a male penguin by the great Admiral Drake and, thanks to the arrival of a female penguin, soon has twelve penguins living in his house. First published in 1938, Mr. Popper's Penguins has amused and enchanted generations of children and their parents."
"Is Nick Allen a troublemaker? He really just likes to liven things up at school — and he's always had plenty of great ideas. When Nick learns some interesting information about how words are created, suddenly he's got the inspiration for his best plan ever…the frindle. Who says a pen has to be called a pen? Why not call it a frindle? Things begin innocently enough as Nick gets his friends to use the new word. Then other people in town start saying frindle. Soon the school is in an uproar, and Nick has become a local hero. His teacher wants Nick to put an end to all this nonsense, but the funny thing is frindle doesn't belong to Nick anymore. The new word is spreading across the country, and there's nothing Nick can do to stop it."
"When robot Roz opens her eyes for the first time, she discovers that she is all alone on a remote, wild island. She has no idea how she got there or what her purpose is–but she knows she needs to survive. After battling a violent storm and escaping a vicious bear attack, she realizes that her only hope for survival is to adapt to her surroundings and learn from the island's unwelcoming animal inhabitants. As Roz slowly befriends the animals, the island starts to feel like home–until, one day, the robot's mysterious past comes back to haunt her."
"Meet the Moffats. There is Sylvie, Joey, Janey, and Rufus. Even the most ordinary Moffat day is packed with extraordinary fun. Only a Moffat could get locked in a bread box all afternoon, or dance with a dog in front of the whole town, or hitch a ride on a boxcar during kindergarten recess. And only a Moffat could turn mistakes and mischief into hilarious one-of-a-kind adventure."
Because of Winn-Dixie by Kate DiCamillo
"Making friends in a new town is never easy, but when Opal adopts a stray dog she names after the grocery store where she found him, she learns that friend ship – and forgiveness – can sneak up on you like a sudden storm."
Flora and Ulysses: The Illuminated Adventures by Kate DiCamillo
"She is a natural-born cynic! He is an unassuming squirel! Together, Flora and Ulysses will conquer villains, defend the defenseless, and protect the week. Or something. A laugh-out-loud story of friendship, hope, love, and seal blubber."
"In Dimwood Forest, all the mice know that moving beyond Grey House requires the permission of the great horned owl, Mr. Ocax. No one but Mr. Ocax can guarantee protection against the horrible porcupines who lurk in the forest, waiting to grab innocent creatures. He frequently reminds the trusting mice of his importance, as he snatches careless ones for his frequent meals. But Poppy is a curious mouse, and a little foolish. When she is caught dancing in the moonlight on Bannock Hill, she soon faces not only the great owl, but a huge porcupine, and an impossible challenge."
From animals to robots, this list of 10 books for 10 year olds is sure to inspire the young reader in you house. Thank you for reading!!